It's pronounced naw-fok, not Nor-folk. Don't maim the name. Norfolk is Virginia's second-most populated city with more than 245,000 residents, home to the world's biggest Navy base (Naval Station Norfolk), and it's a hidden gem for budget-conscious travelers.
How do we describe this U.S. travel destination? Let us count the ways.
1. Budget-friendly
Free community festivals, free glass-blowing demonstration at the Chrysler Museum Glass Studio, so-cheap-it's-almost-free food at Doumar's diner, and curb service. Stretching your travel dollars further is easy in Norfolk.
2. Scenic
Its waterfront location, between the Chesapeake Bay and the Atlantic Ocean, makes Norfolk a delight for those who appreciate seaside beauty. Sit back and admire the view on a leisurely harbor cruise aboard The American Rover or sign up for a "Sail About" sailing lesson with Sail Nauticus.
Land lovers can take a driving tour with Phillips Destination Management, seeing some of Norfolk's five historic districts. The zones feature homes that boast decorative ironwork trim and fencing, ornate masonry and stunning stained glass windows.
3. Artistic
Mermaids. Mermaids everywhere. OK, maybe not everywhere but there are 130 bronze mermaid sculptures in Norfolk. Each with a unique design, the mystical creatures are the works of local artists. Will you find your favorite?
4. Savory
Please your palate with Norfolk's mouth-watering culinary offerings. Sip on a refreshing margarita ($8), guacamole ($7) and chips and homemade salsa ($4) at Luna Maya restaurant. Add a spicy shrimp burrito ($16) and your taste buds will rejoice. Have the "New England lobstah roll" (market price) with generous chunks of lobster and hot, crispy fries at The Green Onion restaurant. Fill up on even more fresh seafood with the crab cake sandwich ($12) at No Frill Grill.
5. Stylish
Visit Mermaid Winery, Virginia's only urban winery, and check their events listing web page with details about cool happenings like their Blind Wine Tasting ($10 for 10 wine tastings), or enjoy their Movie Night on the Patio (free!) Their chic patio, surrounded by grapevines and roses, is a perfect setting for sipping on a glass of wine while the sun sets.
6. Sweet
From the moment the sweet batter hits the griddle and its vanilla fragrance scents the air, you know you're in for a treat. Doumar's is home to the world's first waffle cone machine. It's also a nostalgic bellhop-style diner with prices that can't be beat.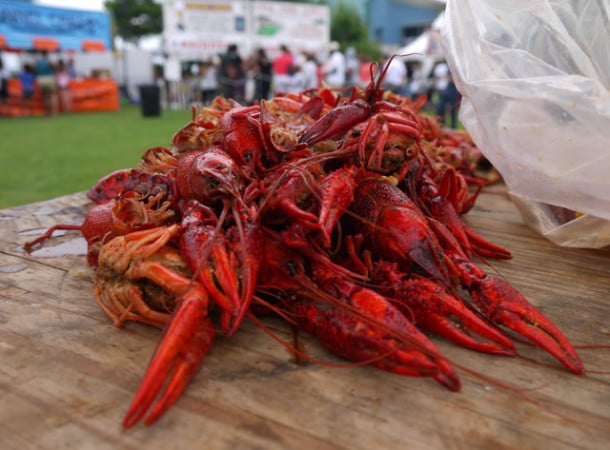 7. Festive
Gather at Town Point Park for special events and festivals that showcase a sense of community. The annual Bayou Boogaloo & Cajun Food Festival (June 20 – 23, 2013) is a fine occasion to enjoy some bluegrass tunes while sucking on crawfish. Beignets make delectable desserts with Cajun cooking satisfying your appetite. Check visitnorfolktoday.com to find out which upcoming events you might enjoy during your stay.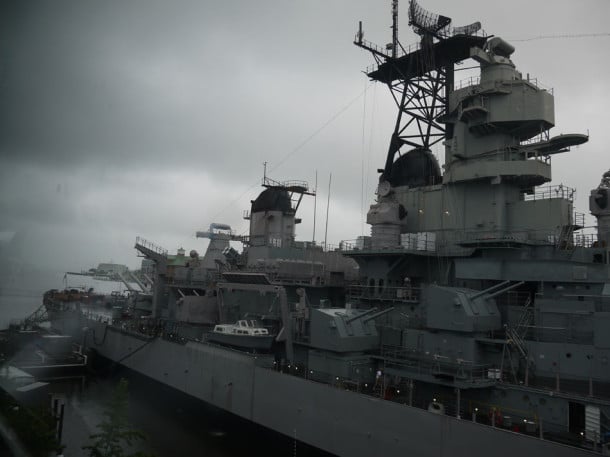 8. Patriotic
Home to the world's biggest Navy station, Norfolk is where U.S. Navy forces live and work and you can't help but notice their floating weaponry along the waterfront. Take one glimpse at the Battleship Wisconsin at Nauticus and you can feel the weight of protecting and defending U.S. territory. It's no wonder the National Civic League named Norfolk a 2013 All-American City.
9. Clean
Stroll along the waterfront and on the streets of downtown Norfolk and you'll find well-manicured lawns and pretty floral arrangements in containers flanking city streets. This city sure keeps things ship-shape.
10. Friendly
A jogger greets you with a "good morning" as he passes you on the street, locals at a hip coffeehouse smile as you wait your turn to place your order. Daphne Swersky, manager at Rowena's Gourmet Foods, invites you to sample cakes, curds, and custards before giving you a guided tour of the bakery. Don't mind if I do!
There's a genuine sense of warmth that radiates from Norfolk folks and you don't have to search hard to find it.
The comments on this page are not provided, reviewed, or otherwise approved by the bank advertiser. It is not the bank advertiser's responsibility to ensure all posts and/or questions are answered.

Editorial Note: The editorial content on this page is not provided by any bank, credit card issuer, airlines or hotel chain, and has not been reviewed, approved or otherwise endorsed by any of these entities.