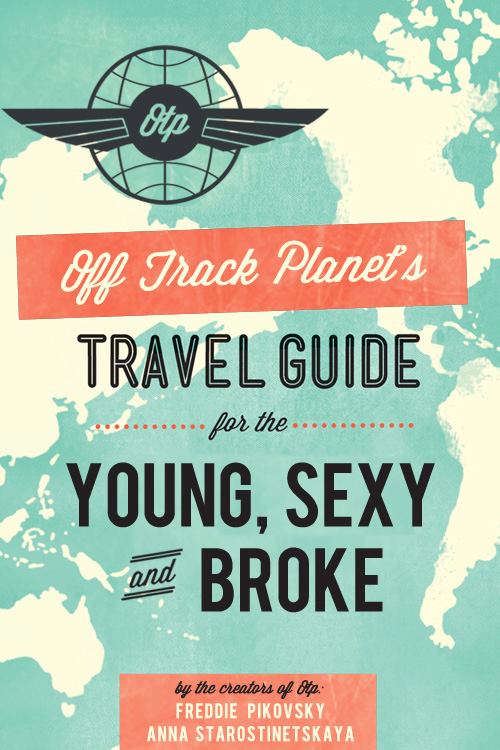 Need some travel inspiration?
Off Track Planet's Travel Guide for the Young, Sexy and Broke is like travel porn—with its colorful photographs tantalizing you on every page and with new tidbits from around the world, like "Where in the World is Jesus?" (where you can find the Jesus sculptures), art and design in major cities (i.e. Gritty Art, Warehouse Spaces, and Street Styles in Berlin), Five Animals You've Never Heard of in the Amazon (and of course want to find and see), Adventure Opportunities (like the rickshaw run in India, shark diving in South Africa and canyoning through Interlaken), and even what traditional dishes you should try on the streets of Argentina, Mexico, France, Iceland, Italy, South Korea, Vietnam, and more. It is almost impossible to put down.
Off Track Planet's Travel Guide for the Young, Sexy and Broke comes from the creative budget-travelers who founded OffTrackPlanet.com in 2009, a site that aspires to show the value of travel to Americans. Co-founder Anna Starostinetskaya and the Off Track Planet team conjured up three parts to this tale: 1) Get Inspired, 2) Get Your Shit Together, and 3) Make Yourself Useful.
The Russo Editing team of Off Track Planet writes this book with some serious 20-something flavor, with witty phrases, crude language, and just down-and-dirty "here you go"-style gritty travel sentiments and suggestions. Part one—Get Inspired—takes you around the world to every country you could imagine to learn where the best adventures are in extreme sports, food, fashion, music, art and design, and of course sex and partying. From Brazil's Carnival, to Thailand's Full Moon Party, to Greece's best booby (and I don't mean the bird) beaches, to Paris's cheap sex shops—wow! Just wow!
Get Your Shit Together (part two) will show you the best ways to research a destination, choose the best destination for your interests, prepare you for the toilets you may experience (no sh–! or is that oh sh–!), how to budget, what type of documents you may need, and steer away from potential diseases, all while telling you where all the sex, drugs and partying can be found. Their broke booking suggestions include hostels, using couchsurfing.com and Airbnb.com, and camping. (I remember being so hot in Europe in Italy one summer in a dungeon hotel we took the sheets and pillows and slept on the beach in Atrani.)
Part three (Make Yourself Useful) shares how you can learn and grow as a person by interacting with cultures on a more personal level, or volunteering, working or studying abroad. The authors offer an array of suggestions for helping make the world a better place by helping animals, assisting in water and AIDS programs, teaching English abroad, volunteering in schools, and nannying or "mannying" abroad. There is even a section on the Peace Corps, Habitat for Humanity, and the United Nations' World Food Programme, as well as tips on how to find odd jobs while traveling to fund your globetrotting.
As you can see, this book is not for the boring vacationer who wants to hole up at some five-star luxury resort drinking piña coladas and never leaving the beachfront property. This book is for those who want to grow with travel and experience the value of travel by seeing the world not as a typical tourist, but as someone who wants to plunge into the world headfirst—even when broke.
Published just a few months ago, you can purchase Off Track Planet's Guide for the Young, Sexy and Broke at Barnes & Noble, Urban Outfitters or Amazon. Meanwhile, I will be waiting for the next book—Travel for the Old, Sexy and Broke.
The comments on this page are not provided, reviewed, or otherwise approved by the bank advertiser. It is not the bank advertiser's responsibility to ensure all posts and/or questions are answered.

Editorial Note: The editorial content on this page is not provided by any bank, credit card issuer, airlines or hotel chain, and has not been reviewed, approved or otherwise endorsed by any of these entities.