Buon giorno! We pick up where we left off last week, at the Naples airport in Italy! I'm en route to the island of Capri, but if that is too far or too expensive for you we also have a nice alternative with a story on an island much closer to home, Catalina. Just 26 miles off the coast of Los Angeles, it feels like it's a world away.
NAPOLI AIRPORT
My flight from London (LGW) to Naples (NAP) on British Airways was as smooth as could be, and when I cleared passport control the first thing I did was go into the men's bathroom to change into shorts-Italy was 20 degrees warmer and sunnier than England. I didn't have baggage to collect so I walked straight through customs to the arrivals area.
ATM
After hooking up with my driver (more on that in a second), I found a confusing ATM that offered only strange amounts of euros. I pulled out 210 euros (200 wasn't an option), and Bank of America (BofA) later stuck me with their $5 foreign bank fee. TIP: No matter who you bank with, it's always smart to check to see if your bank has any international partners so you can get the withdrawal fee(s) waived. Bank of America doesn't have an Italian partner, but their other ones are: Barclays (United Kingdom), BNP Paribas (France), China Construction Bank (China), Deutsche Bank (Germany), Santander Serfin (Mexico), Scotiabank (Canada), and Westpac (Australia and New Zealand).
GETTING TO THE FERRY
I've been to Capri/Ischia a few times, and the most nerve-racking part of my trip is always the ride from the airport or train station to the ferry. First of all, there are different ports (Molo Beverello or Mergellina), so you have to hope the driver will take you to the right one; there's the language barrier (though the Italian drivers are speaking more English these days); you wonder if they will take you the long way to make more euros; and finally, you have to deal with their driving skills. Outside of India, the drivers in Naples are the craziest I've ever seen. It's best to fasten your seat belt and close your eyes.
JACK THE DRIVER
Not too long ago, by the grace of God I just happened to receive an email from Jack Colonna, who owns a private-driver service in the Amalfi Coast area and offered me a free ride/tour in exchange for my writing about it. Not a problem, since I write about everything, the good and bad, no matter who is paying. Dealing with Jack really was painless, and he seemed to always have someone near the computer, as I never waited long for a response. We exchanged a couple of emails on flight times and expectations, and voilà: an English-speaking driver was waiting for me just outside of baggage claim with a brand-new van (my plans were last minute and Jack was already booked on a day tour).
PRICES
Since my seatmates were going to the same port, they hitched a ride for the 15-to-20-minute joyful journey. I haven't done any of Jack's private day tours, but I can't imagine they would be any different than his limo service, which was prompt and professional. FYI: From NAP or the train station to the port he charges 60 euros for 1–3 people. That price is between two and three times more than that of a regular taxi, but you'll get peace of mind. For those on a budget, not in a hurry, and looking for some adventure, there's Alibus shuttle service for just a few euros. Jack Colonna Private Driver Service, cell. 24/7: +393391718140, office: +393507344, email: info@jackthedriver.com.
MOLO BEVERELLO
Molo Beverello and Mergellina are the two main ports that service Capri from Naples. It is much more convenient to depart from Molo Beverello since they have the greatest frequency of departures and a larger selection of hydrofoils. Check ferry schedules before leaving home at Capri.net.
TICKETS
Jack's driver walked us to the ticket area while towing our bags, and pointed out the booth for Capri and my seatmates booth, which was to Amalfi (I think). Ferries run often to Capri, especially in the summer-like every 30 minutes. FYI: There were a couple of over-friendly bums hanging out by the cashier, asking for change. FYI: My one-way ticket cost €16.
FERRY
I didn't have to wait more than two minutes, as the 3:35 boat (hydrofoil) was ready to go. The smooth ride took 40 minutes, which is the fastest you can get there besides a helicopter. There are other boats to Capri that are slower and less expensive; they include the "fast" ferry, which takes 50 minutes, and the regular ferry, which takes 80 minutes. The best seat on a clear day is upstairs on the open deck; bring a hat, sunglasses, sunscreen, and a camera to take pictures of all the wonderful views, including Mount Vesuvius. FYI: There are bathrooms and food/drink available on board.
CAPRI BASICS
Capri is in southern Italy-more precisely, in the Gulf of Naples, 17 nautical miles south of Naples and 3 miles from the Sorrento peninsula. Most people travel to Capri by boat, and the closest port is Sorrento. From Sorrento, the hydrofoil takes just 20 minutes, the ferry 40. Since Capri is so close to the mainland and tickets are inexpensive, most people come over for just a few hours. One reason they don't stay longer is that Capri is very expensive, especially for lodging. And during peak time (June–September) it's difficult to get a hotel room.
SIZE OF CAPRI
Capri is about 4 miles (6.5 kilometers) long, and 1.5 miles (2.5 kilometers) wide. As we pulled into the harbor, my blood began to flow with excitement. But when I saw the crowds it suddenly made me feel like I should've gone to neighboring Ischia. Most of the day trippers were American, which took even more fun away. Don't get me wrong: I love Americans, I just prefer not to be surrounded by them when I travel to a far-off destination.
PUBLIC TRANSPORTATION
Capri has changed a bit since the last time I was here. Not only has it become more popular with Americans, but most of the old classic convertible taxis have been replaced by newer (and much less cooler) models. I rarely take taxis in Capri (they're ridiculously expensive), but I still like to see the classic cars cruise by. I get around either by walking, by using free transportation provided by my hotel, or by taking the bus. I've also rented Vespas in the past, which are exciting but dangerous.
CAPRI BUS
The bus is very convenient, inexpensive (€1,40 = $1.85), and fun to ride, especially if you take it to Anacapri, as you will see breathtaking views along the way. FYI: Bus tickets are available in three categories: corsa singola (single journey), orario (hourly), and giornaliero (daily).
SRI LANKANS
There are 15,000 full-time residents on Capri, and one of the big differences from my last visit is the number of Sri Lankans-500 of them now make the island their home. When my hotel (Hotel Caesar Augustus) sent their Sri Lankan driver, I was thinking, Oh boy-is the whole hotel going to be staffed with foreigners? Again, don't get me wrong: I have no problems with Sri Lankans or any other ethnic groups, it's just that when I'm in Italy, I want to see Italians. (On the flip side, when I'm in Sri Lanka, I don't want to see Italians.) The good news is that only 5 percent of the hotel workers were not Italian, and my driver, like the rest of the staff, was very friendly, and they all spoke fluent Italian and English.
CAPRI & ANACAPRI
Getting to Hotel Caesar Augustus from Marina Grande takes 20 minutes and is an adventure in itself. That's because it's up in Anacapri ("over Capri"). Capri is divided into two sections: Capri and Anacapri. Anacapri is located high in the hills, and is much quieter than Capri. I was told by a local that Capri is the place to see and be seen, while Anacapri is a genuine village that's not pretentious. It's also cheaper.
DRIVE TO HOTEL
The drive up the 1,000-foot hill is one of the most exciting and scenic you'll ever take. The roads are really narrow and windy. When buses pass each other, you'd better not have your arms out the window-there's only two or three inches between the buses. I have no idea why there aren't more accidents. It's amazing: Drivers don't even blink or slow down while hugging the side of the road. I would never be able to drive here (that's probably why non-resident cars are not permitted).
THE CLIFF
The highlight is going over the man-made bridge that sits high (900-plus feet) above a steep cliff. It's so hairy that when I took the bus later that day, I saw an Italian woman make the sign of the cross just before going over it. I quickly did the same. TIP: For the best view, sit on the right-hand side when going up.
CAESAR AUGUSTUS HOTEL

I checked into the five-star Hotel Caesar Augustus. The name comes from Emperor Caesar Augustus, who traded neighboring Ischia, my grandparents' native island, to the city of Naples for Capri. Caesar came once in a while to relax, but his stepson and successor, Tiberius, really put Capri on the map. Between 27 and 37 A.D. Tiberius made Capri the capital of the Roman Empire. His property, Villa Jovis, is on the other side of the island. Visitors can still see the ancient ruins. I didn't go, because it's a 45-minute hike from the center of town, but Tiberius had crazy orgies there and when he was finished with his ladies, instead of spooning them he hurled them off the cliff into the sea. And you thought your man wasn't a nice guy.
CAESAR AUGUSTUS PATIO
The 55-room Mediterranean retreat is right on top of a 1,000-foot cliff and has the best views of any hotel in Capri. I'm not exaggerating when I say they are jaw dropping. My advice is to have a drink on the outdoor patio at sunset, even if you're not staying there. You won't be disappointed.
PROPERTY
The hotel has been owned by the same family for three generations, and they do a fine job. First of all, the property grounds are immaculately manicured, and your nose has an orgy of its own while walking by all the different plants (jasmine, lavender, rosemary…) and trees (lemon, orange, olive, palm…).
GUESTS
Since rates begin at 450 euros a night, most of the guests are here for special occasions. There are a lot of young honeymooners and folks in their 50s and 60s. Guests come from all over the world, but the majority I saw were American. The others were mostly from Germany, England, and Spain, and there was one couple from India.
DID YOU KNOW: Like most hotels on the island, Caesar Augustus is closed between October and April?
VIEW
The last time I stayed here I was in one of their new suites away from the main building. On this trip, I was in the hotel, and although I didn't have as much privacy or a private garden, the views were spectacular. Seriously, it's now in my all-time top five of hotel views, and number one for the best view from the shower. I recommend taking a shower in the dark at night so you can see the lights of the Amalfi Coast and neighboring islands through the huge glass window.
THE ROOM
The rooms are on the small side and appointed with antiques. The ceilings are high and the floors tiled, just like in the hallways; is the tile is beautiful but it makes everything echo, especially the sound of the maid shutting doors in the morning. The bed had exquisite sheets, but it wasn't all that dreamy since they were twin beds pushed together and one mattress was about one centimeter higher than the other.
TV/INTERNET
The flat-screen TV had lots of satellite channels, including CNN, FOX, and ESPN America. But I rarely turned it on; instead, I spent most of my time sitting on the balcony, just staring out at the Gulf of Naples and shaking my head at the pure beauty. There is free Wi-Fi, which was fairly fast, but the antique desk was for show and not to do work. Then again, who but me comes here to work? I did my work from the balcony or the bed.
OTHER ROOM OBSERVATIONS
I loved their olive oil–based shampoo, soaps, and other toiletries.
The mini-bar was under the bathroom sink.
The maid replaced my hanging used towels.
It would've been ideal if the balcony door or bathroom window had a screen, so I could feel the Amalfi air without having flies buzzing around inside.
There is air-conditioning.
THE POOL
The infinity pool at the Hotel Caesar Augustus is so sleek that when you lay down on the lounge chair, it looks like it was built into the horizon. The atmosphere around the pool would keep any straight guy happy. You can't help but notice all the beautiful European ladies hanging out-and I do mean hanging out. My only complaint is that the pool water is a tad chilly.
BREAKFAST
Every morning I looked forward to having breakfast-it was fantastic. It's included in some rates, and the best part is that they have the freshest Caprese salad ever-yes, Caprese for breakfast! They also had all the regular breakfast dishes, but I just focused on the Caprese, pastries like sfogliatelle, chocolate torte, Nutella, fresh-squeezed OJ (you need to ask for it because they make it fresh in the kitchen), and of course cappuccino. The all-Italian breakfast staff were friendly and wore black-and-white striped shirts with a red scarf tied around their necks like Venetian gondoliers. Hotel Caesar Augustus, 80071 Capri Anacapri, Via G. Orlandi, 4 Italy; Tel.: 39-081-8373395.
DINNER
I didn't have dinner at the hotel because I was by myself. Plus, I couldn't wait for the restaurant to open up-by the time 8 p.m. rolled around I was usually famished (in southern Italy everyone eats late). The first night, I took a shopkeeper's advice and ate at Ristorante Arcate. It was just a 10-minute walk from the hotel and a few blocks from town. I was the first person in there when they opened at 7:30 p.m., so it was scary empty, but I enjoyed my fresh bread, Caprese salad (8 euros), and Spaghetti Pomodoro (8 euros). I know those dishes might sound boring to you, but they are my favorite and I could eat them every day (I practically did).
FYI: There is no language barrier on Capri, as they cater to tourists (especially Americans) and the menus are in Italian, English, and German.
PIZZA
My second night at Caesar Augustus, I realized no restaurant had a better view than my balcony, so I walked down some long windy path from the center of town, following a few locals, until I came to the end where there were a couple of restaurants filled with Capricians. I got a Margherita pizza from Ristorante Materita to go for only 5 euros. The menu had it listed for 6 euros, but I guess it's cheaper if you're not eating in.
ANACAPRI
The town of Anacapri is a 7-to-10-minute walk from the hotel (take a right out of the driveway). Be careful crossing the street, because the drivers up here are crazy too and they are in taxis, mini pickups, tuk tuks, and Vespas. They don't slow down even when people are in the road.
LIMONCELLO
In town there are a ton of touristy shops. The most popular item to bring home is limoncello. It's the island's classic after-dinner drink that's made from the zest of lemons. Bottles come in many shapes and sizes, and make perfect gifts. Almost every store that sells limoncello offers samples, including homemade lemon and orange chocolate (my favorite). Limoncello di Capri, Via Capodimonte, 27; Tel.: 081-8372927.
CAPRI CHAIRLIFT
In the middle of town you can also find the entrance to the single-seat chairlift. I was going to go again this trip, but every time I showed up, even at 9:30 a.m. when they opened, there was a line of tour groups. I went up on my last visit, as friends had informed me that it's where the best views of the island can be found. They were right: The top of Monte Solaro did not disappoint with its panoramic views of the Gulf of Naples and 1,955-foot drop to sea level. As an added bonus there are all kinds of ancient Roman ruins. Instead of taking the chairlift down, I recommend walking-it's not only cheaper but a great experience. It takes 45 minutes and is not very steep. FYI: At the top, there is a café and a bathroom. Chairlift prices are 9 euros ($12) for a round-trip ticket; 7 euros ($9) for one-way.
WEATHER
The average temperature in Capri in August (the hottest month) is 74. February is the coldest, and averages 50. I must have hit a heat wave in June because temps during my visit were in the high 80s.
1,000 STEPS
Before the narrow roads were built, there was only one route between Marina Grande and Anacapri: a set of stairs carved into the mountain that were built 2,000 years ago. They're still there. There are approximately 800 steps, but most people refer to them as the 1,000 steps. The real name is Scalina Fenicia (Phoenician Stairway), but after walking down them, 1,000 steps seems more appropriate. It took me only 20 minutes, but I bet going up takes a lot longer. It was so hot and sticky, I wasn't about to find out.
NOTES FROM MY WALK
I was bummed that I didn't bring water or a hat. On my walk, I only saw one Italian family and two British couples. Near the bottom there were plenty of locals; the men were friendly but the women weren't.
HOTEL PUNTA TRAGARA
For the second-best views from a hotel in Capri, I checked into the five-star Hotel Punta Tragara. It's at the end of the Via Tragara road leading to the panoramic viewpoint of Punta Tragara in Capri (not Anacapri). To get there is kind of a challenge because there are no cars on Capri, only electrical carts that cruise along the sidewalks every half hour or so with supplies and luggage.
ARRIVAL
Don't worry about having to lug your bags-the hotel will take care of them from the moment you step off the ferry, or if you are transferring from another hotel like I was. However, they do charge 9 euros per bag-another reason to pack light. TIP: Wear comfortable shoes and clothing for the long walk (I'm guessing a quarter of a mile) from the center of Capri to the hotel.
HOTEL HISTORY
If you have ever seen a photo of Capri, chances are was of the famous Faraglioni rocks, which literally sit just outside your hotel room at Punta Tragara. The hotel has an interesting history, as it dates back to 1920 when engineer Vismara built a private villa. During World War II it was used as the headquarters for the American Command and hosted such famous guests as General Eisenhower and Sir Winston Churchill. In 1968 Count Manfredi bought the villa and turned it into the Hotel Punta Tragara.
ART
The hotel used to be one building, but now there are three buildings with 44 rooms in total. There are lots of people taking pics from the outside since it's so historic and beautiful. Inside it's quiet and beautifully decorated like a private mansion with a bunch of Neapolitan watercolors, sculptures, and even portraits of the late Count and his wife.
MY ROOM
I was in room 36, which had a sleek brown marble staircase with a low ceiling leading down into the room. My room had three balconies and they all overlooked the Faraglioni rocks. I loved everything about it except its musty smell, but it didn't provoke my allergies so I didn't ask to move. Everything was modern, from the lights to the flat-screen TV. Other room amenities included a huge walk-in closet, stocked minibar, air-conditioning, and Italian welcome treats.
BATHROOM
The marble bathroom was also a good size and modern. It came with full-size Etro toiletries, a loofah sponge, a scale, and a candle. Here too the maids replaced my hanging used towels-I guess they aren't into conserving water on Capri.
WI-FI
There was a work desk, and each room supposedly has free Wi-Fi, but a few other guests and I couldn't get it to work except in the lobby, which was a bummer. They tried their best to fix it, but no luck. What really got my goat was that one of the staff members (by the way they are all Italian, and all spoke English but the maids) came into my room and started changing settings on my computer without asking. I almost freaked, but he later fixed them. He also changed my bad attitude when he said, You look Italian. When I told him my father's parents were from Ischia he moaned, "Ah ha." And when I said my mother's father was Danish he replied, "Brilliant." Those Italians are charmers, aren't they?
WORKING IN THE LOBBY
I spent a lot of time in the lobby working, which was an interesting experience because I learned a lot about the hotel business. I also saw some random things, like an American man in his late 50s who walked in and said, "I'm a guest at the Grand Hotel Quisisana [the island's most prestigious hotel], but I should've stayed here-this is more my style." Then he walked out the door.
POOL/SPA/GYM
The hotel has two pools, but they need a facelift as they are a little worn. My favorite part about the main pool was the boat cushions used to line the theater-like seating around it. The hotel has a small spa (I didn't test it out, so can't say much) and a tiny gym with three machines (bike, running machine, and a techno gym).
BREAKFAST
I had both breakfast and dinner in the hotel. Breakfast consisted of fresh-squeezed orange juice (they cut me off after two) and a continental buffet with all kinds of fresh fruit, pastries, salads, cheese, and a full menu with omelets, crepes, and more. Guests can sit inside or out near the pool. Place mats are the colors of the Italian flag-one red, one green-and sit on a white tablecloth.
DINNER
The same seating area goes for dinner, except they have some very romantic tables lining the wall above the sidewalk. I wasn't that hungry so I just ordered some pasta (in Italy most diners order multiple courses, so the portions are small). It was all really good except there were some annoying mosquitoes buzzing around. Hotel guests don't even have to sign the bill-it's charged right to your room, and tip is included.
HAPPY HOUR
What's cool is that the hotel does have a happy hour around sunset, when they invite guests to have a free glass of champagne and some canapés.
CONTACT
Hotel Punta Tragara, Tel.: +39 081 8370844; email: info@hoteltragara.it
GETTING TO THE BEACH
What's really nice about staying on the Capri side of the island is that you can get to the beach without a car. The 10-to-15-minute walk down a path on the edge of the woods surrounded by healthy pine trees and cactus was memorable.
BEACH
There are two beaches below the hotel; both are privately run with adjoining restaurants. The first day I went to the beach on the left (Da Luigi) and made friends with lifeguard Salvatore, so he let me slide on the 16-euro fee. Both beaches' fees include a beach chair, umbrella, towels, and a bird's-eye view of all the topless girls.
LA FONTELINA
The second day I went to the beach on the right because my friends from Connecticut had seen my Twitter/Facebook updates and said their good friends run the La Fontelina (Tel.: +39 081 8370845). Once I told the owner, Tonino, they treated me like a rock star. I took a dip in the beautiful water and hung out on beach chairs with the lifeguards. There's no sand on these beaches, just rocks, but it works. Afterward, I got a prime table and ate the craziest, most delicious Caprese salad and-you guessed it-Spaghetti Pomodoro. After another swim, I made the trek back up the hill. If I'd felt like being lazy I could've taken a boat to Piccolo marina and then a bus to town for 5 euros.
FYI: The water temperature was around 80, which is usual for August. In May the water temp is 64; in February it's 57.
LEMONADE STAND
Just outside of the hotel is a lemonade stand run by the friendliest Caprician of them all. She's so incredible; I remembered her from years ago as she's always smiling and singing. Her drinks are fairly expensive and not even that great, but she's too pleasant to turn down.
PIAZZA UMBERTO
As I mentioned earlier, about a quarter mile from the hotel is the center of Capri. There you will find the 100-year-old funicular going to the marina (you can also walk). The center of it all is Piazza Umberto, also known as the Piazzetta. This is the heart and soul of Capri. It's a small, colorful square with a 17th-century baroque clock tower. This is where all the action takes place, especially at night. There are outdoor cafés, countless designer and ceramics shops, five-star hotels, fine restaurants, discos, and of course gelaterias (gelato shops). In Capri I eat gelato at least once a day. Can you blame me?
BLUE GROTTO
On past visits I saw the red, white, and green grottoes and of course the Grotta Azzurra (Blue Grotto). The Blue Grotto was discovered by a Capri fisherman in 1822, and became famous in 1826 when a German writer described it. You can get to the Blue Grotto by land or boat. But to get into the cave during normal hours, visitors need to hop in a rowboat. The Blue Grotto is a total tourist trap, but it's a must-see. Passengers need to lie down in the boat because the cave opening is low, narrow, and dangerous. Timing the waves is difficult, and if I had not lain down I would have been a dead man. Once inside, the cave opens up to 180 feet, with high ceilings and the most magnificent blue water that makes the long wait and being ripped off worth it. The color comes from light from two openings shining through the water – so I was told. The best time to see the light effects is between 11 a.m. and 1 p.m. on a sunny day.
BLUE GROTTO AFTER HOURS
Another way to see the Blue Grotto, and without the crowds, is to swim in. People can do this only before or after the boats start working (I think they work 9 a.m. to 5 p.m.). But I don't recommend this, because it's really dangerous. Not only is the current strong, but the rocks are sharp. My dad tried it 15 years ago and almost drowned. I wasn't there, but my sister said that my mom was in the boat and saw my dad floundering. She yelled to my dad, "Don't do this to me, Frank-do you know how difficult and expensive it is to ship a body back to the States?" How funny was my mom?! It worked, though.
SIDE NOTES
– When checking out of the Hotel Punta Tragara, your bags need to be ready 90 minutes before the ferry's departure.
– You can buy ferry tickets from the front desk of the hotel, but they charge 2 euros extra.
– Ferries are usually on time.
– If you want to rent a boat or get a private tour, hire our family friend Gennarino Alberino-he's the most respected guide on the island. You can find his shop (Gennarino & Cindy) in town next to the ferries. Tel.: 0818375833.
– The best place to buy water, food, and snacks is the grocery store, where everything is half the price of the cafés and souvenir shops.
– I didn't go to Ischia to see some of my relatives because there's only one boat a day from Capri, so you can't make a day trip.
– My favorite time of day in Capri is sunset, just after the last ferry leaves and the island seems to slow down, and the views of the gulf and Amalfi Coast are amazing. I love seeing the lights shimmer in the hazy, mystical Mediterranean air. It really makes me feel like I'm on vacation.
Note: This trip was sponsored by Hotel Caesar Augustus & Hotel Punta Tragara
Advertisement
Chase Sapphire Preferred® Card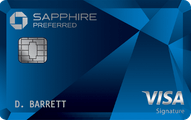 Earn 60,000 bonus points after you spend $4,000 on purchases in the first 3 months from account opening. That's $750 toward travel when you redeem through Chase Ultimate Rewards®
2X points on dining at restaurants including eligible delivery services, takeout and dining out and travel & 1 point per dollar spent on all other purchases.
Get 25% more value when you redeem for travel through Chase Ultimate Rewards®. For example, 60,000 points are worth $750 toward travel.
The comments on this page are not provided, reviewed, or otherwise approved by the bank advertiser. It is not the bank advertiser's responsibility to ensure all posts and/or questions are answered.

Editorial Note: The editorial content on this page is not provided by any bank, credit card issuer, airlines or hotel chain, and has not been reviewed, approved or otherwise endorsed by any of these entities.