What is a Credit Card?
A credit card is defined as a plastic card issued by banks that allows you to borrow money and make purchases. Credit cards follow the "buy now, pay later" model. Unlike debit cards, which automatically withdraw the money from your bank account, credit cards keep a running balance like your water or electric bill. Once your credit card application is approved, the credit card company assigns you a credit limit.
If your credit limit is $10,000, you can spend up to $10,000 before your transactions will be declined. You can make daily balance payments, but each month you will receive a monthly statement that tells you how much you owe on the statement closing date. Your credit score can be improved by paying your payments every month on or before the due date. Your credit card company reports your payment history to the credit bureaus every month. Making payments on time improves your credit score, while missed or late payments will damage it. You can access your credit score for free and use the score simulator to see how each credit event will affect your score. Some credit cards charge an annual fee. Credit cards that charge annual fees tend to offer better rewards or card benefits, but there are plenty of no annual fee credit cards that let you build your credit score for free!
Read More About Credit Card Basics
What is a Credit Score?
Credit cards are issued by banks and have a maximum limit for what the cardholder can borrow. This amount is called a "credit limit." Credit limits are determined by several factors, which make up a credit score. The most common factors are your income, your debts, and how much money you are currently borrowing.
There are several websites that will offer you a free score and recommend credit cards that they think you have high odds of being approved for. These sites may receive some monetary compensation if you apply for a card or loan through their website.
Although you can apply for a credit card through their website, don't feel obligated to apply just because they give you a free credit score. Most of the sites also let you take a peek at your credit report for free once a year in addition to getting a free credit score. They give you information like the top reasons why your score is good and what you can do to improve it. These free credit score websites also come with a calculator, which allows you to predict how credit events like applying for a new credit account or making an on-time payment for six straight months or how will impact your score.
Read More About Credit Scores
Are Free Credit Score Sites Reliable Or a Waste of Time?
Does It Help Your Credit Score By Getting A Credit Card?
How to Check Your Business Credit Score
Does Applying For A Credit Card Hurt Your Credit Score?
Best Places to Get Free Credit Score Checks Without Affecting Your Credit
What Are Some of The Easiest Credit Cards to Get Approved For?
3 Tips to Prevent Credit Card Closures
What Are the Different Types of Credit Cards?
Credit cards have evolved to fit a wider variety of needs in conjunction with an ever-changing market. Consumers have changed and will likely continue to influence further financial innovation. To help meet the challenges that consumers face, credit card issuers have created new categories and subcategories that target specific demographics.
Are you a student? There are credit cards for you. Are you loyal to a certain hotel or airline? Earn perks for your purchases. Do you have a small business? Take advantage of the ability to keep your personal and business expenses apart.
However, all of these cards fall under three main categories: student, personal, and business.
Student Credit Cards
Student credit cards are for those with little to no credit history to help them build credit. However, many of these cards do have a higher interest rate. Often lenders are willing to give students special offers due to their spending potential as they transition into their careers.
Personal Credit Cards
Personal credit cards are the umbrella that most credit cards fall under. These consumer cards vary by lender, credit standing, and personal credit history. Their benefits, spending limits, and ease of use are dependent on the individual card and the potential cardholder. Personal credit cards easily make up the largest portion of the credit market.
Business Credit Cards
Business credit cards usually come with higher spending limits, mainly because of the specific purchases that come with business expenses. Some business credit cards come with the ability to add employees to the account at no extra fee. Additionally, business credit cards are a must if you want to make tax season a breeze.  
With that in mind, here are the most popular types of credit cards on the market. Note that most of them fall under the personal credit card category.
Balance Transfer Credit Card

Low interest/APR Credit Card

Travel Rewards Credit Card

Cashback Credit Card

No Annual Fee Credit Card

Business Credit Card

Student Credit Card
Travel Rewards Credit Cards
Travel reward credit cards allow you to rack up rewards points for certain purchases. The three most common types of points are airline miles, hotel points, and bank points.
Airline miles are usually tied to an airline loyalty program. Some examples are Delta SkyMiles or United MileagePlus miles. These points can be used for flights on the parent airline's flights or on its partners.
Like airline miles, hotel points are restricted to one hotel chain. Some examples are Starwood Preferred Guest and World of Hyatt which has a new hotel credit card. You can use hotel points for hotel stays or even transfer them to airline partners in some cases.
Bank points can be used for everything from cash back to paid travel. They can also be transferred to the airlines of your choice. Bank points are popular because they offer flexibility that airline miles and hotel points don't.
Read More About Travel Reward Credit Cards
Best Credit Cards For Travel Miles
Beginner's Guide to Points and Miles
Getting Started with Travel Rewards, Miles, & Points
Don't Apply for Any New Travel Credit Cards If You Don't Know Your Credit Score
7 Myths About Travel Reward Credit Cards and Your Credit Score
Best Travel Rewards Credit Cards 2019
Which Credit Cards Have Roadside Assistance?
Chip-and-Pin Credit Cards For International Travel
Credit Score Needed for the Best Travel Rewards Credit Cards
6 Travel Credit Cards with Good Bonuses
How To Avoid Baggage Fees By Using Credit Cards
Credit Cards That Offer Trip Delay Insurance
Best Credit Cards For International Travel
Popular Travel Reward Credit Cards
Chase Sapphire Preferred
Chase Sapphire Reserve
Learn more about Chase Sapphire credit cards:
Chase Sapphire Preferred Credit Score – What You Need To Know
Chase Sapphire Reserve Credit Score Requirements
Guide to Chase Sapphire Reserve & Preferred Application Rules
Chase Sapphire Reserve vs Chase Sapphire Preferred
Chase Sapphire Reserve Benefits
Applying for the Chase Sapphire Reserve
Earn 60K Ultimate Rewards With Chase Sapphire Banking
Chase Sapphire Reserve Review: Worth the $450 Annual Fee?
Do Chase Ultimate Rewards Points Expire?
Chase Sapphire Preferred vs Capital One Venture
Platinum Card from American Express
Learn more about the Platinum Card from American Express:
What is the Credit Score Needed for the American Express Platinum?
How Hard Is It To Get the American Express Platinum Card?
American Express Credit Cards for Travel Rewards
Unlocking American Express Travel Rewards
Learn more about the Capital One Venture cards:
Capital One Venture: Credit Score Needed for Approval?
How To Redeem Capital One Venture Miles For Maximum Value
Capital One Venture vs VentureOne Credit Cards
Learn more about the IGH Premier Card:
How to Redeem IHG Rewards Club Points
Airline Rewards Credit Cards
Unlike rewards credit cards, airline miles are usually tied to an airline loyalty program. If you are a frequent flyer, you could use the perks for up in the air. If you are a frequent flyer who is loyal to a specific airline and find the airline easily accessible, take advantage of the airline benefits that come with the credit card.
Some of the benefits that come with airline credit cards include discounts on in-flight purchases, free checked bags, and opportunities to earn miles on select purchases. Additionally, seat upgrades, airport lounge access, and even free flights are also a possibility, depending on the card.
However, know that airline credit cards tend to have higher annual fees. Some users report that the benefits aren't enough to offset the costs of having a specific airline credit card. Be realistic about how often you fly and whether or not the flights will be accessible to you.
Read More About Airline Rewards Credit Cards
The Best Credit Cards for Purchasing Flight Tickets
Airlines that Offer Mileage Pooling
What is the Best United Airlines Credit Card?
The Best Credit Cards to Use for Delta Airlines Purchases
How to Get TSA PreCheck & Global Entry Access for Free
Popular Airline Rewards Credit Cards
Barclays Frontier Airlines Credit Card
Business Credit Cards
If you own a business, consider using a business credit card for many reasons, including better financial management. Keeping your business expenses on your business card will make your life easier when you are doing your taxes. You'll have detailed records of your spending, making it easier to claim deductions and verify questions should you get audited.
If your employees also have a card, you can see who spent what and where.
There are also higher spending limits to take advantage of with a business credit card. Perks include additional cards for employees, better welcome bonus offers, purchase protections, and rewards for spending on business expenses such as advertising, office supplies, and telephone and internet services.
Additionally, a business credit card can help you build your business credit score, which is different from your personal credit score (even if you're self-employed). Just like with a personal credit score, having a good business credit score will help you expand your credit limit and utilize the perks that issuers are offering.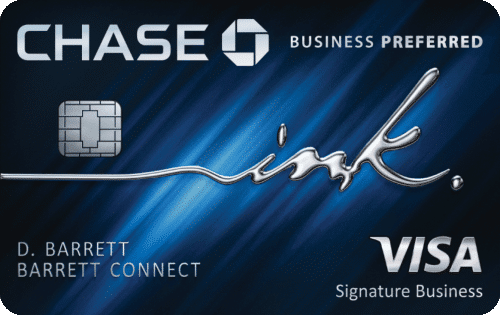 Read More About Business Credit Cards
Applying for a Business Credit Card? Here's What You Need to Know
5 No Annual Fee Business Credit Cards
Chase 5/24 Rule and Business Credit Cards
The Best Non 5/24 Rule Chase Credit Cards
Popular Business Credit Cards
Chase Ink Business Unlimited
Chase Ink Business Preferred
Chase Ink Cash
Learn more about the Chase Ink Business cards:
Comparison: Chase Ink Unlimited vs Chase Ink Cash
Chase Ink Preferred vs. Chase Ink Cash
What is the Best Chase Business Credit Card?
Hotel Rewards Credit Cards
Hotel rewards credit cards often come with perks like free nights, awards, room upgrades, and free breakfast. Similar to airline credit cards, many hotel credit cards are co-branded, meaning that they are named after the hotel. If you are loyal to a particular brand of hotels, a hotel rewards credit card can help you maximize all that the hotel offers.
Other perks usually include late check-out/early check-in options, access to their exclusive clubs, and guaranteed rooms. On a personal level, hotel rewards credit cards sometimes come with automobile and baggage insurance. Be sure to double check what you have or want to be approved for.
Don't forget to sign up for their hotel rewards program, especially if you travel to this particular hotel chain often. If you tend to book your hotels based on price and therefore vary your options, consider a more general card to earn the most.
Read More About Hotel Rewards Credit Cards
Credit Cards With an Annual Free Hotel Night Reward
An Easy Way to Earn Free Hotel Rewards Points
Rewards Credit Card Options For Hotel Purchases
Popular Hotel Rewards Credit Cards
Learn more about Hilton Honors credit cards:
Perks of Hilton Honors Points
What Is the Best Hilton Honors Credit Card?
Should You Get the Hilton Honors Ascend or the Hilton Honors Aspire Card?
The comments on this page are not provided, reviewed, or otherwise approved by the bank advertiser. It is not the bank advertiser's responsibility to ensure all posts and/or questions are answered.

Editorial Note: The editorial content on this page is not provided by any bank, credit card issuer, airlines or hotel chain, and has not been reviewed, approved or otherwise endorsed by any of these entities.