Hola from Argentina! Last week, we left off from the incredible town and UNESCO World Heritage Site of Ouro Preto. This week, we visit one of the world's largest waterfalls, Iguazu Falls. It's so amazing that it makes Niagara Falls look like a fountain and on top of that, it practically borders three countries and we're going to visit them all. Woo hoo!
OURO PRETO TO B.H. AIRPORT
From Ouro Preto, Natalie and I drove 90 minutes back to Belo Horizonte to catch our flight to Iguazu Falls. Planning it was a bit difficult because there wasn't much information to be found on the Internet, at least nothing I could find in English. So I didn't know which airport to fly in or out of. Technically there's an airport for each country: Brazil, Argentina and Paraguay. Even though we were going to the Argentina side, our best choice was Brazil's Foz Do Iguacu airport (IGU), as we were coming from a Brazilian city. We found some reasonable tickets on one of Brazil's low cost airlines, Gol. We left our Belo Horizonte hotel at 7:10pm for a 9pm flight and we probably should have left a bit earlier for peace of mind because they say it takes an hour to get there especially in the rain … and it was pouring. The good news is that it took just 40 minutes. The bad news is that our driver didn't speak a lick of English. It cost 79R ($39) for the trip.
BELO HORIZONTE AIRPORT
Confins International Airport is pretty darned big but the only international destinations on the departure board were Miami and New York. The line to check in for Gol was about 12 people deep but it was moving slowly with just two agents. About 10 minutes into the wait, I turned around and the line had tripled in length. Two more agents showed up but none of them spoke English. After five minutes of my hopeless hand gesturing, they brought out a bilingual agent from the back office. Luckily, they didn't weigh my carry on and tell me it was too heavy to bring on as they did to the guy next to me … and his was half the size of mine! I hate when airlines do this because everything I need is in there (laptop, other electronic gadgets/chargers, cameras, medicine, magazines). I made friends with the agent quickly. Usually I give them a box of chocolates but instead I handed him a beautiful book of Minas Gerais, which was given to me but unfortunately was too big to schlep around the country.
BELO HORIZONTE AIRPORT
Gol's boarding passes are like a grocery store receipt – similar to jetBlue. To get to the gate area, we walked up a long, wide spiral ramp with Astroturf. Security was lax as can be: shoes stayed on, laptops didn't come out and bringing water through was not a problem. Gotta love that! The gates are confusing and a lot of wrong information came our way. The departure monitor appeared to be working for everyone's flight but ours. Luckily, we tripled-checked where our gate was and the third agent we asked looked at me like, "Where the heck have you been?" and rushed us down the stairs to the shuttle bus departing for the plane. FOOD: If you want to get hot food in the airport café, be sure to pay the cashier first and then bring the receipt to the counter beside. Two ham and cheeses, a bottle of water and a can of Guarana Antarctica soda cost 29 R ($14 USD).
BELO HORIZONTE TO CURITIBA
Gol flies mostly new 737-700 and 737-800 planes and they have advertisements on the backs of the tray tables. Our flight to Curitiba was on a 737-700 and it was only a third full. We pushed back at 9:16pm and took off at 9:32pm. The flight attendants were young, good looking, spoke English and wore uniforms designed by leading Brazilian stylists Glória Coelho and Ricardo Almeida. The seatbelt sign didn't go off quickly but when it did, the flight attendants brought out the carts and serveddrinks and "hot cheese" crackers. They came around twice on the one-hour, 20-minute flight.
CURITIBA TO FOZ DO IGUACU
When we landed, we deplaned using outdoor stairs and took a shuttle bus to the airport, which was a lot bigger than I thought it would be. We had to exit the gate area even though we were making a connection. But going through security again was not a problem; there was no line and the same lax rules. It took a minute, if that. Our next flight was scheduled for 12:10am but it kept getting delayed by 30-minute increments. I learned it's important to keep looking up at the screen because in the blink of an eye they switched gates on us and it read: Foz Do Iguacu boarding – last call. We would have had to spend the night in the airport if we weren't vigilant. We eventually took off at 1:14am and the 52-minute flight was 90% full and uneventful.
AIRPORT TO HOTEL
Walking from the plane to baggage claim outside in the open air, I could just smell the fresh air and wet pavement. It was a great feeling. A hotel driver, which we'd pre-arranged, was waiting for us as planned with a placard. He grabbed our bags, took our passports — including our Brazil exit card, which we filled out when we first arrived into the country — and we were off. The hotel has a fleet of new Mercedes so we were styling like rock stars. It took about 10 minutes to get to the Brazil border. The driver left us in the running car while he went inside to get us processed. A few minutes later, he came out and we each had a fresh Brazil exit stamp. We then drove a few hundred yards through no man's land, stopping halfway on a deserted bridge over the Iguazu River to see the exact Brazil and Argentina borderline, depicted by painted flags. On the other side was the Argentinean drive-through border. The agent and driver spoke Spanish and didn't ask us any questions as he entered our information, then stamped our passports. We were now in officially in Argentina and from the border to the hotel was a quick two-minute drive.
CURRENCY
Crossing the border means getting new currency. At the hotel, there were a couple ATM machines in their casino. $1 USD = 3.71 ARS (Argentina Pesos) or 1 ARS = 0.26 USD. So as you can see – Argentina is a huge bargain for Americans.
IGUAZU GRAND HOTEL RESORT & CASINO
We checked into the Iguazú Grand Hotel Resort & Casino in the middle of the night. The hotel is a member of the Leading Hotels of the World but I thought it would have been a bit nicer. My firs timpression was that it had kind of luxury tacky, Reno, Nevada hotel feeling. Don't get me wrong: The hotel is nice but they need to make some minor improvements, mostly with the food and service.
ARRIVAL
The service started out fantastic but with the exception of the front desk crew, it went downhill from there. When we arrived at 3am, a bellman came right out, grabbed our bags, escorted us to the front desk then brought us welcome drinks (orange/mango juice). We filled out a few lines of paperwork and then were whisked up to our deluxe room.
ROOM
The room was huge but it had two old-school TVs and not many English channels – maybe two out of 60 Spanish ones. But the bathtub had cracks, a long black hair stuck to the side and there was mould on the shower ceiling. But the bed was comfortable and they offered fast high-speed Internet (not wireless) for free.FYI: The electrical outlets are the same as in Brazil. WhatPlug.info will help figure out what adaptor you need no matter what country you are from or where you're going.
HOTEL SERVICE
The front desk always provided outstanding service and they spoke perfect English. However, the restaurants needed help. We had one or two excellent waiters and meals out of five. In the main dining room, we loved their delicious squash soup with honey in an edible bread bowl, followed by above average pasta(cooked anyway you like it) and freshly made watermelon juice. But the people dining at the two tables next to us were both complaining of the food, service and hotel. Both couples were American and one was rudely yelling in Spanish that their food took too long and their steaks didn't come out as they had ordered. Obviously, yelling isn't the way to go but I can see where they were coming from — a Leading Hotel of The World should meet certain standards.
I actually felt like yelling at breakfast the following two mornings. Both days, my eggs were overcooked. When I asked the waiter for hot sauce after he brought my ham and cheese omelet, he cleaned some tables, went into the back room and came out five minutes later, still with no Tabasco. He forgot and I ate the burnt eggs cold. The next day, that same waiter was calling people using the bar's speaker phone and it was so loud and annoying and was such a disturbance to the guests. But the waitress made up for his ignorance and was a star. Breakfastwas much more than burnt eggs. There were some interestingtasty goodies – I loved the fresh squeezed peach juice and OJ. Most of the buffet was filled with a variety of pastries, fresh fruitand cereal. Yum!
POOL SERVICE
Later that afternoon, Natalie and I ordered room service out by the plush pool. We were starving and I could see our order sitting on the food line to be picked up and delivered by the waiter. But he was nowhere to be found and by the time our food arrived, it was cold and nasty. My ham and cheese sandwich was lukewarm, the French fries were cold and they didn't have ketchup. Natalie's pizza was also cold and nasty. I would have complained but the waiter didn't speak English and I wasn't going to have my new order spit in. The pool boy could have been more on top of things, too. There were dirty towels scattered around and he never offered us clean ones. There were also floating noodles abandoned in the pool and the net of the skimmer, which one of the Argentinean guests picked up and handed to the pool boy, while saying something nasty to him in Spanish.
MAIDS
Despite the lone black hair in the tub and the mould in the shower, the maids did do a great job cleaning and they come into the rooms in threes like a S.W.A.T. team. Other amenities of the hotel include: a casino, a modern workout room, tennis courts, a spa and an indoor pool. The hotel offered to give me a free facial, which I would normally say no to, but I'd had this persistent blackhead on my nose. I'd actually cut it the week prior trying to dig it out. So I figured, what the heck? I hadn't had a facial in years and I didn't know what to expect. Natalie told me I needed to shave, which I did 10 minutes before the appointment – not a great idea.
SPA TREATMENT
I was sitting on the table stark naked with a towel over my you-know-what. The female therapist started putting some coarse cream on my sunburned face. It hurt. Then she put a local herb cream on my face and let me lay there with towels all over my body for a good 20 minutes. I woke myself up with a snore. Then she came in and washed it all off. That was followed by putting some kind of lukewarm cheesecloth on my face, which made me look like a mummy. It actually smelled like cheese and started making me hungry. The therapist didn't speak English and me, well I no habla Espanol so I had no idea what she was saying. She left the room again and I just wanted to go back to my room and be done with it but I was afraid I would scare the other guests. Finally, she came back in put some kind of makeup cream on me and that was it. The worst part? The blackhead was still there.
DINNER AT PANORAMIC HOTEL
For a change of scenery, Natalie and I went over to the resort's sister hotel for dinner. The Panoramic Hotel was originally built in the 1940s and has just undergone a refurbishment. The hotel features colonial architecture with modern decor and it's located on a hill with a panoramic view of the Three Frontiers Landmark — stone and cement obelisks that establish the territorial limits and built with the respective colors of the three countries. The drive was eight minutes from our hotel and we ate outside and had a delicious mini BBQ of chicken, sweet potatoes and mashed potatoes. The English menu had a lot of misspellings and I was going to offer to correct it for a free meal but it actually adds to the atmosphere of being far away from home. This hotel also has one of Iguazu's three casinos. There are four other ones in town, about 45 kilometers away.
IGUAZU FALLS
Iguazu Falls is one of the world's largest waterfalls and is the reason people from all over the world come here. Iguazu Falls, Iguassu Falls, Iguaçu Falls, Foz do Iguacu — however you want to spell it, it is well worth the trip no matter where you hail from. They are located right on the border of Argentina and Braziland consist of 275 falls over 1.67 miles (2.7 km). The majority of the falls are around 210 feet (64 m) and the highest part reaches 269 feet (82 m). I read that it has the greatest average annual flow of water in the world and if you are here during the rainy season and the water is flowing, this place is way nicer than Niagara Falls. It's a massive set of falls one after another with a wonderfully lush and green backdrop. This is one of the most picturesque places on the planet.
HOTEL TO FALLS
From the hotel to the Argentinean Igauzu Falls Park, it takes 25 minutes. The hotel charges 90 ARS ($24 USD) each way, which you can charge to your room but you will need to pay cash to getinto the park and they only accept pesos. 60 pesos ($16 USD) each plus four pesos for? The place was overflowing with tourists and surprisingly, I saw a good number of Americans. There are a bunch of walkways — an upper circuit and a lower circuit, which give visitors a variety of views and vantage points. The whole time, you'll be shaking your head in disbelief and amazement at the incredible natural beauty you're surrounded by – at least that's what we did. TIP: Pack a small umbrella. It rains a lot and the hotel only has the big ones, which are awkward to carry when the sun comes out.
If you're pressed for time, you could even do a day trip from Buenos Aires, Rio or Sao Paulo, all by flying in and out – just like many people make a day trip to Niagara Falls from New York City. However, it would be easiest from Buenos Aires since the Argentina side is the most developed with pathways and excursions. The Brazil side supposedly has the best views but one way to bypass a trip there and having to get a Brazilian visa, is by taking Argentina's Iguazu Jungle Excursion (150 pesosper person = $40).
IGUAZU JUNGLE EXCURSION
We signed up for the jungle tour and there were a few Americans from Arizona and Maryland in our open-air vehicle. Other tourists were from Argentina, Brazil, Colombia, and Spain (they ask everyone where they are from). The jungle tour begins with a 15-minute ride down a dirt path. We saw some big bugs(including one on me), a lizard, coatis (not on the tour) but no toucans, jaguars, pumas or monkeys. Actually, the guide and driver weren't really looking, which was a disappointment. We also didn't see any mosquitoes, which was a good thing because we were a bit worried about Yellow Fever, though the locals all agreed it's just a concern in nearby Paraguay. We were all dropped off at the top of a 100-yard path to the water, where anoversized zodiac was waiting for us. This part of the trip waswell worth the fee but prepare to get wet. Soaked, actually. Don't even bother wasting the 15 pesos ($4) for a poncho in the gift shop because it does nothing to keep you dry. Just wear shorts and/or a bathing suit. The highlight was seeing a 260-degreeview of the waterfalls and then 'buzzing' the most impressive one: Garganta del Diablo or Devil's Throat.
LUNCH/HOTEL
Afterwards, we had lunch in the park's restaurant, Jaguar House. The food was really reasonable but their napkins were the absolute worst ever. I think they were made of parchment paper or something. If you wanted to spend just one night at the falls and not make a little vacation out of it like you can at the Iguazú Grand Hotel Resort & Casino (if they make a few staff changes, the place will rock), there is a Sheraton Hotel in the park. It's the only one located inside the gates and definitely has the best location and view but it's not that nice. The Iguazú Grand is much nicer and better for people who like to be away from the crowds or who are interested in gambling.
PARAGUAY RUN
To get to Paraguay from Argentina, you need to go through Brazil. It's best to get a visa before leaving America because it costs the same price and lasts for five years. If you get one at the border, it lasts just 30 days. Everyone I spoke to hated Paraguay's border town of Ciudad Del Este, but they all loved Argentina and Brazil. They said Ciudad Del Este was too crowded and dangerous. Then again, how many border towns do you know of in the Americas that are really that nice, anyway? Tijuana is my least favorite place in the world and Ciudad Del Este ranks up there. It just feels lawless and Natalie and I had to leave our big cameras under the car seats so no one would mug us.
ARGENTINA BORDER
With all the warnings (including the deadliest yellow fever epidemic in over 60 years, which you need to get vaccinated for at least 10 days in advance), we knew what we were in for. But we were so close to Paraguay, we felt we had to see it for ourselves and didn't want to have any regrets. We hired a driver from the hotel. Instead of using one of their fancy Mercedes, he took us in an unimpressive employee car, which was a good idea. We left the hotel around 8:25am (the Argentinean border is literally 300 yards away) and there was a bit of a line there – it took about 25 minutes to clear. Again, visitors don't need to get out of the car; it's a drive-through crossing and the agent just looks at you and checks your form. The driver filled out our exit cards. The line coming into Argentina was long, especially fortour buses, which we were told can take up to three hours. It's best to take a private taxi.
CROSSING THE BORDER
The border bridge with the Argentinean and Brazilian flags painted on their respective sides looks totally different during theday. At the Brazil border, we needed to go inside this time and get our passports stamped ourselves but there was no line and it took a minute. The female agents were friendly. The drive from there to the Paraguay border took about 20 minutes but there was a ton of traffic going over. I'm not sure what the hold up was because they don't look at you or your passport there (even on the Brazil side when returning). We were bummed not to get a Paraguay passport stamp. The wait to cross over was 30 minutes. The best way to avoid it is to hire a motorcycle taxi for about five pesos. Helmets are supplied and required. They zoomright in and out with adults of all ages. A few people sell things while waiting, but it's not as bad as Tijuana.
CIUDAD DEL ESTE
Two pre-teenage kids were renting out parking spaces so they could make some money. Our driver bargained with them before we parked, but paid them when we left ($2 USD). We were in Ciudad Del Este for maybe 45 minutes, which was long enough. It's not as bad as Tijuana but there's no reason ever to go back. Locals aren't in your face selling goods like in Mexico so once you say no, they move on. Most stands were selling fruit,blankets, fishing poles, tools, blankets, clothing, bootleg DVDs (Hollywood movies/TV shows and porn). There was no touristy stuff whatsoever; no magnets, shot glasses or postcards so that gives you an idea of who comes here. It's just Brazilians and Argentineans looking for good deals. There are lots of camera shops. Most people were paying in U.S. dollars – even our driver bought a shirt for $10. A small coke cost $1, while a locally made, hand-woven bag for Natalie was $10.
MATE
The most interesting thing I learned was that almost everyone there drinks a tea called mate. It's the national beverage in Paraguay and is made from the yerba plant. It's drunk through metal straws called a bombilla and served in wooden cups. They prepare the tea by pouring dry yerba into the cup and adding water (hot or cold). I read the taste described as earthy and bitter.
NEXT WEEK
Next week we head back to Brazil and visit the world-famous city of Rio de Janeiro!
Web Resources
Note: This trip was sponsored in part by Iguazú Grand Hotel Resort & Casino
Advertisement
Chase Sapphire Preferred® Card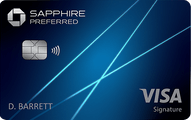 Earn 80,000 bonus points after you spend $4,000 on purchases in the first 3 months from account opening. That's $1,000 when you redeem through Chase Ultimate Rewards®.
Enjoy benefits such as a $50 annual Ultimate Rewards Hotel Credit, 5x on travel purchased through Chase Ultimate Rewards®, 3x on dining and 2x on all other travel purchases, plus more.
Get 25% more value when you redeem for airfare, hotels, car rentals and cruises through Chase Ultimate Rewards®. For example, 80,000 points are worth $1,000 toward travel.
With Pay Yourself Back℠, your points are worth 25% more during the current offer when you redeem them for statement credits against existing purchases in select, rotating categories
Count on Trip Cancellation/Interruption Insurance, Auto Rental Collision Damage Waiver, Lost Luggage Insurance and more.
The comments on this page are not provided, reviewed, or otherwise approved by the bank advertiser. It is not the bank advertiser's responsibility to ensure all posts and/or questions are answered.

Editorial Note: The editorial content on this page is not provided by any bank, credit card issuer, airlines or hotel chain, and has not been reviewed, approved or otherwise endorsed by any of these entities.