Namaste from India! We left off last week from New Delhi. This week, we travel by train to fulfill a lifelong dream. From the moment I learned about the Taj Mahal, I've always wanted to visit it. And this week, that dream finally came true. Can you believe I went to the Taj Mahal? Sometimes I still can't believe it! If you want to see this masterpiece with me and discover what it's like to travel by train in India, then come on this journey. As an added bonus, we check-in to a hotel that's not only one of India's finest, but one of the finest in the world!
DELHI TO AGRA
If you're just joining us for the first time, I'm currently writing about an around-the-world trip I'm doing with Jet Airways. My first international stop was Brussels, two weeks ago we exploredNew Delhi and this week, we're off to Agra. When I was planning this trip, all I knew is that I wanted to see the Taj Mahal. I didn't know exactly where the city of Agra was located, but I knew I was going there no matter what.
SHATABADI EXPRESS
Fortunately, Agra is only 203 km (126 miles) from Delhi. I learned that the best and fastest way to get there (besides flying in a private jet) is by jumping aboard the Shatabadi Express, India's "high-speed" train. The trip takes two hours and 10 minutes. The commuter train (the slow one) takes five hours and driving takes about four hours … but as I quickly learned, driving in India is insane and probably not your safest option for getting around.
EARLY MORNING PICKUP
I could have saved some money and arranged for everything myself but I was prepared to throw down some cash for this side trip because it was a once in a lifetime opportunity. I had been working with India Safaris on the following week's trip, so I had them arrange everything. They took care of the transportation to and from the train station in Delhi and Agra, arranged the train tickets and booked a guide. All Natalie and I had to do was show up on time, bright and early at 5:15am.
TRAIN IN INDIA
Of course, we wanted to leave later but the Shatabadi Express, which is considered the "high-speed" tourist train, only leaves once a day from Delhi and it's at 6:15am. We checked out of the Taj Palace hotel by 5:10am and patiently waited by the door for our pickup. They were 10 minutes late but we made it to the station in plenty of time even with Delhi's crazy traffic. Natalie and I were both skeptical about taking an Indian train, especially after seeing a YouTube video while researching this trip. But the tourist train to Agra is nothing like the crowded commuter trains we'd seen online, where it's so packed, people are pushing each other in and out and hanging on the outside. Take a look for yourself!
FIRST CLASS NOT AVAILABLE
We also wanted to travel first class to make sure we had some space but that carriage gets sold out weeks in advance. The good news is our guide assured us it would not be anything like the commuter train and coach class would be fine. He was right.
DELHI TRAIN STATION
We arrived at the Delhi train station around 5:45am. It was still dark and crowded as can be, with passengers rushing around and locals sleeping on the floor. Our escort took us to the platform we were supposed to be on and waited with us until the German-made train arrived. We found our assigned seats with no problems. We really didn't need that kind of handholding but I must say, it's nice not to have to think once in a while, especially before the sun comes up.
There didn't seem to be much difference between first and coach class. I would assume that it's similar to Europe, where up front, there's a bit more space, a cleaner carriage and better service. The whole train is air-conditioned, which is important, but didn't matter this time of year because it was a bit chilly out. It was a relief to see how civilized the boarding process was and inside the carriage was, too. Probably half the passengers were Indians and the other half foreign tourists. In coach were mostly backpackers.
BREAKFAST
I paid just 1,800INR ($37USD) for two roundtrip tickets and the price includes a large bottle of water, a pot of tea, a newspaper and a hot meal. Everything was served during the first 30 minutes of the ride and breakfast arrived on my tray at 7:45am. It consisted of a potato cutlet with peas, white bread, jelly and mango juice. To be honest, I was a bit worried about eating it but I figured it had to be safe since everyone else was eating it … and I was so hungry I didn't even matter. I don't think I will ever forget looking out the window as we rode backwards, and seeing the sun rise over the fantastic scenery. What a treat!
AGRA
Friends had warned me that Agra was a nasty, dirty old city. They'd told me the only thing I'd want to see was the Taj Mahal and the Oberoi Hotel. They were pretty much right. Agra is a medieval city that sits on the banks of the Yamuna River with a population of about 1.7 million. It's in the state of Uttar Pradesh, which is one of India's 28 states and seven union territories. Delhi, by the way, is in the National Capital Region (NCR), a union territory.
STATION TO TAJ
When the train pulled into Agra Cantt (the main railway station) I made a bee-line for the exit trying to shake off all the beggars and street hawkers. Of course, I went to the closest exit, which was the wrong one. I should have exited through the center doors. I eventually made my way there, where the driverand tour operator were waiting for me with a placard with my name. We picked up the guide and dropped the tour operator offon our way to the Taj.
AGRA GUIDE
Our guide's name was Warren and he looked like Ponch from the '80s TV show CHiPs. Maybe it was the '70s sunglasses and the slightly feathered hair. He was cool like Ponch too, but much more mellow. He was soft spoken, well educated and didn't have much patience for my A.D.D; I rattled off five questions before he could completely answer one.
ATMOSPHERIC POLLUTION
From the train station to the Taj is only 2.5 kilometers (1.5 miles). Fossil-fuel vehicles aren't allowed to pull right up to the entrance to the Taj, so visitors need to be dropped off at a parking lot about 500 meters (546 yards) away. That's because the Taj has been suffering from the effects of atmospheric pollution. The white marble is getting discolored and the fine carvings and inlays are eroding.
GETTING TO THE ENTRANCE
Visitors can either walk or pay for a ride on a horse-drawn cart or in a battery-driven tuk tuk. Natalie and I did the latter and I'm not sure what it cost but I read that they overcharge tourists so it was good to have a guide with us. I bet Warren didn't pay more than $1 for the loud, exciting four-minute ride. The Taj has three points of entry and we went through the east gate, which is known for being the least crowded.
TAJ FEE
The fee to get in is 750INR ($15USD) per person. Children 15 and under get in for free (in all the city's attractions). Indians, by the way, pay a fraction of what tourists pay. Because I pre-arranged the trip with India Safaris, I didn't have to deal with purchasing tickets or haggling – our guide did it all. He also kept us away from most of the street hawkers so it was almost like having a bodyguard. FYI: The guide, for the whole day, cost 1,000INR ($20USD), and it was another 3,500INR ($72USD) for all the entrance fees, which included the surrounding area's major attractions: Taj Mahal, Agra Fort, Fatehpur Sikri, Itmad-ud-daula.
NO FOOD, NO BOOKS …
A ticket to the Taj Mahal is good for only one entry so if you want to see the sunrise (it's foggy in the morning this time of year) and the sunset in the same day, you'll have to buy two tickets. I doubt you'd be able to hang out there all day because there are very strict rules about what's allowed in and what's not: no food, books, makeup, tripods … In fact, I couldn't even bring the four-inch stuffed animal that I take pictures of around the world, for a middle school class in California, inside the gates.
SECURITY CHECKPOINT
Admission price comes with a regular size bottle of water and a disposable pair of shoe covers (you'll see why later). If you don't have a driver and car to leave your banned belongings with, there's a checkroom. Everyone must go through a security checkpoint (one for women and one for men) and then it's a long stroll down a wide sidewalk around the fortress-like wall.
The Taj is still off in the distance but as you start to see the ornate minarets against the blue sky coming into view, it's bound to get your blood pumping and you'll feel a wide smile creep onto your face. Once we reached the main entrance, Warren showed us a line in the sidewalk, which actually lines up both the entrance of the main gate and the entrance of the Taj Mahal perfectly, even though they are a good hundred meters apart.
MUGHAL ARCHITECTURE
Obviously, I knew the Mughal architecture was incredible but I had no idea it was so detailed. I couldn't wait any longer so I flipped the switch on my video camera and began slowly walking away from Warren's history lesson. As you will see from the video below, the entrance, somewhat shrouded by the morning fog, made for a spectacular first sight of this magnificent structure. Seriously, it was surreal. And if there hadn't been anyone around to distract me, I probably would have cried like a baby.
FIRST SIGHT OF THE TAJ MAHAL
Sometimes, things that get too much hype can be a let down when you finally see them because they can't possibly live up to expectation. But the Taj Mahal most definitely did not disappoint. This place is truly a masterpiece. The Taj Mahal took 22 years to build by an army of 20,000 men and 1,000 elephants. You might have heard that the workers were later mutilated to prevent them from duplicating their work elsewhere but Warren said that's just a tall tale.
MAUSOLEUM
The Taj Mahal is a mausoleum and Emperor Shah Jahan commissioned it as a memorial for his beloved second wife, Mumtaz Mahal. In 1631, she died giving birth to their 14th child. Supposedly, shortly after the Taj was finished, Shah Jahan was overthrown by his son and imprisoned in Agra Fort for the rest of his life (nice son, eh?). But when he died in 1666, Shah Jahan was buried alongside his adored wife.
MINARETS
What's amazing about this incredible structure is that all four sides of the Taj Mahal are completely symmetrical. If it weren't for the landscape, you wouldn't be able to tell which side is the front. In my opinion, the 40-meter high white minarets on each cornerof the platform, are what make the Taj look so spectacular. They were built just for decorative purposes and lean slightly outwards so that in the event of an earthquake, they would fall away.
THE TAJ PROPERTY
In the front of the Taj are the gardens and ornamental fountains, which is where most people drop to one knee for an awesome photo op. On both sides are red sandstone buildings. One is a mosque to the west and an identical building to the east, built only for symmetry and probably used as a hotel for travelers.Behind the Taj is the Yamuna River. That might have been my only disappointment because in some advertisements, the wateris airbrushed so it looks crystal blue and there are camels and colorful masters walking nearby. But in truth, the water was brown and murky and there were no signs of any camels, just a ton of India's sacred cows.
NO PHOTOS OR SHOES INSIDE
To get to the main structure, it's a long walk … so is the bathroom! Photos aren't allowed inside the enormous marble arches and neither are shoes. You can either leave them in a designated area or put on the slipcovers, which are included with your entrance fee. I think the latter is a wiser choice so no one steals your shoes, leaving you to walk home barefoot.
The Taj Mahal was designated a World Heritage site in 1983 and it supposedly looks as incredible today as when it was first constructed, though it underwent a huge restoration project in 1908. Below the main dome is an elaborate fake tomb of Mumtaz Mahal (the real tombs are below in a locked basement and cannot be viewed). The most impressive feature inside is the exquisite pietre dure (marble inlay work), which is made with thousands of semiprecious stones from 43 different types. Your jaw will drop when the guide puts a mini flashlight over the stones and illuminates them. The effect is brilliant.
FULL MOON VIEWINGS
We walked around the Taj twice, once on the upper platform and once on the lower. The whole time, I was shaking my head in disbelief. I would have loved to go back at sunset or for an exclusive full moon viewing. They take place for five nights on either side of each full moon (except on a Friday) and they only allow a maximum of 400 visitors — 50 people at a time for 30 minutes between 8:30pm and 12:30am. Tickets (Indian/Foreigner Rs 510/750) must be bought at least 24 hours in advance only from the Archaeological Survey of India Office (2227263). Visiting hours of the Taj Mahal are from 6am to 7pm and it's closed on Fridays. Tour groups don't generally begin arriving until 9am. For current information and full moon dates, log on to the Uttar Pradesh tourism website.
AGRA FORT
After seeing the Taj Mahal, I felt like my visit to Agra was complete. However, my package deal included a full day of sightseeing. Our next stop was two and a half kilometers away to another UNESCO World Heritage site: the Agra Fort, also known as Fort Rouge, Lal Qila and Red Fort of Agra. The Agra Fort is a walled palatial city and was interesting to see. It has 70-foot walls and to learn that this was the most important fort in India as the great Mughals Akbar, Aurangzeb, Babur, Humayun, Jehangir and Shah Jahan all lived here. It was even cooler to see the view of the Taj off in the distance. However, Natalie and I were drained from our early start and tour of the Taj Mahal, so we cut the Agra Fort trip short as we were both walking around like zombies thinking of nothing but lunch. For more about Agra Fort, click here.
ARBAR INTERNATIONAL
Before going to the Oberoi Hotel for lunch, Warren suggested we check out the Arbar International shop (a marble store). I should have known it was just another tourist trap but I figured … what the heck! These guys see Americans and they all think we're ready to throw down some serious cash for souvenirs. Walking in, I thought it was funny to see an Obama/Biden sticker on the outside wall. The shop was very nice but their sales approach needs some major finessing. Their reps escort each family or couple inside privately. First, they give customers a demonstration, showing how the marble stones are inlaid, just like at the Taj. Then, you're brought into a huge showroom, where you're shown hundreds of incredible finished products. They sit you down, make a bit of small talk and offer you soda. There's no one around except you and some other guy who works there, loitering at the back of the room. He seems busy but then, on queue, like it's all been rehearsed (duh!), he flips off the lights as the sales guy shows off the beautiful translucent stones in the marble pieces. Then a spotlight comes on, to show off another piece. I was waiting for a band to start playing for the next act or something! The whole thing was awkward and I wasn't sure if things were going to end up like a Lifetime movie if I didn't buy something. There was no real high-pressure sales pitch but it was uncomfortable. The last room on the tour is a little gift shop with much less expensive trinkets but after the Mafioso-like approach in the beginning, we weren't in the mood to shop and just wanted to get out of there.
Natalie and I were only supposed to have a tour and lunch at the nearby Oberoi Amarvilas but when we walked in, we were blown away. I knew the five star hotel has won all kinds of awards (ranked the eighth best hotel in the world by Condé Nast Traveler Readers' Choice Awards 2008 and ranked the sixth best hotel in the world by Travel + Leisure, World's Best Awards Readers' Poll 2008). But I had no idea how incredible it was going to be. First of all, The Oberoi Amarvilas is the only hotel with a view of the Taj Mahal. The service, as you might imagine, is insane and all the staff are dressed in traditional Indian attire.
CANCEL THE REST OF THE TOUR
The hotel was so nice we asked if they had a room available for the day. When we were told that one was available, we told Warren that we were all done for the day and blew off the last sights on the tour; they were over an hour's drive away. Instead, we decided to just relax, have lunch and sit by the pool for the next seven hours before boarding the Shatabadi Express return train to Delhi at 8pm.
THE HOTEL
It turns out that The Oberoi Amarvilas is located just 600 meters (656 yards) from the Taj Mahal. The hotel is built in an inspired Moorish- and Mughal-style architecture and all of the rooms (109), lobby, bar and lounge have breathtaking views of the monument.
THE ROOM
The rooms are a standard size but are luxurious. There's a flat screen TV with satellite, working desk with free wired and wireless Internet, a walk-in closet, mini-bar and a marble, well-appointed bathroom with Ayurvedic toiletries. This should give you an idea how good the service is: Natalie didn't have any contact solution so she called down to ask if they sold any. They didn't but offered to go out and buy some for $3 extra. Within 15 minutes, they had brought her what she needed and it was the same price as at home. The maids also turned down the bed within minutes of us asking for pillows for an afternoon nap. Thewindows were solid and I didn't hear any beeping horns from the street, nor could I even see the street. All I saw was the lush green lawns, the beautiful terraces, fountains, and swimming pools. Walking around the grounds (they have a pet monkey), makes you feel like you've stepped back in time. That's how nice it is.
DINING
The resort has two restaurants, both offering fine international cuisine and Indian food. We ate lunch at Bellevue restaurant, which is the main restaurant and where they serve breakfast. I had the chicken curry and Natalie had the risotto. They both hit the spot and if it weren't for the loud, obnoxious couple from L.A. sitting next to us, we would have had dessert at the table. Instead, we asked to have it served in our room, which was not a problem and turned out to be a better choice since we had a wonderful view of the Taj in the near distance.
NAP TIME
The bed was dreamy and the two-hour nap was perfect to recharge our batteries. Around 6pm, when the sun went down, the tiki torches were lit all around the property. FYI: You can't see the Taj at night; there are no lights illuminating it. Out by the incredible pool they had dancers and live music but I was too tired to get up close and I didn't feel like fending off the mosquitoes. Unfortunately, we weren't able to spend a whole night here but can you imagine waking up and the first sight you see when you open your eyes is of the glorious Taj Mahal?
SECURITY
FYI: Security at the Oberoi Amarvilas has been intensified. Amongst the measures, armed guards from Agra police have been deployed at the hotel, the strength of security personnel in and around the hotel has been increased and periphery patrolling has been enhanced. The hotel continues to operate normally.
AGRA TRAIN STATION
The train back to Delhi was 20 minutes late. It was tough waiting on the platform because we were constantly being approached by little children, some with polio, begging for money. It was heart wrenching. Supposedly polio is now being treated – the last six years, the government has stepped in and I was told that everyone is now getting shots for polio. It's wrong to give these kids money but I bought them some snacks from a concession stand, though what they wanted was money.
TRAIN BACK TO DELHI
The train ride home was similar to the way down but it was much filthier – there were garbage wrappers all around from previous passengers, and many of the locals around us all had loud cell phone rings and tended to cough without covering their mouths (a pet peeve of mine). They served dinner and the dahl was good, if a bit spicy. I didn't touch the salad (hot pepper, radish …), but I had the naan bread. Natalie and I each got another bottle of water (we were hoarding it, since we couldn't drink or brush our teeth with the tap water) and the service was fast; food was served within 10 minutes of boarding the train.
VIDEO
Here's a Johnny Jet video of my trip to Agra and the Taj Mahal. It's on YouTube so it only takes a second to load and we have all the Johnny Jet videos ever made on their servers.
NEXT WEEK
Next week, we go on safari to look for tigers deep in the Indian jungle!
Web Resources
Advertisement
Chase Sapphire Preferred® Card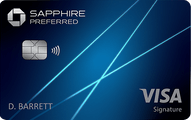 Earn 80,000 bonus points after you spend $4,000 on purchases in the first 3 months from account opening. That's $1,000 when you redeem through Chase Ultimate Rewards®.
Enjoy benefits such as a $50 annual Ultimate Rewards Hotel Credit, 5x on travel purchased through Chase Ultimate Rewards®, 3x on dining and 2x on all other travel purchases, plus more.
Get 25% more value when you redeem for airfare, hotels, car rentals and cruises through Chase Ultimate Rewards®. For example, 80,000 points are worth $1,000 toward travel.
With Pay Yourself Back℠, your points are worth 25% more during the current offer when you redeem them for statement credits against existing purchases in select, rotating categories
Count on Trip Cancellation/Interruption Insurance, Auto Rental Collision Damage Waiver, Lost Luggage Insurance and more.
The comments on this page are not provided, reviewed, or otherwise approved by the bank advertiser. It is not the bank advertiser's responsibility to ensure all posts and/or questions are answered.

Editorial Note: The editorial content on this page is not provided by any bank, credit card issuer, airlines or hotel chain, and has not been reviewed, approved or otherwise endorsed by any of these entities.