A few months back, I got a call from the people over at LifeProof who asked if I would be interested in heading down to the British Virgin Islands for a couple days to test out some of its products. I jumped at the opportunity.
LifeProof: What is it?
For the unfamiliar, LifeProof is part of the Otter Box family and makes protective housing for iPhones and other handheld phone devices, shielding them against the elements of weather notorious for trashing phones (water, sand, dirt, snow, shock, etc.). Before I cover the trip, I'd like to talk a bit about the LifeProof product.
I was provided with a case for the iPhone 6 and 6 Plus and also the various accessories that accompany the housing. As a photographer, I tend to be rough on gear and often fall victim to the elements that damage cameras. With that being said I really put my new LifeProof cases to the test in the British Virgin Islands and they passed with flying colors. LifeProof's slim case means no lugging around a cumbersome phone and the accessories provided were all suitable when needed. While paddleboarding, diving, kiteboarding, zip-lining, or digging sand in waist-deep water, I was constantly checking to see what I could do to find a fault in the protection. I never came up with anything. If you're planning a vacation over the winter and you're tired of replacing a damaged phone, I truly recommend looking into LifeProof.
To the British Virgin Islands
Armed with only my iPhone to take photographs, LifeProof gear to keep it protected, and sunblock, I headed down to the Caribbean for a couple days in the sun. Not having been to the BVIs before, I was eager to discover all the great things I'd heard about this group of islands. The BVIs consist of five main islands—Tortola, Virgin Gorda, Anegada, and Jost Van Dyke—and over fifty smaller islands spread east of Puerto Rico. The BVIs are British Overseas Territories so don't forget to bring your passport!
Getting there
Getting to the BVIs is easy by plane, but regardless of where you're coming from you'll most likely have to make a connecting flight in San Juan, Puerto Rico. From there, one-way flights on Cape Air to Tortola's Beef Island Airport (about an hour) start at around $199. Once you arrive you'll realize why so many travelers make the British Virgin Islands their first choice when planning a trip to the Caribbean.
There are several ways to get to Anegada from Tortola:
The ferry that runs twice a day Monday, Wednesday and Friday (adult $45/seniors and children $35/roundtrip $55)
A private boat chartered from Dede's
A five-person plane chartered from Fly BVI for $2,375 each way (they can provide a larger plane if you're a larger group)
Surfsong Villa Resort
After returning from the BVIs, I was asked to describe the accommodations where I stayed—Tortola's Surfsong Villa Resort—and I found it best to put like this: Imagine that two of your most hospitable friends decided that they'd had enough of the long Chicago winters; bought an amazing piece of property in the British Virgin Islands; built seven fantastic villas, a main house, and an open common area with a yoga studio overlooking the bay; and then opened the whole thing as a private hotel with access to all of the BVIs has to offer. That's how I'd sum it up—and that's pretty much how the current owner came to be in the hospitality business. The staff at this unique resort is fantastic and seemingly will accommodate any request.
The villas
There are seven villas at Surfsong ranging in size from the one-bedroom Treehouse to the larger two-bedroom, two-bath Beach House that can accommodate up to four people. Surfsong is great if you've got a small group, a wedding party or a birthday celebration looking for a private property. The staff will help you take care of whatever you aim to achieve during your stay. I was there for only a couple days and we really made the most of them all.
The beach
The private beach at Surfsong is fantastic. The property is gated so the beach is available to guests only. It's also protected by a curling reef in a cove so the water is always calm and suitable for a swim.
Island hopping
Island hopping in the BVIs is common and there's no better way to experience the adventure than with the group at Dede's Boat Charters. The boat in the image above is the spacious 42′ Tiara and can accommodate up to 15 people comfortably for island hoping. The cost is $2,000 for a full day, $1,400 for a half-day. Both rates include fuel, open bar, snacks, soft drinks, snorkel equipment, and the captain's fee. Deep sea fishing is also available for $2,200 (full)/$1,400 (half) per day.

The Baths of Virgin Gorda
The Baths of Virgin Gorda are a popular stop for visitors and one you'll most likely be making if you take a trip with the guys from Dede's. They're not so much baths as they are a series of intertwining tide pools nestled between enormous rock formations. It's interesting to crawl through some of the tight spots to discover new areas in the rocks. For those that don't handle tight spaces well, the beach might be more your speed.
Diving (with my phone)
Diving in the BVIs is fantastic and also part of a Dede's charter. The water is crystal clear and there's a ton of friendly marine life. The most gratifying part of my experience was being able to go underwater with my iPhone for the first time to photograph tropical fish. On a side note, a great way to get the attention of the local fish? Fritos.
As soon as you surface from your time with the fish you'll be greeted by tons of seagulls that share the same enthusiasm for the popular Frito-Lay snack.
Pusser's Marina Cay
Also as part of your Dede's charter, you'll stop at Pusser's Marina Cay. Pusser's is a picturesque island that's ideal for snorkeling, a walk on one of its pristine beaches or a visit to its award-winning restaurant. And it's famous for its Pusser's Rum, too!
Watersports with Fusion
If you're aiming to kiteboard, paddleboard or do some yoga, regardless of your level, the team at Fusion should be your go-to. Kiteboarding lessons start at around $150/hour, paddleboards rent for $50-$60 per day and it's best to contact them directly for yoga costs. Fusion is based on the North Sound part of Virgin Gorda and bases classes on the current wind conditions. And while you're at it, you can ask Charlie (one of the co-founders) about the many years he spent with Sir Richard Branson on Necker Island as the watersports director.
Paddleboarding
Paddleboarding in Anegada is fantastic. It's a bit choppy at times, but no need to worry if you go in, as it's pretty shallow and one of the guys from Fusion is always around. With your camera attached to your board via LifeProof you can take great pictures to show all your friends back home.
Kiteboarding
The biggest part of a successful day of kiteboarding is the wind. It changes from day to day in the BVIs so it's always best to check with the group at Fusion prior to making any trip. They kite out of several locations and follow the winds on a daily basis. The day we were there it was a bit gusty and intermittent but nevertheless the kiteboarding was great.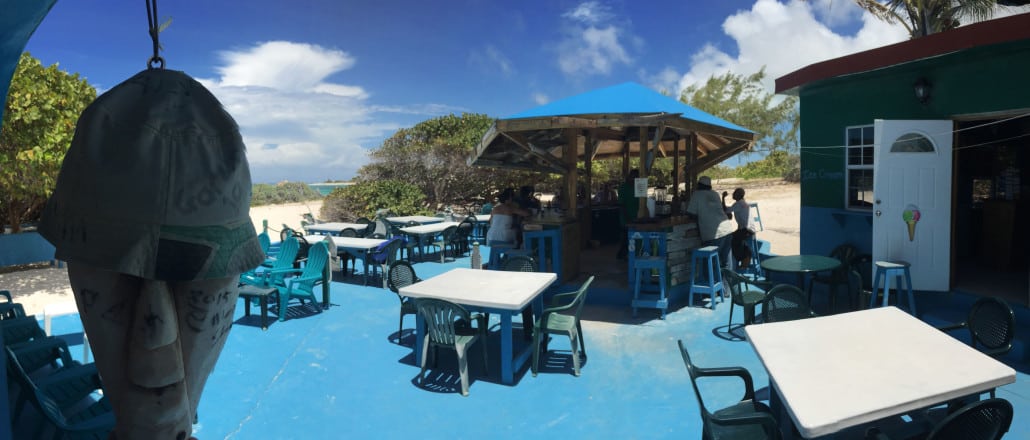 The Big Bamboo, Loblolly Bay, Anegada
It just doesn't get any fresher than the daily catch in Anegada, and the Big Big Bamboo of Loblolly Bay might be one of the best spots if you're looking to experience some local flare. Located just steps from the beach, the open-air restaurant is a favorite of locals and those visiting Anegada for the day. The menu is home to only nine items ranging from lobster to ribs and it's a surefire way to have a great lunch at the beach. It's open from 10 am to 6 pm daily.
If lobster is on your wishlist, you can place your order at the restaurant and then watch as they pull a holding trap up on the beach loaded with locally caught lobster. From there it's straight to the kitchen. If watersports and solitude are what you're looking for, this might be one of the coolest days spent on the beach in the BVIs.
For more on LifeProof phone cases, check out lifeproof.com. For more on the British Virgin Islands, check out bvitourism.com.
The comments on this page are not provided, reviewed, or otherwise approved by the bank advertiser. It is not the bank advertiser's responsibility to ensure all posts and/or questions are answered.

Editorial Note: The editorial content on this page is not provided by any bank, credit card issuer, airlines or hotel chain, and has not been reviewed, approved or otherwise endorsed by any of these entities.