Following my third visit to Ocean Club Resorts (OCR) in Turks and Caicos, I'm happy to report that I'm still crazy about OCR and this part of the world! What's not to like? White soft sand, friendly islanders and turquoise blue water—all the makings of a dream.
Turks and Caicos means… On my first trip to these islands 14 years ago, I thought thought that the Turks and Caicos name was in reference to the unbelievable turquoise blue water surrounding the island, but actually it's named after the Turk's head cactus and the Arawak word for "string of islands."
Ocean Club Resorts: two resorts in one
Ocean Club Resorts is actually two resorts—Ocean Club and Ocean Club West—situated a mile apart on the white sands and turquoise waters of Grace Bay Beach, on the T&C island of Providenciales. It seems you can walk forever along these pristine shores, which stretch at least 12 miles. When you stay at either of the two Ocean Club Resorts properties, you can eat at any of the restaurants, swim in both pools and hang out on both beaches. The walk between the two is easy, but if it's hot, there's always the trusty shuttle bus that takes you back and forth every hour.
Food and drink
There are three restaurants at Ocean Club Resorts. At Ocean Club, the casual Cabana Bar serves American-style meals, breakfast through dinner, and drinks from a full service bar with a view to die for. Next there's the upscale Opus (also at Ocean Club), known for having the best wine selection on the island plus more than 50 types of rum, delicious meals and great cocktails set in a lovely garden (or inside the beautifully designed interior). Occasionally there's live music in the garden.
Solana, at Ocean Club West, serves wonderful meals from morning through evening and has an extensive drinks selection. Solana's manager was schooled at Taj hotels in Asia. The eclectic menu includes fresh-caught sushi, eggs with smoked salmon for breakfast, aged beef, local fish, and—in my opinion—the best breakfast sandwiches and cappuccinos on Providenciales.
Tip: Many families choose to buy food from the local IGA supermarket and cook in their fully equipped kitchens or on outdoor grills by the pools at both resorts.
The rooms
Every room at both Ocean Club Resorts is some version of a condominium-style suite with a kitchen, laundry facilities and a screened-in balcony. I've now stayed in a garden-view studio and a one-bedroom ocean-view room, and I've been pleased with both. I particularly love the top floors, accented by cathedral ceilings and ceiling fans. 
In size, the units run from studios to three-bedroom suites. All have air conditioning and louver windows. The in-suite washer and dryer make it easy to pack light. My housekeeper, a sweet local woman, came in every morning to sweep the tile floors and clean.
Tip: I enjoyed turning off the air conditioning and letting the breeze from the ocean waft through my apartment.
Peace, quiet and the "green flash"
The staff couldn't have been friendlier (with special callouts to bellman Action Jackson, security men Phillip Joseph and Lincoln, and reception gal Luprina), and the resort never felt crowded. During my stay, the collective property was at 80% occupancy, but the pool, beach and restaurants were relatively quiet. This quiet is another reason I love Ocean Club Resorts. Everyone seems to respect the quiet hours (10pm-7am). Inside my suite, I not once heard my neighbors.
Waking up in the Caribbean to the sounds of seagulls, island birds, children calling on the beach, and the swish of the wind is for me like no other feeling. The sunsets are amazing, too, and if you're lucky you may catch a sighting of the "green flash," a phenomena  that can be witnessed when the sun sinks below the horizon in certain parts of the world near the equator. I actually saw it!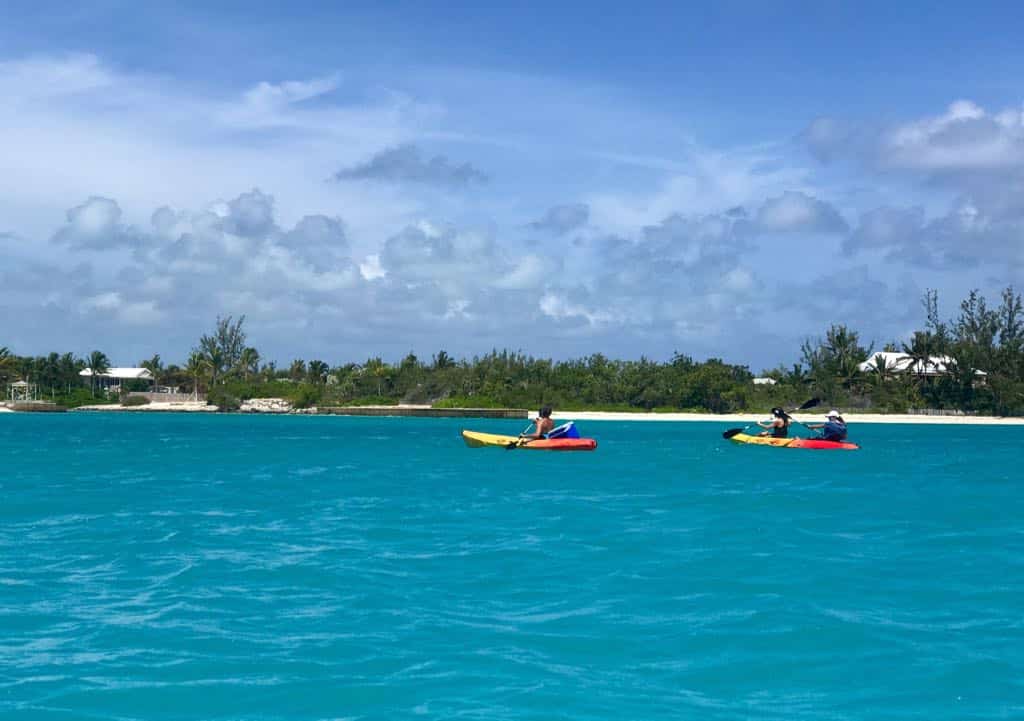 What to do on Providenciales
Honestly, I would be perfectly happy not doing anything except hanging out at the beach, drinking piña coladas at the Cabana bar and enjoy sitting under a pink umbrella with a resident cat, but there is more. I was able to get out on a few extra-resort excursions that I can recommend:
1. Go kayaking with Total Adventure Co.
My group started out on a very windy morning, and most of us paired up to paddle across the formidable channel in two-person kayaks against the wind (some brave souls decided to do it solo on a single kayak). My kayaking partner was Maria Therese from Trinidad and Tobago. We both paddled furiously against the wind to cross the channel and met up with our group, in six other kayaks, and entered a new world: the calm mangrove shallows, a nursery for marine animals.
Here we saw baby lemon sharks and a sea turtle. Owner Jill Meyer Swann and her boyfriend Roger explained the vital importance of the mangroves while we paddled around in a secluded waterway. Eventually we found a deeper pool and were able to get out of our the kayaks and swim in the turquoise-green water. There are also night herons, egrets and other baby fish in the sanctuary.
2. Eat at Coco Van
Coco Van is an Airstream camper set up to serve delicious casual fare with a French twist: crispy Asian rice patties with spicy tuna tartar, blackened grouper tacos with spicy pineapple salsa, sesame beef tacos, and more. Coco Van is an extension of Coco Bistro, arguably the best restaurant on Providenciales, without the waitlist, in a casual picnic table atmosphere among the palms, and with a killer rum punch!
3. Sail the Caribbean with Sun Charters
On one of my mornings, I was up early to meet in the Ocean Club lobby. Van driver Oswald "Ozzie" Virgil of Virgil's Taxi Service drove us to the Sun Charters marina, from which we set out for a half-day sail on the schooner Atabeyra. This was my second time on this exact gap-rigged schooner, my favorite thing to do in T&C. A 4.5-hour "Public Sail & Snorkel" sail costs $95 per person and includes beer, rum punch, soft drinks, and snacks (see all offerings here).
Tip: These tours get booked months in advance, so sign up as soon as you book your suite at Ocean Club Resorts.
The day on which we sailed was super windy, with choppy waves and a flaming hot sun. I wore my bikini under a long dress and was ready to snorkel when the yacht anchored in Princess Alexandra National Park. Even as a strong swimmer, I found the waves intimidating. Some snorkelers grabbed buoyancy vests or noodles to help, but the extra-salty water of Turks and Caicos nearly keeps you afloat by itself!
I was so glad I faced my fears and went for it. Snorkeling among a myriad of tropical fish was astonishing! Black durgon with lilac lining on their fins, blue chromic, stoplight parrot fish, blue tang, and purple sea rod coral all in Kodachrome colors! Captain Mat told the group that the choppy water would not affect the snorkeling, and he was right. The snorkeling was really enough to make the sail special, but there was still more to come.
After first mate JR refilled our rum punch glasses, we sailed to remote Pine Cay island for calmer snorkeling and sand-dollar hunting. The next hour went by quickly, and before I knew it, it was time to get back onboard to head home. A few of us lost our hats in the wind, but each time our captain turned the sailboat around and retrieved them. A stellar experience and one that I can't wait to do again!
4. Join a Thursday night fish fry
A fish fry is an island happening, kind of like a farmers market where people sell homemade food, drinks and island products. It's a great place to mingle with islanders and tourists, hear live music and pick up cool jewelry. On my fish fry wander, I happened upon Froggy's, which serves the island's best conch fritters, cracked conch (similar to fried calamari), conch ceviche, jerk chicken, and a cocktail called the "Gullywash" (coconut milk,  milk and vodka; sounds weird but tastes great). The Froggy's conch ceviche at the fish fry was by far the best I had on the island (and we had a lot!).
I also loved the all natural soaps and creams being sold by Island Organics (Instagram: islandorganicstci). I picked up some turmeric-and-clay soap and a coco butter-and-comfrey salve made by Arlene Hall. It's not to be missed—and if you go, please say hello to her from me!
5. Have lunch on the beach at Da Conch Shack
Da Conch Shack is a relaxing place to have lunch right on the beach. The place is famous for its rum punches made from Turks and Caicos Bambarra rum as well as conch fritters, conch ceviche, jerk chicken made from Peppa Joy (local hot sauce), and burgers. I've also been here at night when there's a live band, which is also really fun.
A memorable last night
On the eve of departure, dinner was held on the beach patio at Solana at Ocean Club West. My media group was treated to another gorgeous night, so warm and deliciously breezy but without the need for even a light shawl. The crescent moon mingled with the palm tress and iridescent clouds, making for a magical backdrop.
Our host Ajay (meaning "invincible" in Hindu) had Hpnotiq cocktails waiting for us at the cozy, U-shaped bar: martinis made of the French liqueur the exact color of the turquoise water of Turks and Caicos. Here we joked with bartender "Doctor Watson," who made us laugh as he spun anecdotes and whipped up cocktails. Ajay wouldn't let us order appetizers as he had prepared a four-course meal including a sampling of the aged ribeye steak with mashed potatoes, coconut-encrusted local red snapper, local grouper, and jerk chicken, pairing with each a wine, sake, or dark rum.
After dinner, alongside Doctor Watson and ever-friendly staff from Ocean Club Resorts, we all walked to the nearby beach to see the moon and clouds over the ocean and inhale the salty breeze and try to forget that we were leaving the next day.
Getting there (again)
For me, the best part of Ocean Club Resorts is knowing that I can return anytime, as JetBlue operates 3.5-hour direct flights from New York—and that I know exactly what to expect when I check in: friendly islanders, a clean room, oceanfront dining, and just about the best beach in the world.
Last time: Here's what I wrote after my last visit.
---
For more on Ocean Club Resorts, visit oceanclubresorts.com.
More photos:
The comments on this page are not provided, reviewed, or otherwise approved by the bank advertiser. It is not the bank advertiser's responsibility to ensure all posts and/or questions are answered.

Editorial Note: The editorial content on this page is not provided by any bank, credit card issuer, airlines or hotel chain, and has not been reviewed, approved or otherwise endorsed by any of these entities.