As I wrote earlier, Saint Martin is one of many beautiful islands in the Caribbean. But, if your visit there doesn't take you to Pinel Island, you would be missing one of its true gems. Pinel Island is a small island on the French side of Saint Martin, just a few hundred yards offshore from the town of Cul de Sac. It's technically uninhabited but that's just a technicality; during the day the two restaurants, a shop and beach chairs are full of people enjoying the wonderful food, gorgeous views and crystal clear water.
Saint Martin isn't very big, but since the roads are all two lanes, it was a pretty good drive to Cul de Sac from our hotel on the Dutch side. The curvy, mountainous route there was an adventure in itself, and without much signage, we often wondered how lost we were. Eventually, we spotted a small white sign with Pinel scribbled on it with an arrow directing us to the harbor.
Getting to Pinel Island: kayak or ferry
There are two ways to get to the island: renting a kayak or riding on an open ferry. We chose the ferry, which departs from Cul de Sac wharf. It was a short, ten-minute ride that cost $12 roundtrip per person. As is common throughout the island, the boarding process was laid-back: There weren't any tickets, and we just paid the captain in cash.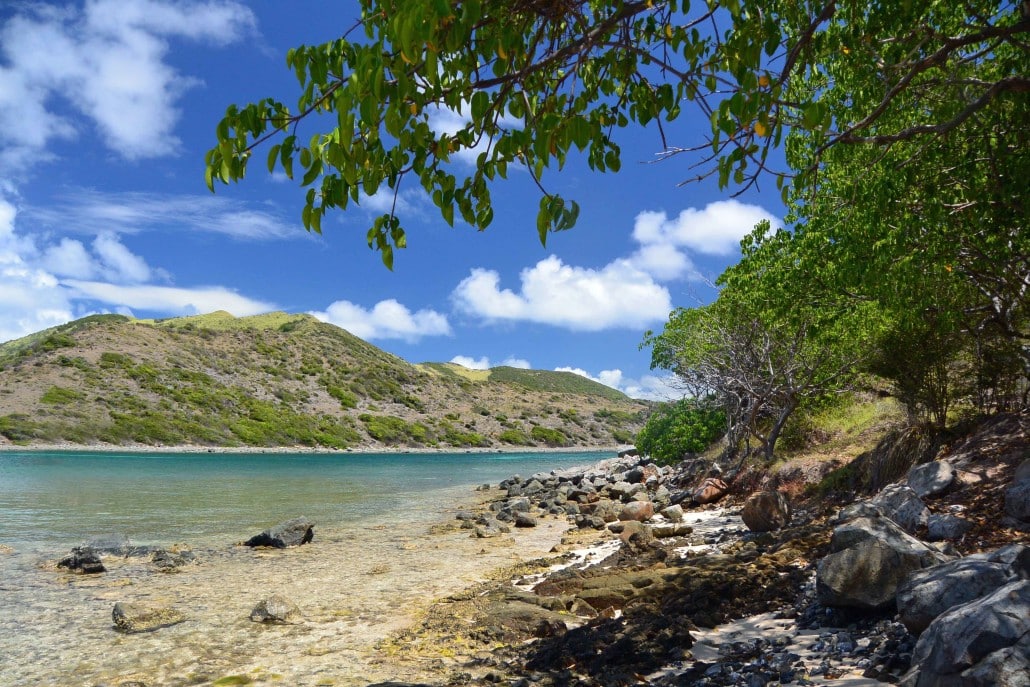 From the open-air boat, the island looked like the classic tropical island paradise everyone is looking to escape to. You need to come here looking for some peace and quiet, because it's not a loud party scene—at least it wasn't the day we were there. What we found upon disembarking were gently swaying palm trees alongside a long stretch of beach lined with beach chairs and umbrellas. A brilliant blue sky hung above as white, puffy clouds floated by.
Walking into the ocean is just like walking into a zero-entry pool. The waters were so calm and clear, we could see the fish swim beside our legs. After putting on our gear, we snorkeled out to a portion of the National Marine Reserve. Out here where it was deeper and a bit closer to the open ocean, the waters were a little choppy, but the views were worth it. Snorkeling above a large reef, we saw an octopus and many tropical fish swimming among the colorful coral. The snorkeling was okay; we found the snorkeling experience a little better on another part of Saint Martin.
Lunch at Le Karibuni
There are two restaurants on the island: Le Karibuni and Yellow Beach. Claiming our spot in front of Le Karibuni, a well-known French restaurant that seemed to be the quieter of the two.
Perched on the water's edge, Le Karibuni is in an idyllic spot for a tropical restaurant. Wooden tables shaded by dried-palm-thatched umbrellas are scattered along the shore. In the main dining area, picnic-style tables are nestled among sea grape trees. Without a hostess to seat us, we chose one of the waterfront tables. It didn't take long for several frisky iguanas, the island's true natives, to show up looking for a handout.
A native French server greeted our table and took great care of us throughout our meal. We learned from him that operating a restaurant on a remote island is quite an undertaking. Specifically: Every morning, the staff hauls all the food supplies to the island by boat, and then lugs the remaining supplies back to the mainland in the evening. Every afternoon employees rake and clean the sand floors of debris. Thought the place appeared to be in nice shape, he claimed that he doesn't need to work out because there's so much physical work to his job.
After this lesson, we understood why each entrée came with a small salad, even though none of us ordered one. Even the ones who ordered salads were served an extra salad each before their salad entrée arrived. That was a first for me. We speculated that it was a slow lunch and that the place chose to be generous over hauling the extra salad ingredients back to the mainland that night.
A fresh fish lunch seemed to be the best choice. Everyone who ordered a fish entrée was pleased. There were two in our party who were disappointed, and both ordered the mini spareribs, which tasted like charcoal and lighter fluid (the ribs were likely cooked too close to the flames). I would return to Le Karibuni in spite of the unpleasant taste of the ribs and the slightly too-long wait to receive our entrées. The free round of banana rum shots from our server was a great way to make amends.
A walk to an isolated beach
After lunch, we took a walk to the ocean side of the island. There's a well-worn path from behind Le Karibuni leading up and over the top of the hill in the middle of the island. It's a gentle incline and descent back down to an isolated beach. While the harbor side of the island is pretty busy, not many venture to the windward side. On this beach, piles of seashells washed up by the surf lie waiting to be discovered.
---
My day on dream-like Pinel Island will be one I long remember, and it was worth the time and effort to get there. It's my kind of place, both exotic and peaceful. That's my dream.
All photos credited to Sara Kendall.
The comments on this page are not provided, reviewed, or otherwise approved by the bank advertiser. It is not the bank advertiser's responsibility to ensure all posts and/or questions are answered.

Editorial Note: The editorial content on this page is not provided by any bank, credit card issuer, airlines or hotel chain, and has not been reviewed, approved or otherwise endorsed by any of these entities.