Known as Saint Martin on the French side and Sint Maarten on the Dutch side, this magical island is a mix of people and cultures with a European influence merge with Caribbean flavor.
How it became divided remains obscured in legend. But today, as you drive this scenic island, there's no need for your passport, because—if you notice at all—only flags and monuments mark the border. And, in case you're wondering, a phone call from one side to the other is an international call.
My family and I chose this Caribbean paradise and could not have done better. We stayed on the Dutch side, but crisscrossed both halves during our stay. In addition to lounging by the turquoise sea at our resort, we found plenty to do. Here are the highlights:
1. Snorkeling with Captain Alan, Sint Maarten
We wanted a high-speed boat ride and a chance to snorkel with sea turtles, so we chose Captain Alan. The operation is well-organized, yet laid-back, making everyone feel comfortable and at ease. After getting fitted for flippers on the dock, we were greeted by Captain Alan. After his friendly overview, everyone was divided among the boats.
For our first stop, we anchored just off Tintamarre Island to snorkel with sea turtles. We spotted seven of these graceful creatures grazing on grass beds and swimming to the surface for air every few minutes. Our daughters screamed in delight through their snorkels with every turtle they saw—the best screams I ever heard!
After our swim with the turtles, we were able to walk the beaches of Tintamarre. Strolling around for a half-hour gave us a chance to take in some of this quite breathtaking, uninhabited island.
Next up, an effortless snorkel drift along Green Key Island was relaxing yet visually stimulating. Gently pushed by the ocean waves, we floated past a well-developed reef filled with sea urchins, tropical fish, coral, and sea fans. The boat followed along, picking us up at the end of the island.
Last stop was Pinel Island. We started off by taking in the beautiful views while sitting on the boat and having lunch. An interesting combination of a salami, cheese, and apple, on French bread was the provided lunch. We washed this down with our choice from a cooler full of Carib Beer, soft drinks, and water.
After lunch, we waded ashore through the clear, shallow waters to get to the island. Pinel is a small, uninhabited island, but boasts two restaurants, where you can enjoy a yummy frozen rum drink, browse the gift shop, or just plop down on a beautiful Caribbean beach.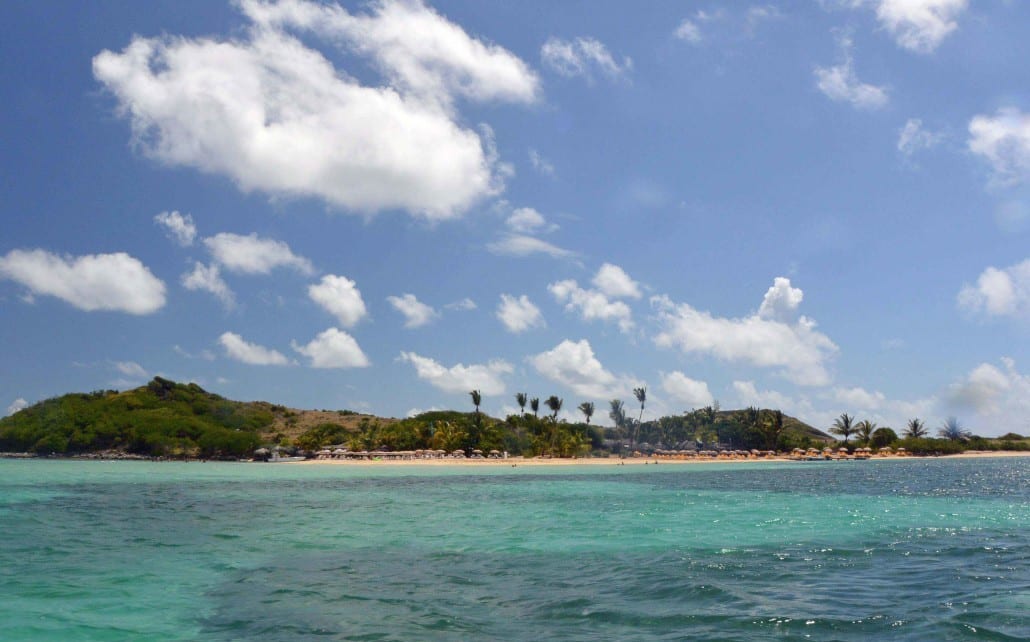 For our stop at Pinel, snorkeling was not the main objective for Pinel Island. We were content just hanging out on this beautiful slice of paradise. We liked Pinel Island so much we went back on our own another day!
Our experience with Captain Alan was a highlight of our trip and we all agreed it was our best adventure on this vacation!
2. An adrenaline rush at Maho Beach, Sint Maarten
A small but busy beach at the end of Princess Juliana International Airport's runway is where adrenaline junkies can stand under incoming airplanes. With the beach's popularity, parking can be a challenge. Ignoring the warning signs like most people do, my husband and daughters headed straight under the oncoming path of landing jets. Being the photographer in the family, I made my way to a good vantage point to capture the incoming flights. However, my husband, who loves this kind of stuff, stood with the crowd, right below the path of the landing jets. This is his take:
"The beach is less than 40 feet from the end of the runway and when the jets pass, they are right overhead. It's over in a few seconds, but the experience is like nothing else. Not only is it loud, but you also feel the engines' roar throughout your body. You're so close that you'll experience the difference in pressure created by the speeding aircraft."
If you want to stay clear of the roaring engines and jet-blown sand, find yourself a seat at the Sunset Bar & Grill or rent a beach chair in front of the restaurant. They have a surfboard listing flight times, so you'll be ready for all the action.
3. Discovering Marigot, Saint Martin
Marigot, the French (Saint Martin) capital, is another must-visit destination. It has a beautiful waterfront where we checked out the vibrant open-air market filled with vendors selling T-shirts, clothing, local handicrafts, and spices. Better bring your best haggling skills, because they don't expect you to take their first price!
If you're looking for something high-end, Marigot has plenty of French-inspired boutiques just up the hill from the market. You'll find a nice combination of designer clothing and other specialty shops featuring French wines and cheeses.
4. Lunch at Tropicana in Marigot, Saint Martin
While we enjoyed all of our meals on the island, Tropicana is something special. The wonderful lunch was by far our favorite meal on the island! This harbor-front restaurant is a little hard to find, weaving through the alleys and past a graveyard, but so worth the effort. Its location on the gorgeous marina is the perfect setting.
This bistro dishes out the finest in French cuisine, served by fabulous staff in a lively atmosphere overlooking the harbor. For me, their unbelievable entrée sauces reign. Desserts are full of multiple layers of yumminess. And don't pass up the complimentary homemade banana rum shot to top off your meal.
I found Tropicana on TripAdvisor, where it was ranked number one among restaurants in Marigot. I just checked and it's still number one! This bistro tops my family's all-time favorite dining experience while traveling—anywhere!
5. Strolling around Philipsburg, Sint Maarten
In the Dutch capital city of Philipsburg, we strolled along the premier shopping district on Front Street. Flanked by palm trees, you'll find dozens of high-end clothing, jewelry and electronics stores. We didn't do a lot of shopping—just browsing the beautiful shops and people-watching. The many vendors and lively boardwalk make this port city is a favorite stop for cruise ships.
One street behind Front Street is Back Street, where the locals shop. Here, you can pick up bargains on clothing, shoes, and beauty products while mingling with a local crowd. Don't miss quaint Old Street, filled with shops and restaurants in 19th century houses. You'll know you're there when you see the antique car parked in the middle of this pedestrian-only side street.
6. Guavaberry Emporium, Sint Maarten
On Front Street, Guavaberry Emporium is the home of the legendary island liqueur of Sint Maarten—which is still made behind the store. It's a favorite stop for adults, especially since free tastings are offered daily. Guavaberry is known for its rum, but a variety of flavors such as vanilla, mango, and passion fruit just to name a few can be sampled. My husband and I enjoyed a few of their offerings and chatting with the native ladies donning colorful dresses.
7. Grand Case, Saint Martin
Recommended by a local for good food, Grand Case is a small, seaside town on the French side. Its mile-long main street is lined with some of the island's finest restaurants and boutiques. We swung by to check it out and chose shopping over eating as the priority for the trip. The girls purchased some brightly colored scarfs while my husband and I purchased the famous "C'est La Vie" t-shirts from Calmos Café. Our schedule didn't allow us to stay for a meal, but next time we'll plan to dine in this fun and relaxed beachfront town.
For more info, check out stmartinisland.org and vacationstmaarten.com.
The comments on this page are not provided, reviewed, or otherwise approved by the bank advertiser. It is not the bank advertiser's responsibility to ensure all posts and/or questions are answered.

Editorial Note: The editorial content on this page is not provided by any bank, credit card issuer, airlines or hotel chain, and has not been reviewed, approved or otherwise endorsed by any of these entities.