My second trip to D.C. this month was last Thursday, when I flew United Airlines from Los Angeles to Dulles Airport. Here are some of my observations and tips from that trip.
-When the ticket was booked for me a week before the trip, I immediately went to assign myself a seat, but everything was taken except the dreaded middle (FYI: The plane was a 757 aircraft, so the configuration is 3×3). Here's how I was able to get a better seat: every day for seven days I kept logging on to United.com until an aisle seat opened up. One eventually did become available, as it almost always does–those with high frequent flier status tend to get upgraded, and their plush economy seat opens up.
-I have Premier status (which means I fly at least 25,000 actual air miles on United or its partners), their lowest elite level, so I don't have a lot of pull, but I was able to get a seat in Premium Economy (5 extra inches of legroom) for free.
-Security at LAX's Terminal 7 (T7) on Thursday at 11 a.m. took me 15 minutes in the Premier line. The regular line took about double.
-Inside T7 was packed with summer travelers but there weren't long lines at La Brea Bakery or Baja Fresh (my two favorite places to eat in the United terminal).
-I grabbed a tasty but expensive mozzarella sandwich with pesto and roasted peppers from La Brea Bakery for $9.98 (with tax).
-Boarding was pretty chaotic–everyone was hovering around the gate (airline workers call these people gate lice)–and since I was one of the first economy passengers on the plane I saw 99.9 percent of the people boarding. Most of them were clueless, banging into me with their bags and taking their time in the aisle. We ended up being delayed 20 minutes thanks to the slow pokes who can't stow bags quickly, and we missed our departure slot.
– Before takeoff I told the flight attendant (FA) that the window casing on the Emergency Exit door wasn't looking too good since it was sticking out. He said, I know but it's OK. I felt uncomfortable until a follower of mine (@Sluggoaafa) on Twitter replied with a better answer: "That part of window does nothing anyway, it's just velcro'd to interior of door frame."
-United doesn't have Internet (except on their P.S. flights to and from LAX/SFO and JFK), so the only entertainment were some audio channels and the dated overhead monitors playing shows and a movie.
-One thing United has that the others don't is Channel 8. They allow passengers to listen to air traffic control, so I knew exactly when we were taking off and landing as well as our speeds and altitude. I didn't know air traffic tells planes to slow their speed to 170 mph on the final descent, did you?
-Flight time was 4 hours and 35 minutes.
Dulles Airport
This was my second time to Dulles Airport in the last 30 days, and I'm really digging their brand-new remodeled terminal–it's incredible. The design makes you feel like you are in a first-world country–FINALLY! And to top it off, its new tram system even charts the next tram's arrival, down to the second. FYI: Dulles Airport is in Chantilly, Virginia, on 12,000 acres of land 26 miles from downtown Washington, D.C.
Dulles to D.C.
From Dulles it's a 35-to-40 minute drive to D.C. when there's no traffic. Marriott arranged a car from Loba Transportation to pick me up, and I had yet another Ethiopian driver just like the last time I was in D.C. What's crazy is I also had one on the way to LAX a few hours earlier. Are Ethiopians taking all the limo and taxi driver jobs? If they were all like my Loba driver it would be OK, because he was an awesome guy and told me all about his homeland, which I found fascinating. One of the interesting things he said was he doesn't like to return to Ethiopia because locals think if you live in America you are rich, so you have to bring gifts for all your friends and family–and he means everyone. He said in Ethiopia you don't even know who all your relatives are, and you can't question them, so instead he travels to other parts of the world.
Courtyard Washington, DC
I was in D.C. to take part in Courtyard by Marriott's Behind-The-Bistro Experience (more on that in a minute). They put us up at the Courtyard Washington, D.C./U.S. Capitol (website). When I pulled up to the hotel at 10 p.m. I was disappointed to learn it wasn't in the heart of the city. It's one metro stop from Union Station and a few from downtown. I guess I should've Google mapped it, but I didn't. The good news is there's a brand-new metro stop just a hundred yards from the entrance of the hotel. My driver told me this is a new, up-and-coming area, so I shouldn't go wandering off in the wrong direction at night. It did seem a little sketchy on the outskirts, but once I got inside the eight-floor, 218-room hotel I felt completely safe.
Arrival
When you enter the hotel there is a friendly security guard on the ground floor. He directed me to the new state-of-the-art lobby on the second floor, which is the only floor one can access without a room key. After checking in I was bummed to learn that the hotel's Bistro closed at 10 p.m., so I just missed getting dinner. I didn't want to walk a couple blocks to the nearby Wendy's, McDonald's, Pot Belly, and others, or order takeout from one of the nearby restaurants that deliver (the front desk has a book of takeout menus). Instead I hit the Marriott Market, which is behind check-in and is basically a 7Eleven convenience store on a much smaller scale. I grabbed a bottle of water ($2) and a nasty Hot Pocket Spicy Chicken Burrito ($4) and heated it in the Market Place's microwave. FYI: There is a 7Eleven downstairs.
Lobby
What's nice about Courtyard is that most of them have remodeled their lobbies, making them inviting for guests to hang out in. It really is a nice relaxing environment, and there's free Wi-Fi throughout the lobby (and hotel). There's also a GoBoard, which is a monster LCD touch screen that has easy access to the latest news, weather, and airport conditions. In addition there are two free computers (30-minute time limit if people are waiting) and a "boarding pass computer" to… print your boarding pass (duh).
The Bistro at Courtyard
In the morning I witnessed firsthand Courtyard's Bistro. Its slogan is "Eat. Drink. Connect." They partnered with Starbucks to provide guests with quality food and beverage offerings. What's cool is that Marriott has listed all the calorie counts (they did it after NYC instituted it and they wanted to be ahead of the game). For breakfast there isn't a buffet so I ordered off the menu and went with the Healthy Start: egg whites, turkey, and spinach on an english muffin ($8.25), and a strawberry-banana smoothie ($3.25). The food was good and the staff were friendly and quick to serve (though the cashier was a little slow). Note: Some rates include breakfast, so try and get one of them.
My Room at Courtyward by Marriott DC
One reason why business travelers like sleeping at Courtyard by Marriott, besides the price (rooms start at $99 in D.C.), is that all the rooms are the same. They know what they are going to get and where everything is. They also like the rewards program and its amenities like free Internet (if you want faster speeds you have to pay). The room and bathroom were comfortable, and the bed was firm (there wasn't a mattress pad like at Marriott, so it wasn't that cozy, but I slept well). There was a flat-screen TV, a work desk, and lots of electrical outlets. I found the walls to be a tad thin, as I could hear the neighbors talking and the adjacent room's door slam. I also didn't like that the air-conditioning was loud and the windows not completely soundproof (you can't open them). I was there over the weekend and it was all families (domestic and foreigners), but during the week 80 percent of the hotel is business travelers. Note: The hotel also has a well-equipped fitness center, indoor pool, and six meeting rooms with 2,800 square feet of total meeting space. Sadly, I didn't visit any of them (I'm especially bummed I missed the first two).
Courtyard Washington, DC/U.S. Capitol
1325 2nd St. NE, Washington, DC 20002


Courtyard by Marriott Behind The Bistro Experience
As I mentioned earlier, I was in D.C. for Courtyard by Marriott's Behind-The-Bistro Experience. Eight food and travel writers were invited to go inside Marriott Headquarters and Test Kitchen for about three hours to find out why the fast casual hotel food & beverage concept is working for Courtyard, why other hotel chains are adopting this trend, and what really goes into the food selection and recipe creation. We sampled 8-10 menu items (listed and pictured below), including some potential items Courtyard is contemplating for the fall.
It was a neat experience, and I was shocked by how good some of the food was. In fact, since we had so many courses I was planning on just taking nibbles of each, but with many of them I cleaned the plate.
A Taste of the Bistro
–Apple Cranberry Oatmeal
–Healthy Start
–Asian Chicken Salad
-Autumn Salad
–Cheddar French Dip
–Turkey Burger
–Falafel Wrap
–Udon Noodle Soup
-Stir-Fried Noodle Bowl
–Spicy Chicken and Spinach Flatbread
We met with:
-Janis Milham: VP & Global Brand Manager, Courtyard Marriott International, Inc.
-Paul Gotzman, VP, Food and Beverage Culinary Sustainability
-Brad Nelson, VP, Culinary Development
-Thomas Rebler, Senior Director, Culinary Sustainability
-Kathleen Wellington, Director, Culinary Sustainability
Here's a video I made of the experience.
Notes and Highlights from The Behind The Bistro Experience
-First of all, getting to go to the Marriott Headquarters. I've been a fan of Marriott for some time now, and seeing the building where 4,000 people work to make the magic happen was a treat.
– Marriott's Headquarters is in Bethesda, Maryland, about 30 minutes outside of D.C. Gotta love going to different states, and it's been a while since I was in Maryland.
-When we first arrived they brought out some of Marriott's memorabilia so we could see them up close. To touch them we needed to put white gloves on. To learn how Marriott became what it is today, see this Wiki link.
-Running into one of Marriott's star PR executives, Catherine Leitner.
-Seeing Marriott's Café where they have calorie counts just like at the hotel cafés.
-They sometimes work on seasonal dishes two to three seasons prior.
-Starbucks is offered in every bistro and accounts for 20 percent of breakfast sales.
– 64 percent of Marriott's Bistro sales is for breakfast. Lunch is only a small percentage (6 percent).
-The food is made every morning in each hotel kitchen.
-They use bread from La Brea Bakery.
-Everything offered at the Bistro is based on customer research.
-Mr. Marriott is a meat-and-potatoes kind of guy and he likes what most customers do.
-Diners are more adventurous with appetizers across the Marriott brand, so they don't get too gourmet with entrées.
-Only 10 percent of people order a whole-wheat bun when it's offered.
-The turkey burger has only 10 percent less fat than a beef burger.
-Bistro has become a brand within a brand and is the fastest-growing part of the company. Then went from 0 to 343 restaurants in three years.
-Courtyard by Marriott plans to have 450 Bistros by the end of 2011.
-Everything at the Bistro is customizable for the hotel.
-Dessert is a tough sell for the Bistro since most customers don't order it.
-My favorite dish was the roast beef dip. The meat was so lean and the bread was delicious (they put cheese on both sides to protect bread from getting soggy).
-Caitlin Martin, one of the PR girls working on the Courtyard by Marriott account, used her iPad to Skype in one of the writers who couldn't make it. First time I've seen that.
-We were able to see Marriott's Showroom which has an exact replica of every one of their brands hotel room. Here's the video I made of them to give you a better feel.
Advertisement
Chase Sapphire Preferred® Card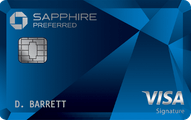 Earn 80,000 bonus points after you spend $4,000 on purchases in the first 3 months from account opening. That's $1,000 toward travel when you redeem through Chase Ultimate Rewards®.
2X points on travel and dining at restaurants worldwide, eligible delivery services, takeout and dining out & 1 point per dollar spent on all other purchases.
Get 25% more value when you redeem for airfare, hotels, car rentals and cruises through Chase Ultimate Rewards. For example, 80,000 points are worth $1,000 toward travel.
Get unlimited deliveries with a $0 delivery fee and reduced service fees on orders over $12 for a minimum of one year on qualifying food purchases with DashPass, DoorDash's subscription service. Activate by 12/31/21.
Earn 5X points on Lyft rides through March 2022. That's 3X points in addition to the 2X points you already earn on travel.
The comments on this page are not provided, reviewed, or otherwise approved by the bank advertiser. It is not the bank advertiser's responsibility to ensure all posts and/or questions are answered.

Editorial Note: The editorial content on this page is not provided by any bank, credit card issuer, airlines or hotel chain, and has not been reviewed, approved or otherwise endorsed by any of these entities.