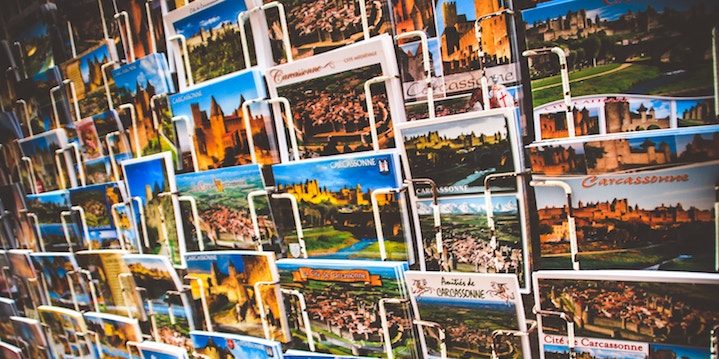 My buddy and tech guru Leo Laporte (here's his Travel Style) recently recommended PhotoCard, a free iOS-only app that lets you send digital and real U.S. mail postcards to your friends and family. Then my cousin Arty and a reader recommended it, too. They're not the only ones, as PhotoCard has a 4.8 rating in the Apple Store.
The app was created by Bill Atkinson, a computer engineer who worked at Apple from 1978 to 1990. He created the groundbreaking MacPaint application! PhotoCard is simple to use and kind of old-school. With a few taps, it's free to send e-cards with (if you like) included recorded voice notes. The other option—which I like better—is to mail postcards for a nominal fee ($1.50 in the U.S. or $2.50 to any international postal address in the world!).
No matter which option you chooses, you can create your own unique custom-designed postcards using your own photos or use Bill's expressive nature photos. You can also make your card even more personal with custom stamps and stickers from your own images. Postcards are 8.25″ x 5.5," printed in high quality, and mailed with first-class postage. They have editing tools inside the app to adjust the cropping, lighten or darken your photo, or let PhotoCard analyze and automatically enhance it. To send, you just type or dictate a message on the back and add the address.
I think it's great to have another way to send postcards without having to find a store that sells them or wait in long, slow post office lines. However, I do miss seeing postcards arrive covered in old-fashion local stamps.
Good to know: After I sent my first one, I got an email informing me that "Batches of cards are currently printed every Monday and Thursday morning, starting at 6:30 AM Pacific time. They are mailed with first-class postage from San Jose, California. Once the cards are mailed, postal delivery usually takes two to four days to the West Coast, three to six days to the East Coast, and longer to other countries."
Have you used the PhotoCard app before? How do you like it?
The comments on this page are not provided, reviewed, or otherwise approved by the bank advertiser. It is not the bank advertiser's responsibility to ensure all posts and/or questions are answered.

Editorial Note: The editorial content on this page is not provided by any bank, credit card issuer, airlines or hotel chain, and has not been reviewed, approved or otherwise endorsed by any of these entities.