Greetings! In case you are new (welcome!) I'm writing about my around the world trip on Singapore Airlines' A380- the world's largest commercial aircraft. My routing was New York (JFK) to Frankfurt to Singapore to Tokyo to Los Angeles. The links to each segment are below but be sure to read the JFK-FRA since that was the first flight and has a lot of background. Here's the story about my flight from Singapore to Tokyo.
LINKS: New York to Frankfurt | Frankfurt to Singapore | Singapore to Tokyo | Tokyo to Los Angeles
RELATED (COMING SOON!): Raffles Hotel | Shangri-La Singapore | Crowne Plaza Changi Airport | Singapore's Chinatown | Singapore's Bay Gardens
The A380 flight to Tokyo's Narita airport departs at 9:25am from Singapore's Terminal 3. That's their award-winning terminal which has a ton of things to do, see and shop. There's free Wi-Fi, the world's largest airport slide, a grocery store with fair prices and even a free movie theatre. I showed up nice and early to the airport at 6am. The cool agents said "wow, you are early" after I checked a small box just to see how long it would take for them to unload (FYI: On both segments it arrived on the carousel before I made it through immigration and there weren't long lines at either – just long walks).
The main reason I was at Changi at the crack of dawn was in hopes to catch my beloved NY Giants play the San Francisco 49ers for the NFC Championship game since it wasn't available in my hotel. Unfortunately, I couldn't find it anywhere in the airport but I ended up watching it online at www.VipBox.tv. I used one of the many free computers in the Business Class Lounge (Singapore Airlines sponsored the trip so I had a business class ticket). Speaking of the lounge – it's huge, plenty of comfortable seats, great service and they had a breakfast buffet better than most hotels. The only thing it was lacking was satellite TV – they just had CNN on.
Just like in New York the lounge is located before security and I thought they would be boarding the A380 an hour before so I started leaving at 8:25. The agent who called the airport bars to see if the game was on said I was leaving too early and that they won't board until 8:45am. When I asked about security she said I didn't have to worry about a long line. I went back in but since I didn't want to take a chance of missing the flight I left ten minutes premature. I learned my lesson to listen to the lounge agent. The representative was right as there was absolutely no line at security. In fact, Changi Airport like many Asian airports have a unique system – they don't have security until you get to the gate so there's rarely ever a bottleneck (FYI: You still need to show a ticket for that day to walk around the airport shops). My flight was departing from Gate A5 and they have joint security for about five gates but only one other was being used. There's really nothing on the other side of security except a lame café that sells Mrs. Fields cookies. BTW: You don't have to take off shoes or belts. And I left my liquids in my bag. All the security agents asked was for laptops and iPads to come out. The whole process took my about one minute.
Other Airport Highlights:
-They have a lot of Angry Birds decorations since they are doing a contest with them (check out the airport's website for more info (http://www.changiairport.com/)
-Love gazing up at the airports departure board. They fly to so many exotic destinations it gave me travel envy.
Flight to Tokyo
We did indeed board at 8:45am. The plane is so big they used three doors: one was for suite passengers, the other for main cabin economy and the last was for passengers sitting on the upper deck (business and economy). Families, those in need of more time, and then premium customers boarded in that order. Economy was last.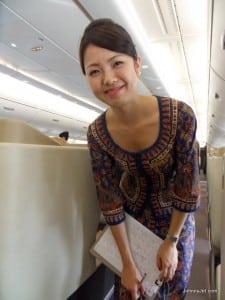 Just like my previous two flights, the flight attendants were all beautifully dressed, friendly and hard working. The flight was only half full in business class – probably because of the Chinese New Year. My seat was 25K – a window on the far aisle. I was shocked to see this plane not up to snuff – it was actually dirty. The carpet wasn't fully vacuumed, there were stains and pen marks on the entertainment system consoles and there was a pubic hair in my bin along the window. I'm guessing this was due to not everyone working over the Chinese New Year? Not sure. They also ran out of the beef lasagna for lunch which was the only thing I liked out of the main courses. I'm not a fan of braised duck with yam rice or sautéed scallops which were the other two options, but the flight attendants were kind enough to get me chicken from economy and it was good.
We pushed back from the gate at 9:27am and took off at 9:44am. Flight time was six hours and eight minutes. Just like my previous two flights the seatbelt sign went off exactly ten minutes after we were airborne.  At 10:12am the drinks we ordered before takeoff were served (I just had water). At 10:18am they brought a prelude of chicken and lamb satay (their peanut sauce is so good!). An hour later at 11:26am the flight attendants set the tray table. The appetizer was a salad of gravadlax salmon and smoked salmon.  The mains were served at 11:39am. I then ordered a bitter lemon soda and the flight attendant came back two minutes later with it and said, "thank you for waiting." Thank you for waiting? In America it would've taken three times as long and the flight attendants would've plopped it on the tray spilling it. The service on Singapore Airlines and other Asian carriers I've flown is just unreal. The flight was smooth and we landed at 4:42pm local time. FYI: Japan's time change is an hour ahead. (I will write about my trip to Tokyo next week.)

The comments on this page are not provided, reviewed, or otherwise approved by the bank advertiser. It is not the bank advertiser's responsibility to ensure all posts and/or questions are answered.

Editorial Note: The editorial content on this page is not provided by any bank, credit card issuer, airlines or hotel chain, and has not been reviewed, approved or otherwise endorsed by any of these entities.