This is the third and final part of Tim Gaylord's three-phase exploration of the Hilton Curio Collection. For more on the Curio Collection, check out part 1 (The Highland Dallas) and part 2 (Diplomat Resort & Spa in Hollywood, Florida).
3. Reichshof Hotel, Hamburg, Germany
Last stop: Hamburg, Germany. There's a lot to see here so I'm keeping the text to a minumum.
If you're planning a trip to Europe for work or vacation, I encourage you to make Hamburg a destination and the Reichshof Hamburg your hotel of choice. Located in the northern part of the country, Hamburg is the second-largest city in Germany and the eighth-largest in the European Union. The hotel is centrally located and convenient if you plan to be on the go.
The hotel recently completed a $30 million renovation and the new eye-popping Art Deco design gives the hotel a new look while preserving the original identity of the hotel. The lobby area is a great place to meet for a drink, people-watch or have a coffee before heading out.
The rooms
There are 278 guest rooms and suites, ten business rooms and a 1,905-square-foot ballroom for private events.
After a long flight or a long day of exploring Hamburg, there's nothing better than a good night of sleep, and the beds at the Reichshof are up there with the best of them.
The staff
The staff is helpful and hospitable and goes out of its way to make sure your visit goes smoothly. They're dressed sharply and all speak perfect English.
Bar 1910
Bar 1910 at the Reichshof is someplace you'd find Bogart and Becall sipping gin. It's that kind of cool, end of story.
Location
Getting around Hamburg couldn't be any more convenient and the location of the Reichshof—located just across the street is the Hauptbahnhof Railway Station—makes it that much easier. It's the busiest station in Germany and a great way to get around.
Tip: The local railway doesn't operate the same way subway systems work here in the States. Once you purchase a ticket, it doesn't get collected nor do you swipe it at a turnstile. You simple board the S-Bahn or U-Bahn and continue to your destination. But don't try to take advantage of this process. There are officials that will randomly check for tickets on the train, and if you don't have the proper ticket, it's "curtains" for you.
Eating in—and out
The restaurant Slowman is located just off the main lobby and is a landmark serving both great food and a unique dinning experience. The menu offers three or four courses for fixed prices of 35 or 45 Euro respectively. If you're looking for off-site options, here are two great spots:
Parlament — Parlament is a great spot if you're looking to experience some traditional northern German cuisine like labskaus or homemade sour meat. It might not read well, but it's fantastic. They also have some vegetarian dishes.
East — If you looking for sushi then I would suggest East. It's become one of the trendiest restaurants in Hamburg and when you get there you'll know why.
The food in Germany is some of my favorite and Hamburg's northern traditions in the kitchen are at the top of my list. The dish in the above image is a classic northern dish of labskaus with herring and the other a dish is fish and chips. I ordered this at a small cafe along the river and wasn't sure what to expect. It ended up as one of my favorite meals.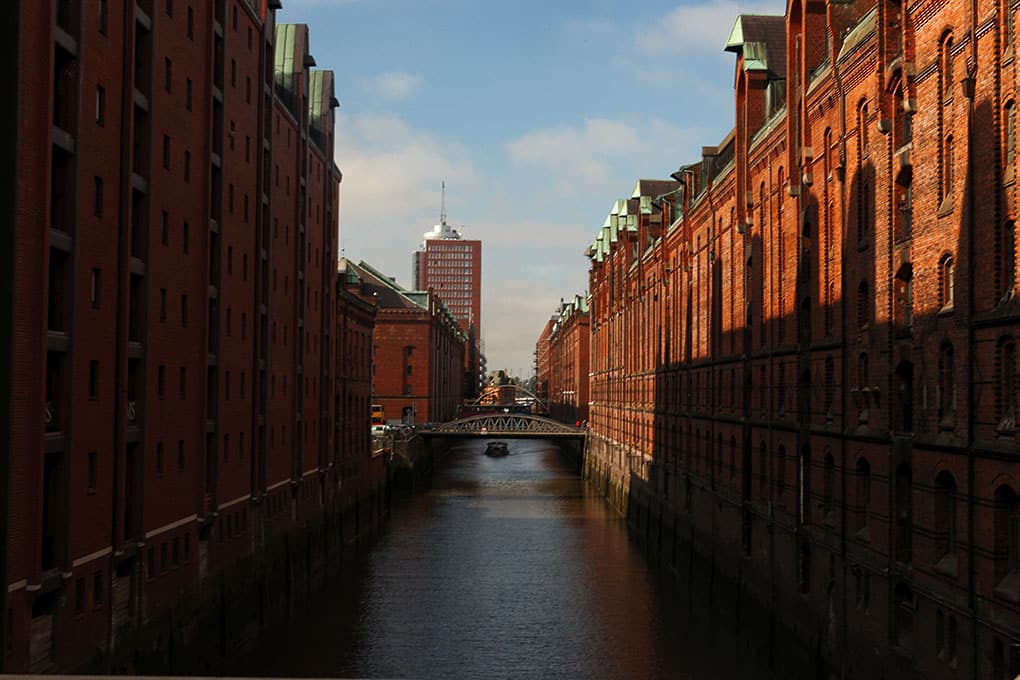 Warehouse District
Speicherstadt or the "Warehouse District" lines the canals of Hamburg and is home to several great galleries and museums. Here's a list of several great contemporary art galleries in the area (including some outside the Warehouse District).
Going small at Miniatur Wunderland
Miniatur Wunderland is one of the area's most popular attractions for both kids and adults and something to admire. The unparalleled attention to detail in this must-see museum is like none I've seen, and it's marveled at by over two million visitors a year.
The harbor
Hamburg is home to one of the biggest harbors in Europe so at one point or another you've got to take a boat tour either around or through the city's waterways. Be sure when buying tickets that you'll be on a tour with an English-speaking guide. Here's a list of boat tour operators.
Shopping
From Altona to HafenCity, there's tons of great shopping in Hamburg. Here's a great resource for shopping on any budget while in town.
The Fish Market
The Fish Market is an absolute must-see when visiting Hamburg. Every Sunday from 5 am until 9:30 am am, the harbor is packed with locals buying produce, fresh fish and clothes, and even drinking beer to the sounds of live music. The Fish Market is rocking in many ways.
St. Pauli and the Reeperbahn
The bustling nightlife in the area of St. Pauli draws crowds from all over the world. It includes the Reeperbahn area, more commonly known as the Red Light District. There are tons of bars, clubs, restaurants and all sorts of opportunity for adventure.
Flea markets
If finding hidden treasures in the antique world is a passion for you then the many flea markets that take place in Hamburg will keep you busy for days.
For more on the Curio Collection, check out part 1 (The Highland Dallas) and part 2 (Diplomat Resort & Spa in Hollywood, Florida).
The comments on this page are not provided, reviewed, or otherwise approved by the bank advertiser. It is not the bank advertiser's responsibility to ensure all posts and/or questions are answered.

Editorial Note: The editorial content on this page is not provided by any bank, credit card issuer, airlines or hotel chain, and has not been reviewed, approved or otherwise endorsed by any of these entities.