If you're following me on Facebook, Instagram and/or Twitter then you know I just returned from our nation's capital to take part in the White House Travel Blogger Summit on Study Abroad and Global Citizenship. Here's how my trip panned out.
Natalie and I flew in a few days early so she could see some of the sights and so I could attend USA Today Travel's Frequent Traveler University (FTU). We flew in and out of Reagan National Airport (DCA), which is by far the most convenient airport for traveling to DC since it's only a few miles from the city. On top of that, it's a beautiful airport—especially at Christmas time (see photo above).


Hyatt Regency Crystal City
Saturday night, Natalie and I stayed at FTU's host hotel, which was the Hyatt Regency Crystal City at Reagan National Airport. The conference rate was only $99 and they have a free shuttle to and from the airport. The hotel was decent and I loved using their Web Check-In service, which emails you when your room is ready and then allows you to bypass the front desk by using one of their kiosks to receive your room keys.
Taking In The Sights
The following day was forecasted to be the only sunny day for our four-day trip. We took an UberX from the Hyatt to the Ritz-Carlton Pentagon City, checked into the hotel, left our bags with the bellman and hopped back in the same UberX. We had the driver drop us off at the Lincoln Memorial (total ride cost was $16.89). We walked to some of DC's major sites including the Korean and Vietnam War Memorials, The Washington Monument and, of course, the White House. By that time, we were freezing and after making a pit stop at the White House Visitor Center to use the loo, we jumped back in another UberX to our hotel.
Ritz-Carlton Pentagon City
The Ritz-Carlton is one of my favorite hotel chains in the world so when a friend who works there offered me an incredible rate, I couldn't turn it down. Pentagon City caters mostly to government employees since it's right across the street from the Pentagon but I did see a lot of locals enjoying Afternoon Tea and having a weekend escape. I love that it's conveniently located in the Fashion Centre Mall, ten yards from the Pentagon City Metro so it's only two stops from downtown DC and Reagan Washington National Airport. Or you can take a taxi or an UberX the three miles to the heart of DC.
The White House Travel Bloggers Summit
Talk about the invitation of a lifetime. When the invite came into my email, I thought it might've been a brilliant phishing technique as they asked for my social security number. After cross-checking Facebook, I found that I had a mutual friend with the person who'd sent me the invitation and she confirmed that it was all legit. The White House invited some of the top 100 travel bloggers and digital influencers (the entire list is below) from around the world, not just the country.
They also brought in some heavyweights to speak to us, including: Secretary of Commerce Penny Pritzker, Chief of Staff Denis McDonough, Deputy National Security Advisor Ben Rhodes, Chief of Staff to Michelle Obama Tina Tchen, Assistant Secretary of State Evan Ryan, Director of the White House Social Innovation and Civic Participation Jonathan Greenblatt, and Peace Corps Director Carrie Hessler-Radelet.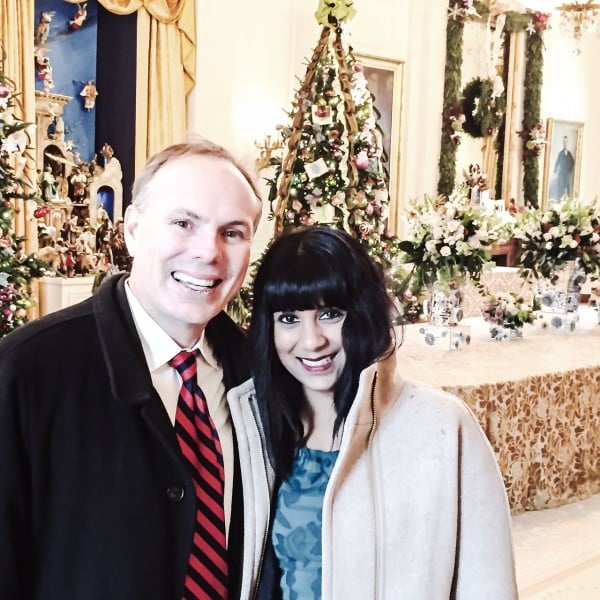 Unfortunately, I got food poisoning for only the third time in my life so I missed the actual summit. However, I rallied and sucked it up (literally) for the tour of the White House to see their Christmas decorations. It was beautiful but security was so tight—even for those who had appointments—that everyone had to stand out in the freezing cold rain for about an hour. Tours are open to the public but have to be reserved well in advanced. If you go for a White House tour in the winter months, be sure to dress warm and bring an umbrella and your ID.
Although I missed the whole summit, there are some resources online including a YouTube of the first three speakers. The whole summit was about the importance of studying overseas. The White House hopes to get more students to go overseas. Currently, fewer than 10 percent of students take part in study-abroad programs and of the ones who do, 76 percent are white. According to the Washington Post:"Legislation has languished on Capitol Hill to create a federal grant program to motivate universities to help achieve a national goal of 1 million U.S. college students studying abroad by 2020, and to more "nontraditional destinations outside Western Europe."
At 3:00 PM today, (Thursday, December 11, 2014) the White House will have the Federal Government pushing out one big synchronized social media blitz using the hashtag #StudyAbroadBecause. To kick off the conversation, Hyperactivate's Mosaic has created the tool below to get people engaged.
Sadly, I didn't study abroad and it's one of my big life regrets but I did go from Connecticut to California to study so that's almost like studying abroad since the two states felt like countries apart to me – and it meant leaving my family. But to those students who do study abroad or who want to, I can promise them and their parents that it will make them a much better person. They will gain a cultural sensitivity and global awareness, which is very important and even essential to a career. As Secretary of Commerce Penny Pritzker said, "Exposure to people outside of the U.S. can have profound effect on a person."
List of Attendees:
Aaron Wodin-Schwartz
Alex Ayling
Alex Beauchamp
Alison Tatham
Amelia Tseng
Anastasia Dellaccio
Andrea Leitch
Angela Ferragamo
Anna Irwin
Audrey Bergner
Ayesha Gilani
Barbara DeLollis Contreras
Beth Santos
Brad Bernard
Bradley Halpern
Brandon Lewis
Brendan Kownacki
Brian Whalen
Britt Hysen
Brooke Burdick
Cameron Hogan
Carol Cain
Caroline Makepeace
Caryn Davidson Schlossberg
Chris Christensen
Chris McGinnis
Chrysula Winegar
Claudine Halabi
Clifford Chiet
Colleen Lanin
Corina DuBois
Craig Makepeace
Darla Phillips Martin
David Lee
Deborah Harris
Dennis Lamme
Donald Wildman
Elena Sonnino
Elizabeth Thorp
Elizabeth Whitman
Emily McKhann
Erin Lowry
Ezekwin Mosby
Geraldine DeRuiter
Glenn Azuma
Greg Hubbs
Gregory Staley
Jaime Fraser
Jennifer Burden
Jessica Plautz
Jessie Voigts
Jodi Bettencourt
John Arundel
John DiScala
Juan Luis Reus
Justin Herman
Kara Williams
Kate McCulley
Kelly Craighead
Kelly Lewis
Kelsey Timmerman
Ken Roberts
Kenneth Calvert
Kevin O'Leary
Kimberly Evans
Kristen Rein
Kristin Musulin
Lara DiPaola
Laurie Wooden
Leslie Magraw
Leticia Barr
Lillie Marshall
Marc Fischman
Mark Ayling
Mark Overmann
Mark Van Der Heijden
Marlene Johnson
Mary Anne Potts
Matt Long
Matthew Karsten
Mehdy Ghannad
Melissa Wildman
Michael McColl
Mickela Mallozzi
Nadine Sykora
Natalie Bahadur
Nathaniel Boyle
Netanya Trimboli
Nicholas Namba
Patricia Rojas
Paula Froelich
Pauline Frommer
Perrin Doniger
Phillip Datcher
Polly Palumbo
Ricardo Gomes
Rob Fenstermacher
Robert Reid
Rolf Potts
Russell Hedge Jr.
Samantha Brown
Sarah Swaisgood
Stefanie Michaels
Talia Salem
Taralynn McNitt
Terry Heick
Vanessa Chiasson
Yasmine El Baggari
Claudia Palma
The comments on this page are not provided, reviewed, or otherwise approved by the bank advertiser. It is not the bank advertiser's responsibility to ensure all posts and/or questions are answered.

Editorial Note: The editorial content on this page is not provided by any bank, credit card issuer, airlines or hotel chain, and has not been reviewed, approved or otherwise endorsed by any of these entities.