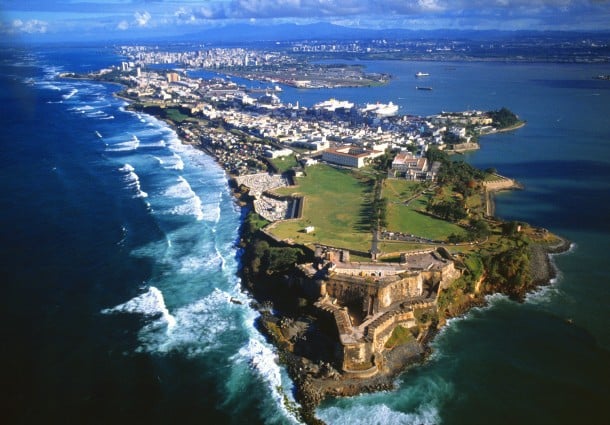 As opposed to being a raconteur (storyteller), this is my Ricanteur. Ever been hell-bent on replacing a bad memory with something sweeter? New York City's Puerto Rican Day Parade aside, my reigning experience on this island was nearly being shot. After a six-hour stopover from Aruba in the 90s became a few late-night hours of partying, I hoped to bypass paying for a downtown San Juan hotel by napping outside for a few hours. Sand flies convinced me that heading inland to get a bit of shuteye behind a hedge near an inviting villa was a good idea. A few minutes into my nap, someone barked "Policia, policia!" I jumped to my feet and emerged from the hedge to behold a man crouched in shooting position, gun pointing at my chest. Likely a private security guard, he was 10 feet away and serious. Fearing for my life, I summoned some high school Spanish: "Sueno, no criminale, sueno!" No bang, yet. I still had to go back into the hedge and fetch my backpack, which didn't amuse the gunman. I managed to escape the grounds alive. Although my first book was called The Frugal Globetrotter, this el cheapo blunder changed my travel tact forever. Stingy nurtured by stupid can be deadly.
Needless to say, my first impression of Puerto Rico needed an overhaul.
I returned to Puerto Rico to experience its Saborea food festival, a smaller version of the Miami Food Festival, and a larger version of Latino life. Sabor means taste, and I certainly got a taste of life in Puerto Rico. This breezy, ocean side food and beverage celebration showcases splendid modern Puerto Rican cuisine, meet-and-greets with various chefs, and unlimited offerings from the island's best restaurants for one modest price. There is a second act after the tropical drinks.
I found that mingling with judges, entertainers, and cooking seminar leaders blended nicely with stops to sample everything from ceviche salsa to lime hummus. Headlining was one of the island's signature dishes, mofongo: seasoned plantains mashed up like potatoes mixed with seafood, chicken, beef, pork, or as is. The island's bond with the Atlantic Ocean, Caribbean Sea, soaring rainforest mountains, and lush agricultural valleys—all spiced by Afro-Carribean, Latin American, European, and U.S. tastebuds—gives birth to an incredible variety of food styles.
Ah, the winds of change. This time, I got it right. Puerto Rican cuisine is grandma's staples meeting Caribbean flare. The festival was a high-end affair without a bow tie in sight. The hardcore foodies I dined with were wowed by this Spanish-descended culinary grace. Food is serious business here; many chefs train abroad at award-winning institutes and globally seasoned sommeliers lurk.
This sunny Commonwealth is way more than a medley of restaurants and resorts. And, pro-American is an understatement. Old San Juan has many friendly establishments, but the Red Monkey, a restored multi-room colonial gem won me over. Here, I got into the nitty-gritty of this country's polarizing take on whether Puerto Rico should remain a U.S. territory, become the 51st state, or strive for complete independence. One upside to its current status is Puerto Ricans boast their own Olympic team and contestants in Ms. Universe contests, not to mention they also have citizenship rights allowing them to study, work, and travel in the U.S. In addition, they have access to U.S. military protection and monetary assistance.
A downside to their status is having no control over imports and exports—and being unable to access cheap oil from Venezuela. They pay as much for gas as the mainland. There's no apathy for anything political here. Puerto Rico averages 90 percent voter turnout and every notch of the AM dial is political talk radio, on speed. Although the U.N. doesn't recognize Puerto Rico, it sure feels like its own country to me.
But here's the most vital information: the average summer temperature is only 86 degrees; it rarely breaks 90, ever. And the people are friendly. Uncle Sam's Caribbean is made up of four million salsa-dancing hybrids. The meld of indigenous natives, Spaniards, and Africans are looking forward to greeting you.
Old San Juan, like Havana and every other Spanish colonial city, charms at every turn. Many of its landmarks are older than anything on our mainland. In fact, El Morro Castle is the oldest fort and oldest National Park in the U.S. The Spaniard-made treasures in St. Augustine and Pensacola hijacked this design. Sixteenth-century architecture and antique homes painted in every pastel hue line Belgian-made cobblestone streets made from iron and stone, giving them a bluish tint. It's another world.
This 100-mile long island is as long as New York's Long Island, but it's definitely not flat. The island's mountains include majestic limestone pinnacles and cliffs that shelter a gourmet coffee region, growing 100 brands and some of the world's best. Ciales, a village in the island's hilly midst has a coffee museum and an international tasting shop. A local connoisseur testified that premium coffee should only be mixed with 96-degree water, otherwise you're burning away its essence. That temperature, by the way, is when water begins to accumulate bubbles on the bottom of the kettle. Puerto Rican coffee is even good enough for the Pope. Alto Grande, grown near Ciales, is the official coffee of the Vatican.
Coffee isn't the only thing that brings people together. U.S. sports fans will find instant camaraderie here. Soccer may be the world's most popular sport, with no shortage of fans in the Caribbean and Latin America. But in Puerto Rico, American baseball and basketball fans outnumber soccer fans. In fact, when local NBA star JJ Barea won the championship as a Dallas Maverick, Puerto Rico threw him a hero's parade. Just like in the Philippines, the only place in Southeast Asia where basketball truly caught on, the U.S. built basketball courts across Puerto Rico, and they got the ball bouncing.
One of my early exposures to Latin American grace was watching Hall of Fame baseball player Roberto Clemente play when I was in elementary school. The first Puerto Rican to play Major League Baseball, he overcame American racism by example. He pioneered humanitarian work throughout Latin America, often delivering baseball equipment and food. He died in a 1972 plane crash just off the Puerto Rican coast while en route to deliver aid to Nicaraguan earthquake victims. His gracious manner was born here, and many of the island's affable people uphold his kindly way. And it goes way beyond baseball. Not going on an A-Lister monologue, but both Sammy Davis, Jr. and Prince's moms were born here. Celebrating life seems to be in the Puerto Rican blood.
I came away with a much better understanding of Puerto Rico. Sometimes, the second time is the charm. I look forward to my return to this happy, relaxed island.
* Crispy & Relleno is where master chef Fernando Parrilla spins his roadside bistro magic. Expect avocado miracles and fresh seafood that changes with the seasonal menu.
* Augusto's Restaurant, though enveloped by a recently built Courtyard Marriot, is a 30-year culinary tradition that will surprise with its seared scallop and Maine lobster lasagna in a mussel-curry foam. Our waiter, Carlos, was a clever humorist who evolved from a concocted, whispering eighteenth century nobleman into himself, a funny man demonstrating Puerto Rico's brainy wit.
* The storied and sprawling Caribe Hilton overlooks Spanish fortification ruins and a 270-degree swatch of light Atlantic blue. The rambling beach area screams recreate. The pina colada was invented here. Joan Crawford tasted one and said, "Well, that's better than slapping Betty Davis in the face." The comment made the drink soar in popularity. Make sure your room isn't near a roof vent or the truck delivery dock. The hotel's in-house Lemongrass Restaurant rocks Pan Asian Latino. It's a five-minute walk to the Saborea Food Festival.
* Eighty20 Bistro, in the Verdanza Hotel, rivals a Beverly Hills wine spot—minus the facelifts. Its five-course wine-entrée pairing debuted with moaning-good conch gazpacho over pigeon pea hummus. Its Italian sommelier, Dario, tows in some of the world's finest. Take that, South Beach.
* Guide virtuoso: Raymond Sepulveda via acampapr.com.
* El Yunque National Forest is the sole tropical rain forest in the U.S. National Forest System. The forest's relatively small 28,000-acre size belies its importance. The highland forest maintains an average temperature of 73-degrees. Noted for its biodiversity and home to thousands of native plants, including 150 fern species and 240 tree species. El Yunque has no large wildlife species, but hundreds of smaller animals abound, many of which exist nowhere else. The Puerto Rican Amazon—a parrot species—is native to the island. Its population became endangered because of habitat destruction and was nearly wiped out altogether by Hurricane Hugo in 1989. The Puerto Rican government is working hard to repopulate the species.
The comments on this page are not provided, reviewed, or otherwise approved by the bank advertiser. It is not the bank advertiser's responsibility to ensure all posts and/or questions are answered.

Editorial Note: The editorial content on this page is not provided by any bank, credit card issuer, airlines or hotel chain, and has not been reviewed, approved or otherwise endorsed by any of these entities.