With the ski season approaching it's time to pull the gear out of storage and start making winter plans for some time on the slopes. With record conditions last year, Deer Valley, UT, has once again proven itself to be one of the highest-rated ski resorts in the world for both its amazing ski conditions and unparalleled hospitality. After having the opportunity last season to finally experience Deer Valley, I can now share some of the reasons why you should be planning to experience the creme de la creme of ski resorts for the 2016-17 season.
At Deer Valley you can hit the slopes on two boards but not one
Whether you're traveling alone, with a significant other or the family, skiing Deer Valley is everything you might have imagined in a high-end ski resort and probably more. Notice in the above photo there are no snowboards. That's because Deer Valley is a "ski only" resort. While there is the option for snowboarding at nearby "sister resort" Solitude Mountain, Deer Valley allows guests to experience the annual 300 inches of snowfall at the resort on skies only. In addition to only allowing skiers, the mountain also monitors the number of lift tickets sold each day. Once that number is met, that's it for the day. This makes for plenty of room while on one of the mountain's six peaks and very limited wait times (if any) once you reach the chairlift at the bottom.
The ski season
While Deer Valley has plenty of pitched skiing for the more aggressive black-diamond downhiller, the resort really caters to skiers like myself, who love to plow through bounds of champaign powder at a perfect pace, followed by a long leisurely lunch and capped by a massage at a five-star spa. Deer Valley is the epitome of this type of resort.
Deer Valley consists of six skiable peaks. Specs below:
Vertical rise: 3,000 feet
Skiable terrain: 1750 acres
Peak elevation: 9,570 feet
Base elevation: 6570 feet
Annual snowfall: 300 inches
Number of lifts: 21
Number of trails: 90
% of beginner trails: 15%
% of intermediate trails: 50%
% of advanced/expert trails: 35%
Guest services
While Deer Valley is known worldwide for its fantastic skiing, the resort may be even more recognized for its unparalleled guest services. The staff is well-dressed, friendly, efficient, and always looking to make your stay a success.
Where else are you greeted upon arrival by a friendly staff member that will help unload your ski gear and help you back to your car when you're done? Someone is always available to help you take advantage of their many first-class amenities.
Leave your skis behind
If you choose to leave the gear behind this season, the pro staff at the Deer Valley Rental Shop will have you fitted like a pro for your time spent at the resort. The rental shop will provide you with the full line of top end Rossignol equipment designed with the latest ski technology and everything is tuned by certified technicians to fit your needs. There are three locations and convenient hours that make the rental process simple.
Ski school
Instructors at the Deer Valley Ski School can accommodate skiers of all ages and levels. So whether you would like to get the kids started, you're a beginner yourself who would like to meet people in a group ski lesson, or a more advanced downhiller who would like to sharpen your technique, the staff at Deer Valley will provide gold-standard support via a group or private lesson.
Take a break at the top of the mountain
Deer Valley gives new meaning the term "warming hut." If ever the time comes when you feel like ducking into a place to hang your hat and warm up with a cup of coffee or hot chocolate, there are plenty of places on the mountain where you can achieve this goal.
Accommodations
While there are plenty of options for accommodations in Park City, you'll find that none will provide better guest services than the properties managed by the Deer Valley Lodging and Reservations group.
Benefits of staying in a Deer Valley Resort-managed property: (from site)
On-site resort lift ticket sales
Discounted lodging and lift ticket packages available during several time periods
*Complimentary in-resort/town shuttle service with Cadillac Escalades
Complimentary daily housekeeping
Concierge services
Shipping services available for luggage, etc.
Complimentary Wi-Fi
Lodging security provided
Complimentary on-site parking in either private or common area garages
I had the good fortune to stay at The Lodges and loved it. However, there are many other lodging options and vacation packages available at Deer Valley so be sure to check their website for deals.
The Spa at the Montage
There's nothing quite like a massage and time in the sauna/hot tub after a day on the slopes and the Spa at The Montage Hotel follows suit as being regarded as one of the best in the world. From the minute you wrap up your last run until the minute you leave, you'll be immersed in the high-end guest service experience Deer Valley is so well-known for. They'll even return your skis to the rental center and place the clothes you left behind in your locker at the spa, so when your time is done at the spa you simply shower up, put the clothes you came in back on, and head out.
The shuttle service
Remove renting a car from the equation because while visiting Deer Valley you won't need one. A complimentary Cadillac Escalade shuttle is available for guests of the resort for drop-off and pick-up from the ski resort and is also available to drive you into town for dinner or to off-site activities.
Main Street in Park City
If you're looking for some off-site activities Main Street in Park City has tons of options. Loaded with art galleries, shopping, restaurants, and music venues there is always something happening in this rustic setting.
Eats
While there are plenty of fantastic options for breakfast, lunch and dinner while visiting Deer Valley, here are some of my favorites:
1. The Brass Tag — A fantastic and convenient restaurant for breakfast, lunch, and dinner located in The Lodges at Deer Valley. There's also a great bar so if you're like me and enjoy eating at the bar while watching a game, this is a perfect spot.
2. The Deer Valley Grocery and Cafe — Amazing and popular spot for breakfast, lunch, or just coffee. A surefire way to start your day. The Deer Valley shuttle service can drop you off and pick you up.
3. The No Name Saloon: Perhaps one of the all-time great local bars. Centrally located on Main Street this watering hole is a popular spot amongst locals and visitors alike. Try the famed bison burger. I have it every time I'm there.
4. Seafood Buffet — You may be thinking "Seafood? In Utah?" Don't be fooled: The seafood is flown in daily and Seafood Buffet is one of the more popular spots for dinner. An all-you-can-eat bonanza of fresh seafood.
5. Royal Street Cafe — Located at the base of the mountain, this is the perfect place for lunch while hitting the slopes. The food is so good you'll want to take pictures of it.
6. Riverhorse on Main — For a fine dining experience, I recommend paying a visit to Riverhorse on Main. Set in a candlelit environment, this restaurant serves arguably the best food in Park City. The night I was there a live acoustic performance filled the room as dinners enjoyed dishes like their signature halibut (one of my favorites). It's a great place for a romantic evening, to celebrate a birthday or for entertaining a client.
Get on a snowmobile
If you're looking to take the family for an adventure off the mountain, here's a great option. A Deer Valley guided snowmobile tour will have you bounding through endless trails of powder that end at the top of a ridge overlooking the surrounding canyons. You can go solo, ride two-people-per-snowmobile, or opt for the guided tour. Prices are based upon one or two hours of touring. An amazing time for those who would like some unbridled adventure.
What's new at Deer Valley/changes
How about adding a resort to the Deer Valley family. On May 1, 2015, Deer Valley took over operations at the Solitude Mountain Resort and the same guest priority service Deer Valley provides for its clientele can be noticed here. Like Deer Valley, Solitude is an ideal ski destination for families who love to ski but would rather their vacation not be overcrowded by zealous downhillers. Nestled at the base of the mountain is the Solitude Village complete with an ice skating rink, several restaurants, a local bar, and accommodations. Solitude is also a heaven for snowboarders.
An amazing dining experience
While the village at Solitude has many restaurant options, the private yurt dining experience at Solitude is a must if visiting the resort with a larger group. After being fitted with snowshoes, you and your group will hike in (about 300 yards) to a yurt for a three-course dinner followed by dessert. Loved it!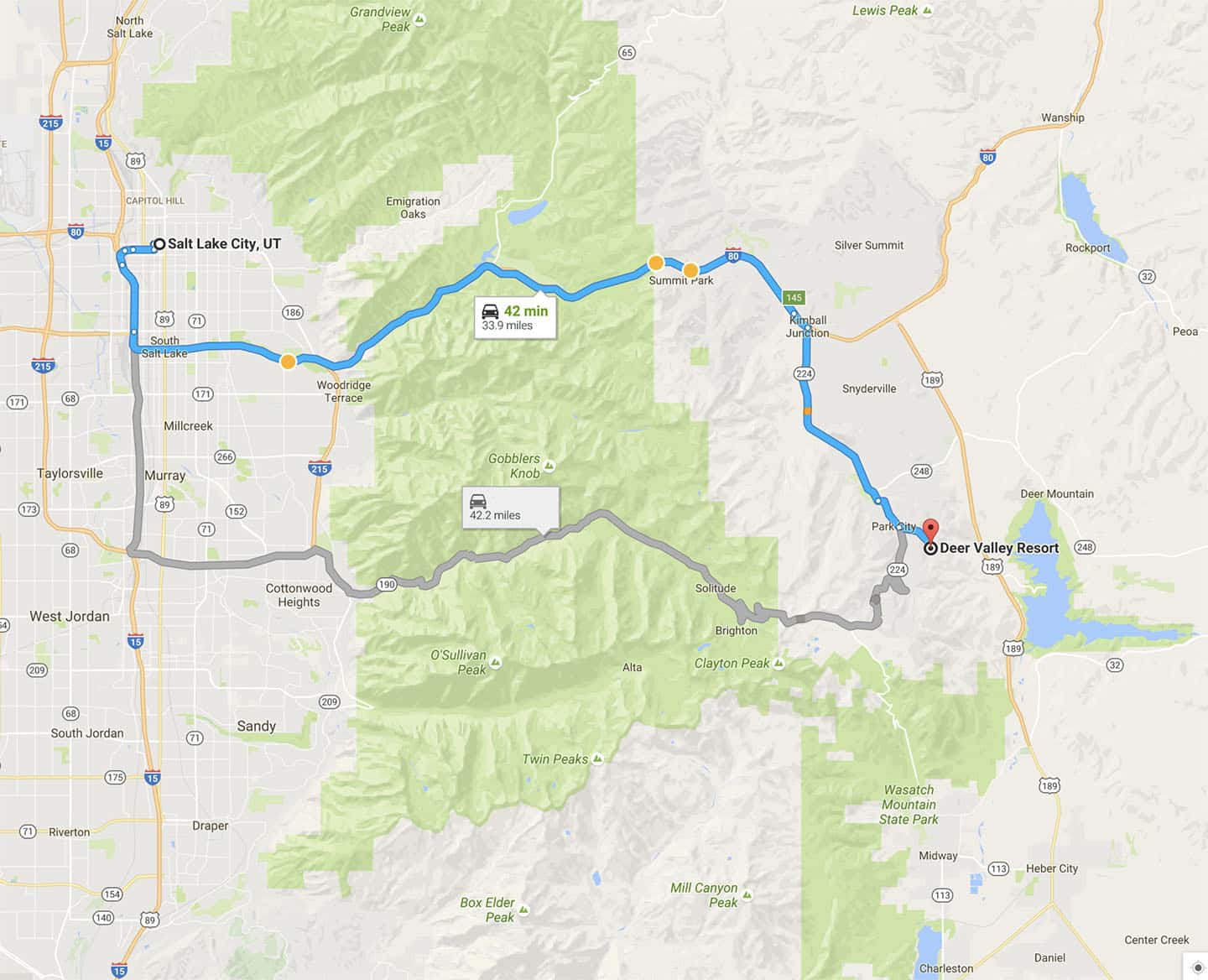 Getting to Deer Valley
With direct flights into the Salt Lake City International Airport (SLC) from most major airports (including JFK) Deer Valley is a short ride from the airport to the doorstep of your hotel. (approximately 33.9 miles/40 minutes). So if you were one of the many who in 2016 planned a trip months in advance only to be greeted by lackluster snow conditions (or no skiing at all), I would suggest giving serious thought to a winter vacation at Deer Valley. You won't be let down. Currently, the resort does not provide shuttle service from the airport but will be more than happy to arrange transportation via a resort vacation planner or concierge staff member.
---
For more on Deer Valley, visit deervalley.com. For more on summer at Deer Valley, check out Georgie Jet's story on Deer Valley: Summer in Deer Valley, Utah, at the St. Regis.
The comments on this page are not provided, reviewed, or otherwise approved by the bank advertiser. It is not the bank advertiser's responsibility to ensure all posts and/or questions are answered.

Editorial Note: The editorial content on this page is not provided by any bank, credit card issuer, airlines or hotel chain, and has not been reviewed, approved or otherwise endorsed by any of these entities.