If you're coming here after reading My Ultimate Guide To Renting Cars, thank you for being here. I recently interviewed Tammilee from TammileeTips.com, who was a car rental executive for 13 years before starting her popular travel and food blog. Here's how she finds the cheapest deals and makes sure she's not going to get dinged by the agencies.
You can listen to our 25-minute conversation here on my podcast or read some of the transcript highlights below.
Johnny Jet
I just found out Tammilee worked at a car rental agency for 13 years! What were you doing for them?
Tammilee
I started in a rental car office and then worked my way up. And when I finally left the company, I was a loss control manager over a few states. So I handled all of the damage, ugly, wrecked cars, issues, things like that. All the bad things that happened with rental cars, landed on my desk.
Johnny Jet
So do you rent cars today?
Tammilee
Prior to this past year, I was renting cars almost weekly.
Johnny Jet
Wow. So I mean, you must have the tricks! So for starters, where do you go to rent cars?
Tammilee
We rent through Costco often. I mean, it's amazing the deals you can find, but also how easy it is to check back multiple times to see if the rate changes. We use Costco now, especially because we have an executive membership. So there's the 2% back, which is always a nice bonus at the end of the year. And it's just easy to use.
RELATED: The Best Credit Cards with Rental Car Perks
Johnny Jet
Everyone's talking about the 'car rental apocalypse' because there's a shortage and prices are insane. I mean, you can't even rent a car on Maui, or at least, you couldn't during Spring Break. And when you can get them, you know, they're going for hundreds of dollars a day, sometimes $1,000. It's so bad that people were actually buying used cars and renting them out themselves, which is a terrible idea.
Tammilee
Yes, please do not rent a car from somebody's backyard.
Johnny Jet
Have you ever used the site turo.com?
Tammilee
I haven't but I keep hearing about it. I would be very nervous coming from a rental car background to not know whether or not the car you're renting, what its maintenance is like, what happened to the gets damaged? What's the liability process of it? It I'll have to look at the rental car contracts for them. I'd be interested to see it but I'd be nervous.
Johnny Jet
So when you do rent a car, do you ever stand in line? I assume you use all the apps? Are you a member of all of the car rental clubs. What do you do?
Tammilee
I'm a really big fan of the Alamo kiosk.
Johnny Jet
So when you do go to the counter, do you buy insurance?
Tammilee
As far as buying it, it honestly to me depends on how long you have the car and where you're traveling to. If you're traveling to say anchorage or Alaska, in spring right after snow melts and you only have a car for a few days, I would get the damage waiver because at least in the past, they're used to gravel their roads. And there's a good few weeks, where there's so much gravel on the road, your chance of getting a star in a windshield, or a broken windshield, or damage to the hood is exponentially higher than other times of the year. So I would get the damage waiver there because you're going to spend 45 to 50 bucks, and not have to worry about it.
Johnny Jet
Are you covered by certain credit cards or your car insurance at home?
Tammilee
I use my Sapphire rewards all the time. Okay, specifically for rental cars, because it does have rental car coverage. The one thing I would say is no matter what credit card you use, make sure you know the stipulations. Do you need to pay your deductible upfront, and then get reimbursed? You have to reach out to them know for your specific credit card? What happens if you get in an accident, so that you're prepared ahead of time and not scrambling?
RELATED: Should You Buy Insurance From a Car Rental Company?
Johnny Jet
Do you call up credit card company? Or do you look online? What do you do?
Tammilee
I think it's whichever one you're most comfortable with. I would start online. And if it's 200 pages of legal mumbo jumbo, I pick up the phone and ask them a lot of questions.
Johnny Jet
And when you do rent a car, do you start off with getting a compact car hoping that they will upgrade you for free? Or do you just go for or do you just go big.
Tammilee
I just go to the SUV. Just because at this point in my life, I like comfort. And I don't want to play the airport game. Because depending on the airport, especially this year, where so many fleets have been drawn down to a smaller base of fleets. This is not a year I would play the airport game where the rental car game, I would rent what you hope to get.
Johnny Jet
And are you guaranteed an SUV when you reserve one?
Tammilee
Oh, this year, I have a feeling it's gonna be interesting. There's definitely language within a rental car reservation or contract that says they're gonna do everything they possibly can to have the car you reserved. But there's no absolute guarantee. Because unfortunately, on the rental car side, they're at the mercy of their renters. And while somebody may say they are coming back at a nine o'clock, you know, return time, they could not show up until 4pm or three days later. So you're kind of is a rental car agent at the mercy of people bringing cars back when they say they're going to bring back right, especially in areas where there may not have an affiliate location nearby that they can borrow cars back and forth from.
Johnny Jet
When you do rent a car, do you carefully check it out? And do you document it? Do you videotape it or take photos? What do you do?
Tammilee
I do what I taught people in the rental car industry when I was in control. It's what I call a trunk-to-trunk inspection. So I start at the trunk of the vehicle, I open it, I make sure that there's a spare tire jack, any of the normal emergency equipment that you would expect to be in the car. It's also a good time to make sure nobody's hidden anything or left anything in the car that you may become responsible for down the road if you were pulled over.
Johnny Jet
Great tip!
Tammilee
So double checking, put your suitcases in the trunk, things like that, but leave the trunk open. And then I walk to the passenger side, starting at an angle. So I step three to four feet back from the car to the side and try to look down at an angle of the car because you can see dents and things like that easier from an angle. And then I walk the car. Looking at the tires looking at the rim damage. When I get to the front, I try to safely step back 10 or 15 feet because a lot of times damage on rental cars is undercarriage, where people don't realize how low it is and they take it over a bumper block or on a road they shouldn't. So you want to make sure that that undercarriage piece is even and not cracked. And then I look at the windshield as I walk forward, especially if it's in a daylit area to see if there's any sun glinting things like that for stars, making sure to look if the windshield has like the darkened sun screen type. It's not really sunscreen but where it's darker for stars there and then I continue to the trunk and then I close the trunk so that I have done a 360 of the car.
Johnny Jet
Wow. And so, how often have you found stuff?
Tammilee
Being trained to look for it more than I probably wanted to?
Johnny Jet
And when you do find it, what do you do? Do you just ask for another car? Or do you take pictures?
Tammilee
I'll take pictures. And then I'll ask, you want to ask to have it marked on your contract and in the system, if possible, but definitely having it marked on your contract with an initial or the name of the person you talk to. So they can tell that it's somebody who works for the rental car company, not just you making a scribble, like there's damage, you want to make sure it gets documented, because the moment you pull that car off the lot, you're liable for it. So you want to be able to say, I talked to this employee, we documented it here, and you get there. Horrible damage. Don't take the car.
Johnny Jet
Gotcha. And you get their full name?
Tammilee
If possible or their employee ID. Whatever you can get.
Johnny Jet
I read that people should check the VIN number (the 17 digit VIN number) to look up and see what kind of damages the vehicle has ever had. And to make sure to check the car's registration stickers are on. Do you do that as well?
Tammilee
I haven't. I would suggest checking the tabs to make sure they are current. Car rental cars move frequently so it's not common. But I wouldn't say that it doesn't happen.
Johnny Jet
Have you ever gotten into an accident with a rental car?
Tammilee
I haven't. My husband and I had a windshield blown out and some minor damage. But knock on wood. We haven't gotten in an accident with a rental car. We have had them hit in parking lots.
Johnny Jet
What did you do?
Tammilee
I always treat rentals as if they were my own car and take pictures of the scene. Depending on your location, you're probably not going to get the police out. But you can call their crime line and at least get it reported so you have a report number to give the rental car company to show that it was a hit and run.
Johnny Jet
Were you held responsible? Did your insurance take care of it?
Tammilee
My car insurance took care of that one.
Johnny Jet
What other tips do you have for people who are renting cars? I've heard there are tricks about just changing the date of your return by a few hours or getting a weekly rate and then returning it early.
Tammilee
Normally, the computer system calculates for the time that you had the vehicle. So when you rent for a week, it calculates off of like four and a half days or five days. And then there's a discount in there for having it for a week. Most of the time, I don't know what they're gonna do this summer, you should definitely look at like when you book a flight, being aware that if you're past an hour or two, from the time you rented it, you're most likely going to get into an hourly charge, and then a 24 hour charge. So if you're looking at like you picked it up at noon, and you have an eight o'clock flight, and you're getting to the airport at six, you may go into another day. So it can't be worth kind of looking at your time versus the cost. And whether or not an extra hour at the airport is worth especially right now. $100 $200 a day.
Johnny Jet
If I put in for a week because it's much cheaper to rent, will they penalize me for bringing it back four days early? Or will they just charge you that weekly rental?
Tammilee
I would hope that they would only charge you a weekly rental. But I would make sure to look at your receipt and make sure to look at what they're charging you because the computer system may calculate it to a daily rate versus a weekly rate just because of the time the car has been out. I haven't played that game. Yeah, but I would be really careful and asking to get a copy of the receipt and make sure you have a copy of your reservation to show the rate.
Johnny Jet
I assume you put your airline frequent flyer number in there to get the points miles and points?
Tammilee
If I'm only going to get 50 miles but they charge $5, I'm going to look at the value of those miles.
Johnny Jet
Have you ever seen the spare missing from the car trunk?
Tammilee
It's definitely happened. I will say in 13 years of working in a rental car industry, I saw things with cars that no one would ever imagine happens to rental cars.
Johnny Jet
Like what?
Tammilee
In Alaska, we had a moose use a car as a stair step to get over a fence. So I got a phone call on a Monday morning that there were moose prints up the hood of a car and on the roof, and then it jumped a fence. Well, we had a bear rip off of that quarter panel because the person drove too close to the bears cubs. I think the biggest thing as a consumer for rental cars, is making sure you protect yourself and how you're covered, checking with your insurance company to make sure it does cover rental cars, because there are insurance plans that don't cover rental cars. So you don't want to get caught with a phone call from my old department saying, we spoke to your insurance company and unfortunately, they're unable to cover you, you owe me the value of a car.
Johnny Jet
How about internationally? Do the rules change when you rent a car internationally?
Tammilee
They do they change a lot! Actually, that is definitely where you have to make sure your domestic insurance transfers to another country.
Johnny Jet
How about tolls? Do you carry your own toll tag because I know in places like Florida charge you by the day, no matter if you use the toll or not as long as you use it once or forget to flip the switch off. Have you dealt with those at all?
Tammilee
Oh, I've definitely paid my toll fees for Florida. I don't carry my own just because we're always hopping all around the country and trying to keep track of all of that would be a mess. Most of the time, I just go with the rental car. But I always ask especially in Florida if they have a system in the car, what the cost is just so you're prepared, and then check your credit card statement late later. So that when that $4 and $3 and $20 shows up you know what's happening.
Johnny Jet
I often get emails from readers saying they got a speeding ticket and it's usually in Europe from months earlier. Have you ever dealt with that at all?
Tammilee
Yeah, a lot of it. In Western Washington there's a bridge that you have to pay a toll to cross. And people end up getting bills, because they didn't stop to pay it. They went through the automated and then they get a bill for that later. But their rental car company has 1000s of cars and they get this mass bill from the toll station. They have to have someone go license plate by license plate, match it to the date, match it to the hour to make sure because that car could have been rented twice in a day before they can bill out to that person. So it can be a process.
Johnny Jet
And do renter have to pay it?
Tammilee
Oh, yeah, if you drove the car. I wouldn't want to damage my credit report, because I didn't pay for a bridge tool or Florida toll. That's how I always think about it. Because if the rental car company can't collect it from you, they're gonna escalate it to a collection company to collect it from you. Because it's coming out of their profit.
Johnny Jet
How do you rent? Do you always get the car at the airport? Or do you try and avoid some taxes and fees by renting it off airport.
Tammilee
We've done both. Most of the time I just get it at the airport. I look at the amount of time it would take me to get an Uber or some shuttle to an offsite location hope they were open to get the car and the same thing on the return. That being said, there are locations like SeaTac where at one point taxes and fees were like an additional 30%. So I heard a lot of people renting off site. But you definitely have to look at the value of your time versus expenditure.
Johnny Jet
Let's talk about buying rentals cars because you said that's how car rental car companies make a lot of their money from reselling their cars. Is that true?
Tammilee
I do buy rentals cars. If you go to a used car dealership a lot of those are rental cars. Where the rental car company will run them for so long to a certain mileage based off the type of the vehicle and then resell them. So they do make a lot of money in the resale.
Johnny Jet
How can you tell it was come from came from a rental car company?
Tammilee
You can run the VIN, like you said. If you're at a used car lot ask for the history of the car.
Johnny Jet
I think I shook it down for almost everything. I don't know that I miss anything.
Tammilee
I think the only thing I would repeat again, is to make sure that people are really looking at the car. Don't trust that car is in pristine condition. And then drive off the lot. Look at the car and take the two minutes to walk around the car and notate any damage. It could save you so much time and hassle at the end of your rental just by taking a couple minutes in the beginning to make sure that there's no stars in the windshield.
Johnny Jet
Well, Tammilee, thank you very much for the advice. Again, everyone her website is Tammy Lee tips. You can follow her on Facebook, Twitter and Instagram,
Tammilee
You're welcome. I hope this helps everyone. Enjoy the rental car experience.
Advertisement
Chase Sapphire Preferred® Card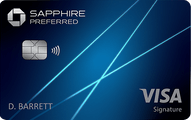 Our best offer ever! Earn 100,000 bonus points after you spend $4,000 on purchases in the first 3 months from account opening. That's $1,250 when you redeem through Chase Ultimate Rewards®.
Enjoy new benefits such as a $50 annual Ultimate Rewards Hotel Credit, 5X points on travel purchased through Chase Ultimate Rewards®, 3X points on dining and 2X points on all other travel purchases, plus more.
Get 25% more value when you redeem for airfare, hotels, car rentals and cruises through Chase Ultimate Rewards®. For example, 100,000 points are worth $1,250 toward travel.
With Pay Yourself Back℠, your points are worth 25% more during the current offer when you redeem them for statement credits against existing purchases in select, rotating categories.
Get unlimited deliveries with a $0 delivery fee and reduced service fees on eligible orders over $12 for a minimum of one year with DashPass, DoorDash's subscription service. Activate by 12/31/21.
Count on Trip Cancellation/Interruption Insurance, Auto Rental Collision Damage Waiver, Lost Luggage Insurance and more.
Get up to $60 back on an eligible Peloton Digital or All-Access Membership through 12/31/2021, and get full access to their workout library through the Peloton app, including cardio, running, strength, yoga, and more. Take classes using a phone, tablet, or TV. No fitness equipment is required.
The comments on this page are not provided, reviewed, or otherwise approved by the bank advertiser. It is not the bank advertiser's responsibility to ensure all posts and/or questions are answered.

Editorial Note: The editorial content on this page is not provided by any bank, credit card issuer, airlines or hotel chain, and has not been reviewed, approved or otherwise endorsed by any of these entities.