This post contains references to products from one or more of our advertisers. We may receive compensation when you click on links to those products. For an explanation of our Advertising Disclosure, visit this page.
Before the $2.6 billion Virgin-Alaska merger in 2017, I had only flown Alaska a few times. I flew Virgin America all the time and I even had the Virgin America Visa Signature card (RIP). Lately, I find myself flying Alaska more often, including recent flights to Maui and Nashville. Which got me thinking about applying for the Alaska Airlines Visa Signature® credit card. 
Alaska Airlines Credit Card Review
It makes sense that I'm seeing Alaska flights more frequently in my searches since they now have nearly 1,200 daily flights and 286 planes. They're the fifth largest airline in the U.S. Because of that, I constantly see their billboards, commercials, and of course, their branded Alaska credit card, The Alaska Airlines Visa Signature® credit card.
Why I'm Getting The Alaska Credit Card
I hadn't considered opening an Alaska air credit card, much less another credit card since I'm pretty happy with my Chase Sapphire Reserve perks, Chase Sapphire Preferred benefits, and Chase Freedom cards.
However, since my Virgin Signature is long gone in the credit card graveyard, I decided to find out more about the Alaska airline credit card offer. In taking a closer look at the Alaska Airlines Visa credit card, I realized it's a pretty sweet deal. These are five reasons why I've decided to apply.
1. Alaska raised its fees for checked bags.
Alaska's recent move to increase checked-in bag fees pressured me even further to really consider whether this Alaska card would be worth it. Brilliantly played, Alaska.
Starting Dec. 5, 2018, customers will have to pay $30 for the first bag and $40 for the second. It's a $5 increase for the first checked bag. The second checked-in bag is where you'd experience the biggest increase — Alaska previously charged $25 for the second bag.
Of course, Alaska Airlines Visa Signature® credit card cardholders get the first checked bag for free. You can also receive this perk for up to six people you fly with, as long as it's on the same reservation.
2. The Alaska Air credit card sign-up bonus is generous, while the spending threshold is low for the Alaska Card.
The sign-up bonus is the ability to earn 40,000 bonus miles plus Alaska's Famous Companion Fare™ from $121 ($99 fare plus taxes and fees from $22) with this offer. To qualify, they must make purchases of $2,000 or more within the first 90 days of opening their account.
Compared to some of the other credit cards I have, $2,000 is a low spending threshold. 
The 40,000 points roughly translate to $720. Not too shabby, considering 40,000 miles are enough to book a free flight within the U.S. or Hawaii.
Other perks include:
3 miles per dollar spent on purchases spent on eligible Alaska Airlines purchases
1 mile per dollar spent on all other purchases
Your miles will never expire as long as your account is open and active. There's also no cap on the mileage you can earn. You won't have to worry about foreign transaction fees either. The cards are chip-enabled, making it safer to pay and go.
3. You get a free Companion Fare ticket each year.
One of the standout benefits includes their Companion Fare, which you can redeem once a year on your account opening anniversary. You get the Companion Fare from $121 ($99 plus taxes and fees from $22). You can use it for booking Alaska Airlines flights on alaskaair.com with no blackout dates.
This means I can entice one of my pals to come with me on a travel adventure next year!
4. They have a decent number of airline partnerships.
Why does this matter? Partnerships with other big airlines mean I don't always have to fly on Alaska. If Alaska doesn't fly to a particular destination, I can fly with one of their partners, including American Airlines, British Airways, and Qantas.
Note that their partnerships with Aeromexico, Air France, and KLM have ended.
Here is the complete list of Alaska Airlines Visa Signature Card partners:
Aer Lingus
American Airlines
British Airways
Cathay Pacific
Condor
Emirates
Fiji Airways
Finnair
Hainan Airlines
Icelandair
Japan Airlines
Korean Air
LATAM Airlines
PenAir
Qantas
Ravn Alaska
Singapore Airlines
5. Their app actually works.
Call me a sucker for technology, but these things matter when you travel a lot. Plus, I really appreciate when brands have products that are solid and work well.
For my last few flights, I downloaded the Alaska Airlines app and noticed that it was simple and I was able to pull up my flight information with ease. Plus, it didn't crash once!
It's probably the best airlines app I've ever used. You can see other travelers are also pleased. At the time of writing, almost 16,000 glowing reviews resulted in 4.7 out of 5 stars on the App Store!
Bonus reason: the $75 annual fee doesn't scare me.
The only negative part about the credit card is its annual fee of $75. But considering the 30,000 bonus miles and free Companion Fare ticket, it's well worth it. I think it's one of the best airline credit cards for my needs, mainly because of the low spending threshold and the routes Alaska Airlines flies.
Why I'm getting the Alaska Airlines Credit Card Review
Despite the fact that I was sad to see Virgin American fade away after the merger, I'm quite pleased with Alaska Airlines' flights, service, and Alaska credit card perks. The Companion Fare, low spending threshold, and overall solid brand make are all good reasons why I've decided to apply.
How to Use the Alaska Airlines Credit Card Companion Fare
Many travelers are familiar with the Alaska Airlines credit card companion fare. But when it comes to cashing in, what's the best way to book the trip? With so many destinations available, including Hawaii and Costa Rica, there are plenty of options to choose from. Here's how to use the Alaska Airlines companion fare (and how to get one in the first place).
The Alaska Airlines Credit Card Companion Fare
The Alaska Airlines Companion fare is good for a round-trip coach ticket on Alaska Airlines when traveling with another passenger. The code must be used to purchase a ticket within 12 months of its issue date, but actual travel may be completed past the expiration. For instance, if the code's expiration date is in July, you can book in June for travel in November.
While Alaska flies to some 900 destinations through its travel partners, only those on Alaska Airlines (and Virgin Airlines until the merger of the two is complete) are available with the companion fare. You can, however, add in a stopover. Taxes and fees might be slightly higher though.
How to Get the Alaska Airlines Companion Fare
The companion fare is a perk of the Alaska Airlines Visa Signature credit card. The Alaska Airlines Visa credit card alone is a great option for those who frequently fly with Alaska. Cardholders get a free checked bag for them and up to six people traveling with them. You'll earn 3X miles for every dollar spent on Alaska flights and 1X mile for everything else. You can earn unlimited miles and there are no blackout dates for award seats. Bonus miles are also an option: 30,000 if you spend $1,000 in the first 90 days of account opening.
There are no foreign transaction fees, but there is an annual fee of $75.
On top of all that, you'll also get the Alaska Airlines companion fare. When you buy one ticket the first year of card ownership, you get one for just taxes and fees (which start at $22). This is after you spend the qualifying $1,000 (and your account does have to be in good standing). Every year on your account anniversary, you'll get another companion fare for $99 plus taxes and fees.
Depending on where you're flying, that's a pretty good deal. A flight from New York City to Honolulu costs about $585 and a flight from Austin to Anchorage costs around $430. Even with the annual fee factored in, that's a significant saving if you fly Alaska at least once a year.
Another bonus: both passengers will earn miles for the flight (Alaska offers 1 mile per mile flown). However, the full-priced ticket must be paid for in cash, not miles.
How to Redeem the Alaska Airlines Companion Fare
The Alaska Airlines companion fare will show up in your Alaska Airlines Mileage Plan account automatically after your Account Anniversary. It could take up to two billing cycles, so don't panic if it doesn't arrive immediately.
Redeem your companion fare by selecting the Discount and companion fare codes section in your "My Account" profile. Then click on the "Shop" button. Your companion fare code will automatically be applied to the new reservation. You can also manually type it in on the home page when searching for flights. The discount should show up on the "Available flights" and "Cart" pages.
Naturally, Alaska Airlines companion fare codes can only be applied to reservations made at alaskaair.com for Alaska Airlines flights only. That used to include Virgin America, but since the two are merging, Virgin will be no longer be a separate entity. Both tickets must be booked at the same time, with the same itinerary.
Good to Know
Want to gift your companion flight to someone not traveling with you? You can. If you aren't planning on traveling, you can still use the companion fare code if you are the one who books and pays for the reservation. As long as it's your name on the credit card and reservation (even if it's not on the tickets), anyone can fly with your Alaska Airlines companion fare.
Anyone traveling on a companion fare is also eligible for upgrades. You can upgrade using miles, elite plus companion upgrades, guest upgrades, or paid upgrades. The catch is that both travelers have to stick together on the same reservation, in the same cabin, and upgrade space must be available for both guests. There are no individual upgrades.
And if you do choose to upgrade both tickets, it has to be done at the same time. There are a few exceptions: Gold and 75K elite members are allowed companion upgrades using separate methods. For example, one person could use a guest upgrade and the other an upgrade using miles.
Speaking of status, Elite status Benefits start at 20,000 miles. Perks include complimentary upgrades when available, free checked bags, priority check-in, and boarding.
No status? All checked baggage fees still apply to anyone flying with a companion fare.
The Long and Short of It
If Alaska Airlines flies to destinations on your travel list, the companion fare is a great deal. That alone may make the Alaska Airlines Visa Signature credit card worth having. Although there are many other best miles credit card options. The only downside is that you can't use those 30,000 bonus miles and the companion fare in the same booking. But if you fly Alaska often and collect miles with the airline, it's a definite bonus, especially for bucket list destinations like Hawaii and Alaska.
Alaska Air Credit Card – Is it Worth Applying For?
Alaska Airlines is a well-respected airline that allows you to fly across the western U.S. at a discount, although they also fly across North America and even to Canada and Mexico. And there's even an Alaska Airlines credit card. You will like the Alaska Airlines credit card if you want to enjoy their famous Companion Fare, for its sign-up bonus, free checked bags, and not to mention earning bonus points on every Alaska Airlines purchase. But should you apply for the Alaska Airlines credit card?
Alaska Airlines Credit Card Bonus
New cardholders can earn 40,000 bonus miles plus Alaska's Famous Companion Fare™ from $121 ($99 fare plus taxes and fees from $22) with this offer. To qualify, they must make purchases of $2,000 or more within the first 90 days of opening their account.
Enjoy a Companion Fare Every Year
The most valuable recurring benefit of the Alaska Airlines Visa is their Companion Fare. Each card anniversary, you will receive a free Companion Fare that allows your traveling companion to fly at a sharply reduced rate. You will only pay $121 ($99 base fare plus taxes and fees from $22) for your friend's ticket.
There are also no blackout dates when redeeming for Companion Fare on any Alaska Airlines or Virgin America flight.
This benefit alone can be worth owning the Alaska Airlines credit card. And, it nullifies the $75 annual fee if you fly with somebody else during the year.
Avoid the Baggage Fees w/ the Alaska Airlines Credit Card
You and six traveling companions can check one bag free letting up to seven bags fly free on any Alaska Airlines or Virgin America flight. That can be a potential savings of $350 every round-trip and can be well worth owning the Alaska Airlines credit card too.
Alaska Airlines' baggage fee waiver is one of the more generous policies compared to the other airline rewards credit cards.
Redeeming Alaska Airlines Points
While the free checked bags and annual Companion Fare are valuable benefits, the reason why you spend on your Alaska Airlines Visa instead of a flexible travel credit card like the Chase Sapphire Preferred is that you intend to redeem your Alaska Airlines miles for future award flights. Alaska Airlines miles can be worth less than a penny per mile (not good for an airline) or up to 15 cents per mile! When researching award flights you will really have to do your homework.
As Alaska Airlines has recently acquired Virgin America, you will be able to redeem your points for award flights on either carrier but you will probably spend fewer miles on Alaska flights.
Continental U.S. Flights
The cost of Alaska Airline flights are distance-based and broken down into the following tiers for continental U.S. flights:
Flights 700 miles or less: 5,000 to 20,000 Miles
701 miles to 1,400 miles: 7,500 to 20,000 Miles
1,401 miles to 2,100 miles: 10,000 to 20,000 Miles
Flights 2,101 miles or longer: 12,500 to 20,000 Miles
*All first class seats cost 25,000 miles regardless of the distance.
Short-haul flights can be a relative bargain if you only travel 700 miles or less, but, you should compare the actual fare price as these flights might have a better cash-value rate allowing you to save your miles for a longer flight.
If your travel destination is less than 1,400 miles away, the 7,500 point requirement is also a good alternative to the larger carriers. American Airlines is the one exception as you can fly starting at 7,500 Avios.
Award Flights to Hawaii
Another travel sweet spot with Alaska Airlines is flying to Hawaii. If you can fly out of a west coast hub like Los Angeles or Seattle, each round-trip economy ticket only costs 35,000 points to get to Hawaii.
If you are planning a trip to this tropical paradise, the 40,000 point sign-up bonus gets you there.
Redeeming Points on Partner Flights
Alaska Airlines doesn't belong to an alliance, but, you can redeem your points for partner flights on 15 airlines!
Some of them include:
American Airlines
Air France
Aeromexico
British Airways
Cathay Pacific
Emirates
Japan Airlines
Qantas
Singapore Airlines
You can search for partner flights on the Alaska Airlines website for every airline except Cathay Pacific and LAN.
Redemption rates are different with each airline and you will get a better deal by booking directly with some airlines. Viewing the partner award charts can help you determine when to use your earn miles for partner flights or saving them to fly on Alaska Air.
Using Alaska Airlines miles for Emirates flights has been a very popular redemption the last few years. And it's how I book my First Class Emirates flight.
Strengths of the Alaska Airlines Credit Card
Here are the primary reasons you should consider the Alaska Airlines credit card:
Annual Companion Fare lets your travel companion only fly for $121
Up to seven bags fly free
Earn three points on every Alaska Airlines flight
Award flights start at 5,000 miles one-way economy
The Companion Fare and waived baggage fees alone pays the $75 annual fee every year. Due to the low point redemption requirements on many North American and Hawaiian flights, it can also be easier to earn award flights on Alaskan compared to the other large carriers.
Cons of the Alaska Airlines Credit Card
What's not to like about the Alaska Airlines credit card? Here are a couple of reasons you might not decide to apply for the Alaska Airlines credit card.
You fly solo and cannot use the Companion Fare anniversary benefit
Do not check bags
Rarely fly Alaska Airlines
Want to earn bonus points on other carriers or everyday purchases
It makes sense to get the Alaska Airlines credit card if you are a regular customer. But, if you fly solo or rarely check a bag, you will get more distance out of your travels by purchasing your Alaska Airlines tickets with a flexible travel rewards card that allows you to transfer points to many of the same airline partners.
Summary on Alaska Credit Card Review 
Alaska Airlines has one of the most respected airline loyalty programs and their credit card isn't too shabby either. You will get the most value for the card by using their annual Companion Fare and checking bags. Due to their point requirements for award seats, the credit card can also be an excellent opportunity to increase your earning potential.
Advertisement
Chase Sapphire Preferred® Card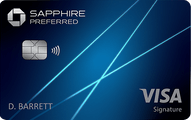 Earn 80,000 bonus points after you spend $4,000 on purchases in the first 3 months from account opening. That's $1,000 when you redeem through Chase Ultimate Rewards®.
Enjoy benefits such as a $50 annual Ultimate Rewards Hotel Credit, 5x on travel purchased through Chase Ultimate Rewards®, 3x on dining and 2x on all other travel purchases, plus more.
Get 25% more value when you redeem for airfare, hotels, car rentals and cruises through Chase Ultimate Rewards®. For example, 80,000 points are worth $1,000 toward travel.
With Pay Yourself Back℠, your points are worth 25% more during the current offer when you redeem them for statement credits against existing purchases in select, rotating categories
Count on Trip Cancellation/Interruption Insurance, Auto Rental Collision Damage Waiver, Lost Luggage Insurance and more.
The comments on this page are not provided, reviewed, or otherwise approved by the bank advertiser. It is not the bank advertiser's responsibility to ensure all posts and/or questions are answered.

Editorial Note: The editorial content on this page is not provided by any bank, credit card issuer, airlines or hotel chain, and has not been reviewed, approved or otherwise endorsed by any of these entities.