Bon bini from the island of Aruba! I'm here because it's such a popular island destination for Americans (and the Dutch, too) and to be quite honest, I'm tired of having people ask me for tips on travel to Aruba, only to see their faces register horror and shock when I say I've never been. Although this Happy Island wasn't my first choice, you're about to see why I was so pleasantly surprised. Ariba, ariba, Aruba!
MIAMI AIRPORT
Before my 10:20am American Airlines flight from Miami to Aruba, I grabbed breakfast near the gate at La Carreta restaurant. When I travel through airports (even on layovers), I like to grab local food and La Carreta usually has some tasty Cuban grub, but for breakfast, not so much. I had some nasty scrambled eggs with ham ($3.25), cold toast ($1.10) and a bottle of water ($2.85). The prices were right except for the water but next time you can bet I'll find breakfast elsewhere. Recommendations?
MIAMI TO ARUBA
Flight time on the half-empty 757 was a mere two hours and 20 minutes (1,130 miles), which allowed me just enough time to flip through the annual Destination Aruba magazine that each passenger gets when they board (it has lots of advertising but there is some good basic information, too) and take a little nap. I had a whole exit row to myself on takeoff and landing but since those armrests don't go up, I ventured toward the back of the plane, snagged one of the many vacant rows, and took a nap for an hour before returning to my original seat. American sells (no cash, plastic only) food on the plane and I got a BIG cookie for $3. On descent, I wished someone had told me to sit on the left-hand side because I would've loved to have gotten a full view of the crystal blue water I was getting sneak peeks of.
ARUBA AIRPORT
The Reina Beatrix Aruba airport is much larger than I imagined and nicer, too. We parked at one of the last gates so it was a long walk to customs and I picked up the pace when I saw Continental, jetBlue, and USAir planes pulling up. The customs agent didn't say much but more importantly, he was quick.
AIRPORT TO HOTEL
Before exiting the airport, I noticed that the taxi prices on the wall are outdated. The flat rate to the Marriott stated $20 but it's really $25. A taxi is the same price for up to five people with one bag each. Every bag after that is $2 (another reason to pack light). I had two midsized bags so I had to pull out my Italy taxi trick since they charge for bags there, too. I put one in the trunk and I put my carry-on next to me. Works every time. What's neat is that Aruban license plates say "One Happy Island".
ORANJESTAD
The majority of Arubans are genuinely friendly and welcoming and my driver was no exception. He told me all about the island on the 20-minute ride. To get to the hotel, we had to go through downtown Oranjestad, the capital, which can be congested during rush hour. Oranjestad is where all the cruise ships come in and it looked nice but not as picturesque as neighboring Curacao. Random observation: Most of the grocery stores are Chinese-owned but I never saw any Chinese people walking around. They must have been working!
MONEY
The official currency in Aruba is the Aruban florin; prior to 1986, it was the Netherlands Antillean guilder. The current exchange rate is $1 USD = 1.79 AWG. However, I never changed my money as everywhere I went accepted U.S. dollars and even gave me change in U.S. dollars. Even the ATMs dispense both florins and dollars.
ARUBA: FAST FACTS

Aruba is located 20 miles off the coast of Venezuela in the southern Caribbean Sea in the Lesser Antilles. Along with the other nearby islands of Bonaire and Curaçao the group is referred to as the ABC islands of the Leeward Antilles. Confusing, I know! Aruba is just slightly larger than Washington, D.C. (70 square miles). The island is 19.6 miles long and six miles across at its widest point and the total population is around 100,000 people; 70,000 are natives, the others come from 40 different nations. The official languages are Dutch and Papiamento but most Arubans speak four languages — the others: English and Spanish. Aruba gained its independence from the Netherlands Antilles on January 1, 1986 but it's still part of the Netherlands so there is some Dutch influence. Aruba's top three industries are tourism, oil refining and aloe production.
TIME
If you come to Aruba this time of year (during Daylight Savings), you won't need to change your watch from Eastern Standard Time. But if you come during the winter, it's one hour ahead (Atlantic Standard Time).
BEST TIME TO COME
It's always a good time to visit Aruba but the cheapest is during the off-season, which is usually from mid-April to mid-December. Every resort slashes their prices so you should be able to save between 20% and 50% from peak season. NOTE: Who comes to Aruba? I was told that more than 70% of visitors are from the United States. The other majorities are from Canada, Holland, Venezuela, and Colombia. At 60%, Aruba has the highest number of repeat visitors in the region.
ARUBA WEATHER
What makes Aruba so attractive is the weather. It's not hot and humid like most of the Caribbean and it doesn't get much rain. The average rainfall averages only about 18 inches a year and most falls between October and January. Aruba is dry, with an average temperature of 82ºF (28ºC), and the low ranges from 76°F (24°C) to 80°F (27°C). There's typically a refreshing trade wind except in September, the hottest month. The wind goes in one direction so you will see the divi-divi trees all leaning to one side. And the best part about Aruba's weather is that the island is outside the hurricane belt, so tropical storms and hurricanes are very rare.
WHY ARUBA?
Aruba is an easy destination for Americans to get to. It's close, the people are friendly, pretty much everyone speaks English, you can pay in US dollars, there's so much to do sports-wise (from scuba diving to world class golf), plus there's theatre and clubbing. With the exception of the Natalee Holloway incident, Aruba has one of the lowest crime rates in the region due to high employment rates.
DRINKING WATER
Another plus is that the water is safe to drink. The water is distilled in the world's second (after Saudi Arabia) largest saltwater desalination plant and it's available for tours (Tel. 297 – 5824700). Some people say Aruba's tap water is the most delicious in the world but I think it tastes nasty. Regardless, don't waste your money on bottled water because it's just tap water in a bottle.
CHAIN RESTAURANTS
Another reason Americans must love this place is because it has all the comforts (of chain restaurants!) from home: Champions Sports Bar, Dunkin' Donuts, Hooters, McDonald's, Nathan's Hot Dogs, Pizza Hut, Subway, Taco Bell, Quiznos, Ruth's Chris, Sbarro, Wendy's … and these are just the ones I saw. Thankfully, in addition, Aruba has plenty of other restaurants and according to my guidebook, they are diverse, inventive, and often very good.
NATALEE HOLLOWAY
When I told my taxi driver I was staying at the Marriott, he said, "Ooh! That's five stars and one of the best hotels on the island!" It's really AAA Four Diamonds. I learned that this is where all the international media stayed (and occasionally continue to do so) during the Natalee Holloway case. The media booked over 100 rooms during the first three months. Natalee Holloway is a sad and sometimes touchy subject so I won't elaborate but I was curious if the case and media attention had affected tourism. I asked a person in the know and they said it definitely hurt the meetings and incentives business, as many corporations backed out. But it didn't affect the leisure market; if anything, they gained exposure from all the pictures.
ARUBA MARRIOTT RESORT & CASINO
From the outside of the Aruba Marriott Resort & Stellaris Casino, it doesn't look like anything to write home about. The u-shaped building (to block the trade winds) dates back to 1990 when it was a condo complex until Marriott took it over in 1995. But just last year, Marriott completed a $50 million renovation, which makes this eight-floor, 411-room hotel special.
LOBBY / CASINO
To begin with, the hotel's lobby is impressive. After walking through the automatic sliding door, visitors are in an eight-storey atrium, which lets a lot of natural light in. Not too many people take advantage of the comfortable, stylish furniture because everyone is busy at the beach or pool. But also off the lobby is the Stellaris Casino, Aruba's largest casino with 32 gaming tables and countless slot machines. There's also a sushi bar and a lobby bar where the signature drink is a mean Orange Citron Mojito with Aloe ($12).
TRADEWINDS CLUB

Natalie and I didn't check in at the front desk because we had signed up to the exclusive Tradewinds Club, an upscale hotel-within-a-hotel concept that occupies the entire 8th floor. I asked the porter where the Tradewinds was located and he immediately whisked us up the elevator. The Tradewinds costs an extra $100 a night for two (kids under six stay free, kids six to12 stay for $25/night, and additional adults and kids over 12 pay $70/person per night) but depending on your habits, it might be worth it as it comes with some money-saving benefits. For one, there's a lounge where they serve a filling breakfast, an average lunch, snacks all day, and free alcohol during happy hour. There's also free use of the computers in the lounge and the in-room Wi-Fi fee is waived (normally $14.95). Guests also get a reserved section of the beach. The concierges and waiters up there were super-friendly and greet guests by name and make them feel as if they are long lost friends. The negative: it's only open from 7am to 9pm and the lunch is pretty much the same each day: chips and salsa, vegetable crudités, club sandwiches, wraps, and generic chocolate cake.
ROOMS
Since the building was designed for condos, the rooms are spacious by Aruba standards (400 square feet). Natalie and I got upgraded so our room was even bigger. But no matter what room category you are in, every room offers Marriott's comfortable Revive bed, a working desk with 4 U.S. type plugs, contemporary bathrooms, and a 37″ flat screen TV with a ton of channels (99% are in English). But the best part, besides the robes, which Natalie described as so soft and cuddly, they're like a hug, is the view of the Caribbean Sea and the large (100 square foot) private balcony. The balcony would be even better if they put lounge chairs so you could nap out there but the standard chairs will do.
BEACH
The Marriott is located on Aruba's best beach: Palm Beach. The water, white sand, and sunsets are simply amazing. We were a tad bit disappointed with the Tradewinds special section of the beach as we showed up thinking we would get chairs and umbrellas steps from the water but it was late in the day, so we'd missed out on all the good spots. I guess the trick (which I despise) is to wake up super-early and go reserve your spot by putting towels and a book on the chair before someone else does. Also, I'm not sure if it was just an understaffed day, but the drink guy took a while to take our order (we couldn't pass up the 2-for-1 pina colada special for $13!) and then took 20-plus minutes to bring them – the couple behind us were freaking! But there are no worries in Aruba as the water is warm, calm, shallow, and inviting. As Natalie described it, the place was brimming with activity: kite surfing, jet skis, parasailing, boats, snorkel, kayaks, windsurfing …
POOL
We didn't lay out by the pool because this place is so family-friendly (we were there during Spring Break), that all day long, all you could hear was "Marco – Polo!" BTW: Who the heck invented that dumb game? They should change the rules so you can only say Marco Polo underwater. Maybe if I had kids, I would be a Marco Polo lover and I would bring them here to contribute to the noise, since they would have a ton of fun meeting new friends and hanging out at the kids club.
DINING
The Marriott has seven restaurants to choose from so there was no reason to spend money, take time to get a taxi or rent a car, and deal with driving. Basically, when you come to such a nice resort, you don't want to leave, which is why they have seven restaurants!
RUTH'S CHRIS STEAK HOUSE
The first night, Natalie and I went to the closest restaurant to our room (besides room service!), which was Ruth's Chris Steak House, just steps from the elevator. I usually don't go to American chain restaurants when I'm overseas but Ruth's Chris was so convenient and always consistent, so I figured why not? We had very cool Haitian and Colombian waiters, who brought me a tomato and onion salad with crumbled blue cheese to start ($9). The tomatoes weren't in season so they didn't have much flavor. Then a petit filet ($36), which was cooked perfectly. At Ruth's Chris, since everything is a la carte, you have to get some side dishes: I picked the sautéed spinach ($9) and the sweet potato casserole with crusted pecan topping ($9.50). It was so good and rich, it could've been for dessert. I was going to skip dessert but you-know-who wanted some and she ordered the most fattening thing on the menu: the cheesecake ($10). Of course, she took just a few bites and left the rest, but I have a problem not cleaning my plate (or someone else's, apparently). So I gained five pounds from one meal.
LA VISTA
One night, we tried one of the other hotel restaurants, La Vista, for Italian food. I was still full the next day from dinner at Ruth's Chris so I just had an individual margherita pizza ($13), which was surprisingly good and tasted even better because we sat outside in the balmy weather.
SIMPLY FISH
However our hands-down, favorite meal was at Simply Fish. Reservations are a must and I recommend you make them for 6:30pm when they open so you'll have plenty of time to enjoy the spectacular sunset. Our table was literally eight steps from the water and although everyone is well dressed, they're barefoot, which you simply have to love. We had two waiters (one Aruban, one Colombian) whose service was exceptional. I had aloe punch ($4.50), a caprese salad ($13), lobster tail with mashed potatoes ($38), and coconut and banana cake with caramel ice cream ($9). It was all good! The check came in a little wooden treasure box with a light inside.
MANDARA SPA
We arranged for massages at the Mandara Spa, which is next door at the Ocean Club. I didn't see any of the rooms but the lobby and pool area make it seem like a pretty cheesy timeshare. When we arrived at the spa, the clerk wasn't friendly at all. She even scolded me for taking a picture of the different oils and unfortunately, the experience got worse before it got better. After changing into my birthday suit and donning a robe in the small locker room, which could use a makeover, I hung out with Natalie in the co-ed waiting room. This room needed some serious help and it had an 80s feeling to it. For a moment, I had a flashback and felt like I was in high school again, hanging out at my friend's house. The staff walking by didn't acknowledge us and they just weren't happy. At one point, I even asked Natalie, "Is it me or do you feel bad energy?" It wasn't just me. It also didn't help that the TV was on the Sci-Fi channel, which has to be one of my least favorites (and an odd choice for a spa) and there was no remote to change the channel. Believe it or not, I was hungry and I so wanted to devour the almonds just sitting in the bowl on the table but I passed since there was no spoon, which meant who knows whose grubby hands had pawed them?
MASSAGE
Things started to turn around when our therapists arrived. They were both very nice but their protocol of putting their arm around your waist when walking down the hallway to the treatment room was a little weird. The treatment rooms had the complete opposite look and feel of the locker room and waiting area, which was a relief. I picked my choice of oil (choices are: Harmony, Tranquility, Mandara or Island Spice) and was ready to get on the table. Interestingly, the therapists don't leave the room when you take your robe off. Instead they shield their eyes with the sheet they're going to put over you. While she was holding it up, I said, "You sure your eyes are closed?" When she said yes, I did a naked dance just to see if she laughed but she was a good girl. The Swedish massage was relaxing but I don't know what's up with the Caribbean masseuses as they rub you so gently I should've just signed up for a back scratch (wouldn't that be nice?). I guess it's my fault. I should have asked her to work my knots out. Natalie said her masseuse did the same. Upon checkout, the nasty clerk was much friendlier so all is good.
DE PALM TOURS
When we got picked up on a huge tour bus at 8:07am and it made four stops at nearby hotels along the way, I couldn't help thinking: What have we gotten ourselves into? We were going on a safari and every time I've been on one of these, they pick you up at your hotel in the vehicle you're going to be in for the day. But when we arrived at De Palms' huge headquarters, with a bunch of other tourists at 8:28am, things started to make sense. Our tour guide Eric was funny as hell and liked to talk about poop a lot. He gathered the 14 tour members for a briefing. What's interesting and very cool is that they don't shove everyone in one vehicle. They broke us up into three groups (based on our hotels) and one person from each was designated to be the driver of the 4×4 All-Terrain Land Rover.
DRIVING THE LAND ROVER
I didn't want to pull rank because I wasn't the oldest but I also wasn't comfortable letting a stranger be in control of my life, especially after Eric said some of the driving was going to be pretty hairy. Fortunately, the eldest in our group didn't want the job so I took it. The beat up Land Rover wasn't that easy to drive as it kind of pulled a bit to the right as I followed Eric's lead. The two couples (from South Dakota and Massachusetts) in the back were nice but we never really talked much since Eric was on a one-way radio telling me what to do and talking to the group about what we were seeing along the way.
CALIFORNIA LIGHTHOUSE
This four-hour tour was a fantastic way to see the island. The moment we pulled away from the beach, we realized this place is a desert island full of cacti (the large ones are between 100 and 250 years old), strange boulder formations, and iguanas. The drive was sane until the end and we stopped or went by most of the island's attractions like the California Lighthouse. It's named after a ship called The Californian that went down off the Aruba coast in the early 1900s and is a popular dive site today. What's eerie is that in 1912, The Californian was in proximity of the Titanic when it sent the distress signals. However, its radio operator was off-duty and asleep so they never received them.
ALTO VISTA CHAPEL
We then got off the beaten path (paved roads) and drove on the dusty, bumpy dirt roads until we reached the Alto Vista Chapel. Eric told us that 80% of Aruba is Catholic and that a Spanish missionary built the original Alto Vista Chapel in 1750. This replica was built on the same spot in 1952. Outside, a man sells tchotchkes from the back of his pickup truck including candles($2) to light inside. When we left, we took the main winding road out; it's lined with 14 white crosses marking the Stations of the Cross.
BUSHIRIBANA RUINS
The next stop was the Bushiribana Ruins. It's the remains of an 1825 natural stone house built by a gold smelter. It was in operation for 90 years and supposedly produced three million pounds of gold. The site is fun to explore and to see the views of the ocean from the top. What's also a trip is walking along the rocky coast and seeing the strange rock formations that people have created. It reminded me of Kona, Hawaii where people create natural graffiti out of the coral. Here, folks pile small rocks on top of each other, creating what are called inukshuks. Eric said most tourists believe they're good luck but the native history says that they're to wish travelers a safe journey.
NATURAL LANDBRIDGE
One of the most popular stops is the remains of the 100 foot (30 meter) coral limestone Natural Land Bridge made by the pounding surf. It stood about 23 feet (7 meters) out of the water but it collapsed on September 2, 2005. There's now a mini one forming to the left of it and it's a good halfway point for tour groups because there's a "Thirst Station" with a gift shop, snack bar, and a bathroom ($0.50 cents to use).
NATURAL POOL
When we left the land bridge, Eric said we had a 30-minute drive to the windward coast for our last stop. Fifteen minutes would be smooth, 15 not so smooth, he said. He wasn't kidding! The folks in the back were being thrown around like rag dolls and it was a steep drive down the mountain with no guardrail. I was just thankful to be the one driving. Once we arrived, it was the highlight of the day, which of course, is why it's left until last. The natural pool is surrounded by slippery rocks and is a perfect place to go for a dip and snorkel. If it weren't for the crashing waves crashing down and the incredible fish, you would swear you were in a pool. At the far end, the pool is on top of the rocks, creating a sort of natural hot tub. The water is much warmer up there since it's out of reach of the waves. Be sure to bring your bathing suit, towel, sunscreen, and snorkel gear — the tours provide the latter.
On the drive back, Eric said he had some good news and some bad news for us. The bad news was that the tour was over. The good news was that he'd saved a lot of money with Geico. What a clown.
ARUBA AIRPORT
They say to be at Aruba's Reina Beatrix airport three hours early but I think it's just to increase airport sales because Natalie and I breezed right through. Going through Aruban security is just like in the United States. After that is Aruba passport control (they don't give exit stamps) followed by customs. With over two hours to kill, we shopped in their plush duty free shops and grabbed some pizza. There are two Sbarro restaurants in the airport. The one before security is 1,000 times better than the one near Gate 5 because they don't sell slices just their gnarly "pizzettes" for $6.50. It might be softer and tastier if you just starting chewing the soles of your shoes. When I went through immigration in Miami, the agent was super cool. He welcomed me home and said that he could tell I was a traveler just by looking at me. He joked that he almost broke his arm lifting my passport. Nice way to end a fun trip!
VIDEO
Here's a four-minute Johnny Jet video of my trip to Aruba. We also have all the Johnny Jet videos ever made on YouTube.
NEXT WEEK
Next week: We are flying a new airline to a far off destination.
Advertisement
Chase Sapphire Preferred® Card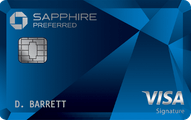 Our best offer ever! Earn 100,000 bonus points after you spend $4,000 on purchases in the first 3 months from account opening. That's $1,250 when you redeem through Chase Ultimate Rewards®.
Earn 2X points on dining including eligible delivery services, takeout and dining out and travel. Plus, earn 1 point per dollar spent on all other purchases.
Get 25% more value when you redeem for airfare, hotels, car rentals and cruises through Chase Ultimate Rewards®. For example, 100,000 points are worth $1,250 toward travel.
With Pay Yourself Back℠, your points are worth 25% more during the current offer when you redeem them for statement credits against existing purchases in select, rotating categories.
Get unlimited deliveries with a $0 delivery fee and reduced service fees on eligible orders over $12 for a minimum of one year with DashPass, DoorDash's subscription service. Activate by 12/31/21.
Count on Trip Cancellation/Interruption Insurance, Auto Rental Collision Damage Waiver, Lost Luggage Insurance and more.
Get up to $60 back on an eligible Peloton Digital or All-Access Membership through 12/31/2021, and get full access to their workout library through the Peloton app, including cardio, running, strength, yoga, and more. Take classes using a phone, tablet, or TV. No fitness equipment is required.
The comments on this page are not provided, reviewed, or otherwise approved by the bank advertiser. It is not the bank advertiser's responsibility to ensure all posts and/or questions are answered.

Editorial Note: The editorial content on this page is not provided by any bank, credit card issuer, airlines or hotel chain, and has not been reviewed, approved or otherwise endorsed by any of these entities.