This post contains references to products from one or more of our advertisers. We may receive compensation when you click on links to those products. For an explanation of our Advertising Disclosure, visit this page.
You may have heard that many credit cards also come with rental car insurance protection benefits. While not all cards are created equally when it comes to these protections, if you have a Chase Sapphire Preferred® Card or Chase Sapphire Reserve® card, know that you have some of the best protection benefits available. This can be especially useful if you are planning on taking an epic road trip this year instead of traveling by air. Here's what you should know about the Chase Sapphire Reserve and Chase Sapphire Preferred rental car insurance perks.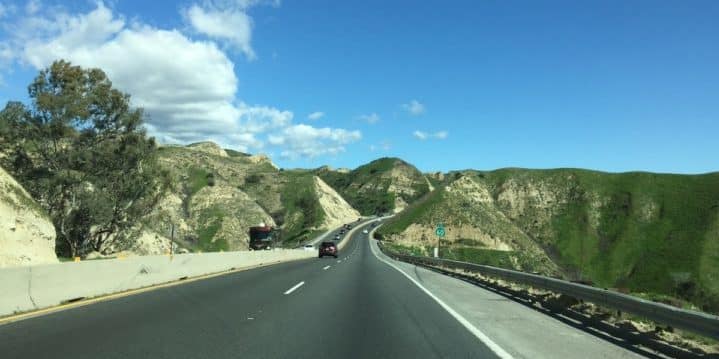 Chase Sapphire Rental Car Insurance Benefits
This Sapphire car rental benefit can save you thousands of dollars if your rental car has collision or theft-related damage. Plus, you don't have to purchase optional coverage to qualify. You only need to charge the entire car rental amount to your Chase Sapphire Preferred® Card to qualify for this complimentary travel perk.

What are the Chase Sapphire Preferred Rental Car Insurance Benefits?
Almost every credit card comes with some version of rental car insurance. You may not realize that most credit card coverage isn't as extensive as you think. That's because most cards only offer secondary car rental loss and damage coverage.
Secondary coverage requires you to file a claim with your auto insurance policy first. Then, the credit card car rental benefits may cover any remaining expenses.
Even the lavish The Platinum Card® from American Express (with a $550 annual fee – See Rates & Fees) only offers secondary coverage. The $95-a-year Sapphire Preferred covers up to the actual cash value of the rental car and activates before your personal auto insurance policy.
Secondary coverage is a built-in benefit for all Visa Signature credit cards, regardless of the issuing bank. Several Chase-issued Visa Signature credit cards, including some of the best Chase credit cards, offer enhanced coverage at no additional charge.
Primary Rental Car Collision Damage Waiver
The Chase Sapphire Preferred has primary coverage. This means your Chase Sapphire car rental benefits cover the first portion of the damage costs up to the vehicle's actual cash value.
It's possible that you won't have to file a claim with your auto insurance policy because the Sapphire benefits cover the entire bill. This helps keep your car insurance premium low as you have a clean CLUE Report.
This coverage applies to most rental car types and most foreign destinations. We'll explore the coverage limits so you know when to purchase additional coverage.
How to Get Coverage
There are three basic requirements you must meet to activate your primary rental car benefits:
Charge the entire car rental to your

Chase Sapphire Preferred® Card

Decline any rental car agency insurance policy
The rental period doesn't exceed 31 days
It's essential that you decline the rental agency's collision damage waiver and liability damage waiver.
Otherwise, you forfeit the Chase Sapphire Preferred rental car benefits. If the rental car insists you purchase their coverage, you must call the Sapphire benefits administrator at 1-888-320-9961 before you accept your rental car.
Any additional drivers are covered if their names are listed on the rental property documents. Chase only requires the name of the primary driver to match the name on your Chase Sapphire Preferred credit card or be an authorized user under your Sapphire account.
What Damages Are Covered
The Chase Sapphire rental car insurance covers these rental car expenses:
Physical damage to the rental card from collision or theft
Loss-of-use charges assessed by the rental car company
Reasonable and customary towing charges to the nearest qualified repair facility
You will still need to file a claim through your personal if there are any medical injuries. The Chase benefits only apply to damages for the rental car itself.
Vehicles Not Covered
Most, but not all, rental cars qualify for this rental car insurance.
These rental car types are not covered:
Expensive or exotic vehicles. Luxury brands include Alfa Romeo, Corvette, and Tesla. Select models from Audi, BMW, Cadillac, Infiniti, Land Rover, Lexus, Lincoln, and Range Rover qualify for coverage.
Antique automobiles. Any vehicle at least 20 years old or hasn't been manufactured in at least 10 years.
Large vans. Only vans manufactured to transport up to 9 people qualify for coverage.
Pickups and Large SUVs. Most pickup trucks and full-size SUVs are also disqualified.
If you have any questions about a certain vehicle make or model, you should contact Chase before booking your rental car.
Countries Not Covered
The Chase Sapphire guide only states that rental car benefits extend to rentals within the United States and most foreign countries.
Coverage can depend on which rental car agency you use and where you are traveling.
If you are renting a car for international travel, call Chase before booking your rental car.
Other Non-Qualifying Events
Chase won't cover every collision or theft-related expense, even if you decline the rental agency's insurance. These are some examples:
Any violation of the rental car agreement
Confiscation by authorities
Expenses waived or paid by the rental agency, its insurer, or another party
Injury of anyone or anything inside or outside the vehicle
Loss due to hostility (i.e., war, rebellion, or insurrection)
Loss or theft of personal items
Intentional acts or driver is under the influence of drugs or alcohol
Off-road operation of the rental vehicle
Fail to report or file a claim in time
As long as you are driving responsibly, Chase will most likely cover your claim. Remember that Chase doesn't reimburse personal injuries or losses for any personal property.
If a thief breaks into your rental car, Chase covers the repair costs for the broken window or door but not your stolen laptop.
Filing a Claim
If your rental car gets damaged, you must begin the claims process immediately. You do have up to 60 days from the accident or theft date to notify Chase. However, all documents must be submitted to Chase within 100 days of the incident date.
In case there is a delay in getting the paperwork and also settling with the rental agency, try to contact Chase as soon as possible.
Here is the current timeline for filing a claim:
Notify Chase Benefit Administrator. Call 1-888-320-9961 inside the United States or call collect outside the United States at 1-804-673-1691.
Submit claim report to Chase within 100 days of the incident. All available documentation must be postmarked within 100 days of the incident report to qualify for compensation.
Chase pays most claims within 15 days of receiving all the required documents.
Other Chase Credit Cards with Rental Car Benefits
The Chase Sapphire Preferred® Card rental car insurance benefits aren't exclusive to the Sapphire Preferred. Several other Chase credit cards offer primary rental car benefits.
There are few nuanced differences in the coverage terms and conditions:
Chase Sapphire Preferred Rental Car Insurance Benefits
The primary rental car collision damage waiver benefits can save you thousands of dollars if a collision or theft happens. This coverage is just one of the many complimentary Chase Sapphire Preferred perks that come with owning the Sapphire Preferred. It's another reason why this card is worth the $95 annual fee.
Chase Sapphire Reserve Car Rental Benefits
Most travel credit cards focus mostly on airline and hotel benefits. A few of the best rewards cards give you extra rental car benefits. The Chase Sapphire Reserve® car rental benefits are some of the best. From collision damage waiver protection to free upgrades, the Chase Sapphire Reserve gives you plenty of rental car perks.
Primary Rental Car Collision Damage Waiver
The primary auto rental collision damage waiver is the best-known Chase Sapphire Reserve car rental benefit and one of the many Chase Sapphire Reserve perks.
You must decline the rental car agency's collision damage waiver or loss damage waiver. Doing so means Chase covers up to $75,000 in a collision and theft-related damages. This benefit applies to most car rentals in the United States and abroad. However, the rental period must also be 31 days or less.
Because this is primary coverage, you can report the incident to Chase first to begin the claims process. This means you may not have to file a claim with your regular auto insurance provider and potentially raise your future policy premium.
Coverage Exclusions
Like the Chase Sapphire Preferred rental car benefits, certain rental cars are excluded. But, there are slightly fewer restrictions because the Sapphire Reserve is a premium travel rewards card. For instance, most luxury vehicles qualify for coverage with the Chase Sapphire Reserve®.
The following rental car types don't qualify for coverage:
Antique vehicles (Vehicles at least 20 years old or out-of-production for over 10 years)
Select vans (Vans designed to carry up to 8 passengers are covered)
Vehicles with an open cargo bed
Trucks
Motorcycles, mopeds, and motorbikes
Limousines
Recreational vehicles
If you plan on renting a luxury vehicle, large SUV, or exotic car, it's still a good idea to contact Chase before you reserve your car. The Sapphire Reserve benefits guide still states, "Most private passenger automobiles, minivans, and sport utility vehicles are eligible for coverage, but some restrictions may apply."
Also, contact Chase if renting a car in a foreign country. Although Chase doesn't exclude any specific countries in their benefits guide and using your card to travel to Chile (for instance) is a smart move, it's still a good idea to check. Coverage depends on the rental car agency and rental car type.
Rental Car Privileges
Sapphire Reserve members enjoy special privileges at Avis, National, and Silvercar. These benefits come standard with all Visa Infinite cards.
To enjoy the following benefits, you have to book your car directly from the rental car agency. These special discounts do not apply to cars booked through the Chase Ultimate Rewards travel portal.
Avis
Use Avis Worldwide Discount Code S107100 to save up to 30% on car rentals. You also need to create an Avis Preferred loyalty account.
Using the code gives you Avis Preferred Plus status includes rapid checkout and complimentary upgrades (when available). You can also get free two-day weekend rentals on select rentals.
To enjoy these benefits, you will need to book your car on the Avis website (not through the Chase travel portal) at least 24 hours in advance.
National
Save up to 25% on rentals by using Contract ID 5030849 on the National website or booking by phone.
Owning the Chase Sapphire Reserve® gives you automatic Emerald Club Executive loyalty status. You can earn free rental days faster. Executive perks for U.S. and Canada reservations include guaranteed free upgrades. It also includes choosing any car in the Executive Area when you reserve at the midsize rate. Plus, you'll get faster free rental days. In Europe, you can get one free class upgrade.
As an Emerald Executive member, you can also choose your preferred rewards. Options include free rental days, frequent flyer miles, and hotel points. Another exciting benefit is no second driver fees. Usually. most agencies reserve this perk for AAA or Costco Travel.
Like Avis, a 24-hour advance reservation is required to enjoy all these perks.
Silvercar
Silvercar lets you rent Audi luxury cars and save between 10% and 30% on every rental. There are locations in 20 large airports across the United States. In-town locations are currently in Miami, New York City, and San Francisco.
Always free in-car premium features include SiriusXM, Bluetooth, WiFi, plus hands-free Apple CarPlay and Android integration.
Silvercar doesn't require a promotion code. However, your Chase Sapphire Reserve card must be saved as your default payment method.
Hertz
Although Chase doesn't actively promote Hertz rental car perks, it is another Visa Infinite travel benefit. Being a Hertz Gold Plus Rewards member gives you complimentary one-class upgrades (when available) and discounts on the Prestige and Adrenaline collections.
You will also have a 2-hour grace period on U.S. rental returns. You can skip the rental counter when picking up your car.
Other Sapphire Reserve Travel Benefits
Don't forget about the other Sapphire Reserve benefits including the $300 annual travel credit and 3x points on dining and travel (once you earn the $300 travel credit) purchases that help maximize your rental car booking.
Additionally, as the Chase Sapphire Reserve is one of the best premium travel credit cards available, here is some more information regarding what credit score will be needed for Sapphire Reserve.
$300 Travel Credit
Chase automatically applies an annual $300 travel credit to your first travel purchases each year. If a rental car happens to be one of the first travel purchases, Chase covers the cost. You can maximize your $300 travel credit for Sapphire Reserve in several ways.
Earn 3x Points
You will earn 3x points on every travel (once eligible) and dining purchase. By booking directly through Avis, National, Silvercar, or Hertz, you can enjoy the special Chase Sapphire Reserve® car rental perks while earning triple points.
Rental cars booked on a booking site or the Chase Ultimate Rewards travel portal also earn 3x points.
50% Travel Redemption Bonus
If you decide to pay for a rental car with Ultimate Rewards points, your points are worth 1.5 cents each. For example, you only need 10,000 points to book a $150 rental car, flight, or hotel room on the Chase travel portal.
This may not be a bad idea if you don't want to pay cash for your rental car this time. However, you can be forfeiting any discount or special rental car privileges from the Sapphire Reserve rental car partners.
Also, Ultimate Rewards points are most valuable when booking award flights by first transferring points on a 1:1 basis to the airline partners. It's common to get more than 1.5 cents of value when booking award flights directly through the airline. Booking business or first-class flights lets you usually get between 3 and 6 cents for each point.
The newest airline partner (and one of the best) is Emirates for getting at least 1.5 cents of value per point.
Summary of Chase Sapphire Car Rental Benefits
The Chase Sapphire Reserve® car rental benefits are primary collision and theft coverage up to $75,000. Plus, there are special discounts and perks at certain rental car agencies. No matter where you book your rental car, you always earn 3x Ultimate Rewards points.
In summary, both of the Chase Sapphire travel credit cards come with car rental benefits, among other perks. Depending on how often you travel, one may be better for you than the other. Either way, both cards are some of the best credit cards for travel available.
For a better idea of knowing what to expect, check out our guide to the Chase Sapphire Preferred and Chase Sapphire Reserve application rules. You can also compare the Chase Sapphire Reserve vs Chase Sapphire Preferred if you need more information.
Related Articles:
For rates and fees of The Platinum Card® from American Express, please click here.
Rental car insurance for the Chase Sapphire Preferred works by offering the Auto Rental Collision Damage Waiver (CDW) as reimbursement for damage due to a collision or theft (up to the cash value) on most rental vehicles globally. Vehicles not covered include expensive or antique automobiles, motor vehicles, recreational vehicles, vehicles with an open cargo bed, and more.
This is considered primary coverage. That means you will not have to file a claim with a third party before you can receive coverage of this benefit. This car rental insurance benefit can save you money and help you avoid many hassles when traveling.
To enable Auto Rental CDW, use your Chase Sapphire Preferred to make the rental purchase (you'll get 2x points per $1 spent) and decline the rental company's collision damage waiver if offered. 
If they refuse to accept or you run into problems with this rental car insurance perk, call the number on the back of your card.
Learn more about Chase Sapphire Preferred

The comments on this page are not provided, reviewed, or otherwise approved by the bank advertiser. It is not the bank advertiser's responsibility to ensure all posts and/or questions are answered.

Editorial Note: The editorial content on this page is not provided by any bank, credit card issuer, airlines or hotel chain, and has not been reviewed, approved or otherwise endorsed by any of these entities.