I'm always looking for great flight deals, especially on American Airlines (AA) since I'm in bed with them mileage-wise. I live in Los Angeles but my aging father is now in a retirement home in Florida so I go see him every two to four weeks. Fortunately, the Los Angeles (LAX) – Miami (MIA) route is almost always inexpensive (under $300 roundtrip).
Once in a while, American Airlines schedules a wide body plane on one of their LAX-MIA flights so I'm always looking at the type of equipment because flying on a  777 is way better than a 737 or A321 – especially if you can get upgraded to business class. However, even with my Executive Platinum status (100,000+ miles a year on AA), it's nearly impossible to get an upgrade on this route and to buy a premium ticket is usually $1,200 – $1,600 each way, which is way out of my price range.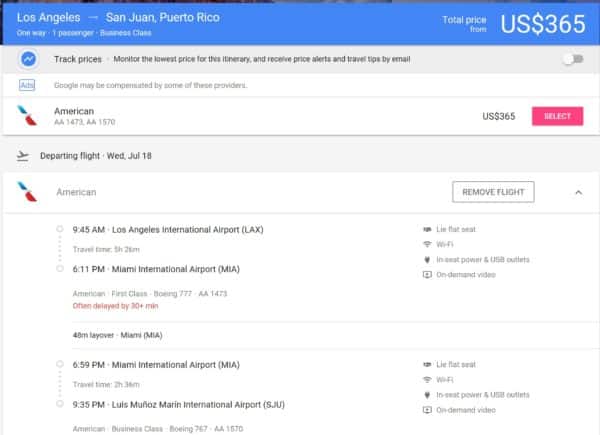 So, I'm constantly searching Google Flights, inputting business class and choosing Miami as my connection and guess what? I found an incredible deal: $365 to fly LAX-MIA-SJU (San Juan, Puerto Rico). The best part is that both flights are on a widebody (777-200 and 767-300), so they have lie-flat seats the whole way.
Of course, I wasn't planning on going to Puerto Rico but I would get a ton of Elite Qualifying Miles (EQMs) so I can requalify for next year as this one-way ticket earns 6,794. FYI: Coach would earn 3,400 EQMs and is around the same price.

It's not a mistake fare even though the normal price is $1,500 because these fares have been this low for over a week and most of them are for travel on Tuesdays and Wednesdays. But they're available for every month from now until next May. I just bought three tickets and I'm debating if I should buy more but I would be seriously bummed if AA changes the equipment, which is always a risk.
BTW: Business Class fares back to LAX are slightly more expensive ($450) but I'm just going to fly SJU-MIA so I can see my dad for $138.
Of course, I could do the hidden city trick (see #14 for more info) and get off in MIA but it's not worth the risk and I love Puerto Rico. Besides, the island can use the business and at prices this low, it's too good to pass up.
FYI: If you do purchase the ticket, make sure to reserve your meal in advance (beginning 30 days and up to 24 hours before your flight). Here are the breakfast choices on the LAX-MIA flight:
-Steel Cut Oatmeal Steel Cut Oatmeal brown sugar, various fruit garnishes
-Cream Cheese Omelette Cream Cheese Omelette hot smoked salmon hash, béarnaise sauce
-Strawberry Rhubarb Galette Strawberry Rhubarb Galette LAX to MIA vanilla sauce, grilled asparagus, chicken chipolata sausage
Here are the dinner meals for MIA-SJU flight:
-Poblano Peppers Stuffed with manchego, queso fresco, Monterey Jack and Cotija cheese with piquillo pepper sauce and cilantro rice
–Fresh grapes and dried fruit with assorted cheeses
-Chicken Meatballs marinara sauce, creamy polenta
SaveSave
The comments on this page are not provided, reviewed, or otherwise approved by the bank advertiser. It is not the bank advertiser's responsibility to ensure all posts and/or questions are answered.

Editorial Note: The editorial content on this page is not provided by any bank, credit card issuer, airlines or hotel chain, and has not been reviewed, approved or otherwise endorsed by any of these entities.