Unfortunately, a day after arriving in Panama the virus that I caught on a preview cruise out of Miami hit me ,and it was doozy too — 103 degree temp. for three days and an upper respiratory infection. Obviously, I wasn't able to do all the exploring that I was planning on doing. But I did get to see the Panama Canal, a sneak peek of the new Frank Gehry-designed BioMuseo and I stayed in the very comfortable and new Westin Playa Bonita Panama.
Why Panama?
It's a destination that's been on my radar for a long time and I've always wanted to see the Panama Canal. What's nice is that Panama is a short, 2.5 hour, flight from Miami and it has just been listed as one of Conde Nast Traveller's hot destinations for 2013.
PTY Airport
When my wife and I arrived we were pleased to see an army of immigration workers, so there were no long waits to get our passports stamped. Why can't America do the same for our visitors? Although the main currency in Panama is the U.S. dollar, the immigration agent didn't speak much English, so I was worried that I would have a difficult time communicating during my stay. But that wasn't the case. I would state the majority of Panamanians in the tourism industry do speak some English.
Traffic
Indeed Panama City has world class traffic. Natalie and I were guests of the new Westin Playa Bonita Panama which can take anywhere between 25 minutes to three hours to get to from the airport. It took us 55 minutes on a Wednesday at 4pm, but the return (early Sunday morning) was only 25 minutes.
Westin Playa Bonita Panama
The Westin Playa Bonita Panama opened a year ago (January 2012).  It cost $100 million and is a destination in itself. There are six restaurants, three freshwater pools, four bars, 611 luxury rooms, and an open-air VIP lounge on the 19th floor with views of the Pacific Ocean, rainforest, and Panama Canal.  Because they have 62,000 square feet of meeting and event space – the largest meeting space in Central America – it's become a popular hotel with business travelers.
I was so sick that I didn't get to the pool or get to experience their swim-up pool bar or beach bar. Heck, I didn't even walk on the beach or workout in their state-of-the art gym. What I did do is use their in room dining that's available to guests 24-hours a day.
Being laid up in the room I appreciated the Westin Heavenly Bed, 42″ LCD Television and Wi-Fi the most. What I liked least about the hotel is that they play music at the pool so you can't listen to the waves, and it doesn't stop until 1am on weekends. I also read that the ocean water is polluted because it's at the base of the Panama Canal.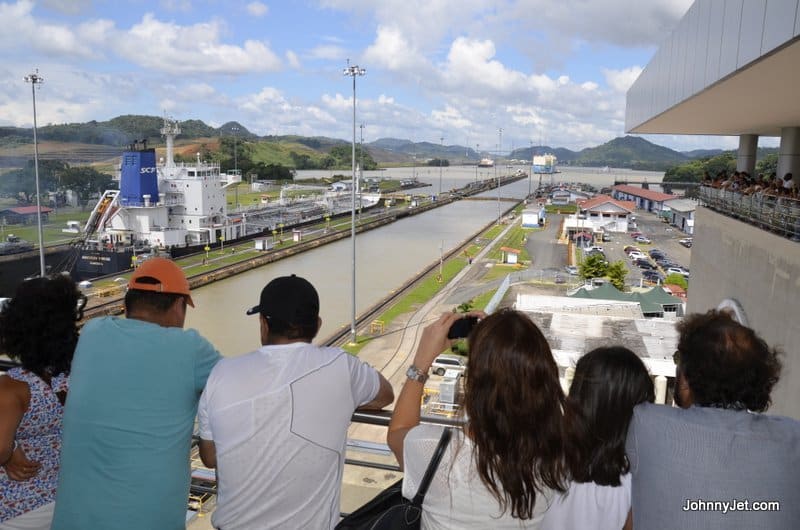 Panama Canal
The Panama Canal's Visitor's Center at the Miraflores Locks is about a twenty minute drive from the Westin. It's open every day from 9am to 5pm and it costs $8 for adults and $5 for kids 6-17. Once inside you will learn the canal is 48-miles (77.1 km) long and that it connects the Atlantic Ocean (via the Caribbean Sea) to the Pacific Ocean. There are three locks that are 110 feet (33.5 m) wide that lift ships 85 feet (26 m) above sea-level.
Work on the canal was completed in 1914 and it allowed ships to avoid sailing around the southernmost tip of South America. The ownership of the Panama Canal was first Colombian, then French, and then American. Since 1999 it's been under the control of the Panamanian government and they are making a ton of money. It's one reason why Panama is becoming a hot destination.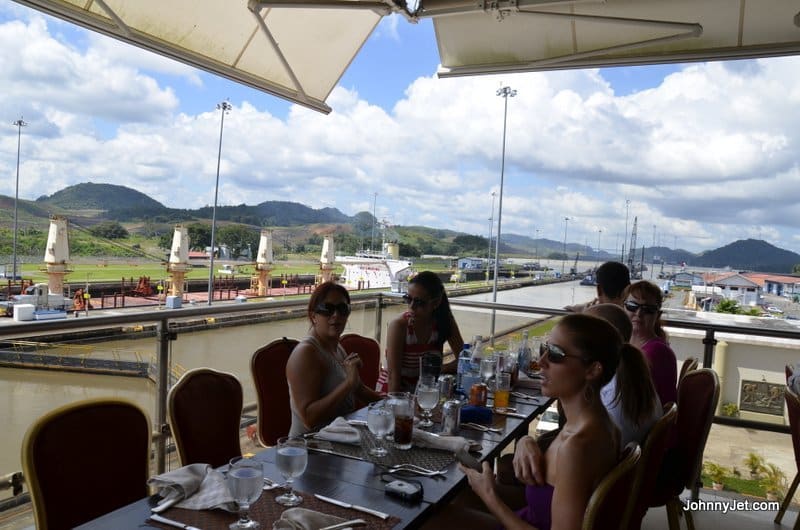 Here's some things I learned about visiting the canal:
In the morning ships go from the Pacific to Atlantic
It takes eight hours to pass through the whole canal.
The locks and gates are original equipment dating from 1914 – still working perfectly – and it is all done with gravity flow water, no pumps!
There's a 15 minute video on the making of the Panama Canal and a small museum.
A great place to have lunch and see how the Canal works is by reserving a table on the patio at the Miraflores Restaurant. The buffet lunch costs $30 per person.
Panama's BioMuseo
One of the major future attractions of Panama is going to be the BioMuseo, designed by Frank Gehry (architect and designer of the acclaimed Guggenheim Museum). What's interesting is that Frank Gehry (born Frank Goldberg in Toronto) is married to a Panamanian, which is why he took on the project. We got a hard hat tour (you can too) of the state-of-the-art museum which will open later this year. The museum highlights the importance of biodiversity and conservation, and illustrates the significant impact the geological creation of Panama had on planet Earth.
Good to know: We had an awesome driver/guide named Eddie. He works for Gamboa Tours and he was always on time and just a great guy who spoke perfect English. I look forward to going back to experience some of Panama's natural side, including seeing some of their 500 species of birds.
The comments on this page are not provided, reviewed, or otherwise approved by the bank advertiser. It is not the bank advertiser's responsibility to ensure all posts and/or questions are answered.

Editorial Note: The editorial content on this page is not provided by any bank, credit card issuer, airlines or hotel chain, and has not been reviewed, approved or otherwise endorsed by any of these entities.