By Rebecca Thompson:
Journal in One Hand. Baguette in the Other.
I couldn't eat on Tuesday. I refused au pain chocolat. Turned my nose from a freshly baked baguette stuffed with chicken and cucumber, and even rejected a glass of Cotes du Rhone at happy hour. Tuesday evening my palms broke out into a sweat. I twitched back and forth in my wooden chair looking up at the taunting microphone at Café Universel Jazz Club in the Latin Quarter. Each writer is required to read a piece of their own work in front of a live audience and I was about to get on stage. What if they hate it? What if I see yawns and clock-peering eyes? When I signed up for a writing workshop in Paris, I had no idea reading aloud my writing was a requirement! I prayed for a power outage.
Two months earlier, I was in Los Angeles casually organizing my Outlook calendar. My graduate school thesis was finally complete and the good news about a job came my way. I flipped to August and wrote, "First day of work." Then I turned to September and wrote a few reminders about meetings. October came next. My eyes jumped straight to October 3rd. The words, 'two-year wedding anniversary' flashed on screen. This meant my window of 'newlywed-ness' was nearing its expiration date. Ladies, you know what that means. For the past couple of months I noticed the tone of phone calls from family and friends changing directions. No longer were there questions of, "Oh, how does it feel being married?" Or, "Have you changed your name at the DMV yet?" Those glory days were over. Then my phone rang.
"Hello?" I said. I knew who was on the line.
"It's your mother calling."
"Hi Mom. What's going on?"
"So I found this amazing deal on a stroller on Craigslist." My mother relished shopping on the bargain site.
"Thanks Mom, but I really don't need a stroller right now, ok?" What the heck was I going to put in a stroller? My dog?
"You know me and getting a good deal. You can't wait until the last minute on a good stroller."
Was this a subliminal hint? Of course it was, and quite obvious in fact. My mother lacks a filter.
That night I picked up my journal to scribe a few thoughts. March 22, 2009 was my last entry. I shuffled through the blank pages just to make sure. Did I really let two years go by since writing something somewhat creative? I guess graduate school research papers took precedence. These barren pages were my epiphany; the simple motivation I needed. I used to love writing, but the hobby was cast far out to sea. Time to reel back creativity and put off reality just for one more month. I opened my laptop and began to Google. Key words: Writing Workshops.
After two weeks of searching, comparing, and debating, I decided to apply to the Paris American Academy. The program offers a month long writing workshop in all genres: travel writing, fiction, non-fiction, poetry, playwriting and scriptwriting. The best part; I would live in Paris for the entire month of July. Oui, se vous plait.
Now on to convince my husband that a writing workshop in Europe will be a good idea for his travel-junky wife. The hubby loves to travel, but not quite like I do. I presented the scenario and immediately thought this wasn't going to fly. What kind of wife would leave her newly married husband for a month to gallivant around Paris?
"I love this idea," he said. "You're a good writer and I never see you write anymore. And the timing is perfect with your new job."
I didn't speak for at least a minute.
"Really? You're ok with me leaving for a whole month?"
"It's not crazy expensive, is it?"
"I looked at other programs in New York and San Francisco, but this one is more affordable in terms of tuition. Oh, and I have airline miles!" I think he realized that his wife needed a last hurrah before coming to terms with the 'B' word, the four-letter word that rhymes with 'maybe'.
The application process was straightforward. A two-page application included questions about your background in writing and what to focus on while in Paris. The program also required a writing sample. I emailed my pdf application and crossed my fingers that my writing sample was worthy. I was certainly a rusty writer.
I got in.
Two days after sending my application, I received an acceptance letter and housing information. Admitted students have the option of living in student housing or to arrange housing separately. I am well beyond my dorm-days, so I decided to find an apartment on my own. I spent a week looking at different neighborhoods and flats on VRBO.com. Kristin Robinson, the Paris American Academy Coordinator in the United States was a wealth of knowledge of where to stay in the city. Since the writing program is held at the Schola Cantorum, in the Latin Quarter (5th Arrondissement), I knew I wanted to stay somewhere walking distance. Aside from the Latin Quarter, Saint Germain du Pres (6th Arrondissement) is also close to school and houses the grand Jardin du Luxembourg. A gorgeous park and garden great for running, reading, picnicking and listening to free concerts throughout the summer.


Since I applied to the Paris American Academy last minute, I knew my housing choices would be slim to stay within a reasonable budget. Pulling money from savings was a must for this once in a lifetime experience. Staying in a hotel for the month would be pricey. Renting a flat saved me at least $1500. Plus, I could cook meals in my own kitchen. I've heard that street markets are sprinkled throughout the city and are so convenient to pop in and buy fresh veggies and a piece of chicken or fish to cook. In the end, I booked a one-bedroom flat in the Latin Quarter, just three blocks from Notre Dame down the River Seine. I mapped out the distance from my foreign apartment to school and I have a nice 20-minute walk to and from class.
The final step before departing for Paris was my plane ticket. I used airline miles and booked myself on Air Tahiti Nui's non-stop from Los Angeles. Tip: Don't wait until the last minute to apply to a writing workshop in Europe during the summer. I'm sure planning ahead would have helped the price of the ticket. Thank goodness I was able to cash in miles.
The three big steps were complete: 1.) Acceptance to the Writer's Workshop, 2.) Found a place to live, and 3.) Booked my airfare. I spent my final few weeks in Los Angeles drafting story ideas, writing in my journal and packing. On June 28th I said bon voyage to LA, flying 10 hours toward the city of lights.
After two days exploring the city and trying to de-friend jetlag, the first day of school arrived. Forty student writers and four faculty all gathered in a room of etched crown molding and a centered crystal chandelier. The Paris American Academy writer's workshop is an English-speaking program so almost all students were from English speaking countries. USA, Canada, and Australia were the majority. A handful of students arrived from England, Japan, Albania, Norway, and Malaysia. Ages ranged from 20 to 60.
Our instructors introduced themselves and discussed their coursework. Rolf Potts was the head of the program. He is a travel writer best known for the books Vagabonding and Marco Polo Didn't Go There. More recently he traveled around the world with no luggage in the John Biguenet spoke next. He is of the fiction teachers and focuses on poetry and playwriting. Lauren Grodstein is also a fiction instructor with a primary focus in novel writing. Finally, Lise Funderburg instructs non-fiction, in particular, the memoir.
During the first two weeks of the program, we learned the craft of creative writing. Each day was mixed with lecture, journal writing, and work-shopping for each genre. The final two weeks highlight the workshop method. Students are able to spend time critiquing pieces with faculty and peers. Students can take all classes available or chose to focus on their particular genre. I came to Paris to study fiction and travel writing, but I was so impressed with each of the faculty, that I decided to take all of the classes. So a month in Paris writing non-fiction travel stories, fictional novels, playwriting and poetry. I was already so glad I found this program.
Monday thru Thursday I spent in class (with a little sightseeing here and there). Monday and Wednesday were lighter days with one to two classes per day. Tuesday and Thursday were longer. Aside from the classes the Fellows (those who have been students at the Writer's Workshop before) organized smaller workshops. I was able to workshop poetry under the Eiffel Tower at Champs de Mars, non-fiction at a café on Boulevard Saint Germain and fictional writing in the Luxembourg Gardens while listening to a Chopin concert. I could definitely say that Paris is a muse. I hadn't written anything truly creative since college, and in Paris I was writing constantly. My journal followed me everywhere and by the end of the month, it was practically filled with thoughts, story ideas, restaurant reviews and Parisian notes. My favorite couple of pages delves into a woman I saw near Saint Sulpice wearing five-inch hot pink striped heels and a side ponytail riding a velo bike like an old pro.


I was leaving Paris with the knowledge of the creative writing craft and strategies, as well as three polished travel stories, three poems about Paris and two chapters of a young adult novel. The month wasn't all work and no play. Come on, I was living in Paris! I spent two weekends out of town. The first in Champagne, France and the second in Normandy and Giverny (Monet's home and gardens). I also spent plenty of time living like a local in the city. Rick Steves was my preferred guidebook and tried to see as much as possible. I toured the Louvre (free on the first Sunday of every month), Musee d'Orsay, Cluny, Catacombs, Notre Dame, Eiffel Tower, Victor Hugo's house and more. I saw the touristy Moulin Rouge and a week later attended the locale Au Lapin Agile. I ate baguettes and drank wine along the Seine. Purchased books from Shakespeare & Company. Listened to jazz in Montmartre. I found some amazing restaurants (Les Papilles was my favorite). Since I had a kitchen in my flat I also shopped at farmer's markets (Rue Monge and Rue Moufftard were my top picks). Instead of cooking for one, I invited my new writer friends over for dinner on occasion. Before I left Los Angeles, a month felt like a long time to be away. Now that it was almost time to leave Paris, a month is just a mere blink.
* * *
"Our next reader is Rebecca Thompson." The sound coming through the microphone bellowed like a lively Red Sox announcer.
"Please don't turn red. Please don't turn red." I repeated in my head. My fair skin always turns blotchy when I am nervous. I purposely wore a scarf to cover my chest. I could feel my neck prickling like a hundred sandpiper beaks puncturing the wet sand.
I held my non-fiction travel story in my left hand and adjusted the mic with my right. I looked out to the crowd, my fellow writing peers (and a few random Frenchmen having an early pint). I didn't tap the microphone or clear my throat like you see in the movies. I launched right into my story.
"Bal des Pompiers. A Tell-All of the French Fireman's Ball" I spoke my title into the mic and kept on reading. I was one paragraph in and the crowd laughed. My lips cracked open a smile. I felt more emotion leap out of my mouth as I read. A second round of laughter. A third.
"This is actually fun." I thought. I kept reading. More laughter. Then came the clapping. I jumped off the stage and got a high-five from my Aussie friend. I'm such an idiot. A day of nervous stomach and starvation for what? Reading a story at a local jazz club was actually pretty fun. After the café reading, I rounded up some friends to grab dinner and unwind. I was starving.
* * *
My month writing in Paris is over. I am back in LA starting a new job, missing my quaint Latin Quarter flat, daily baguettes and journal writing along the Seine. As for the fancy stroller on Craigslist, someone else lucked out on the steal of a deal. I'm sure there will be plenty of baby gear discovered on Craigslist in the future.
Just for fun, here is my top 20 Paris loves…..
1. I can buy a baguette for .90-cent euro (price is regulated all over the city), throw it in my purse and continue about my day.
2. I can eat a chocolate croissant for breakfast. Follow it up with macaroons after lunch. Gelato for a snack. Oh, why not. A raspberry tart after dinner. No guilt. Just walk it off.
3. I have a blue toilet in my flat. It is so much cooler than the plain white ones back home.
4. I walk by an Italian restaurant each morning on my way to class and the same 'mafia-type' man sits in the same seat drinking the same cafe'. I like the consistency.
5. I can see the river Seine from my living room. The tippy top of the Eiffel tower from my bathroom and an artist painting from his balcony from my bedroom.
6. In the summer, there is sand dumped along the river edge, complete with beach umbrellas and lounge chairs. Too bad it's been so chilly!
7. The wine is cheaper than a bottle of water or a Coke. Glass of wine: 3 euro. Glass of water: 4.50 euro. Bottle of coke: 6 euro (yikes!). Good thing I don't like soda.
8. I don't really need to take the Metro much. Walking almost everywhere is so nice! (and it allows for all of the desserts I've been eating).
9. I can read a book and drink a glass of wine at the same time – IN PUBLIC. Chopin concerts, journal writing, and rose' in the park is a perfect combination.
10. I live above a comedy & cabaret club in the Latin Quarter. Each night as I fall to sleep with the windows open I hear muted laughter. It causes happy dreams.
11. There are two Statue of Liberties here in Paris. One just down the river from the Eiffel Tower and the other in Jardin du Luxembourg.
12. There is a shop around the corner from my flat that sells nothing but Star Wars memorabilia. A furry Chewbacca bank. Why not?
13. Turkish doners come with fries.
14. Unmentionable stores are called: Seduction Fashion
15. The flagship CHANEL store off the Champs is like a museum. Free admission and you get to touch the clothes.
16. In Jardin du Luxembourg, the gardening staff changes all of the flowers once per week!
17. When you order fish, most likely you will get the head and tail too. I've learned the eyeball is quite nice.
18. A Parisian party is called a Salon. Very classy Gertrude Stein.
19. Green beans, ham, strawberries, scallops, mussels, butter, apples and cherries all taste different in Paris compared to back home. So much better!!
20. Fireman's Ball – quite the event. Have to see for yourself. Santé!
Advertisement
Chase Sapphire Preferred® Card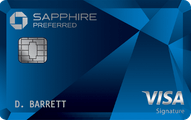 Earn 80,000 bonus points after you spend $4,000 on purchases in the first 3 months from account opening. That's $1,000 toward travel when you redeem through Chase Ultimate Rewards®.
2X points on travel and dining at restaurants worldwide, eligible delivery services, takeout and dining out & 1 point per dollar spent on all other purchases.
Get 25% more value when you redeem for airfare, hotels, car rentals and cruises through Chase Ultimate Rewards. For example, 80,000 points are worth $1,000 toward travel.
Get unlimited deliveries with a $0 delivery fee and reduced service fees on orders over $12 for a minimum of one year on qualifying food purchases with DashPass, DoorDash's subscription service. Activate by 12/31/21.
Earn 5X points on Lyft rides through March 2022. That's 3X points in addition to the 2X points you already earn on travel.
The comments on this page are not provided, reviewed, or otherwise approved by the bank advertiser. It is not the bank advertiser's responsibility to ensure all posts and/or questions are answered.

Editorial Note: The editorial content on this page is not provided by any bank, credit card issuer, airlines or hotel chain, and has not been reviewed, approved or otherwise endorsed by any of these entities.