Buona Sera from Italy! Last week we left off from the beautiful island of Capri, and this go around we travel to a small village in the mountains near the Amalfi Coast and then on to Rome (by car) to check in to a beautiful boutique hotel. For those who want to get away in the opposite direction we have Lisa McElroy's family trip to Maui, and somewhere between Italy and Hawaii John Clayton explains how you can take a ride on a fully restored WWII merchant ship out of the Port of Los Angeles.
CAPRI TO NAPLES TRAIN STATION
From Capri I jumped on a 50-minute ferry to Port Beverello in Naples. Taxis were all lined up and my driver probably ripped me off, charging me a flat rate of 15 euros to go a couple of miles (the trip took 12 minutes). Italy taxi tip: Always keep your carry-on next to you instead of putting it in the trunk, as they charge a fee for luggage in the boot (about €1 per bag).
RANDOM OBSERVATION: Driving through Naples I thought for a second there I wasn't in Italy, as the majority of the people we passed were either African or Sri Lankan.
TRAIN TO VALLO DELLA LUCANIA
The local train to Vallo della Lucania (Vallo) departs every hour or two; I made the 12:58. There's no first class or air-conditioning on these trains, but they are clean and very scenic. The ride took 1 hour and 46 minutes.
MIKE
I was on my way to Vallo to visit my best friend Mike, who I grew up within Connecticut. His family lives in Moio della Civitella (Moio), a small town (population less than 2,000) southeast of Naples that's 15 minutes from the Vallo train station. Moio is located in the Cilento region and its economy is supported entirely by agriculture (production of wine, olive oil, and chestnuts). You won't find any Africans, Asians, or tourists in these small villages-it's as Italian as you can get, which I love. Since there are no buses or trains you need to have a car, and the roads aren't that easy to figure out. Here's the story of my trip here two years ago. The big difference is that, sadly, Mike's father passed away in December, so there was a huge void in the house and in the town, for that matter.
HIGHLIGHTS FROM MOIO
I spent my time there relaxing, laundry, catching up on work, and, what else? Eating, of course. That's what folks in Italy do best. I loved going into town to get the most reasonably priced food/treats. I bet you can't find pizza for 3.50 euros or 1-euro Cokes in restaurants in Italy's tourist areas. On top of that, two scoops of gelato cost just 1.50 euros. Paying these prices makes them all taste so much better (and in reality it they really are tastier and fresher).
FREE SPRING WATER
We walked every day, picking wild berries and asparagus and filling up our water bottles for free with constantly flowing spring water. The only downside (if that's what you want to call it) of small towns like this is that not that many people speak English (they might understand but won't speak). Some people might not like hearing the church bells ring all night long, but I did, and I finally figured out that the first chime is for the time, so three rings would be 3 a.m. (or p.m.), and the second tone is for the minutes past the hour on the 15, so two rings would be half past the hour.
LEAVING EARLY
Mike and I were both flying back to the U.S. from Rome, so instead of getting up at 3 a.m. for an anxiety-filled drive we left a day early and spent the night in the city. We always do this-not only is it more relaxing, but who the heck doesn't love to hang out in Roma?
GAS IN ITALY
We left Moio at 8 a.m. and arrived just after noon. We made two stops along the way; the first was to get gas. FYI: Diesel is cheaper because it lasts longer and costs 1.24 euros, while regular gas was going for 1.39 euros. Keep in mind that's for liters, not gallons, so multiply those prices by four. That's right-now you can stop complaining about America's high prices of fuel.
AUTOGRILL
Our second stop was to use the loo at the AutoGrill and, like all Italians, we also chose to stand in line to get a 90-eurocent shot of espresso. Somehow, even at rest stops in Italy, the coffee is better than anywhere in America.
AVIS
We hit slow traffic as we entered Rome, but it wasn't for too long, and dropping the car off at Avis at the central train terminal was fairly easy (just park at their sign outside the station and get the slow-moving agent behind the desk to check out the car).
ROME TAXIS/METRO
From the central train station (Termini) we paid 9 euros for a taxi to our hotel, which we later learned was very accessible by Metro. There's a Metro station right in Termini and our hotel was just two blocks away from the Colosseum (station stop Colosseo), so in two stops and for 1 euro each we would've been at the hotel. NOTE: I returned via the subway, and it was hot and packed but easy to use. It's not ideal if you have a lot of bags, since you need to go up and down some stairs. For those who just want to take a taxi, here are some dependable Rome taxi names and phone numbers that I found in the Frommer's guidebook: Radio Taxi 3570, Radio Taxi 4157, Pronto Taxi 6645. Be sure to dial 06 in front of each number.
PALAZZO MANFREDI HOTEL
We checked into the Palazzo Manfredi Hotel. It's the sister hotel to Capri's Punta Tragara, which I wrote about last week. This hotel is even smaller, with just 20 rooms in the four-story building. Our room wasn't quite ready (check-in is at 3 p.m.) so we were invited to go up to the roof terrace, where their restaurant is located, for some welcome drinks (champagne) and canapés. The views are sick overlooking the Colosseum, the Imperial Forum, and the Domus Aurea. This is where I later had breakfast and dinner. NOTE: The Palazzo Manfredi also offers apartments nearby-I didn't see them but here's the link.
AROMA RESTAURANT
Speaking of dinner, we were invited to try out their new AROMA restaurant. They have less than 20 tables inside and out, so reservations are recommended. Outside is where you want to sit-day and night, the views of the Colosseum are completely ridiculous. I felt like I was dreaming and I just kept trying to shake my head to snap out of it.

THE HISTORY
The restaurant manager, who looks like Richard Gere, was super hospitable. He's a lifelong resident of Rome and told us all about the hotel and restaurant (it opened April 2). The hotel dates back to 1661 and used to be a hunting lodge. The same family has owned it since 1948 and turned the hotel from a four-star into a five-star by redoing it and adding a restaurant. They had three challenges finding a great chef because (1) the kitchen is small, with just 16 square meters of space; (2) they aren't allowed to cook using a flame and not too many chefs want to use electricity; and (3) there had to be at least one Roman dish (oxtail, tripe, heart, liver) in each menu category. Still, they scored star chef Giuseppe Di Iorio.
DINNER
If you are like me and don't eat any of the above Roman dishes, don't worry-they have all kinds of excellent options. To start, the waiter brought a classy-looking portable light so we could read the menu-it's dark and intimate up there-and addicting bread. For my appetizer I had Zibello ham served with sour cream and green apple–stuffed breadroll (€26) and Mike ordered the goat cheese flan with asparagus and toasted almonds (€25). For our mains I went with the fresh garden vegetable risotto with ewe's milk cheese and quail egg (€28) and Mike had the roasted Moulard duck honey-glazed with caramelized peaches (€38). For dessert they brought Percorso di cioccolato dei tre continenti, which means "variations of chocolate from three continents" (€20). Oh my! The food, service, and, of course, the view were all magnifico.
BREAKFAST
The following morning I was back up there at a different table enjoying the view over breakfast. Breakfast is served at 7 a.m. and the waitress brings a big basket of bread and pastries to start. Then comes toast with the edges cut off accompanied by assorted jellies. Then fresh orange juice and coffee/tea. I thought that was it, but then she handed me the menu and asked what I would like to order. I had to pass, even though most rates (if not all) include breakfast.
SLEEP ABOVE THE GLADIATORS
It's so interesting to stare out and see the uncovered ground below, only discovered in 1937 and exposed in 1962, where the gladiators kept all the big game animals for the events in the Colosseum. The window from our room on the first floor also overlooked it, and it's something to be able to sleep where the gladiators trained.
MY ROOM
Our room had one whole king-size bed (not two twin beds pushed together), so we had to bring in a cot for Mike to sleep on. He said it was too small but comfortable. My bed, on the other hand, was delightful, with its fine high-thread-count cotton sheets and just-the-right size pillows (not too big or squishy). The room had a high ceiling, marble floors, flat-screen TV with satellite channels, a Tivoli audio system, free Wi-Fi (kind of slow), and easy-to-use (and fast) espresso machine. Of course they had to have the latter, otherwise the Italian businessmen would wig out on reception.
BATHROOM
The bathroom was marble, came stocked with Bulgari toiletries, and had the same killer views. It was the first time I've ever seen small workout equipment right in the room-I have no idea how it was to be used, since it was really state-of-the-art and I had no time to figure it out, as I was anxious to explore the city. But they did leave complimentary bottles of water by the bed at night. Other hotel observations: The staff was all Italian, except for the Filipino bellman. There was sensor lighting in the hall/stairways. Only negative-I could feel a slight vibration when the subway went by, but I was on the ground floor and it was hardly bothersome at all. Hotel Palazzo Manfredi.
THE COLOSSEUM
The best part about the Palazzo Manfredi-besides, of course, its incredible view, comfy rooms, and friendly, English-speaking staff-is its location. Within just a few hundred yards are many of Rome's main attractions. I'm sure you will want to tour the Colosseum; a great tip to avoid its long lines is to go to the nearby Palatine Hill (Palatino), since they rarely have a line and your ticket is good for both attractions. If that's too much walking, you can always buy tickets in advance (for a fee) online at Pierreci.it, or go to the ticket window at the Colosseum where they sell tours-for a few extra euros you not only bypass the line, but you get a fascinating 45-minute tour.
ROME'S DARK SIDE
We walked everywhere and this is what we saw: lots of foreigners selling all kinds of souvenirs/gadgets, from paper umbrellas to your name written in Chinese. Yeah, isn't that a tragedy? If I wanted my name written in Chinese, I would go to China, not Italy. Another thing that bums me out are all the gypsies who are preying on the kindness of strangers. Young gypsy women dress like old homeless women and curl up on the street in a fetal position with rosary beads clutched in their hands. They are wrapped from head to toe so you can't see how young they really are.
ONE BIG MELTING POT
I was told by a Roman that the reason there are so many foreigners living in Rome (and Italy, for that matter) is that Italians don't want to do the hard work. He said, "Everyone wants to be a chef, but no one wants to cook." Even the gladiators outside the Colosseum are Eastern Europeans. The world is changing; you'd better travel before it becomes just one big melting pot.
ROME
No matter how many times I visit Rome, every time I feel obligated to visit all the historic sites like the Trevi Fountain, Piazza Navona, Piazza del Popolo, Castel St. Angelo, the Spanish Steps, the Pantheon . . . I could go on forever. There's so much to see and do in Rome that you really need a vacation after your vacation to Rome.
TIBER RIVER
The Tiber River flows through the city and is Italy's third longest river; it's 252 miles (406 km) long. The walk along the Tiber could be just as special as it is along the River Seine, but sadly it's not. If the city of Rome could dredge the river and clean it up more than they are currently doing, maybe even offering more dinner cruises, this place could be really happening. The tree-lined sidewalks above the river that run parallel with it are beautiful when they're cleaned. Here's more on the history of the Tiber River.


VATICAN CITY
If you haven't been to the Vatican, then you're really missing out . . . I don't care what your religion is or how many times you've been. Every time I walk through those doors, I get goosebumps and my jaw drops. It is truly special. Now that everyone has to pass through metal detectors, there's always a bottleneck at the entrance. It moves fast, but to avoid the large crowds, arrive just before opening or closing. Opening hours vary, so see the Vatican's homepage for times. The website also lists the mass schedule; daily masses are open to the public and are not to be missed.
SISTINE CHAPEL
Did you know that the Vatican is located in Vatican City and is its own country? In fact, it's the world's smallest country at 0.2 square miles. That doesn't sound very large, but still, it once took Mike and I a good 45 minutes to walk around the whole walled country. How many times can you say that you've walked around a country? The line to get in the Vatican Museum is seriously the longest line I've ever seen. It had to be close to a mile long. I only wish that I had known about Viator.com's "skip the line" deals so I could have seen the Sistine Chapel. I sure wasn't going to wait in a long line, no matter how quickly it moved. The Vatican Museum entrance tickets from Viator.com cost US$43, which is twice the regular entrance fee. But to me, it's well worth it if you don't have to wait in the long lines . . . plus, you get exclusive access! FYI: Viator has these kinds of deals for sights all over the world.
PIAZZA NAVONA
To escape the tourists, you should dine where the Italians dine. Many live and dine outside the city in Travestere, a 10-minute train or taxi ride away. But we didn't feel like taking any trains or taxis, so instead, what did we do? We went to one of the biggest tourist traps in all of Rome: Piazza Navona. It was just a 20-minute walk from our hotel and is a really wonderful square with incredible sculptures and architecture. But the place is flooded with tourists, mostly American, and turns into a Venice Beach–type atmosphere. There are street performers, artists, and hawkers selling everything from cheap toys to knock-off handbags.
AQUA TIP: Don't buy bottled water in the popular tourist places. Next to the Trevi Fountain, stores and street vendors sell bottles for 3 euros! Walk a couple of blocks away, down some side streets, and you can find bottled water in a pizza place for a euro each.
GELATO
No trip to Rome would be complete without getting at least one scoop of gelato. We went to the most convenient place possible: Blue Ice. It's a chain and by far the busiest gelato place around. It's OK, but my buddy David Farley has some much better recommendations in his Rome story. BTW: I still indulged in three scoops (Nutella, chocolate, and white chocolate) in a chocolate-dipped waffle cone covered with sprinkles. Not a bad way to end my trip to Italy.
Web Resources
Advertisement
Chase Sapphire Preferred® Card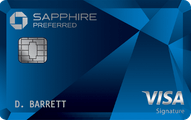 Earn 80,000 bonus points after you spend $4,000 on purchases in the first 3 months from account opening. That's $1,000 toward travel when you redeem through Chase Ultimate Rewards®.
2X points on travel and dining at restaurants worldwide, eligible delivery services, takeout and dining out & 1 point per dollar spent on all other purchases.
Get 25% more value when you redeem for airfare, hotels, car rentals and cruises through Chase Ultimate Rewards. For example, 80,000 points are worth $1,000 toward travel.
Get unlimited deliveries with a $0 delivery fee and reduced service fees on orders over $12 for a minimum of one year on qualifying food purchases with DashPass, DoorDash's subscription service. Activate by 12/31/21.
Earn 5X points on Lyft rides through March 2022. That's 3X points in addition to the 2X points you already earn on travel.
The comments on this page are not provided, reviewed, or otherwise approved by the bank advertiser. It is not the bank advertiser's responsibility to ensure all posts and/or questions are answered.

Editorial Note: The editorial content on this page is not provided by any bank, credit card issuer, airlines or hotel chain, and has not been reviewed, approved or otherwise endorsed by any of these entities.