Greetings! Yesterday was a gorgeous day in Los Angeles so my wife and I took the kids to the beach so they could run around for an hour. There was practically no one around and I could only count 20 people for as far as my eyes could see, so it was probably the safest place to be in L.A. besides our house.
The Grass Is Always Greener
While on the beach we FaceTimed a couple friends and family members back East and they were so jealous of our weather. Meanwhile, we were envious of their weather since they were getting a huge snowstorm and especially because Christmas is next week. Growing up in Connecticut there's nothing better than being in a huge storm as long as you didn't have to travel and you had warm, dry clothes on as well as electricity. But after a couple days of the cold it wears off pretty quick so I'm happy to be in L.A. Besides we have cold, snowy mountains just 90 minutes away.
Good to Know: Exciting travel award news—this airline is the newest Chase transfer partner.
NYC Webcams
If you want to see New York City covered in snow, then check out these live webcams. You might not be able to visit in person but at least you can get there virtually. These webcams show you live views of Times Square, the Brooklyn Bridge and 5th Avenue.
Tips for Air Travelers About Weather Delays and Cancelations
Speaking of the east coast … As I wrote in yesterday's Daily Travel Tip newsletter (you can sign up here), with COVID-19 out of control, this is obviously not the time to be traveling and because of winter storm Gail, you especially don't want to be flying. Airlines cancelled over 1,900 flights and delayed over 4,700 at last check on Flight Aware.com. Here's what to do if your flight is delayed or canceled. For those sheltering in place, you might want to bookmark this post to consult at a later date. The post includes links to airlines' flight waivers.
RELATED:  8 Steps You Should Take Immediately If Your Flight Is Delayed or Canceled
It's a great week for the USA (and the world!) as vaccines have just started to be administered. This hopefully signals the beginning of the end of this nightmare pandemic. Obviously, it's going to take some time but according to Goldman Sachs: "Global vaccine supply is likely to become plentiful … The point at which 50% of the population is vaccinated looks realistic in April for the US and UK, May for Canada, June for the EU and Australia, and July for Japan." (@CarlQuintanilla).
Southwest/JetBlue/Alaska Fare Sales for 2021
While you might not be able to travel right now, you'll want to when spring and summer come around (if all goes as planned). Southwest and JetBlue are offering fare sales and Homes and Villas by Marriott International has 10% discounts. Check them out here.
JetBlue Is Launching First-Ever Flights From Miami
Speaking of JetBlue … Great news for JetBlue lovers, as well as residents of and visitors to Miami. Low-cost carrier JetBlue Airways fully committed today to one of its New Year's resolutions: Launch first-ever flights at Miami International Airport. Read the story here.
Travel Hack: How to Bypass Hawaii's Long Arrival Lines
I'm still waiting for COVID-19 numbers to go way down and to get the vaccine before I travel and visit everyone's favorite island … Hawaii! But I know a lot of people who are ready to go now. Especially since most of the islands have done away with the mandatory 14-day quarantine as long as visitors can show an approved negative COVID-19 test result. However, one of the drawbacks of arriving these days is the long lines on arrival to show proof of your negative test results. And who wants to deal with that after a five or 11-hour flight? Not me! Here's the travel hack around it.
Interesting: Daily Trends in Number of COVID-19 Cases in the United States Reported to CDC
Travel Contests of the Week
Dreaming of Hawaii? Who doesn't love a chance to win a contest – especially when it has to do with travel! For the last decade or so I had always ran links to travel contests but I stopped once the pandemic hit. Now that there's light at the end of the tunnel thanks to the vaccines I'm starting them back up again. Here are this week's travel contests, including a chance to win 25,000 AA AAdvantage miles.
United Eliminates Change Fees on International Flights
United felt the pressure from AA and Delta so they announced the following: "There are no change fees on United Airlines international flights that originate from the United States. They're also extending their policy of no change fees for Basic Economy for tickets purchased now through March 31, 2021."
American Airlines Ramping Up 737 MAX
According to CrankyFlier.com: American Airlines has greatly expanded its MAX schedules. They'll remain in Miami only for now, but you'll see them flying to Anguilla, Aruba, Cancun, Guatemala, Havana, Kingston, Montego Bay, Medellin, Mexico City, Managua, Port-au-Prince, Phoenix, Punta Cana, San Pedro Sula, Santo Domingo, and San Jose (CR). Those all start February 11.
Face Masks on Airplanes
One reason I haven't flown is because I don't trust that the passenger next to me will be COVID-19 free or that they will keep their masks on. Even though airline policies are pretty clear about wearing face masks, there are still passengers who insist on flouting the rules. My friend and fellow travel writer Terry Ward recently flew and a passenger on her flight refused to wear a mask. She detailed the experience in an article for my site, which you should read first, followed by what you should do if your seatmate refuses to wear a mask.
RELATED: Couple with COVID Arrested For Traveling to Hawaii
10 Items I Have in Case of An Emergency
I've always been a safety kind of guy. Ever since I moved from Connecticut to Southern California to go to college, I've made sure to stay on top of safety information and made sure that I had emergency supplies on hand. Here in California, there's always the threat of earthquakes, wildfires and mudslides. Then I had kids and then came a global pandemic, which kicked my emergency preparedness up a few notches. It's not really fun to think about these things but I think it's better to get prepared so you don't have to think about them. It will give you some peace of mind and you'll hopefully feel calmer in the event of an emergency. Here are 10 items I have in case there's an emergency, whether I'm traveling or at home.
HOLIDAY SHOPPING
Can you believe there are only 8 days left until Christmas? I feel like 2020 has flown by! If you're stumped on ideas, we've rounded up lots to inspire you. Check them out below:
20 Gifts for Travelers Under $10
14 Travel Gifts and Gadgets Under $20
16 Great Gift Ideas for Kids
The Travel Gadget Tech Expert Rich DeMuro Recommends
Time is running out to buy gifts for your loved ones for the holidays. Check out the gift idea tech expert Rich DeMuro recommends.
VIDEO: Man Falls From Alaska Airlines Wing
I've seen a lot of insane airplane videos but this one tops the list. Watch it here.
Travel Video of the Week
Alaska Airlines just released its new safety video and it is hands down the most entertaining safety video I've ever seen. Watch it here.
AAA Expects 34 Million Fewer Travelers This Holiday Season
Not surprisingly, AAA Travel expects the vast majority of Americans to stay home this holiday season. Public health concerns and travel guidance are influencing their decisions not to travel over the year-end holidays, a period that typically sees high demand for vacations. While AAA expects at least 34 million fewer travelers compared to last year's holiday season, as many as 84.5 million Americans may still travel from Dec. 23 through Jan. 3, a decline in travel of at least 29%.
TSA Numbers
As you can see, the TSA numbers really dropped last week but then again, it's always a slow period the week after Thanksgiving. Numbers are inching up and I expect we will see over 1,000,000 people pass through security daily starting next week (maybe even tomorrow or Sunday).
American Hotel & Lodging Association (AHLA)
A new national survey commissioned by the American Hotel & Lodging Association (AHLA) shows that 69% are unlikely to travel for Christmas. Source
China Tells Cabin Crew to Wear Diapers on Risky Flights
Ewww. China's aviation regulator is recommending cabin crew on charter flights to high-risk COVID-19 destinations wear disposable diapers and avoid using the bathroom to reduce the risk of infection.
Lower Chauffeur Rates Give New, Safer SoCal Travel Options
Good news! Travelers going to and from major U.S. cities can now enjoy Blacklane's private chauffeured rides at new, lower flat rates, avoiding the health concerns from other types of travel. Blacklane's fares beat legacy limousine services and ride-hailing's "black" options in California, Florida, the Midwest, the Northeast and Texas.
AA Bait and Switch Story
Sorry to those of you who couldn't find the AA bait and switch story last week. We originally had it right in the body of the newsletter but then I decided to add it to the post on the site in the hopes that readers would click the link to get that story and so many more. The reality is, since all of our revenue streams have dried up due to COVID, I have to rely on traffic to the site to pay the bills. Thanks for understanding! And here's that story in case you missed it.
Thanks to all the congratulations messages I got on LinkedIn, I learned that this is my 25th year of sending this newsletter! How insane is that? This newsletter started as a hobby to help my friends and colleagues in the college admissions office I worked at (my first job out of university), earn as many miles as they could and travel like a prince on a pauper's budget. But it has been my full-time job for over 20 years! Once I began doing this full-time, I have been so passionate and committed to sharing all of my tips and knowledge that I have only missed sending out a handful of weekly newsletters over the years. But I couldn't have done this without a lot of people, especially you, so thank you for subscribing.
And last but most definitely not least, a big thank you to those of you who have donated. You've really put a smile on my face and at times, tears. The notes have been so heartwarming, especially the one I received today from a reader in Ventura, CA, who wrote: "I sincerely hope this small donation helps you and the family in some way. We've all got to help one another during this extremely stressful time." My wife read it to me while we were driving to the beach and she just started bawling. It's so appreciated. Thank you, from the bottom of both of our hearts.
Airline and Airport News:
Cruise News:
Domestic News:
International Travel News:
Hotel and Lodging Travel News:
Miscellaneous Travel News:
Advertisement
Chase Sapphire Preferred® Card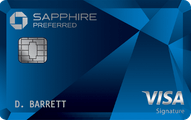 Earn 60,000 bonus points after you spend $4,000 on purchases in the first 3 months from account opening. That's $750 toward travel when you redeem through Chase Ultimate Rewards®
2X points on dining at restaurants including eligible delivery services, takeout and dining out and travel & 1 point per dollar spent on all other purchases.
Get 25% more value when you redeem for travel through Chase Ultimate Rewards®. For example, 60,000 points are worth $750 toward travel.
The comments on this page are not provided, reviewed, or otherwise approved by the bank advertiser. It is not the bank advertiser's responsibility to ensure all posts and/or questions are answered.

Editorial Note: The editorial content on this page is not provided by any bank, credit card issuer, airlines or hotel chain, and has not been reviewed, approved or otherwise endorsed by any of these entities.