12 Things in Travel You Need to Know Today (This is a recurring post, updated daily with new information):
Sunday, May 22
Yesterday's TSA checkpoint numbers
TSA officers screened 1,988,843 people at airport checkpoints nationwide yesterday, May 21. A week ago on same day: 1,979,713 A year ago on the same day: 1,550,044. In 2019 (pre-pandemic): 2,124,825. (TSA)
US Airlines cutting training requirements to get more pilots; shortage
US airlines are once again grappling with the pilot shortage as travel demand skyrockets. Regional carrier Republic Airways is considering reducing training requirements from 1,500 to 750 hours. Senator Lindsay Graham reportedly could propose legislation that would increase the mandatory pilot retirement age from 65 to 67. (Business Insider)
Summer outlook: Most of US will see above-average temperatures as Western drought continues
The National Oceanic and Atmospheric Administration's forecast for summer calls for a whole lot of heat without much rain to provide relief. Nearly the entire contiguous US is expected to have above-normal temperatures this summer, which runs from June through August, according to Thursday's Climate Prediction Center's outlook. The combination of hotter weather and below-average rainfall is expected to fuel the megadrought that covers much of the West. (CNN)
"Flightmare" looms over California, travel expert warns
If you're looking to make a trip out of town this May, you may need to be prepared for last-minute cancellations. Sum Rose Ackerman, the executive editor at Family Destinations Guide, said, "While it is great news that travel has fully opened up and families can finally have proper vacations, the combination of increased demand and staff shortages have the potential to cause significant delays and an overall sub-par travel experience." A travel expert shared some tips to ease travel concerns amid potential "flightmare". (KRON SF)
How a French bank captured Haiti
A bank that helped finance the Eiffel Tower, one of the world's best known landmarks, drained millions of dollars from Haiti. That history has been all but erased — but The New York Times tracked the money. (The New York Times)
Boy from "Jaws" becoming police chief on Martha's Vineyard
Nearly 50 years after appearing in "Jaws," the boy in the fake shark scene is becoming a police chief on Martha's Vineyard. Oak Bluffs has appointed Sgt. Jonathan Searle to be lead the police department, The Vineyard Gazette reports. Searle and his brother portrayed two kids with a cardboard fin in the 1975 classic that caused a beach panic. It's a fact that the Edgartown Police Department, where Seales is a sergeant, likes bringing up. (CBS Boston)
UK freezes assets on Russian airlines, preventing slot sale
Britain on Thursday froze the assets of three Russian airlines, preventing them from selling landing slots at U.K. airports that are worth up to 50 million pounds ($62 million). The latest sanctions over Russia's war in Ukraine stop state-owned Aeroflot, Russia's biggest carrier, Rossiya Airlines and Ural Airlines from transferring the valuable landing rights, which are going unused because of an earlier ban on Russian aircraft flying to the United Kingdom. (ABC News)
Broadway theaters extend coronavirus face mask policy through June
The Broadway League announced Friday that the owners and operators of all 41 Broadway theatres in New York City will extend the current mask requirement for audiences through at least June 30, 2022. "We're thrilled that nearly a quarter of a million people are attending Broadway shows weekly in this exciting spring season," Broadway League President Charlotte St. Martin said. "As always, the safety and security of our cast, crew, and audience has been our top priority. By maintaining our audience masking requirement through at least the month of June, we intend to continue that track record of safety for all, despite the omicron subvariants." (ABC7 New York)
A wheelchair user's guide to getting outdoors this summer
'The great outdoors' and 'wheelchair accessible' may not typically coexist within the same sentence, but they absolutely should. Outdoor adventures are for everyone, regardless of someone's abilities. And thanks to improved accessibility at national and state parks, public beaches, and more, much of what used to be off-limits for wheelchair users is now within reach. (Conde Nast)
Ibiza nixing outdoor parties, aims to become a sustainable destination
The famous island of Ibiza, located in the Mediterranean Sea off the eastern coast of Spain, may soon cease to be known for crazy nightlife and wild beach clubs. Some local politicians are launching a campaign to shut down outdoor parties and turn the island into a sustainable destination. The same idea may also soon be adopted by other islands from Spain's Balearic Islands, which, in addition to Ibiza, include Mallorca, Menorca, and Formentera. (msn.com)
Vast swath of US at risk of summer blackouts, regulator warns
A vast swath of North America from the Great Lakes to the West Coast is at risk of blackouts this summer as heat, drought, shuttered power plants and supply-chain woes strain the electric grid. Power supplies in much of the US and part of Canada will be stretched, with demand growing again after two years of pandemic disruptions, according to an annual report. It's among the most dire assessments yet from the North American Electric Reliability Corporation, a regulatory body that oversees grid stability. (Bloomberg)
Oahu homeless numbers fall but more are on the street
A new count of Oahu's homeless population has mixed results. The count shows that the total number of folks without homes has gone down since the pandemic began, but residents might be seeing more homeless people on the streets. (khon2.com)
Saturday, May 21
Yesterday's TSA checkpoint numbers
TSA officers screened 2,346,625 people at airport checkpoints nationwide yesterday, May 20. A week ago on same day: 2,352,035 A year ago on the same day: 1,820,433. In 2019 (pre-pandemic): 2,792,670. (TSA)
Astronauts welcome Starliner spacecraft on first visit to space station
Boeing's Starliner spacecraft arrived at the International Space Station Friday evening, more than two years after an initial attempt to complete the final test needed before Starliner can fly NASA astronauts. The spacecraft docked more than 24 hours after it blasted off from Florida on an Atlas V rocket on the orbital flight test-2 (OFT-2). (Fox Weather)
How independent hotel brands can capitalize on post-pandemic loyalty
Traveler expectations have shifted dramatically since before the pandemic. To capture demand in a competitive market, independent hotel brands need to deliver a compelling alternative to the traditional loyalty programs offered by the large chains. The challenge? Scaling up their infrastructure, support systems, and marketing reach without losing their individuality. (skift.com)
Rome Fiumicino opens new six million-capacity Boarding Area A
Rome Fiumicino has opened a new 37,000sqm boarding facility for Schengen and domestic flights. The six-million capacity Boarding Area A is part of the expansion of the eastern section of the airport, and features 23 new gates and 13 boarding bridges, as well as a 6,000sqm shopping mall with 21 outlets. Rome Fiumicino says it is among the first airports to receive LEED Gold certification, with the new pier being powered by photovoltaic panels on the building's roof. (Business Traveller)
Flight attendant union president slams Musk over sexual misconduct allegations
The Association of Flight Attendants Union President Sara Nelson slammed Elon Musk on Friday over allegations that he sexually propositioned a SpaceX flight attendant. According to a report published by Insider Thursday, Musk was accused of exposing himself to one of his SpaceX employees and asking her for sex. (The Hill)
Austrian Airlines resumes non-stop Los Angeles flights
On May 20th, Austrian Airlines restarted operations between Vienna (VIE) and Los Angeles (LAX) with five weekly flights. The inaugural flight (OS 081) departed Vienna International Airport at 10:06 and arrived at Los Angeles International Airport at 13:04. The airline will initially offer five flights a week, with flights departing on Mondays, Tuesdays, Thursdays, Fridays and Saturdays. (SimpleFlying)
21-year-old dies after falling into waterfall at Colorado national park, officials say
A 21-year-old woman died after falling into a Colorado waterfall, park officials said. The woman was visiting Adams Falls in Rocky Mountain National Park the afternoon on Thursday, May 19, before she fell, the U.S. National Park Service said in a news release. She was from Virginia, Illinois, park officials said. Her body was recovered the same evening and taken to the Grand County coroner. (Charlotte Observer)
A Brightline train just rolled into an Orlando station. What to know about the trip
A Brightline train made its first appearance in Orlando this week in a test run as the high-speed rail company continues construction of a station at the city's airport. Bright Blue 2, the name of the train, rolled into the Orlando airport's new Intermodal Terminal Facility, the company said. No passengers were on aboard the train, but workers on the Orlando project watched it arrive. (Miami Herald)
Rocky Mountain National Park makes example of moose selfie idiot
Another day, another dumb tourist blatantly breaking the rules and getting way too close to wildlife in our National Parks.  Rocky Mountain National Park took to social media to make an example of this visitor who posed for selfie next to moose last week.  RMNP asked this simple multiple choice question to test your knowledge on why this selfie taker behavior was reckless and wrong. Lets see if you get it right: (Unofficial Networks)
Israel, Myanmar, Laos: Countries relaxing COVID-19 travel restrictions
Countries across the globe are continuing to relax international travel restrictions related to COVID-19 with the European Union dropping its mask mandate for air travelers starting next week. And COVID-19 travel warnings are being dropped, too. The Centers for Disease Control and Prevention last month removed all the remaining countries on its "Do Not Travel" list. "More and more people are once again traveling to destinations around the world and enjoying all that comes with travel," the agency said Thursday in a statement shared by spokesperson Tom Skinner. (usatoday.com)
The Points Guy must face American Airlines suit over frequent flier app
The Points Guy LLC must face an American Airlines Group Inc. suit over an app allowing users to track frequent flyer miles from all carriers in one place, a federal judge in Texas ruled. US District Judge Mark T. Pittman on Friday denied Points Guy's motion to dismiss the case as improperly filed in federal court in Fort Worth, where American is headquartered. | From JJ: Let's hope TPG wins. (Bloomberg)
Woman 'shamed' by Alaska Airlines over 'inappropriate' outfit
A woman has slammed a US airline after claiming she was shamed over her choice of outfit. TikToker @badbish1078 posted a video of her sitting on the plane with the caption: "Alaska Airlines just told me I had to 'cover up' if I wanted to get on the plane". She panned her camera down to reveal her outfit – a mid-riff low-cut tank top and frayed denim shorts. She added she refused the request the cover up, but did not explain how she was still able to board the plane. (Yahoo)
Friday, May 20
Yesterday's TSA checkpoint numbers
TSA officers screened 2,348,193 people at airport checkpoints nationwide yesterday, May 19. A week ago on same day: 2,327,671 A year ago on the same day: 1,728,496. In 2019 (pre-pandemic): 2,673,635. (TSA)
Spirit Airlines calls for shareholders to reject JetBlue bid
Spirit Airlines urged shareholders to reject a hostile bid by JetBlue Airlines on Thursday, saying it was "a cynical attempt to disrupt" its merger with Frontier. JetBlue says its $30 a share offer is superior to the value of Frontier's cash-and-stock deal and regulatory concerns are not a reason to reject its bid. Shareholders are set to vote on Frontier's offer, which currently values Spirit at about $20.33 per share. (Reuters)
Airlines' three in-flight engine shutdowns spark probe in India
India is investigating three separate incidents in the past two months where airline pilots had to shut down plane engines mid-flight made by a joint venture of General Electric Co., according to people familiar with the matter. (Bloomberg)
United Airlines cancels couple's flight, then charges $4,000 more for comparable seats
7 On Your Side has been reporting on a big spike in airfares this travel season. Experts blame high fuel prices, a shortage of planes and pilots, and a surge in tourism. Prices on some routes have doubled since 2019. (ABC 7 SF)
Boeing Starliner finally reaches orbit in test launch after years of struggles
An uncrewed Boeing Starliner spacecraft reached Earth's orbit Thursday evening and is now en route to the International Space Station, marking what could become the capsule's first successful test launch following an unsuccessful 2019 attempt, a major step in Boeing and NASA's quest to eventually use the Starliner for crewed missions. (Forbes)
United Airlines' biggest club lounge opens today at Newark airport. Take a sneak peek.
Flyers at Newark Liberty International Airport got such a place Thursday morning when United Airlines opened the 30,000-square-foot United Club in Terminal C, the largest in the airline's system. What's inside could be described as a travel oasis far from the maddening crowd that just deplaned or bumped bins with you in TSA screening. (NJ.com)
American Airlines gets favorable antitrust verdict, and $1 in damages
A federal jury on Thursday ruled in favor of American Airlines Group Inc in its long-running lawsuit accusing flight booking service Sabre Corp of charging excessive fees and suppressing competition, but awarded the carrier just $1 in damages. (Reuters)
The best things to do in California
Now that travel is once again something we can do, cautiously and following CDC guidance, the big question is: Where should we explore? One great answer is our own backyard. Driven by our pent-up wanderlust, The Times set out to find the most delightful, fascinating and awe-inspiring things to do right here in the Golden State. What we returned with is our most ambitious list of adventures. Behold, the California 101. (Los Angeles Times)
Breaching whale lands on boat in Sinaloa, injuring 4
A breaching whale landed on a boat in Sinaloa on Saturday injuring tourists and doing severe damage to the vessel. The large mammal leapt in the air to perform one of its characteristic acrobatic jumps at around 6 p.m. in Topolobampo bay in the Gulf of California, 235 kilometers northwest of Culiacán, but crashed into the back end of the small boat on its descent, causing it to almost capsize. (mexiconewsdaily.com)
Morocco relaxes Covid entry restrictions
Morocco has dropped the mandatory PCR test for vaccinated travellers. Vaxxed travellers previously had to present a negative PCR test Effective immediately, the move is expected to further revive Morocco's tourism sector. Tourism revenues reached nearly $1 billion in the first three months of 2022, according to Minister of Tourism Fatim-Zahra Ammor. (travelmole.com)
CBP finds live centipedes, dried sea cucumbers, and swine sausages in string of bizarre contraband seizures
Federal authorities in Los Angeles on Wednesday announced the recent seizures of prohibited plant and animal products being imported into the country via ocean containers and postal and express air mail. Among the shipments seized by U.S. Customs and Border Protection agriculture specialists: (ABC7 Los Angeles)
Easyjet makes comeback from pandemic lows as airline expects to sell 97 per cent of all seats next quarter
Budget airline easyJet said this morning that it hopes to carry nearly as many passengers in the last few months of this year as it did in 2019, marking a comeback from the lows of the pandemic. The business said that it is planning to sell 97% of the seats during the final quarter than it did pre-pandemic. It managed to decrease its pre-tax loss in the first half from £645 million in the first half of last year to £557m this time around. (City AM)
Cunard reports busiest booking day in a decade
Luxury cruise line Cunard has reported that the first day of bookings for new ship Queen Anne was the busiest booking day in a decade. The first day of sales showed the incredible strength of demand for the new ship and Cunard says the demand for the brand is at record levels. (Travel Industry Today)
Thursday, May 19
Yesterday's TSA checkpoint numbers
TSA officers screened 2,097,515 people at airport checkpoints nationwide yesterday, May 18. A week ago on same day: 2,025,161 A year ago on the same day: 1,496,089. In 2019 (pre-pandemic): 2,472,123. (TSA)
'Calm' flight attendant helps deliver baby after mom goes into 'early and unexpected labor' mid-flight
A flight attendant jumped into action after a passenger went into "early and unexpected labor" during a recent Frontier Airlines flight from Denver to Orlando. "The baby couldn't wait," Frontier Airlines said in a statement on Facebook on Tuesday. Fortunately, flight attendant Diana Giraldo remained "calm" as she "helped the mother to the back lavatory" and assisted in performing the "heroic task" of delivering the baby mid-flight, according to airline. (People)
JetBlue aims to cut costs even as demand for travel rebounds
JetBlue Airways Corp. is working with consultants to set targets for a new round of cost cuts, even as it prepares to meet surging consumer demand for travel. The airline expects to see "progressive improvement" in its cost performance throughout the rest of this year, following an operational meltdown in April that led to hundreds of flight cancellations and cost overruns, Chief Financial Officer Ursula Hurley said at a Bank of America conference Tuesday.   (msn.com)
Search ends for woman who fell from cruise ship in Alaska
JUNEAU, Alaska (AP) — The U.S. Coast Guard has suspended the search for a 40-year-old woman who fell overboard off a cruise ship in Alaska's Inside Passage. The Coast Guard ended the effort Tuesday after searching for the woman for about nine hours, Coast Guard Petty Office Ali Blackburn said. The search was conducted by boat and a helicopter in the waters near Eldred Rock in Lynn Canal, which is about 20 miles (30 kilometers) west of the state capital, Juneau. (AP)
Congress held the first public hearing on UFOs in 50 years
For lawmakers, a welcome respite from events that require you to know what Instagram is: Yesterday, for the first time in more than 50 years, Congress held a public hearing on UFOs. According to a Navy intelligence official, about 400 incidents have been reported involving UFOs, or as the military calls them, UAPs (Unexplained Aerial Phenomena). That's a big uptick from an official report published last year that included 143 such events dating back to 2004. (morningbrew.com)
The Red Bull Paper Wings world paper airplane championship
On May 14, the Red Bull Paper Wings World Final took off at Hangar-7, Salzburg Airport. The event is the official paper airplane world championship and first took place in 2006. This year's edition saw 61,000 hopefuls take part in over 500 "Qualiflyers" around the world. (CNN Video)
British mother reveals heartbreak after son, 24, dies alongside UK woman in Vietnam bike crash
A British mother has spoken of her heartbreak after her 24-year-old son died alongside a woman in a motorbike crash in Vietnam. Debsy Clayton said she is 'inconsolable' and 'unable to function' after her son Denver Barfield was killed after he and his friend crashed into a power pole whilst riding on a motorbike in the early hours of Monday morning. Denver, from Leicester, and fellow Briton Beth Thompson, who was studying a Masters degree at the University of Leicester, died on impact following the crash in the Vietnamese city of Hoi An. (Daily Mail Online)
Teenage pilot lands in Kenya amid record-setting flight attempt
A 16-year-old schoolboy who is on a quest to become the youngest person to fly around the world solo, landed his small plane in Kenya's capital, Nairobi, on Wednesday. Mack Rutherford, who has British and Belgian nationality, started his journey near the Bulgarian capital Sofia in March and is looking to clinch a Guinness World record currently held by compatriot Travis Ludlow, who was 18 when he completed a circumnavigation last year. (CNN Travel)
Singapore wants to keep borders open even if new Covid variant emerges: 'We've learned to adapt'
Transport Minister S. Iswaran said the city state had 'learned to adapt' and now has 'more tools in the toolkit' to deal with any new variants of Covid-19 The government expects passenger traffic at Changi Airport to reach 50 per cent of pre-pandemic levels by later this year (South China Morning Post)
Apple reinstates mask mandate for employees at 100 stores
Apple Inc. has reinstated its mask requirement for employees at roughly 100 stores and pushed back plans for corporate employees to return to the office three days a week over COVID-19 concerns, according to a new report. (FOX Business)
What airlines need to do to make air travelers more satisfied
The 2022 JD Power's American Airline Satisfaction survey results are out, and the news for many airlines is not good. Jet Blue and Southwest topped the list, while legacy airlines like American and United were near the bottom across the three categories of passengers surveyed (economy, premium economy and first/business). (The Hill)
Business Travel Resumes, Though Not at Its Former Pace
Domestic travel has returned faster than international. And some destinations like Las Vegas are rebounding more quickly than big cities like New York. (The New York Times)
Wednesday, May 18
Yesterday's TSA checkpoint numbers
TSA officers screened 2,036,479 people at airport checkpoints nationwide yesterday, May 17. A week ago on same day: 1,900,738 A year ago on the same day: 1,408,017. In 2019 (pre-pandemic): 2,312,727. (TSA)
FAA to let United use jets grounded after engine failure
Federal safety regulators have approved a path for United Airlines to resume using dozens of Boeing 777 jets that have been grounded since the engine on one plane blew apart over Denver last year. The Federal Aviation Administration confirmed Tuesday that it has approved steps necessary for flights to resume using the planes, which have engines made by Pratt & Whitney. United's chief commercial officer, Andrew Nocella, said some of the planes will be in use within a week. The planes had recently appeared in United's schedule, starting May 26. (AP News)
Flight MU5735 crash: bereaved relative demands answers from airline over US report of deliberate dive
A relative of a passenger who died on China Eastern Airlines flight 5735 on March 21 has demanded an explanation from the carrier if it is proved that black box data suggested that the plane was intentionally sent on a nosedive. (South China Morning Post)
Japan's tiny tourism test will let in 50 foreign travelers
Japan is preparing to welcome a small number of tourists back to the country after shutting its borders during the pandemic — but don't count on being one of them. In a test to prepare for a larger resumption of travel, the country is planning to allow about 50 vaccinated-and-boosted travelers to visit as part of organized tours later this month, the Japan Tourism Agency said Tuesday. The pool of 50 travelers will be allowed from four countries Japan has designated as priority markets: the United States, Australia, Thailand and Singapore. (Washington Post)
United Airlines CEO: Planes safe for passengers who don't want to wear masks
United Airlines CEO Scott Kirby on Tuesday said that planes are safe for passengers who don't want to wear masks, adding that it is the safest indoor environment for people. "It literally is the safest environment you're gonna be indoors anywhere that you are," Kirby said while making an appearance on "CBS Mornings," adding that the second safest place for an individual would be a hospital ICU. He noted, however, that airplanes have 10 times more airflow than an ICU. (The Hill)
Breeze Airways bringing nonstops to Las Vegas
Breeze Airways, a low-fare airline based in Utah, is ramping up nonstop flights out of Las Vegas to nine U.S. destinations as the summer travel season begins. The first nonstop begins June 9 to Richmond, Virginia, and the most recent announcement includes a nonstop to Provo, Utah, for $29 (one-way) beginning Oct. 5. Check the Breeze Airways website for prices and availability. The full list, with launch dates: (KLAS)
Frontier Airlines flight returned to Cleveland Hopkins terminal before takeoff due to unruly woman
Frontier Airlines Flight 2415 to Phoenix was just about to take off Monday evening when the captain returned the plane to the terminal at Cleveland Hopkins International Airport to have three passengers removed. (WKYC-TV Cleveland)
AerCap Holdings: Largest aircraft owner lost 113 planes to Russia due to sanctions
AerCap Holdings, the aircraft leasing giant that is the world's largest owner of jets, lost 113 planes when Russia seized them in response to sanctions triggered by the war in Ukraine. The seizures of the planes and 11 jet engines by Russian authorities caused AerCap to take a $2.7 billion pre-tax charge during the quarter, causing the company to report a net loss of $2 billion rather than the $500 million profit it would have made without the hit. But company executives said the quarter was actually a good one and they see better times ahead as global demand for flying continues to recover from the Covid pandemic. (CNN Business)
Canadian government says it's working on passport backlog
The Canadian government said it's doing its best to cope with a spike in demand for passports and long passport processing times. "With pandemic restrictions easing around the world, interest in travel is growing among Canadians, and demand for new or renewed passports is growing along with it," officials in the Trudeau government said today. "Service Canada is experiencing increases in passport processing times, and is responding by prioritizing those travelling imminently and ensuring that those with less urgent needs can access the right service channels for them. (jimbyerstravel.com)
Florida family finds 550-pound alligator in their swimming pool
A Florida family got a massive surprise when they found a 550-pound alligator in their swimming pool, according to a Tuesday post from the Charlotte County Sheriff's Office. Authorities said the nearly 11-foot-long gator tore through the family's screen in search of cool water. (CBS News)
1 dead, 1 rescued after sand collapses at Jersey Shore beach
One person is dead and another has been rescued after the siblings became trapped under sand while digging at a Jersey Shore beach Tuesday afternoon, authorities said.  Police and emergency medical services responded to a barrier island beach in Toms River, New Jersey, shortly after 4 p.m. Tuesday "for reports of juveniles trapped in the sand as it collapsed around them while digging," the Toms River Police Department said on Facebook. First responders were able to rescue a 17-year-old girl, who was treated at the scene, though her brother, 18, died at the scene, police said. (ABC News)
Immunocompromised mother, son allegedly refused service at ice cream shop for wearing masks
Andrew Fogarty just wanted some ice cream. So did his mom, Lindsay Fogarty, and her fiancé, Joshua Thomas. They'd driven seven hours from their hometown in Virginia to Pigeon Forge, Tennessee (home of Dolly Parton's "Dollywood"), because Andrew, 10, a boy with autism and a deep interest in all things Titantic, wanted to visit the local museum dedicated to the doomed luxury liner. (Today Show)
Tuesday, May 17
Yesterday's TSA checkpoint numbers
TSA officers screened 2,278,197 people at airport checkpoints nationwide yesterday, May 16. A week ago on same day: 2,231,804 A year ago on the same day: 1,734,541. In 2019 (pre-pandemic): 2,615,691. (TSA)
BREAKING: Black boxes indicate someone intentionally crashed China Eastern Boeing 737-800
The Wall Street Journal reveals Flight data indicates someone in the cockpit intentionally crashed China Eastern flight #MU5735. The Boeing 737-800 was cruising at high altitude when it suddenly pitched into a near-vertical descent, plummeting into a mountain at extreme speed. (AirLive)
U.S. lifts some Trump-era restrictions on Cuba, including limits on travel and remittances
The changes, the most significant in U.S.-Cuba policy since President Joe Biden took office, follow a lengthy policy review. A senior U.S. official said the Biden administration will continue to elevate the matter of human rights, the treatment of political prisoners and labor rights in Cuba, as well as "empowering the Cuban people to determine their own future." (NBC News)
CDC to all domestic travelers: Test close as possible to departure time
The US Centers for Disease Control and Prevention has updated its guidance for people traveling within the United States. The agency now urges all domestic travelers to "consider getting tested as close to the time of departure as possible (no more than three days) before your trip," according to its Covid-19 website updates this month. (CNN)
Memorial Day forecast points to sizzlin' summer travel
The unofficial start to summer will be a busy one this year as AAA predicts 39.2 million people will travel 50 miles or more from home this Memorial Day weekend. This is an increase of 8.3% over 2021, bringing travel volumes almost in line with those in 2017. Air travel continues to rebound, up 25% over last year, the second-largest increase since 2010. With volumes closing in on pre-pandemic levels, AAA urges travelers to book now and remember flexibility is key this Memorial Day weekend. (AAA Newsroom)
Fla. air traffic controller dies in fiery crash after plane he's piloting lands on Miami bridge and hits van
A veteran Miami airport traffic controller was killed when the single-engine plane he was piloting crash-landed on a bridge Saturday afternoon, erupting into flames after it hit a minivan head-on, authorities say. At 1 p.m., Narciso Torres, 36, of Miami, was flying a Cessna 172 from Hollywood, Florida, to Key West when the engine lost power, his union, the National Air Traffic Controllers Association, confirmed in a statement, The Miami Herald was the first to report. (People)
Passenger dies in flight from Seattle to Nashville
A passenger died while on a flight to Nashville on Monday, Nexstar's WKRN has confirmed. The flight arrived at Nashville International Airport at around 3 p.m. from Seattle, Washington. A viewer shared video of the body being removed from the Alaska Airlines plane Monday afternoon. There is no word on the identity of the deceased. The cause of death has not yet been released by the medical examiner's office. (fox8.com)
Deeply Sorry: Alaska Airlines CEO warns flight cancellations to continue
The CEO of Alaska Airlines says the high level of flight cancellations since April will continue through this month. Passengers whose travel plans have been disrupted have found little help from the airline in finding alternative ways to their destination, with customer service phone lines citing hold times of up to 10 hours. (Travel Industry Today)
Sri Lanka down to its last day of petrol, warns new PM
Sri Lanka's newly appointed prime minister has said that the cash-strapped island nation has run out of petrol stock, as he said the country desperately needed to secure $75m in foreign exchange in the next few days to pay for essential imports, including medicine. "We have run out of petrol … At the moment, we only have petrol stocks for a single day," Ranil Wickremesinghe said on Monday in an address to the nation, as the country suffers from fuel and medicine shortages. (Al Jazeera)
Big cross-border tunnel is found linking Tijuana, San Diego
U.S. authorities on Monday announced the discovery of a major drug smuggling tunnel on Mexico's border, running the length of a football field on U.S. soil to a warehouse in an industrial area. (AP)
San Francisco neighborhood home price map
It is impossible to know how median and average value statistics apply to any particular home without a specific comparative market analysis. These analyses were made in good faith with data from sources deemed reliable, but may contain errors and are subject to revision. It is not our intent to convince you of a particular position, but to attempt to provide straightforward data and analysis, so you can make your own informed decisions. Median and average statistics are enormous generalities: There are hundreds of different markets in San Francisco and the Bay Area, each with its own unique dynamics. Median prices and average dollar per square foot values can be and often are affected by other factors besides changes in fair market value. Longer term trends are much more meaningful than short-term. (Compass)
Dream Chaser space plane gets FAA approval to land at Alabama airport
Cargo missions returning from the International Space Station are now authorized to touch down in the Cotton State. Cargo missions returning from the International Space Station are now authorized to touch down in the Cotton State. (Space)
Windstar Cruises cancels Asia and adds Tahiti sailings small ship line cites uncertainty re: ports reopening in the region
Small ship cruise line Windstar Cruises has cancelled its scheduled cruises in Asia for fall of 2022, citing the continued uncertainty regarding ports reopening in the region. The move will affect seven scheduled itineraries on the all-suite Star Breeze, including a crossing of the Pacific from Alaska to Japan, two Grand Japan sailings, Island Hopping through Japan, Windstar Crew Hometowns: Philippines and Indonesia, Hidden Indonesia & the Great Barrier Reef, and Edge of the Outback. Instead, Star Breeze will extend its Alaska season with an additional itinerary (Alaskan Splendors) in late August, followed by West Coast Epicurean Extravaganza down the coast of the U.S., a trans- ocean voyage from San Diego to Tahiti, and five sailings in French Polynesia.  (Windstar)
Monday, May 16
Yesterday's TSA checkpoint numbers
TSA officers screened 2,395,894 people at airport checkpoints nationwide yesterday, May 15. A week ago on same day: 2,248,861 A year ago on the same day: 1,850,531. In 2019 (pre-pandemic): 2,620,276. (TSA)
Spirit Airlines soars 22% as JetBlue launches hostile takeover bid to break up deal with Frontier
Spirit Airlines soared as much as 22% early Monday after JetBlue initiated a hostile takeover. JetBlue is offering $30 a share to sway Spirit shareholders away from a merger with Frontier Airlines. JetBlue also said its earlier offer of $33 a share is still on the table if Spirit management negotiates. (Markets Insider)
WEATHER: Explosive storms coming to NYC with potential for hail and tornadoes
Severe storms will hit New York City and the rest of the Tri-State Area on Monday, with the potential for heavy downpours, 65 mph wind gusts, hail and even tornadoes. A cold front will sweep across the Northeast on Monday, bringing with it stormy weather as it collides with warm, humid air, according to AccuWeather. The National Weather Service issued a hazardous weather outlook for most of the area. (1010 Wins)
TSA plans for summer travel rush
With airports across the country only getting busier, TSA says it's stepping up its efforts and bringing in more TSA agents to help alleviate the long lines. In Miami, there are more than 150,000 travelers a day — that's up 17% from last month. More people are traveling, and the summer rush hasn't even started yet. (News Nation)
After reopening, Thailand's battered tourism struggles to rebuild
At Railay Beach, an Instagrammers' favourite known for its wide, warm sands bookended by limestone cliffs, 23-year-old Londoner Becca sips coffee and savours the return of Thai backpacking following a recent easing of entry requirements. "We saved our money, quit work and travelled here," she told Al Jazeera of her months-long trip with friends, which was impossible during the last two years lost to the pandemic. (AL Jazeera)
Jason Momoa apologizes after taking photos in the Sistine Chapel
"Aquaman" star Jason Momoa took to Instagram to apologize for taking photos in the Sistine Chapel – by posting a sweaty, shirtless workout video. Momoa, 42, is currently in Rome shooting "Fast X", the 10th installment in the "Fast & Furious" film saga. The actor posted snaps of himself below the famous Michelangelo paintings that adorn the walls and ceilings of the chapel on May 9. In the caption, he wrote, "I LOVE YOU ITALY what a beautiful start to our day off enjoying ROMA." (CNN)
Why the return of travel in Canada now feels up in the air
It is notable that this chaos is occurring despite lower-than-normal passenger figures. The late spring is generally a low point for both domestic and international travel, as it is sandwiched between the much busier March Break and summer travel seasons. Moreover, travel has yet to fully recover from the pandemic: Statistics Canada reports that international arrivals in March were at just three-quarters of prepandemic levels. The fact that airports cannot cope with even this number of travellers does not bode well for what should be a busy summer season ahead, especially as many Canadians prepare for their first flights in over two years. (The Globe and Mail)
Watch: Lyft driver kicks a woman out of his car after she asks him if he's 'a normal guy' who 'speaks English'
A viral video shows a Lyft driver kicking a woman out of his car for making racist remarks. The woman entered his car and asked him if he's a "normal guy," a "white guy" who speaks English. "Nah, you can get out of the car," driver James W. Bode told her. A Lyft driver on Friday kicked out a woman who entered his car and started making racist remarks, a video that went viral on social media shows. (Yahoo)
'It's not hard to stay home when you're sick': A hotel worker showcased a $20 tip they received disclosing a guest had COVID-19. Commenters told her to be grateful for the money
A debate has sparked on TikTok after a user revealed a tip they receive while working at a hotel. In the now-viral video, user Güera shows a $20 bill next to a note that she alleges she received at work. (msn.com)
12 new features you're going to start seeing in airports
Some airports have aquariums and movie theaters but most travelers don't require such audacious amenities. What frequent and first-time fliers alike could stand to see are new airport features that make the time spent in terminals more pleasant, and the hectic nature of travel less cumbersome. Here are a dozen new features you're going to start seeing more in airports. If you can, avoid flying through this airport that travelers consider the worst in America. (Readers Digest)
Is 'The Flight Attendant' accurate? Two real flight attendants weigh in
Two seasons in, and it's obvious that the show "The Flight Attendant" isn't really about flight attendants — despite the name. Inspired by a novel by Chris Bohjalian, the HBO Max show is about addiction and recovery; international intrigue; the CIA; self-sabotage; incredibly chic villains; among other things. Still, the show is steeped in the backdrop of protagonist Cassie Bowden's (Kaley Cuoco) work as a flight attendant. Even if she's not on planes much, she's frequently seen in her uniform. (TODAY)
Snapchat co-founder pays off college debt of new graduates at L.A. art and design school
Yaritza Velazquez-Medina took a chance on a major career turn when she decided to drop her work as a crisis counselor in 2018 to pursue her artistic passions. She enrolled at Otis College of Art and Design in Los Angeles to become a graphic designer — even though she wracked up about $70,000 in college debt to do so. (LA Times)
Advertisement
Chase Sapphire Preferred® Card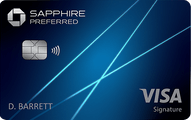 Earn 80,000 bonus points after you spend $4,000 on purchases in the first 3 months from account opening. That's $1,000 when you redeem through Chase Ultimate Rewards®.
Enjoy benefits such as a $50 annual Ultimate Rewards Hotel Credit, 5x on travel purchased through Chase Ultimate Rewards®, 3x on dining and 2x on all other travel purchases, plus more.
Get 25% more value when you redeem for airfare, hotels, car rentals and cruises through Chase Ultimate Rewards®. For example, 80,000 points are worth $1,000 toward travel.
With Pay Yourself Back℠, your points are worth 25% more during the current offer when you redeem them for statement credits against existing purchases in select, rotating categories
Count on Trip Cancellation/Interruption Insurance, Auto Rental Collision Damage Waiver, Lost Luggage Insurance and more.
The comments on this page are not provided, reviewed, or otherwise approved by the bank advertiser. It is not the bank advertiser's responsibility to ensure all posts and/or questions are answered.

Editorial Note: The editorial content on this page is not provided by any bank, credit card issuer, airlines or hotel chain, and has not been reviewed, approved or otherwise endorsed by any of these entities.