12 Things in Travel You Need to Know Today (This is a recurring post, updated daily with new information):
Sunday, August 7
Yesterday's TSA checkpoint numbers
TSA officers screened 2,169,631 people at airport checkpoints nationwide yesterday, August 6. A week ago on same day: 2,199,454. A year ago on the same day: 1,925,641. In 2019 (pre-pandemic): 1,925,641. (TSA)
Thousands stranded as 'China's Hawaii' locks down
More than 80,000 tourists have been left stranded in a popular resort in China after a coronavirus outbreak sparked a lockdown. Authorities cancelled all flights and trains from Sanya, known as "China's Hawaii", on Saturday, a day after 263 positive cases were confirmed. Travellers must now present five negative PCR tests over seven days before being allowed to leave. China is the only major economy to still follow a "zero Covid" policy. (BBC News)
The FAA wants to know what you think about the size of your airline seat
The Federal Aviation Administration wants to know how you think seat size affects flight safety. Some are using the survey to advocate for inclusive seating for all body types, Bloomberg reported. Interested members of the public have 90 days to make a submission. (Insider)
Britain braces for 10-day August scorcher as temperatures hit 82.4 today
Today will be 82.4F (28C) by 3pm as it continues to be very dry except in western Scotland which will be dry By Wednesday, it will be 87.8F (31C) and get increasingly hot as the week continues, reaching mid-90s (30Cs) It comes as Hampshire and Isle of Man has a hosepipe ban and Kent and Sussex face another ban from Friday.
(Daily Mail)
DFW Airport steps into the future of travel with new amenities
The terminal expansion also includes smart restrooms for all passengers and a new option for the littlest travelers. "Obviously this is where many parents travel with young kids," said Addie Gundry, founder and CEO of Pluie, the world's first and only self-sanitizing diaper changing table. "They're there a long time. It's not always the most relaxing, and they always need to change diapers." DFW is the first airport to install Pluie, which sanitizes the changing table in 60 seconds. "Every single time you close the table, Pluie's patented UV-C light system gets to work to eliminate harmful bacteria and viruses to protect children," Gundry said.  (CBS DFW)
A deep dive into Google's impact on travel 2022
Travel is roaring back. And with the return of business also comes with it an old set of challenges. "What's our Google strategy" is once again a key question that every travel executive needs to be asking. The online behemoth's impact is felt far and wide in the travel industry. Skift Research published a deep dive into Google's impact on the travel industry in February 2020. Just a few weeks later the world turned upside down as the true impact of the COVID-19 pandemic hit home. Now, over two years later, as the travel industry rebuilds, we revisit this critical topic. We identified five big open questions about the role of Google in travel that arose before and during the pandemic. (skift.com)
Startup international airline Northern Pacific will fly to Mexico instead of Japan and Korea due to Russian airspace restrictions
New US startup Northern Pacific Airways applied for permission to fly from California to Mexico this winter. CEO Rob McKinney told Insider the filing is a "blanket request" and did not reveal specific destinations. The carrier initially planned to fly to Japan and South Korea but closed Russian airspace is delaying its goal. (msn.com)
Cape Cod beach closes after Portuguese man o'war sightings
A Cape Cod beach closed Saturday afternoon after a "number" of Portuguese man o' wars washed ashore, officials say. The sightings happened at Harding's Beach in Chatham, according to a tweet from the town. The beach was closed to swimming until 4 p.m. The highly venemous ocean predator is sometimes mistaken for a species of jellyfish; however, the man o' war is a siphonophore. The species uses its feeding tentacles to sting and paralyze small fish, according to Oceana. (Boston 25 News)
A dad and his daughter came from Brooklyn to S.F. for Outside Lands. Then their rental car got broken into
After a flurry of last-minute ticket purchases, airline reservations and Airbnb bookings last week, Patrick Fondiller and his daughter, Ruby, were ready for their trip from Brooklyn, N.Y. to San Francisco.  (SF Chronicle)
California woman catches suspected great white shark's flying leap on camera
A California woman taking photos of whales off the coast of Pismo State Beach captured the moment a suspected great white shark made a flying leap into the air. Calli Brooks said she was at the beach for her son's junior lifeguard camp and was taking pictures of a nearby whale when the shark soared into her shot. (UPI)
1,000 days at sea: What it's like to make a cruise ship your home
When Nancy and Robert Houchens retired, they downsized, selling their house and most of their belongings. "We had a 3,000-square-foot home full of furniture … and everything we own now would fit in the back of a pickup truck," Robert, 64, told USA TODAY. (usatoday.com)
What do those airplane chime sounds mean? Flight attendant explains
A flight attendant revealed the secret meaning behind the strange airplane chime sounds you hear during a flight. The flight attendant, named Tommy Cimato (@tommycimato), shared the info in a now-viral TikTok clip. In his video, he explained the different beeping sounds you might hear during a flight and what each one means.  (In The Know)
Saturday, August 6
Yesterday's TSA checkpoint numbers
TSA officers screened 2,396,295 people at airport checkpoints nationwide yesterday, August 5. A week ago on same day: 2,363,800. A year ago on the same day: 2,109,091. In 2019 (pre-pandemic): 2,725,000. (TSA)
Airlines cancel more than 1,600 US flights Friday
Massive flight cancellations have spilled over into a second day after thunderstorms pounded major airports on the East Coast on Thursday. As of 9:30 p.m. ET Friday, flight tracking site FlightAware showed more than 1,500 flights in the United States had been canceled. Once again, New York's LaGuardia, Newark Liberty International and Reagan National Airport outside Washington were at the top for cancellations. (CNN)

Three people, including elderly couple, dead after lightning strike near White House
DC Police have confirmed three people have died after four people were struck by lightning Thursday evening near the White House. James Mueller, 76, and Donna Mueller, 75, of Janesville, Wisconsin, died of their injuries after the lightning strike in Lafayette Park, located directly outside the White House complex, the Metropolitan Police Department said. (fox5dc.com)
Jetblue launches Gatwick-Boston route
Jetblue has launched its service from London Gatwick to Boston, with plans to offer five daily flights between the US and the UK by October. The inaugural flight took off from Boston's Logan International airport on August 4 and landed at Gatwick early on August 5. The daily flight times are as follows: BOS-LGW departs 1837, arrives 0635 (the following day) LGW-BOS departs 1225, arrives 1513. (Business Traveller)
Flash flooding strands 1,000 people at Death Valley National Park
Heavy rainstorms on Friday dumped nearly a year's worth of rain over the Death Valley National Park, resulting in flash flooding that damaged dozens of cars, closed roads throughout the park and trapped roughly 1,000 visitors and staff, officials said. Nearly a year's worth of rain fell near the Furnace Creek area in Death Valley National Park on Friday. At the hottest place on earth, the normal rainfall is 1.90 inches per year, and the normal August rainfall is only .10 inches, according to AccuWeather Senior Meteorologist Bob Smerbeck.
(AccuWeather)
The Mirage hotel in Las Vegas was locked down and one person was found dead in a hotel room shooting: police
The Mirage in Las Vegas was put on lockdown after a shooting was reported in a hotel room. The Las Vegas police said one person has been found dead. Videos from the scene showed parts of the hotel on lockdown and officers moving through the premises. (Insider)
Disney World floods after Florida hit with severe thunderstorms, video shows
Walt Disney World parkgoers' magical experiences have reportedly been impacted by severe thunderstorms this week. Videos and pictures posted to social media showed what appeared to be water damage, lightning from the storms and flooding. In a TikTok shared with FOX Business by user DisneyWorldTom, the grounds of EPCOT by its Test Track attraction were virtually underwater.
(Fox Business)
Avelo Airlines announces $29 fares from Palm Springs Airport
If you are looking for a getaway from Palm Springs or the Inland Empire, consider taking off from Palm Springs International Airport. Starting this fall, Avelo Airlines arrives with three nonstop flights out of town, with $29 introductory fares, Avelo Air and Palm Springs International Airport reported Thursday. (Patch)
 
Carnival Cruise Ship staff rescued 24 people stranded
A Metairie man was on the Carnival Paradise heading to Mexico when he witnessed the staff rescuing a small boat of 24 people in distress on Sunday afternoon. The 21 men and three women, all from Cuba, were on a small boat traveling southwest of Cuba on Sunday afternoon. (wdsu.com)
Workers stranded on Celebrity Cruises ship can sue in court, panel rules
A U.S. appeals court on Friday said two former Celebrity Cruises Inc crewmembers who claim they were fired and then forced to remain on a ship for two months during the COVID-19 pandemic can pursue a lawsuit against the company in court rather than private arbitration. A unanimous three-judge panel of the 11th U.S. Circuit Court of Appeals said arbitration agreements the workers had signed only covered claims stemming from their employment and not the plaintiffs' claims of intentional wrongdoing that arose after they were fired. (Reuters)
British holidaymakers warned after Spain passes strict air conditioning rules
British holidaymakers will "roast" because of "nonsensical" new Spanish energy-saving measures, a Costa del Sol tourist chief has claimed. Shops, bars and restaurants, supermarkets and airports in one of the UK's favourite foreign holiday destination are being banned from setting their cooling systems below 27C (80.6 degrees Fahrenheit) in the summer – and told they can't raise their heating above 19C (66.2 degrees Fahrenheit) in the winter. (Evening Standard)
Norwegian cruise ship runs aground; no passengers on board
Norwegian cruise ship operator Hurtigruten says one of its ships has run aground in a fjord off the Nordic country's west coast. Hurtigruten said the MS Richard With cruise ship was not in ordinary service and there were no passengers on board when the incident happened Friday near the mouth of the Sogne Fjord, Norway's longest and deepest fjord. "No one was injured in the incident and there is no danger to the crew on board," the company said in a statement. (AP)
Friday, August 5
Yesterday's TSA checkpoint numbers
TSA officers screened 2,345,429 people at airport checkpoints nationwide yesterday, August 4. A week ago on same day: 2,392,009. A year ago on the same day: 2,063,720. In 2019 (pre-pandemic): 2,707,986. (TSA)
U.S. Airlines Added Nearly 7,000 Staff in July
The U.S. air transportation sector added 6,800 jobs in July as the airline industry continues to staff up from Covid-19 pandemic lows. The sector employed 567,900 people at the end of July, up from 561,100 at the end of June, according to new data from the U.S. Bureau of Labor Statistics released Friday. Air transportation companies, which includes airlines as well as other companies, now have 8 percent more staff than they did in July 2019, before the pandemic hit. (Skift)

Coral levels in areas of the Great Barrier Reef reach a 36-year peak
The amount of coral in some areas of the Great Barrier Reef is at its highest in 36 years, according to a new report from the Australian Institute of Marine Science. From August 2021 to May 2022, the central and northern regions of the Great Barrier Reef had hard coral cover levels of 33% and 36%, respectively. Coral cover decreased by 4% in the southern region, due to an outbreak of crown-of-thorns starfish. (NPR)
American Airlines to cancel hundreds of flights out of Philadelphia in the coming months
American Airlines is the latest carrier to announce cuts to its schedule – primarily from its Philadelphia hub – even as demand for flights continues to soar. American, like many other airlines, downsized earlier in the pandemic and are now struggling to keep their operations running smoothly. "American has taken steps to size our airline for the resources we have available and to build additional buffer into the remainder of our summer schedule. Last month, American took proactive steps to add resiliency into our schedule by reducing overall September system capacity by approximately 2%," said a statement from the company. "These adjustments were made in markets with multiple frequencies—with the goal of moving customers to different flights."
(USA Today)
International airlines launch battle plans to deal with summer of travel chaos
Airlines made plans to mitigate summer travel chaos, including schedule changes and cancellations. Emirates and Ryanair are running operations as usual. KLM and easyJet made changes to their schedules. (CNBC)
DFW Airport steps into the future of travel with new amenities
DFW Airport's latest terminal expansion features amenities not yet available at any other airport in the country in the hopes of making your next trip easier and safer. Four newly reconstructed gates at Terminal C offer a glimpse into the future at DFW Airport. "Place an order for any restaurant in the airport and have it delivered to you at the gate, and if you're lucky, you may see a robot deliver it to you," said Kenneth Buchanan, Executive Vice President of Revenue Management & Customer Experience at DFW Airport. (CBS News)

Canadian pilot detained in Dominican Republic for 120 days says he's living in hell, fears he won't make home alive
The Canadian captain of a Pivot Airlines crew detained in the Dominican Republic for 120 days says "every day is hell" with no end in sight and says his life is "on the line." "Without exaggerating at all, I can truly say it's been hell," pilot Robert Di Venanzo told CTV News Toronto over the phone on Thursday. "We have no idea when we are going to come home at all." On April 5, Di Venanzo and his crew found more than 200 kilograms of cocaine onboard an aircraft he was scheduled to fly to Toronto. While grounded at the Punta Cana airport, they reported the narcotics, according Pivot Airlines. (CTV)

Pushing pilot retirement age will cause even more chaos at the airlines: Commercial pilot
Commercial pilot Robert Mark provides a unique perspective on the latest bill to combat pilot shortages, which would move the retirement age from 65 to 67, on 'America Reports.' (FOX News)
Long-awaited passenger service takes flight at San Bernardino airport
The first scheduled passenger flights landed at and departed from San Bernardino International Airport Thursday, Aug. 4, a landmark moment for the former Norton Air Force Base. Arriving travelers on Flight 603 out of San Francisco touched down shortly before noon and received a hero's welcome inside the Leland Norton Terminal. All guests received a goodie bag with various airplane trinkets, as well as cake and cookies. (msn.com)
Lufthansa sees return to full-year profit as travel picks up
Germany's Lufthansa (LHAG.DE) said on Thursday it expected demand for short-haul flights in Europe to drive growth at its passenger airlines this year, forecasting a return to group operating profit for the full year, pushing its shares higher. Travellers have returned to the skies following COVID-19 pandemic-related travel restrictions in 2020 and 2021, helping airlines, such as Lufthansa, Air France-KLM (AIRF.PA) and British Airways-owner IAG to return to profit this summer. (Reuters)
Russian pilots to stop using BRAKES so much as country faces a shortage of parts due to sanctions
Russian airline pilots have been told to go easy on their aircrafts' brakes to save them from wear and tear amid a shortage of spare parts due to Western sanctions. Internal memos from four Russian airlines have given the instructions as officials fear that the existing fleet of Western-made jets will only last about five years before being depleted. Russian airlines are desperately scrabbling for alternative plans to manage their aircraft, overwhelmingly manufactured by Toulouse-based Airbus and Virginia-based Boeing, before commercial air travel in Russia effectively comes to a halt. (Daily Mail) 
A passenger says he spotted his lost luggage dumped in the trash in a picture shared online
A passenger believes he saw his lost luggage dumped in the trash at Dublin airport, per ITV news. Fergus Mulligan said he saw his green suitcase in pictures shared with UTV last month. Ground handlers at Dublin airport have faced increased scrutiny since the incident. (Business Insider) 
Thursday, August 4
Yesterday's TSA checkpoint numbers
TSA officers screened 2,105,975 people at airport checkpoints nationwide yesterday, August 3. A week ago on same day: 2,205,506. A year ago on the same day: 1,855,299. In 2019 (pre-pandemic): 2,430,094. (TSA)
Are you entitled to an airfare refund? DOT seeks to clarify rules
The Department of Transportation is seeking public comments on when airlines should be required to give passengers refunds. In an advanced notice of proposed rulemaking released Wednesday, the DOT said the proposed policy would offer travelers added protection if their flights are canceled or significantly delayed. "Since early 2020, the Department has received a flood of air travel service complaints from consumers with nonrefundable tickets who did not travel because airlines canceled or significantly changed their flights or because the consumers decided not to fly for pandemic-related reasons such as health concerns," said a statement announcing the public comment period. (USA Today)
BA long-haul flights could also be suspended
After British Airways extended the stop on short-haul ticket sales, longer flights could be next on the chopping block. Sales for transatlantic flights such as to New York and other long-haul routes may also be suspended. The short-haul ticket sale pause was extended until at least 15 August. This is because Heathrow imposed a cap of 100,000 passengers per day at the airport. (travelmole.com)
Portugal: Strikes looming with walkouts threatened at ten airports in August
Travellers to Portugal could face chaos and cancellations as workers at ten of the country's airports threaten to strike. Civil aviation workers from two Portuguese unions plan to walk out from August 19 to August 21. If it goes ahead, the disruption will impact all airports controlled by ANA – the country's largest conglomerate operator – including Lisbon, Porto, and Faro. (Euro News)
911 call: Co-pilot 'jumped' from plane before emergency landing in North Carolina
A 911 call released Tuesday afternoon by the City of Raleigh provides new insight into the emergency landing at Raleigh-Durham International Airport on Friday in which a man was found dead after exiting the plane mid-flight, KTLA sister station WNCN reports. The call, which came in at 2:34 p.m. Friday, was made by an unnamed staff member of the FAA air traffic control tower at RDU. (KTLA)
Caribbean beaches are struggling with record amounts of seaweed
A record amount of seaweed is smothering Caribbean coasts from Puerto Rico to Barbados as tons of brown algae kill wildlife, choke the tourism industry and release toxic gases. More than 24 million tons of sargassum blanketed the Atlantic in June, up from 18.8 million tons in May, according to a monthly report published by the University of South Florida's Optical Oceanography Lab that noted "a new historical record."  (usatoday.com)
The first domino?: Germany to re-introduce COVID measures
In perhaps a sign of things to come elsewhere, Germany's government has presented its plans for new coronavirus measures for the coming fall and winter as it expects virus cases to go up again during the colder season. Wearing masks on planes and during long-distance travel by train and bus will be mandatory from October to early April all over Germany. Mandatory mask-wearing and the presentation of a negative coronavirus test will apply to hospitals, nursing homes and similar institutions with vulnerable people.
(Travel Industry Today)
Double Hawaiian miles for neighbor island flights: Hawaiian Air
Hawaiian Airlines announced on Wednesday that it will double traveler's Hawaiian miles on every neighbor island flight until the end of the year. The airline said making a trip to see friends and relatives on the outer islands is now "even more rewarding." (khon2.com)
Booking slumps in another sign of moderating growth in travel
Booking Holdings Inc. shares slumped after the company indicated that the pace of growth is moderating globally, putting a damper on the market's expectations for a strong summer travel season. (Bloomberg)
Airline fuel hedges set to save billions for some with $100 oil
Airlines with oil hedges are set to save billions of dollars on their fuel bills this year, the first such gains since the industry was ravaged by the coronavirus pandemic. Both Southwest Airlines Co. and Air France-KLM said they stand to gain about $1 billion each from their hedging policies, a benefit that will at least partially cushion the companies against higher oil prices. British Airways parent IAG SA said its fuel hedging program was worth about 1.2 billion euros ($1.2 billion). Meanwhile, its fuel bill was up 45% from a year ago compared with a 150% increase in jet fuel prices. (Bloomberg)
Only 4 California counties have low COVID levels, according to the CDC
This variant of COVID-19 is so widespread, and reinfections are growing so common, it can feel like nowhere is safe. There are at least a few pockets of California that are safer, according to data from the Centers for Disease Control and Prevention. (KRON)
Agua from Aquaman: Here's why Jason Momoa was passing out water at 36,000 feet
Agua from Aquaman? Lucky passengers on a Hawaiian Airlines flight got just that ― as actor Jason Momoa took on a new role as flight attendant while handing out bottles of his sustainable water Mananalu. A viral TikTok video captured the action. Wearing a fitted blazer, hair slicked in a bun and adorned with a flower tucked over his ear, Momoa would've almost blended with the rest of the flight crew if it weren't for his very famous face.
(hawaiinewsnow.com)
Wednesday, August 3
Yesterday's TSA checkpoint numbers
TSA officers screened 2,044,931 people at airport checkpoints nationwide yesterday, August 2. A week ago on same day: 2,115,890. A year ago on the same day: 1,797,120. In 2019 (pre-pandemic): 2,387,115. (TSA)
With domestic fares down 25% since spring, now's the time to book flights for fall trips
Travel app Hopper's latest quarterly study says domestic airfares booked now for fall travel are 25% cheaper than they were in the spring. The average fare could drop as low as $289 roundtrip before rebounding in October and November. Good deals can be had from most major U.S. air hubs if booked by early September.  (CNBC)
Airbus axes remaining A350 jet deal with Qatar
Airbus  has revoked its entire outstanding order from Qatar Airways for A350 jets, severing all new jetliner business with the Gulf carrier in a dramatic new twist to a dispute clouding World Cup preparations, two industry sources said. No comment was immediately available from Airbus or Qatar Airways. The two aviation titans have been waging a rare public battle for months over the scarred condition of more than 20 long-haul jets that the airline says could pose a risk to passengers and which Airbus insists are completely safe. (Reuters)
COVID risk on planes was 1 in 1,000 on a 2-hour flight at the beginning of the pandemic — and is probably higher now, research suggests
MIT researcher Dr. Arnold Barnett said infection risk on planes is likely higher now than earlier in the pandemic. The BA.5 variant's contagiousness and immunity evasion offers even more risk when traveling. Although there is no longer a federal mask mandate on planes, experts say wearing one can offer protection. (Insider)
'Unsustainable and shambolic': Flight attendants speak out on summer travel chaos
British flight attendant Kris Major has worked in aviation for over two decades. He's seen the industry suffer and recover in the wake of 9/11, SARS and foot and mouth disease. Now, Major's on the front line of what he reckons is the worst aviation crisis yet: the 2022 summer of travel chaos. Major, who serves as chair of the European Transport Workers Federation's Joint Aircrew Committee, representing European flight attendants and pilots, says flight crew are struggling. "It's completely unsustainable as a job." (CNN Travel)
LAX unveils first Automated People Mover train car
The system, which is set to open in 2023, is meant to reduce congestion around Los Angeles International Airport while also connecting folks to the country's fifth-busiest travel hub via regional public transportation, including LA Metro. (Daily Breeze)
U.S. asks Argentina to seize mysterious Venezuelan plane linked to Iran
The plane, according to the Justice Department, was transferred from Iranian airline Mahan Air – which officials have alleged provides support for Iran's Islamic Revolutionary Guard Corps-Quds Force – to Emtrasur, a subsidiary of Venezuela's state-owned Consorcio Venezolano de Industrias Aeronáuticas y Servicios Aéreos, or CONVIASA. CONVIASA is under U.S. sanctions.
(CBS News)
SPAR19 becomes the most tracked flight of all time
From the time it lifted off from Kuala Lumpur at 15:42 local time, SPAR19 was already the most tracked flight on Flightradar24 among active flights. By the time it landed in Taipei, SPAR19 was being tracked by more than 708,000 people around the world, making it the most tracked live flight in Flightradar24 history. Over the seven hours from Kuala Lumpur to Taipei, a total of 2.92 million people followed at least a portion of the flight.
(Flightradar24 Blog)
Why Pelosi's flight to Taiwan took a three-hour detour
Her flight took a curve around Borneo and the Philippines instead of taking the relatively direct path between Kuala Lumpur, Malaysia, and Taipei, Taiwan, experts tracking the U.S. Air Force plane believed to have transported Pelosi and her congressional delegation told the Wall Street Journal. (Washington Examiner)
Florida coast braces for NASA's Artemis I moon launch, expecting at least 100,000 visitors
Sold-out hotels. Excitement that seems to grow by the day. The potential for hundreds of thousands of visitors, support staff and more. These are just a few of the factors being calculated into preparations for Artemis I, the first launch of NASA's moon-focused Space Launch System rocket slated for Aug. 29. Standing 322 feet tall, it promises to be the biggest, most powerful rocket to launch from Florida's Space Coast in years – bringing with it a level of excitement to match. (USA Today) 

Marriott, Hilton posting near-record hotel numbers
Two major hotel groups are reporting surging numbers, further proof that the travel recovery is very real. Ongoing strength in leisure travel and an acceleration in the recovery of group demand pushed Marriott International's second-quarter performance to or above 2019 levels. Hilton also is reporting much stronger numbers than expected.   (jimbyerstravel.com)
Jessica Nabongo's new book highlights her travels to every country on earth
Travel influencer Jessica Nabongo is the first Black woman to visit every country on this planet … and her new book shows off some of the most exciting parts of her years-long journey! We talked to the author on "TMZ Live," and she concedes some places were more welcoming than others … she's been to more than 190 countries during her journey — needless to say, she's got her favorites — and some to which she won't return.
(tmz.com)
Tuesday, August 2
Yesterday's TSA checkpoint numbers
TSA officers screened 2,358,196 people at airport checkpoints nationwide yesterday, August 1. A week ago on same day: 2,360,672. A year ago on the same day: 2,031,758. In 2019 (pre-pandemic): 2,619,406. (TSA)
Airline refunds could get a lot easier with new bill
Since the start of this year, 88,161 flights have been canceled by major American airlines, far more than any recent year except 2020, when the coronavirus ended most recreational and business travel. Fliers eager to see family, friends and colleagues for the first time in two years have found themselves stranded at airports, as pilot shortages, new pandemic waves and extreme weather led to record cancellations. (Yahoo)
BA halts sales of short-haul tickets from Heathrow
British Airways has halted sales of tickets on short-haul flights from Heathrow Airport for a week as disruption to air travel continues. The move is due to the cap on daily passenger numbers that the UK's largest airport has imposed over the summer. Heathrow is limiting the number of passengers who can depart each day to 100,000 until early September. The sales suspension will affect BA's domestic and European flights, as well as services to Cairo and Morocco.  (BBC News)
Airbnb removes former 'slave quarters' from listings after TikTok post
Airbnb on Monday removed listings of properties that once housed enslaved people in the U.S. days after a TikTok user lambasted a "slave cabin" listing in Mississippi that was advertised as a bed-and-breakfast accommodation. Wynton Yates, a Black lawyer from New Orleans, criticized the San Francisco-based company last week and posted screen grabs of the listing promoted as "The Panther Burn Cottage at Belmont Plantation" in Greenville, Mississippi. According to the screenshot, the structure was described as an "1830s slave cabin" that was also used as a "tenant sharecroppers cabin" and a "medical office for local farmers and their families."
(usatoday.com)
Hopper predicts drop in budget roundtrip domestic airfares
Budget roundtrip domestic airfares will drop to $286 this month, 25% below this year's peak in May, according to a Hopper projection. The dip, which will bring prices in line with 2019, goes beyond the usual seasonal drop-off in August, which is 10% to 15%. It reflects diminished pent-up travel demand following a summer when many people took a substantial vacation for the first time since the onset of the Covid-19 pandemic, according to the analysis by Hopper economist Hayley Berg. In addition, demand peaked earlier than normal this summer. (Travel Weekly)
Passenger fined $1,874 after two undeclared McMuffins found in luggage
A passenger traveling from Bali, Indonesia to Australia has found themselves paying a hefty price for a McDonald's breakfast. The unnamed traveler was handed a fine of 2,664 Australian dollars ($1,874) after two undeclared egg and beef sausage McMuffins and a ham croissant were found in their luggage on arriving at Darwin Airport in the country's Northern Territory last week. The incident came about days after Australian authorities brought in tough new biosecurity rules after a Foot and Mouth disease (FMD) outbreak in Indonesia spread to Bali, a popular destination for Australian tourists. (CNN Travel)
Southwest's first mother/daughter pilot duo takes flight
Since our inception, Southwest Airlines has had a passion for putting People first. From our revolutionary beginning, through unparalleled growth and great success, we've always focused on People. We're committed to providing our Southwest Family a work environment where they can be themselves and be recognized for the unique perspectives they each bring forward. (SWA)
When you have covid, here's how you know you are no longer contagious
Even though a person is less likely to transmit the virus later in the course of illness, it's still possible. Research shows that people continue to shed virus that can be cultured in a laboratory — a good test of the potential to pass along the virus — for about eight days on average after testing positive. Experts say it is very unlikely to pass along the virus after 10 days even if a person still is testing positive. (Washington Post)
Delta bolsters direct offerings to international mainstays Cape Town, Tel Aviv and Tahiti
Delta customers ready to travel the globe will soon have more destinations to add to their bucket lists with the launch of two never-before-operated, nonstop routes from Atlanta to Cape Town and Los Angeles to Tahiti, both beginning Dec. 17. The airline will also add nonstop service from Atlanta to Tel Aviv beginning next May.  (Delta News Hub)
A day in the life of a travel agent during the summer of chaos
This summer of disruptions, delays and disorder has left travel agents frantically trying to serve their clients. Nothing tells that story quite like a a typical day on the front lines for agent Dannielle Jasper.   (skift.com)
I'm a veteran ER doctor. I can't believe what I'm seeing.
It's not unusual to come into a shift these days and see that you're down one third of your usual staffing complement. That means you can't staff the beds that you have, and you see more and more patients in fewer spaces. When a wave happens, like right now, it starts knocking people out for sickness. They're off for seven to 10 days with symptoms. And then you cross your fingers wondering who's going to get long-term symptoms after that.  (Macleans.ca)
What happened to the Iron Maiden Boeing 747?
Did you know that the band Iron Maiden had its own Boeing 747 for a 2016 world tour? But where did this aircraft come from, and where did it go? Let's explore the special jumbo aptly named 'Ed Force One'.
(SimplyFlying)
Monday, August 1
Yesterday's TSA checkpoint numbers
TSA officers screened 2,467,162 people at airport checkpoints nationwide yesterday, July 31. A week ago on same day: 2,247,129. A year ago on the same day: 2,238,462. In 2019 (pre-pandemic): 2,238,462. (TSA)
New Zealand fully reopens borders to international visitors
New Zealand's borders fully reopened Monday, but the return of international visitors and students is only expected to start with a trickle following the lifting of COVID-based travel restrictions. New Zealand reported 52,538 cases of the coronavirus over the last seven days, yet is ready to welcome back visitors. The final phase of its borders reopening began at midnight local time Sunday with the maritime border and with all overseas visitors allowed to submit visa applications.  (CBS News)
Airport passengers crawl through baggage conveyor belts
Fed-up travellers trying to get air-side to retrieve bags at Manchester 'happens all the time', reporter is told. And a whistle-blower claims pilots with Wizz Air feel pressured to fly longer hours while suffering fatigue. 1.7million people flying out of or into UK have been impacted by cancellations within 48 hours of their flight. (Daily Mail Online)
Scammers are flooding restaurants with one-star reviews to extort money from owners
To customers and business owners alike, good reviews are of paramount importance. In fact, according to research by business consulting company Invesp, 88% of customers trust online reviews as much as they would trust a friend's recommendation, so for most people looking to try a new place on their lunch break or find the perfect date spot, the internet acts as a buddy most of us trust. That's why a new scam hitting the ratings pages of restaurants across the country is causing deep concern. (Today Show)
Delta damaged a 12-year-old's mobility scooter, leaving her housebound for days
Delta damaged a 12-year-old's mobility scooter on a flight from Atlanta to New York on Monday. The girl, who has a broken ankle, has been housebound since and finds it difficult to move. Her mother Shaquanna Cross told Insider Delta's treatment was "unacceptable." (Business Insider)
Taylor Swift ranks worst in celeb carbon emissions due to private plane use. The Internet has jokes.
In the song "Last Kiss" off of her 2010 album Speak Now, Taylor Swift sings "I ran off the plane, that July 9th." Nowadays, Swift likely finds herself running off the plane every other day of the year as well. A recent study by the sustainability marketing agency Yard looked into the usage of private planes by celebrities in order to track carbon emissions and find out the worst celeb contributors to climate change. (Mashable)
Bring your own toilet paper to Oahu public bathrooms
The Honolulu Department of Parks and Recreation is currently experiencing a shortage of their industrial toilet paper you'd commonly find in City park bathrooms. They are blaming supply chain issues that are causing an increase in production costs and reduced raw materials. (khon2.com)
Japan is open to travel. So why aren't tourists coming back?
Summer 2022 has been dominated by stories about travel mishaps, overcrowding at major destinations and airports and life-threatening heat waves in Europe. Yet in Asia, where many countries are reopening in a more gradual fashion — with fewer flight cancellations or horror stories about lost luggage — tourists have been slow to come back. (CNN Travel)
Air Canada revoked a worker's flying privileges after her daughter complained about poor service
Air Canada revoked an employee's flying privileges after her daughter complained. The woman was upset that her mother was being punished for an issue between her and Air Canada. The airline said the employee broke its code by allowing a family member to file a grievance. (yahoo.com)
Las Vegas records month's worth of rain in less than 2 hours as storms drench Southwest
After potent thunderstorms rolled through Las Vegas on Thursday night, portions of the iconic Las Vegas Strip were left under water as floodwaters poured into area casinos. AccuWeather forecasters say the same pattern that allowed storms with torrential rainfall and strong winds to buffet Las Vegas will persist across much of the Southwest. (AccuWeather)
Travel chaos, flight fees, and labor shortages could get even worse in October when airlines can start buying their own stocks again
Travel chaos has abounded this summer, as passengers deal with delays, cancellations, and lost luggage. Sara Nelson, international president of the Association of Flight Attendants, warns that could get even worse. In the fall, airlines can start buying their own stocks again — potentially leading to higher fees and fewer staff. (Business Insider)
Families are leading a new wave for Black travelers
ASK ANY PARENT and they'll confirm: Taking your kids traveling is an act of bravery. With favorite snacks and a small mountain of wipes at the ready, parents pack up strollers, ignore the chorus of "Are we there yet?" and set out to show their kids the world. They do it for the same reasons they demand kids eat their vegetables or finish their homework—they believe it's good for them. (nationalgeographic.com)
Advertisement
Chase Sapphire Preferred® Card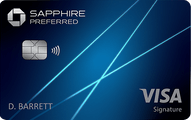 Earn 60,000 bonus points after you spend $4,000 on purchases in the first 3 months from account opening. That's $750 when you redeem through Chase Ultimate Rewards®.
Enjoy benefits such as a $50 annual Ultimate Rewards Hotel Credit, 5x on travel purchased through Chase Ultimate Rewards®, 3x on dining and 2x on all other travel purchases, plus more.
Get 25% more value when you redeem for airfare, hotels, car rentals and cruises through Chase Ultimate Rewards®. For example, 60,000 points are worth $750 toward travel.
With Pay Yourself Back℠, your points are worth 25% more during the current offer when you redeem them for statement credits against existing purchases in select, rotating categories
Count on Trip Cancellation/Interruption Insurance, Auto Rental Collision Damage Waiver, Lost Luggage Insurance and more.
Get complimentary access to DashPass which unlocks $0 delivery fees and lower service fees for a minimum of one year when you activate by December 31, 2024.
The comments on this page are not provided, reviewed, or otherwise approved by the bank advertiser. It is not the bank advertiser's responsibility to ensure all posts and/or questions are answered.

Editorial Note: The editorial content on this page is not provided by any bank, credit card issuer, airlines or hotel chain, and has not been reviewed, approved or otherwise endorsed by any of these entities.