12 Things in Travel You Need to Know Today:
Sunday, March 7

TSA Checkpoint Numbers
TSA officers screened 991,547 yesterday (March 6). FYI: The TSA now shows the past throughput numbers of the last two years. A year ago today there were 2,198,517 people screened and in 2019 there were 2,543,689. (TSA)
Why You Should Change The Passwords On Your Frequent Flier Accounts Today
Atlanta-based SITA confirmed on Thursday that cyber hackers had caused "a data security incident involving certain passenger data" stored on its servers, according to a statement. It appears that hackers were able to access some computer systems for up to a month before SITA became aware of the incident in late February. At this point, at least 10 airlines have sent notification emails to frequent flier members notifying them that some personal data has been compromised. In an email to frequent fliers, United Airlines recommended that customers should change their account passwords "out of an abundance of caution" but that the only customer data potentially accessed were names, frequent-flyer numbers and program status. (Forbes)

Hawaii relaxes restrictions for travelers to the county of Kauai
The Hawaiian island of Kauai will reduce restrictions that make it harder for tourists to visit. The state's governor greenlighted a request from Kauai's Mayor for the island to once again participate in a "Safe Travels'' program that allows visitors to forgo a required quarantine period if they have a single negative COVID-19 test. The new guidelines would take place as of April 5. Kauai has required tourists who test negative for COVID-19 to stay for three days on a different island then test again before going to Kauai. Or they must spend three days at an isolated location on the island and take another COVID-19 test before they can venture out. (USA Today)
Royal Caribbean's newest ship stuck in port after workers catch COVID-19
Two workers on Royal Caribbean International's newest cruise ship, Odyssey of the Seas, have tested positive for coronavirus, forcing the ship to remain docked at Bremerhaven, Germany, according to German media. The ship was getting ready for planned sea trials, but will now have to remain docked with its estimated 500 crew and workers forced to stay on board. (Jerusalem Post)
Germany hopes for opening-up by late May
German Chancellor Angela Merkel's chief of staff said Saturday that he was "very skeptical" about prospects of people travelling at Easter but expected the coronavirus situation in the country to improve by the end of May. Helge Braun told the Funke newspaper group in an interview published Saturday that he is "very sceptical as far as travel at Easter is concerned." Easter falls on the first weekend in April this year. (Euronews)
Hiker falls to his death at Zion National Park in Utah
A 43-year-old man fell to his death while hiking at Zion National Park in southern Utah, officials said. Jason Hartwell, of Draper, Utah, was found at the base of the Angels Landing summit Friday morning, the National Park Service said in a statement. (ABC News)
Thailand Plans to Ease Quarantine Rules for Tourists, Post Says
A proposal to allow foreign visitors to leave their hotel rooms after the first three days of their mandatory 14-day quarantine period will be submitted to the Centre for Covid-19 Situation Administration (CCSA). If approved, visitors next month would only be required to spend three days in their hotel rooms. Visitors could leave their rooms after three days but they must not leave their hotel for 11 more days. (Bangkok Post)
Fauci Says CDC Guidance on What to Do Once You're Vaccinated Coming 'Within Days'
"I'm sure that this is going to be contained in the CDC guidelines, at least, if you have two people in a family unit in a home or friends who are vaccinated…you can pull back on some of the public health guidelines like you don't have to wear a mask…and you don't have to worry about physical distancing," Fauci, the director of the National Institute of Allergy and Infectious Diseases, said on MSNBC's The Cross Connection With Tiffany Cross Saturday morning. (Newsweek)
To Stay or Go? Even With Vaccines, Travel Planning Remains Complicated
Vaccine rollouts are bringing hope to travelers antsy to explore, as are scattered liftings of pandemic lockdowns nationally and around the world. But travel planning remains far from simple. Vaccine supply remains limited almost everywhere, distribution is confusing and questions remain regarding their efficacy in preventing transmission. Family members and friends may have different timelines for receiving a vaccine. On top of all that, news about the spread of variants is worrisome, and international travel remains head-scratchingly confusing with restrictions and testing requirements. (NY Times)
Air France flight made emergency landing in Bulgaria over disruptive passenger
The passenger, an Indian citizen, began to act up soon after take-off, quarrelling with other passengers, assaulting a flight attendant and pummeling the cockpit's door, said Ivailo Angelov, an official at the National Investigation Agency. His aggressive behaviour prompted the flight's commander to seek an emergency landing in Sofia. The man, whose name was not revealed, was taken off the aircraft and has been charged with endangering flight safety. If convicted, he faces up to 10 years in prison. (Reuters)
 
Saturday, March 6

TSA Checkpoint Numbers
TSA officers screened 1,167,551 yesterday (March 5). (TSA)
California to let Major League Baseball, Disneyland reopen
Major League Baseball teams in California can welcome a limited number of fans back to ballparks on April 1 under new state rules announced Friday that will also let Disneyland and other theme parks reopen for the first time in more than a year. The changes allow people to attend other outdoor sporting events and live performances in limited numbers that go into effect on baseball's opening day, when the San Diego Padres, Los Angeles Angels and Oakland A's all have home games. The A's confirmed they will have fans in the stands. Disneyland officials did not say when the park would reopen. But when it does, only people who live in California can buy tickets. The same goes for MLB games and outdoor performances, as public health officials try to limit mixing while continuing to roll out coronavirus vaccinations. (AP)
Porter Airlines Picks a New Start Date
Porter Airlines is deferring its resumption of flights until May 19 due to ongoing COVID-19 travel restrictions. (Porter)
Greenpeace stunt as aircraft painted green in protest over France's climate crisis response
Environmental activists from Greenpeace have protested at Paris' Charles de Gaulle airport by painting an Air France plane. Members of the organisation demonstrated on the tarmac to "denounce the government's greenwashing on air transport". Nine activists, dressed in yellow and white, climbed the outer fence of the airport on Friday morning and applied green paint to a Boeing 777 Air France aircraft parked on the tarmac. There were no passengers on board at the time. (Euronews)
Airlines are changing their flight destinations after the devastating shock of Covid
"European carriers will pivot to leisure travel," Adrian Yanoshik, an equity analyst at Berenberg, told CNBC. Budget airlines such as Ryanair and easyJet have always lured costumers to take breaks in sunny European destinations, such as Greece, Spain and Italy. However, more airlines could do the same, such as Lufthansa and British Airways, which have traditionally catered to those traveling for work purposes. (CNBC)
Bob Ross Narrates Banksy as He Paints a Powerful Piece Showing Oscar Wilde Escaping a British Prison
Street artist Banksy essentially mashed together a rather profound audio clip of the late greatly missed art instructor Bob Ross with a behind-the-scenes look as he created a powerful statement piece on the outside wall of a decommissioned British prison in Reading, England. (Laughing Squid)
CDC creating new guidelines for people who are fully vaccinated
About 28 million Americans are fully vaccinated, but experts urge them to continue wearing masks until more people receive the vaccine. Mobile vaccination units are traveling to underserved communities to ensure they have access to the shot. (NBC News)
Small cruise operators are still planning to sail Alaska waters in 2021
The fate of the 2021 Alaska tourism season is still very much an unknown for the large international cruise lines that operate vessels with thousands of passengers, but small-vessel operators are prep…..  (Anchorage Daily News)
How to Use Airline Miles on Things You Need for Your Family
"Legendary for his globetrotting lifestyle and know-how, Johnny Jet racks up more than 100,000 flight miles annually in a typical year without blinking. Suffice it to say he has miles to burn. And what is he choosing to do with his reward miles while grounded by a global pandemic? Unfortunately, it's not merchandise or household purchases." (Parents Magazine)
Frequent Fliers Itch to Take Off a Year After Being Grounded
For a frequent traveler, it's an almost unimaginable milestone: a full year with no flights. Many have recently passed or are approaching the first anniversary of their pandemic grounding. Some haven't been homebound this long in decades. One year without trips has changed relationships, improved diets, allowed more exercise and prompted rethinking of whether the peripatetic lifestyle—for business, pleasure or both—is worth restarting as the risk of infection decreases. Some frequent travelers worry that all the skills and strategies they've learned will be lost to inactivity, and they'll return to travel with the dreaded lowest confidence level of all: newbie. (WSJ)
10 activities that expose you to coronavirus, from most to least risky
The below activities are ranked in order from highest to lowest risk of the chance you could become infected or infect someone else with the virus. These activities are based on Centers for Disease Control and Prevention guidelines, as well as expert insight from infectious disease expert and MD Dr. Sandra Kesh. It's best to do as few medium- to high-risk activities as possible. The less frequently you expose yourself to risky situations, the less likely you are to contract the virus. (CNET)
Teenager who died after box jellyfish sting in Queensland, Australia
A teenager who died a week after being stung by a jellyfish off the Cape York Peninsula, in Queensland's most northern tip, has been identified. Tommy Johnson, 17, was stung by a box jellyfish while swimming at Patterson Point on February 22. (7 News)
Once the Stuff of Sci-Fi, Holograms Are Now a Reality
-Once the stuff of science-fiction, holograms are becoming a reality as companies race to meet the exploding demand for connectivity amid the pandemic
-Earlier this year, ARHT Media, a Toronto-based company, launched the HoloPod, a 3D display system that can beam people anywhere in the world without ever getting on a plane
-The image is created in front of a regular green screen, then projected onto a highly reflective mesh, and a dark background and colored lights give the appearance of a 3D image in real-time
-An event using the HoloPod can cost upwards of $20,000 (Spectrum News 1)
Walker 'stunned' to see ship hovering high above sea off Cornwall
The effect is an example of an optical illusion known as a superior mirage. Such illusions are reasonably common in the Arctic but can also happen in UK winters when the atmospheric conditions are right, though they are very rare. (The Guardian)
Friday, March 5

TSA Checkpoint Numbers
TSA officers screened 1,106,265 yesterday (March 4). (TSA)
Vacation in orbit: 1st space hotel slated to open in 2027
Construction set to begin in 2025 for ring-shaped space station that will rotate to generate artificial gravity; no info yet on cost of project or expected prices (Times of Israel)
"About as big as it gets": South Pacific quake triggered tsunami warnings
One of the strongest earthquakes to hit the South Pacific in modern history triggered tsunami warnings across the ocean and forced thousands of people in New Zealand to evacuate coastal areas on Friday. Small tsunami waves were seen, but little damage was apparent hours later. The magnitude 8.1 quake in the Kermadec Islands region, about 620 miles from New Zealand, was the largest in a series of tremors over several hours, including two earlier quakes that registered magnitude 7.4 and magnitude 7.3. (CBS)
Miami is bracing for a flood of spring break travelers as hotel bookings soar
Spring break travelers are flocking to Miami despite COVID-19. Miami hotels are seeing 90% occupancy rates for weekend bookings during the spring break season. However, spring break will look different this year due to safety protocols and restrictions. (Business Insider)
Thailand plans to allow foreign tourists to quarantine in resorts
The hotel quarantine plan is expected to start in April or May in the provinces of Phuket, Krabi, Surat Thani, Chonburi and Chiang Mai, Minister Phiphat Ratchakitprakarn told reporters after meeting with tourism operators and health officials. (Bangkok Post)
CDC offers tips to survive zombie apocalypse … just in case
Nostradamus born in the 16th century predicted in 2021 that a scientist would create a biological weapon and produce a virus that can turn humankind into zombies (as interpreted by astrologists). To help calm qualms and concerns, the Center of Disease and Control and Preparedness shares tips on how you can be "zombie ready" in case of a sudden outbreak. (FOX 8)
New York to loosen travel restrictions for Americans who've gotten the COVID-19 vaccine
"Domestic travelers are no longer required to quarantine or test out within 90 days of full vaccination," Gov. Andrew Cuomo said in a COVID-19 briefing. Beyond the 90 days, travelers would still have to quarantine and test out. International travelers must continue to quarantine for 10 days, he said. People who have not been vaccinated or who have not completed their shots must also continue to quarantine under the existing guidelines. (USA Today)
Passenger thrown off JetBlue jet for refusing to wear a Covid19 mask
A passenger on the JetBlue aircraft refused to wear their mask during a flight. The aircraft which was flying between New York and Cancun was forced to divert. The disruptive passenger was deplaned in Florida before the flight continued. (Daily Mail)
Video: Delta CEO: International Travel 'At Any Scale' a Year Away
Ed Bastian tells Bloomberg that they're going to be making a decision soon when they will lift the blocking of the middle seat (sounds like they will extend for at least another month or two) and that summer should be busy for domestic travel but international travel is a year away. (Bloomberg)
How Did A Chicago Woman Evade O'Hare Security Twice? See the Video
When she was arrested at Chicago's O'Hare International Airport last November, prosecutors said 23-year-old Yaazmina Payton had attempted to stow away on an American Airlines flight, so that she could go see rapper Jay Z in Los Angeles. On one of those videos from Nov. 7, Payton is seen watching the TSA document checker, then ducking under the ropes and pushing past his podium while he is looking the other way. After that, it was no problem for her to make her way to an American Airlines gate, where another video shows her simply walking onto the Los Angeles-bound aircraft. (NBC Chicago)
Frontier flight attendant spots de-icing issue, prevents 'catastrophic outcome'
Well this is quite concerning. According to Twitter user JonNYC, and confirmed by Frontier Airlines, the carrier's former contractor at Nashville International Airport reportedly cut some (very important) corners while performing a critical de-icing last month. Fortunately for Frontier, a flight attendant spotted a snow and ice-covered wing and alerted the pilots before takeoff, leading the aircraft to return to the gate, where a foot of snow was discovered on the wings. (TPG)
Delta flight to Mexican resort city of Cabo diverted after passenger dies on board
This Group Is a Major Superspreader, According to Scientists Snorkeler Finds Cocaine Worth $1.5 Million Floating Off Florida Keys A passenger died suddenly aboard a Delta flight bound for the Mexican resort city of Cabo, forcing the plane to divert to Sacramento International Airport. Delta Flight 1837 had just taken off from an airport in Seattle on Thursday when a traveler became unresponsive, according to CBS Los Angeles. (Daily News)
Thursday, March 4

TSA Checkpoint Numbers
TSA officers screened 782,727 yesterday (March 3). FYI: The TSA now shows the past throughput numbers of the last two years. A year ago today there were 1,736,393 people screened and in 2019 there were 1,979,558. (TSA)
U.S. air travel to hit 1 million passengers per day by March 20th: Analyst
"I think we're going to see a jailbreak this summer as more people get vaccinated," Cowan aviation analyst Helane Becker told Yahoo Finance. If April 2020 was the bottom, with about 87,000 people traveling per day, Becker said things will be wildly different this year. By around March 20, passenger volume will cross the 1 million per day mark, she said. "Memorial Day weekend we think the recovery will start in earnest and go through the summer," said Becker. However, there's one big catch that actually is bullish for the U.S. "It's going to be domestic travel — it's not going to be international," she said. Any international travel that does happen, she added, would be the Caribbean and México. (Yahoo Finance)
Don't Let Your Airline Travel Vouchers and Credits Go to Waste
It has been a year since the COVID-19 pandemic changed people's lives and upended the travel industry. Countless flights were canceled, as airlines adjusted schedules and limited flights around the globe. Now, with the weather getting warmer and vaccine distribution underway, people may once again be willing to take to the skies. Before booking trips, it's important to make sure that travel vouchers and credits do not go to waste. The first step to avoid losing out is to read the fine print on the voucher's expiration date, said Scott Keyes, founder of the discount travel site Scott's Cheap Flights. (NBC Los Angeles)
US Coronavirus: The country needs to hold on for another 2 or 3 months without easing up, experts say
Several states on Tuesday announced they are loosening restrictions put in place to stop the spread of Covid-19, even as health experts warn against doing just that. Texas and Mississippi, for example, are lifting mask mandates and allowing businesses to open at full capacity. It's too soon, health experts say. After the number of new cases declined from unprecedented highs recently, the downturn appears to have stagnated at a high level — seven-day average case levels are as high as they were last summer. And more transmissible variants are spreading. (MSN)
Cat attacks pilot on flight to Qatar, forces plane to divert back to airport
A flight leaving from Sudan's capital city of Khartoum was forced to return to the airport last week after a cat reportedly attacked the pilot of the plane. The flight, operated by Tarco Aviation, was headed to Doha, the capital of Qatar, when the incident took place, reports Sudan's Al-Sudani news. A source for the outlet claims the plane had been in the air for approximately 90 minutes before it was forced to turn back to Khartoum International Airport. (FOX News)
American Airlines Loyalty Members Can Redeem Points for At-Home COVID-19 Test
American Airlines announced loyalty program members can now redeem miles to order at-home COVID-19 testing kits. The carrier revealed that through a partnership with LetsGetChecked, AAdvantage members could redeem 12,000 miles and receive through the mail a coronavirus test accepted by nine countries and any city, state or territory in the United States that has COVID-19 travel restrictions. (Travel Pulse)
Blacklane chauffeur-hailing service taking on Uber & Lyft premium rides
Blacklane will start its novel chauffeur hailing in 21 cities across 11 countries this month. The global chauffeur service already offers scheduled rides in 50 countries. Blacklane's new on-demand rides maintain the same premium quality, health and safety standards, fixed competitive fares, and sustainability as its pre-booked trips. After New York, Blacklane begins chauffeur-hailing service tomorrow in London and Dubai. Berlin launches on Wednesday, followed by Paris on Thursday. All eight U.S. cities will go live by next week and all 21 cities will have launched by March 26th. The full city list is: Vienna, Paris, Berlin, Düsseldorf, Frankfurt, and Munich, Dublin, Milan, Lisbon, Singapore, Zurich, Dubai, London Boston, Chicago, Las Vegas, Los Angeles, Miami, New York, San Francisco, and Washington D.C. (Blacklane)
Report: Air Canada Agrees to Customer Refunds as Part of Ottawa Bailout Deal
The Toronto Star says Air Canada has agreed to offer refunds to customers for flights postponed or cancelled due to the COVID-19 pandemic. In an interview with the Star on Wednesday, Unifor president Jerry Dias said he's spoken with Air Canada and government officials involved in the negotiations, and that the company has agreed to Ottawa's crucial demand to repay the many customers who weren't reimbursed for their plane tickets. (Canadian Travel News)
How Unused Airline Miles Can Reunite Family With Terminally Ill Loved Ones
Even before the Covid-19 pandemic decimated sectors of the economy and travel patterns, many frequent fliers were sitting on piles of miles with no immediate plans to use them. Kevin Crowe, an IT executive from Canada, wants to help people put them to good use. Crowe created Give A Mile, a nonprofit organization that connects travelers with hefty frequent flier balances with family members living far from loved ones with terminal illnesses. His organization partners with airlines to accept donated miles from travelers and provide them to families in need so they can travel and see each other. (Forbes)
Travel Credit Card of the Day
Earn up to 6% back, $120 in dining cash, bonuses for dining, groceries, and so many more free perks with the best credit cards for eating at home. (Johnny Jet)
Wednesday, March 3
Yesterday's TSA Checkpoint Numbers
TSA officers screened 743,134 people at airport checkpoints nationwide yesterday, Tuesday, March 2. Tuesdays are not typically busy travel days and there's usually a dip in checkpoint volume. On Monday, March 1, throughput was 300,000 higher. (Lisa Farbstein, TSA Spokesperson)
Australia's international travel ban extended by three months
Australia's international borders will remain shut after the Federal government extended the emergency travel ban through to mid-June. Federal Health Minister Greg Hunt revealed the human biosecurity emergency period had been extended "by an additional three months," from March 17 to June 17 due to the "unacceptable risk" of COVID outbreaks in other countries. The overseas travel ban was first brought in on March 17 2020 under the Biosecurity Act 2015, as the COVID-19 pandemic kicked off around the world. (Perth Now)
Private Rooms on Amtrak's Auto Train Are Just $109 Right Now
Here's what an Auto Train ride looks like today: For just $9 one-way (nonrefundable sale price: March 2–12), coach passengers get a reclining seat, free Wi-Fi, and complimentary continental breakfast; gone are the complimentary dinners, but there's a café where you can buy hot and fresh meals, snacks, and beverages while mingling with fellow passengers six feet apart. You're only allowed a carry-on bag in coach; the rest of your luggage will be "stowed" in your car. Roomettes (on sale, from $109 or $159 for two passengers) seat and sleep two adults comfortably; breakfast, lunch, and dinner are included, as well as access to a private bathroom and shower in that car. Seats turn into one bed while another bed drops down, all with pillows and linens. If you feel clueless, a dedicated sleeper car attendant will take care of everything: meal reservations, carrying your bags, turndown service. (Afar)
Emirates allows passengers to purchase entire rows as pandemic upends travel habits
The Dubai carrier said the new scheme will be offered to all economy class customers with a confirmed booking, but there will be no option to pre-book the empty seats. Customers can only purchase the seats, which cost $55 to $165, upon airport check-in. Emirates said the move was based on customer feedback, particularly on seeking extra privacy and space while flying economy class. (Arab News)
Thailand Tourism Sector Has Its Sights Set on a July 1 Reopening
Thailand's tourism industry launched a campaign on Tuesday, hoping to persuade the country to welcome visitors back by July. Launched Tuesday, the #OpenThailandSafely campaign hopes to welcome international tourists back to Thailand by July 1, campaign organizers shared with Travel + Leisure, a date which they believe provides enough time for vaccines to make their way around the world. In addition leaving enough time for travelers to get vaccinated, organizers argued the July 1 date would give Thai medical authorities the opportunity to vaccinate front line staff and vulnerable citizens, and would give the tourism industry (like airlines and hotels) time to prepare to welcome visitors. (T+L)
NJ gym owner who defied lockdown banned from airline after mask-less trip
A New Jersey gym owner infamous for defying the state's COVID-19 lockdown has been banned from American Airlines after refusing to mask-up on his trip back from the Conservative Political Action Conference on Friday. (NY Post)
Air NZ ditches Honolulu layover plans after it 'encountered blocks'
Air New Zealand has abandoned plans to layover North America-bound crew in Hawaii because it couldn't get approval to land. On January 5 the national carrier issued a media release that said in an effort to reduce the Covid-19 risk to aircrew, Air New Zealand would re-route its North America flights to allow crew to overnight in Honolulu rather than Los Angeles or San Francisco. (Stuff NZ)
Japan urges China to stop anal Covid tests
The Japanese government on Monday called for an end to mandatory COVID-19 anal swab tests in China, following complaints from its people that it causes "great psychological pain." (IBTimes)
Ranking the most flexible US airlines to book for travelers cautiously planning 2021 trips as vaccines offer hope for a return to normal
Tied for first: American Airlines, Delta Air Lines, and Southwest Airlines, Hawaiian Airlines, JetBlue Airways, and Alaska Airlines. Second: United. Third: Frontier. Fourth: Sun Country. Last: Spirit and Allegiant. (Business Insider)
Las Vegas Sands to Sell Properties for About $6.25 Billion
Sands, founded by late billionaire and casino mogul Sheldon Adelson, said on Wednesday it would sell its Vegas properties for about $6.25 billion to focus on Asia, home to the world's largest gambling hub, Macau. The sale comes just two months after the death of Adelson, who transformed Las Vegas Sands into the world's largest casino and filled his gambling hubs with trendy restaurants and shops, making them luxury destinations for business travelers and tourists alike. (US News)
Japan preparing to host Tokyo Games without overseas spectators: sources
The Japanese government has begun preparations to host the 2020 Tokyo Olympic and Paralympic Games this summer without accepting overseas spectators. A final decision will be made within the month in cooperation with bodies including the International Olympic Committee, according to a number of individuals involved in the discussions speaking on March 3. (Mainichi & TPG)
Brazil's Covid Crisis Is a Warning to the Whole World, Scientists Say
And the news just got worse for Brazil — and possibly the world. Preliminary studies suggest that the variant that swept through the city of Manaus is not only more contagious, but it also appears able to infect some people who have already recovered from other versions of the virus. And the variant has slipped Brazil's borders, showing up in two dozen other countries and in small numbers in the United States. (NY Times)
Tuesday, March 2
Yesterday's TSA Checkpoint Numbers
TSA officers screened 1,047,418 people at airport checkpoints nationwide yesterday, Monday, March 1. That's about half as many people who flew one year earlier when 2,163,067 people were screened across the county at airport checkpoints. (Lisa Farbstein, TSA Spokesperson)
Europe is officially launching a vaccine passport
The global rollout of the vaccines is now well underway – and that means countries all over the world are considering how to reopen their economies. Several nations have already set up their own 'vaccine passport' schemes that allow citizens to prove they have had the jab to gain access to certain services, like dining out, going to the gym or attending big public gatherings. And now the EU has confirmed it is working on its own 'digital green pass', which will allow those who have received the jab to travel more freely within the continent. (TimeOut) & (The Daily Beast)
This is when you can go on vacation again
After reaching an all-time high in January 2021, global coronavirus case numbers are beginning to drop. Vaccination roll-outs are now underway around the world, but when it comes to the recovery of leisure travel, we're a long way from being out of the woods. While travel experts are optimistic that things will slowly begin to open up again this year, how quickly that happens will depend on where you are, where you want to travel to, and if the virus and its mutant strains are able to be brought under control. (CNN)
Alaska Is Giving $15 Flights to Californians
California residents who enroll in the Alaska Airlines Mileage Plan now through March 3, 2021 can book that long-awaited trip to visit Napa Valley, the world-famous San Diego Zoo, or any other California destination with a flight on Alaska Airlines.*
(Alaska Airlines)
Heathrow Airport seven-hour queues 'inhumane', say passengers
Several passengers told the BBC that they had spent five, six or seven hours waiting at the border on Sunday evening with only a few border force officials processing their paperwork. (BBC) & (Daily Mail)
Brits with vaccine passports will skip border queues when they holiday in Greece
Under plans being drawn up by Greek officials jabbed up Brits will be allowed to use a "green" lane, rather than a lengthy queue where border officials check for negative covid tests. (The Sun)
Video: Angry Woman Kicked Off United Flight For Not Wearing A Mask
If you watch the profanity filled video you will see she claimed she was being kicked off for not wearing a mask. (Reddit) H/T Gary Leff
Travel Video of the Day: Dude Surfs 115 Foot Wave
This feat took place back in September in Portugal but someone just tweeted it yesterday and it blew my mind! "Absolutely astonishing moment Sebastian Steudtner broke the world record, surfing a wave 115 feet tall!" (@eliistender10) & (RepublicWorld)
International air travel stats show almost no one flying in Canada
Canada's new testing and quarantine rules for international air travellers appear to have convinced even more Canadians to stay put in recent weeks. Most Canadians had been heeding the government's plea not to travel outside the country, with or without the new restrictions. Weekly statistics provided by the Canada Border Services Agency show international air travel during the pandemic is less than a 10th what it was before COVID-19. The data show there was a small increase in international air travel after Christmas, with almost 170,000 people arriving in Canada between Dec. 28 and Jan. 10. (National Observer)

Nudist couple share photos of themselves at tourist spots
No need for a suitcase then! Nudist couple who fell in love with stripping off after swimming naked in a waterfall show off their VERY athletic poses at tourist spots across the globe (Daily Mail)
Roundup of some of the latest Hyatt promotions, including discounts up to 25% off
If you have been browsing hotel deals for a spring or summer road trip, you're probably looking for ways to save money. There are several World of Hyatt savings opportunities to be aware of. The latest promotions let you get up to 1 free night or save at least 10%. Here are the details to see how you can potentially enjoy some Hyatt savings. (Johnny Jet)
A PSA: 'Cute but deadly': Beachgoer's warning after find inside shell
A woman has issued a warning after making a "deadly" find on a beach in Sydney's south. She posted a video to Facebook holding a shell at Kurnell on Saturday. "Please be careful at Kurnell," she wrote. Sand, dirt and water is seen in the shell but soon it becomes clear. Lurking in the shell is a small blue-lined octopus, which is a type of blue-ringed octopus. (Australia Yahoo)
Monday, March 1
TSA Checkpoint Numbers
TSA officers screened 1,190,682 people yesterday, Feb. 28, at airport checkpoints nationwide. February saw TSA officers screen more than 1 million individuals on 7 separate days, so on average, checkpoint volume surpassed 1 million once every four days during the month. (Lisa Farbstein, TSA Spokesperson)
Porter Airlines Picks a New Start Date
Porter Airlines is deferring its resumption of flights until May 19 due to ongoing COVID-19 travel restrictions. (Porter)
Boeing 737 MAX: China's flight ban won't be lifted until safety concerns 'properly addressed'
The Civil Aviation Administration of China says it still has concerns with Boeing's 737 MAX, but cooperation with the US firm has been positive.
China will not lift its flight ban until design modifications are recertified, pilots are sufficiently trained and findings into two deadly crashes are released (South China Morning Post)
United Airlines buys 25 additional Boeing 737 Max jets in vote of confidence in the planes
-United Airlines Boeing 737 Max order is a vote of confidence in the planes that were grounded for 20 months after two crashes.
-United said it's buying 25 additional Max planes and moving up orders for others.
-The FAA lifted its ban on the planes in November after Boeing made software and other changes to the jetliners. (CNBC)
The US suggests a compromise on Canada' cruise ban
The US has asked Canada to reevaluate its ban on cruises, which prohibits ships from sailing in Canadian waters until March 2022. The committee suggested allowing stops at Canadian ports without passengers disembarking, noting that could minimize COVID-19 risk Canada is concerned about. US maritime law requires international stops on ships flagged in foreign countries, which includes many major cruise lines' ships. Consequently, many of the cruises scheduled to sail, for example, to Alaska would need to stop at a port in Canada, which is not permitted by the country's ban. Cruise lines, including Holland America and Princess Cruises, have already cancelled their Alaska seasons as a result. The non-disembarking of passengers at Canadian ports could allay Canadian fears of COVID risk. (Travel Industry Today)
Southwest Airlines: $29 spring sale is on, but not for long.
Purchase from March 1 through March 4, 2021, 11:59 p.m. Central Time. Continental U.S., San Juan, Puerto Rico, and international travel valid April 13 through June 2, 2021. Hawaii travel valid April 13 through May 26, 2021. (Southwest)
CDC announces Ebola travel restrictions: Passengers from Congo, Guinea will be funneled to six airports
A year after it first announced that flights from China and Europe would be funneled to select U.S. airports to prevent the spread of COVID-19, the U.S. Centers for Disease Control and Prevention is putting similar measures in place to keep Ebola from entering the country. The move impacts just two countries: Guinea, located on Africa's west coast, and the Democratic Republic of Congo, located in the center of the continent. (USA Today)
Alaska Town Now Vaccinating Everyone 16 And Older
The COVID-19 vaccine clinic set up at Sitka, Alaska's civic center looks different from many in the lower 48. No lines. No crowds. Patients pop in every few minutes for their appointments, and they don't have to wait very long before a nurse directs them to roll up their sleeve. Another big difference? Some of the faces are younger. Much younger. (NPR)
L.A. street sweeping to become bi-weekly starting today.
Street sweeping services in the city of Los Angeles will be changed from weekly to bi-weekly starting Monday, March 1, due to the COVID-19 pandemic and staff reductions, the Bureau of Street Services announced. To help residents adjust to the change, officials launched a notification system and map that can be accessed anytime. Users can input their address to get notifications 24 hours before their street will be swept. The system can be accessed at streetsla.lacity.org/sweeping. (ABC 7)
Some bright health news this winter: No flu
Flu has virtually disappeared from the U.S., with reports coming in at far lower levels than anything seen in decades. Experts say that measures put in place to fend off the coronavirus — mask-wearing, social distancing and virtual schooling — were a big factor in preventing a feared "twindemic" of flu and COVID-19. A push to get more people vaccinated against flu probably helped, too, as did fewer people traveling, they say. Another possible explanation: The coronavirus has essentially muscled aside flu and other bugs that are more common in the fall and winter. Scientists don't fully understand the mechanism behind that, but it would be consistent with patterns seen when certain flu strains predominate over others, said Dr. Arnold Monto, a flu expert at the University of Michigan. Nationally, "this is the lowest flu season we've had on record," according to a surveillance system that is about 25 years old, said Lynnette Brammer of the U.S. Centers for Disease Control and Prevention. (LA Times)
Notable Airline Route Changes This Week
-Air France now won't fly from JFK to Paris/Orly until the end of October.
-Austrian won't fly to LAX this summer.
-British Airways has kept Atlanta, Denver, and Vegas suspended through May.
-Copa will keep Boston and Chicago/O'Hare suspended through April.
-French Bee has decided to extend the Newark – Paris/Orly flight suspension into May.
-Lufthansa filed its summer schedules, including new Eurowings Discover service to Anchorage. All other US markets see some level of capacity reduction versus original plans.
-Qantas canceled all US (and other long-haul) flights until the end of October.
-South African has canceled JFK to Johannesburg through the end of schedule. That's something of a surprise, but I have to wonder if it will come back again with a stop whenever SAA flies again.
(CrankyFlier)
Hawaii lawmakers may standardize COVID travel restrictions across islands
Hawaii lawmakers are considering a bill that would standardize the state's pandemic travel restrictions across the islands, a departure from the current system that allows individual counties to create their own modified safety measures. Members of the House Finance Committee heard testimony on the bill Thursday. (USA Today)
Sunday, February 28
TSA Checkpoint Numbers
TSA officers screened 917,282 people at airport checkpoints yesterday, Saturday, Feb. 27
(TSA)
Pics of IcelandAir's Visit to Antarctica
We have received some photos of the Icelandair 767 visit to Troll Research Station in Antarctica earlier this week. (FlightRadar24)
New Zealand's largest city Auckland back to lockdown after 1 COVID-19 case
New Zealand's Prime Minister Jacinda Ardern said on Saturday that the country's biggest city, Auckland, will go into a seven-day lockdown from early morning on Sunday after a new local case of the coronavirus of unknown origin emerged. (Reuters)
Miami Beach to cut back on famous palm trees over climate concerns
Officials have embarked on a 30-year plan to reduce the percentage of palm trees in the city to only one quarter of its total canopy by 2050, according to the Miami Herald. Currently, Arecaceae palms account for more than 55% of the city's population of 48,900 trees. (The Guardian)
Archeologists discover intact ceremonial chariot in ruins near Pompeii
Officials at the Pompeii archaeological site in Italy announced on Saturday the discovery of an intact ceremonial chariot, one of several important discoveries made in the same area outside the park near Naples following an investigation into an illegal dig. The chariot, with its iron elements, bronze decorations and mineralised wooden remains, was found in the ruins of a settlement beyond the walls of the ancient city, parked in the portico of a stable where the remains of three horses were previously discovered. (Euronews)
Air fares from Heathrow Airport to rise thanks to 'pandemic tax'
An additional tax has been added to outbound flights from Heathrow airport, adding pressure on families who want to travel abroad after a year of restrictions. The airport will charge an extra £8.90 – also known as United Kingdom Exceptional Regulatory Charge – to all outgoing flights from April, increasing the fees it already charges which include baggage handling, water, electricity and other services. This means a family of five booking a summer holiday with British Airways would pay an extra £44.50 for using the London airport. (Standard)
2 skiers defy death in descent of Yosemite's Half Dome
Jason Torlano, 45, and Zach Milligan, 40, completed the descent in five hours Sunday by carefully carving their way in crusty snow and using ropes to rappel several sections of bare rock known as the "death slabs" beneath the iconic face of Half Dome, the Fresno Bee reported Thursday. (FOX LA)
Man wins £130,000 from British Airways after slipping in puddle of spilt Bailey's liqueur at Heathrow
A company boss has won a £130,000 payout from British Airways after slipping in a puddle of spilt Bailey's liqueur and hitting his head on the floor at Heathrow Airport. Andreas Wuchner suffered brain damage after his foot slipped in the beverage tipped over by a passenger near a BA check-in desk in November 2017. The businessman's company folded the next year and he took BA to court, suing over his injuries and for loss of earnings. (Daily News)
Germany limits travel from French region over virus variant
Germany announced Sunday that travelers from France's northeastern Moselle region will face additional restrictions due to the high rate of variant coronavirus cases there. Germany's disease control agency said it would add Moselle to the list of "variant of concern" areas that already includes countries such as the Czech Republic, Portugal and the United Kingdom. Travelers from those areas must produce a recent negative coronavirus test before entering Germany. (CBS3)
CDC Traces Covid-19 Outbreaks in Gyms, Urging Stricter Precautions
Heavy breathing during intense physical activity in confined indoor spaces increases chances of transmission, and fitness teachers who shouted exercise instructions to members may also have contributed to the spread, the C.D.C. research found. Exercising outdoors or taking virtual fitness classes could help reduce infection risk, the authors noted. (NY Times)
Alaska Airlines announces status match for select elites, no challenge required
Alaska Airlines used to have the most generous status match policy around. If you had elite status with another carrier, you could request a match to a corresponding status level in Alaska's Mileage Plan program, no questions asked. July was typically the best time of the year to initiate this match, as your status would be valid for the rest of the year and the entire following year. (MSN/TPG)
Hyatt Hotels responds to calls for boycotts over hosting CPAC
Hyatt Hotels defended its decision to host the 2021 Conservative Political Action Conference (CPAC) as calls to boycott the chain grow in an increasingly volatile political climate. The company cited its belief that individuals and organisations should be able to peacefully gather and express their own views. (News.com.au)
Advertisement
Chase Sapphire Preferred® Card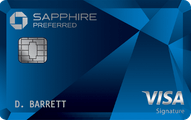 Earn 60,000 bonus points after you spend $4,000 on purchases in the first 3 months from account opening. That's $750 when you redeem through Chase Ultimate Rewards®. Plus earn up to $50 in statement credits towards grocery store purchases.
2X points on dining at restaurants including eligible delivery services, takeout and dining out and travel & 1 point per dollar spent on all other purchases.
Get 25% more value when you redeem for travel through Chase Ultimate Rewards®. For example, 60,000 points are worth $750 toward travel.
With Pay Yourself Back℠, your points are worth 25% more during the current offer when you redeem them for statement credits against existing purchases in select, rotating categories.
Get unlimited deliveries with a $0 delivery fee and reduced service fees on eligible orders over $12 for a minimum of one year with DashPass, DoorDash's subscription service. Activate by 12/31/21.
Earn 2x total points on up to $1,000 in grocery store purchases per month from November 1, 2020 to April 30, 2021. Includes eligible pick-up and delivery services.
The comments on this page are not provided, reviewed, or otherwise approved by the bank advertiser. It is not the bank advertiser's responsibility to ensure all posts and/or questions are answered.

Editorial Note: The editorial content on this page is not provided by any bank, credit card issuer, airlines or hotel chain, and has not been reviewed, approved or otherwise endorsed by any of these entities.