12 Things in Travel You Need to Know Today:
Friday, June 18
Yesterday's TSA checkpoint numbers
TSA officers screened 2,039,425 individuals at airport checkpoints nationwide yesterday, June 16. A year ago on the same day: 576,514. In 2019: 2,728,786. (TSA)
Malta Reopens to the U.S. – but Only to Travelers From These States
The Mediterranean island country announced as of June 17 that 38 U.S. states and territories to its "Amber list." Travel to and from the U.S. is limited to 38 states – excluding Alabama, Arkansas, Idaho, Kansas, Kentucky, Mississippi, Missouri, Montana, Nevada, Oklahoma, Utah, and Wyoming. Citizens of both D.C. and Puerto Rico are also permitted to visit Malta. But travelers from approved states still must follow a few precautions before their vacations. (T+L)
Vaccinated U.S. residents can now visit Europe on holiday, EU says
EU governments decided on Friday to add the U.S., along with Albania, Hong Kong, Lebanon, Macau, the Republic of Northern Macedonia, Serbia, and Taiwan to a so-called "white list" of countries from which non-essential travel is allowed. The new rules will be in effect in a matter of days, as soon as they are published in the Official Journal of the EU. (Fortune)
Lufthansa Allows Check-In With Digital Vaccination Certificates
Lufthansa will allow passengers to use new digital COVID-19 vaccination certificates at check-in for their flights, the German airline said on Thursday. Lufthansa said passengers would be able to show the digital proof of vaccination either on their phones or on a printout when checking in at the airport, and the boarding pass would then be issued. (Skift)
British Airways plane collapses at Heathrow
A British Airways plane's nose gear has collapsed on the tarmac at Heathrow airport. Pictures from the scene show the Boeing 787's nose tilting forward, with its forward fuselage crumpled onto the ground. (Independent)

The 9-hour wait: Here's why airline hold times are so bad
Experts say the call center apocalypse is the combined result of reduced staffing, computer issues, flyers trying to cash in vouchers and credits for flights canceled during the pandemic and travelers taking unusually long on calls because they have questions about COVID-19 testing. "The hold times are awful, but it's not completely clear why," said Brett Snyder, author of The Cranky Flier website that's devoted to aviation news. "I think it's a mix of things." (TPG)
United Airlines Will Allow Flight Attendants to Have Visible Tattoos and More Piercings in Updated Grooming Rules
United Airlines plans big changes to its appearance and grooming standards for flight attendants and other frontline uniform-wearing employees beginning September 1, 2021. Included in the changes is the decision to allow visible tattoos for the first time in the company's history, as well as a slew of other gender-neutral changes that will empower United flight attendants to be their authentic selves. (Paddle Your Own Kanoo)
Princess Cruises Plans To Set Sail From LA This Fall
Princess Cruises announced Thursday it intends to return to service this fall with trips departing from Los Angeles, San Francisco, and Fort Lauderdale. From Sept. 25 and Nov. 28, eight Princess Medallion-class ships will travel to the Caribbean, Panama Canal, Mexico, Hawaii and California coast, according to the Santa Clarita-based cruise line. (CBS LA)
La Compagnie, an all-business-class airline, just announced 2 new international routes
The first new flight to launch, from Newark (EWR) to Tel Aviv (TLV), will take off on July 21, and operate seasonally through Oct. 30. The route will be operated three times per week and will include a 90-minute ground stop in Paris-Orly (ORY). The second route, from Newark to Milan (MXP), marks a new long-haul service for the airline. It'll launch Nov. 29 with four weekly flights. Both of the new flights will be operated by an Airbus A321neo. For those not familiar, La Compagnie is an all-business-class airline. Its single-aisle Airbus jets have just 76 fully lie-flat pods, arranged in a 2-2 configuration. (TPG)
'Helpless and humiliated': Man details difficulties of flying in a wheelchair
"My chair gets banged up or significantly damaged almost every time we fly, which is why we bring the tools," Shane told TODAY, via email. "I've had my chair returned to me in pieces. I have had essential items lost. It's very frustrating." In fact, he tagged Delta on Instagram prior to his trip "begging" them to store his wheelchair safely so it wouldn't break. Shane is not alone. In May, a woman shared a TikTok of her friend who was upset after her wheelchair was broken during a flight. When the staff mentioned they could get her another wheelchair, she told them that it was essential for her to have her wheelchair. (Today)
CDC lowers warning level for cruise travel
Health officials in the United States have eased their stance on the safety of cruise travel for vaccinated passengers, lowering the travel alert level just over a week before the first cruise in more than 15 months is scheduled to set sail from a US port. The US Centers for Disease Control and Prevention on Wednesday lowered its health notice on cruise travel from Level 4, which recommends avoiding all travel, to Level 3, which encourages travelers to get fully vaccinated before traveling. (CNN)
Black dads share their best tips for traveling this summer
Off-duty flight attendant allegedly choked a crew member and claimed to be… United Airlines is making a huge change that may astound passengers On July 14, popular YouTuber Glen Henry, his wife, and their four kids under the age of eight are heading out on a month-long, multistate RV trip. He has only two concerns: whether his kids will get bored a few days into the journey—and whether, as a Black man driving from California to South Carolina, he'll be safe. (Nat Geo)
Here's what would happen if a huge quake hit Los Angeles
California and the Western U.S. have a network of early warning sensors. The earthquake early warning system works on a simple principle: The seismic waves from an earthquake travel at the speed of sound through rock — slower than today's communications systems.For example, it would take more than a minute for a magnitude 7.8 earthquake that started at the Salton Sea to shake up Los Angeles, 150 miles away, traveling along the state's longest fault, the San Andreas. (LA Times)
Thursday, June 17
Yesterday's TSA checkpoint numbers
TSA officers screened 1,678,688 individuals at airport checkpoints nationwide yesterday, June 15. A year ago on the same day: 417,924. In 2019: 2,466,574. (TSA)
Southwest Airlines 50% Off Fall Fares
Southwest is having a great 50th Anniversary sale with 50 percent off Fall fares. Book by tonight (June 17, 2021) and fly between September 15 – November 3, 2021. Enter promotion code SAVE50 in the Promo Code box when booking only on Southwest.com and swabiz.com. Offer is valid for domestic and international travel. While selecting your flights, discount will be visible as a strike-through of the original base fare. After selecting your flights, savings are reflected in the base fare. Note that the DOT requires advertised fares to include all government taxes and fees, however this promotion code savings applies to the base fare only.
Toronto woman fined $6,250 when she tried to get back into Canada at Niagara Falls
A Toronto woman plans to put up a fight after she was slapped with a $6,250 fine when crossing the U.S. border with a negative COVID-19 test in hand. The woman, who has asked not to be named for this article, tells blogTO she was crossing the U.S. border with a friend at the Rainbow Bridge crossing from Niagara Falls around midnight on June 9. (BlogTO)
20.9% of the world has received a COVID vaccine. See how your country is doing
It's been an eventful week in the global fight against COVID-19. With the vaccination programs of wealthy G7 countries well underway, the leaders of those nations spent much of their recent weekend summit, considering the lagging COVID vaccination rates in the rest of the world. They left Cornwall having committed to providing 1 billion vaccine doses to poorer countries in the next year. Among those are the 500 million Pfizer doses U.S. President Joe Biden donated to COVAX, the WHO-backed effort aimed at distributing vaccines to low- and middle-income countries. (Fortune)
Biden Selects Captain Sully for Aviation Ambassadorship
Chesley B. Sullenberger III, who gained fame as the pilot who safely landed a plane in the Hudson River, was among President Biden's long-awaited first slate of ambassadors. On Tuesday, President Biden, in a likely nod to Mr. Sullenberger's past, selected him as his nominee for ambassador to the Council of the International Civil Aviation Organization, a United Nations agency governed by a council of 36 member states that develop policies and standards for global aviation. (The New York Times)
Can I travel to the US from Europe?
Europe is officially open. The European Union has advised its members to lift travel restrictions that have barred travelers from the US, and individual nations are expected to begin dropping quarantine requirements and other limitations soon. But the US isn't returning the favor. Travelers from Europe—as well as the UK, China, Iran, India, and Brazil—are prohibited from entering the US within 14 days of leaving those destinations. (Quartz)
Vladimir Putin's Plane: Five Facts About Russian Air Force One
Both Biden and Putin have flown into Switzerland on their presidential planes. While there's little left unknown about Air Force One, its Russian counterpart is somewhat more obscure. Here's a breakdown of five facts about Putin's presidential plane. (Newsweek)
Southwest Airlines cancels hundreds of flights for the third day in a row
Citing data from the FlightAware flight tracking service, The New York Times reported that Southwest Airlines had canceled around 8% of its flights for the day as of midday on Wednesday, while 14% had been delayed. This is now the third day in a row that Southwest had struggled to get flights off of the ground after one of its weather data suppliers was beset by technical issues. (BGR)
Huge Crowds Bring Chaos to National Parks
From Acadia to Zion, America's national parks are enjoying a resurgence of visitors. But the parks' newfound popularity comes with a whole host of problems. (Weather Channel)
Mystery plane found in California lake turns out to be from 1986 crash
However, the Placer county sheriff's office on Wednesday confirmed that it wasn't that plane but was instead that of a 1986 nonfatal crash. That plane will remain at the bottom of the lake, the office said. (The Guardian)
This is why a Boeing 787 pilot tells you how to use the seat belt
I fly a Boeing 787 passenger plane for work and a small Cessna 182 for leisure travel. The seat belts, which columnist Nicholas Goldberg believes no one really needs to be told by flight attendants how to use, are substantially different from those installed in modern cars. Aircraft crew make no assumptions about a passenger's knowledge. (LA Times)
Great white sharks are swimming near New York beaches, tracker says
Great white sharks are swimming near the coasts of New York and surrounding states, a tracker says. Ocearch is a shark tracker that has tagged 70 sharks and monitors their movements. The tagged sharks represent just a fraction of the thousands of sharks on the East Coast. (MSN)
Wednesday, June 16
Yesterday's TSA checkpoint numbers
TSA officers screened 1,800,954 individuals at airport checkpoints nationwide yesterday, June 15. A year ago on the same day: 534,528. In 2019: 2,699,580. (TSA)
European Union adds the U.S. to its safe travel list
Nonessential travel from the United States and from other places had been banned in the EU in the wake of the coronavirus pandemic to avoid further contagion. However, as vaccinations gather pace, the 27 EU ambassadors based in Brussels recommended on Wednesday that the region allow nonessential travelers from eight new territories. (CNBC)
Technical issues delay Southwest Airlines flights for a second day
Southwest Airlines passengers across the country are still experiencing some delays because of computer problems. On Tuesday, there were reports of outages affecting the airline's check-in counter at multiple airports. (FOX LA)
Royal Caribbean postpones Odyssey of the Seas' debut
Royal Caribbean has postponed the Odyssey of the Seas' debut until July 31 because eight crew members tested positive for coronavirus. The new ship had been scheduled to make its debut on July 3. Royal Caribbean said it is reaching out to travel advisors and guests who had booked cruises that are now canceled. (TravelWeekly)
Air Canada: US officials propose $25 million fine against the airline over airfare refunds
US officials are seeking a $25 million fine from Air Canada, accusing the airline of failing to provide timely refunds to more than 5,000 passengers during the coronavirus pandemic. The formal complaint is the first enforcement action that the Department of Transportation has announced against an airline since the pandemic upended the travel industry in the spring of 2020. Air Canada said it would dispute the allegations and believes the DOT argument "has no merit." (CNN)
TSA officer shortage causes passenger delays as pandemic air travel hits record highs
As more Americans start traveling again around the country, they're finding longer lines than usual at the airport. The TSA is only halfway to its goal of hiring more than 6,000 new officers by the summer to meet demand – but, as Errol Barnett shows, summer travel is already here. (CBS)
California Has Fully Reopened—What That Means for Travelers
California has fully reopened–"that means no more physical distancing, no more capacity limits on businesses, no more county tiers, and relaxed mask guidance," the state wrote in its June 15 reopening plans. With 43 percent of California residents now fully vaccinated for COVID-19, the state has done away with its pandemic-era color-coded tier system for establishing which businesses can be open and under what conditions. (Afar)
Argument over elbow placement forces plane back to gate, gets 2 men booted: report
Two passengers about to take off on a flight from San Francisco bound for Las Vegas were removed over an argument about elbow placement on armrests, a report said. SFGate reported that the incident occurred on a United Airlines flight that was forced to return to the gate right before takeoff. The website pointed to a Google employee on the flight who posted a photo of law enforcement officers on the plane. (FOX News)
California giving away vacations to those who get COVID-19 vaccines
California will offer six "dream vacation" incentives to spur more people to get coronavirus vaccinations, Gov. Gavin Newsom said Monday on the eve of the state awarding $15 million in cash prizes. The destinations include San Francisco, Anaheim, Los Angeles, San Diego and a luxury hotel in Rancho Mirage. (Desert Sun)
Amtrak relaunches USA Rail Pass, a ticket that lets you travel the country for 30 days for $299
Amtrak's USA Rail Pass is here as the country braces for a boom in summer travel. The ticket allows buyers to book 10 trips in a 30-day period, all for a flat fee. It's discounted to $299 through June 22, but normally costs $499. (Business Insider)
Maine's having a lobster boom. A bust may be coming
But that doesn't stop her from worrying. The waters off Maine's coast are warming, and no one knows what that's going to mean for the state's half-billion-dollar-a-year lobster industry—the largest single-species fishery in North America. Some fear that continued warming could cause the lobster population to collapse. (Nat Geo)
Air France to Significantly Increase Flights and Return 22 Planes to Service
France reopened its borders this week to vaccinated visitors after more than a year of travel restrictions. Air France will offer service to Paris-Charles de Gaulle during the 2021 summer season from 12 US cities: Atlanta, Boston, Chicago, Denver, Detroit, Houston, Los Angeles, Miami, Minneapolis, New York, San Francisco and Washington D.C. (Sam Chui)
Bear Attacks Campers Sleeping in Their Tent
Two campers were injured after being attacked by a bear while they were sleeping in a tent on a camping trip in Alaska. The unidentified victims were camping on Kenai National Wildlife Refuge at the mouth of Hidden Creek along the shore of Skilak Lake at the time of the incident Saturday, according to a statement from the wildlife refuge shared on its Facebook page. (Newsweek)
Royal Caribbean says vaccines will be mandated on all cruises, except ones setting sail from Florida
Royal Caribbean clarified its vaccine policy ahead of the cruise line's return to U.S. ports next month, saying Monday that all passengers 16 and older must be fully vaccinated against COVID-19, except for on ships setting sail from Florida. On Aug. 1, all passengers who are 12 or older must be fully vaccinated in Texas and Washington state, but the Florida policy will remain the same for now. (FOX Business)
Uber and Lyft Ride Price Surges: Why You Should Prepare to Pay More
The companies say they are charging extra because they don't have enough drivers to match rebounding customer demand. (NY Times)
Tuesday, June 15
Yesterday's TSA checkpoint numbers
TSA officers screened 1,800,954 individuals at airport checkpoints nationwide yesterday, June 14. A year ago on the same day: 534,528. In 2019: 2,699,580. (TSA)
Disneyland's Vaccinated Guests Are No Longer Required to Wear Face Masks
Disneyland has dropped its mask mandate for vaccinated park guests. Starting June 15, visitors will no longer be required to wear face coverings as the theme park continues to reduce restrictions put in place amid the COVID-19 pandemic. Disneyland will also start accepting guests from out of state on the same day, and discontinue temperature checks. (PopSugar)
Southwest Airlines begins resuming flight operations after data issues grounded planes
United Airlines is making a huge change that may astound passengers With Massachusetts armory theft, military guns went public Southwest Airlines said it is beginning to resume flight operations after the airline's third-party weather data provider experienced intermittent performance issues Monday evening, grounding planes and delaying travel across the US. (CNN)
FAA Proposes Fine Of Over $10,000 For Unruly Passenger On Flight To LA
The Federal Aviation Administration has proposed a $10,300 fine against an unruly passenger on a Feb. 3 flight from Boise to Los Angeles, it was announced Monday. The passenger aboard the Alaska Airlines flight smoked an e-cigarette in the airplane lavatory, activating the smoke detector system. (CBS LA)

England's reopening is officially in limbo, serving up a cautionary tale for countries on the vaccination forefront
Despite one of the planet's most successful vaccination campaigns, U.K. Prime Minister Boris Johnson is now pushing back plans to drop all lockdown restriction in England, disappointing businesses who were eagerly anticipating a June 21st full reopening. (Fortune)

JetBlue cuts a whopping 27 routes in sweeping network update
Perhaps the biggest theme among JetBlue's far-reaching cuts is the pullback across Florida: 17 of the 27 route cuts are for flights to or from the Sunshine State. Most of the routes were added during the pandemic to capture demand among leisure travelers looking for an outdoor-friendly escape, including flights from Philadelphia (PHL) to Fort Myers (RSW), Orlando (MCO), Tampa (TPA) and West Palm Beach (PBI), among others. Now, however, as travel recovers and airlines expect business travel to ramp up soon, JetBlue says that it's going to redeploy its aircraft to growing its focus cities. (msn.com)
Switzerland Announces Plans to Reopen to Vaccinated Americans Starting June 28
Off-duty flight attendant allegedly choked a crew member and claimed to be… United Airlines is making a huge change that may astound passengers Switzerland plans to ease border Switzerland Plans to Welcome Vaccinated U.S. Tourists Starting June 28, the latest country to welcome back Americans this summer. (T+L)

2 people, including a young child, are dead after being swept out by Florida currents. A man who tried to rescue them is missing
The sheriff urged people to approach the water with caution as dangerous rip tides continue. "It's summertime in Florida. It's hot. We all want to be in the water, we want to cool off. But please, when you have areas that are clearly marked no swimming, it's for a reason," he said. The conditions in the water were so rough that even rescuers were having a hard time with the search, he added. Apollo Beach is about 17 miles south of Tampa and sits along Tampa Bay. (CNN)
As retailers close in San Francisco, out-in-the-open theft at Walgreens caught on video
"It's hard for me as a journalist to say 'I won't be involved, I can't get involved,' I have to be sort of neutral, but this is also my city. I live in this city and I see this constantly. Not only Walgreens, but cars, and my garage door has been broken into twice." In the past year and a half, Melendez says she has witnessed three of these out-in-the-open shoplifting sprees at different Walgreens throughout San Francisco. "At what point do we say enough is enough, we want our city back," she asked. (ABC7 Los Angeles)

Phuket, Thailand Opens Doors to Vaccinated Tourists
The Tourism Authority of Thailand (TAT) has announced that vaccinated travelers from low-risk countries will be allowed to fly directly to Phuket starting July 1. As of this writing, TAT has not released its list of which countries are considered safe. They're calling the opening the "Phuket Sandbox" program and touting it as attractive because tourists will not be required to quarantine. While a leader with TAT says they're expecting around 129,000 visitors to the island between July and September of 2021, it is important to know what to expect. (Motley Fool)
American Airlines Is Dropping Its In-Flight Magazine
It's been more than half a century since they first graced airplane seatback pockets. Now, the American Airlines in-flight magazine American Way is going away. An airline spokeswoman said that Fort Worth-based American will retire the magazine and its online version at the end of June. (CBS DFW)
Off-duty flight attendant allegedly choked a crew member and claimed to be seated next to a terrorist before being subdued, police report says
Authorities on Monday identified the off-duty Delta Air Lines flight attendant who was accused of assaulting two crew members before being subdued on an Atlanta-bound flight that was forced to land in Oklahoma City. Stephon Jamar Duncan, 34, of Atlanta, allegedly choked a crew member and claimed to be seated next to a terrorist before a scuffle broke out, according to a report from the Oklahoma City Police. (msn.com)
American Airlines Asks Corporate Employees to Volunteer at Airport After Cutting 30 Percent of Support Staff
Corporate employees would be asked to work six-hour shifts between June and August to help travelers find their way around the airport, among other duties, according to the statement. Those who volunteer would generally do so during normal work hours as part of their regular work responsibilities, Jantz clarified. (People)
NYC to hold parade for heroes of COVID pandemic on July 7
New York City will celebrate the essential workers who got the city through the coronavirus pandemic with a July 7 ticker-tape parade up the Canyon of Heroes, Mayor de Blasio announced Monday Health care workers, first responders and a variety of frontline workers will get the hero treatment, he said. It will be the first major parade since the citywide shutdown in March 2020 and comes as most restrictions on daily life have been eased amid a historic vaccination effort. (NY Daily News)
Monday, June 14
Yesterday's TSA checkpoint numbers
TSA officers screened a new pandemic record of 2,097,433 individuals at airport checkpoints nationwide yesterday, June 13. A year ago on the same day: 544,046. In 2019: 2,642,083. (TSA)
Four more weeks of England lockdown rules
Senior ministers have signed off on the decision to delay the lifting of all legal restrictions on social contact. That could mean capacity limits for sports, pubs and cinemas will remain, and nightclubs would stay closed. Prime Minister Boris Johnson is due to confirm the delay at a news conference at 18:00 BST on Monday. The extension will be put to a Commons vote this month and could trigger a sizeable Conservative backbench rebellion. (BBC News)
Canada says no deal on lifting border restrictions after talks with USA
Trudeau said during a press conference that he spoke with Biden about lifting the ban on nonessential travel between the U.S. and Canada. The restrictions were imposed in March 2020, at the beginning of the COVID-19 pandemic. Both U.S. and Canadian business leaders have complained about the border restrictions, which lowered tourist travel between the two countries, affecting Canadian businesses and airlines that depend on tourism, Reuters noted. (The Hill)
More than 69 pounds of cocaine bricks worth over $5 million were seized from a Florida cruise liner's cargo
Over 69 pounds of cocaine wrapped in garbage bags were discovered in a cruise ship's cargo space. The drugs were seized by the ship's security and handed to the authorities at Port Everglades, Florida. The haul could be worth upwards of $5 million based on the drug's street price. The CBP did not reveal the name of the company in charge of the cruise liner or if any arrests were made. (Insider)

Central Park crime: Woman sitting on bench robbed, punched in Manhattan
Police released video of a brazen mugging in Central Park as they search for the suspect. The incident happened Friday next to the Harlem Meer near East 110th Street and East Drive at around 10:00 a.m. The video shows him walk up to a 40-year-old woman sitting on a bench next to the Harlem Meer and rip her phone out of her hands. As she struggled to get it back, the suspect punched the victim in the face, knocking her to the ground. She refused medical attention at the scene. (ABC7 New York & Daily Mail) 

A 15-year-old Alabama girl was killed after being struck by lightning as she swam off the Georgia coast
The incident happened at around 2:30pm on Saturday afternoon when the emergency services were called to deal with the girl who had been in the water, according to the Tybee Island Police Department. Firefighters and lifeguards from Tybee Island performed CPR on the girl who had been visiting along with her family from Alabama. (Daily Mail)
Irish Government considers new travel restrictions amid Delta variant concerns
The Irish Government is looking at new restrictions on people coming into Ireland from Britain to combat the spread of the Delta Covid variant, a minister has said. The variant, which was first identified in India is now the dominant strain in the UK and proving to be 60% more transmissible than the previously dominant Alpha strain. (Evening Standard)
Some airlines still aren't selling alcohol aboard flights, and it's one of the changes flight attendants hope will stay in place as travel rebounds
Some flight attendants told Insider they favor limiting alcohol sales on flights due to recent violent outbreaks. Airlines like Southwest, United, and American have delayed bringing back in-flight alcohol service. Flight attendants previously told Insider the pandemic made passengers more aggressive. (Business Insider)
Flight Attendant Treats Passengers to Rendition of Old Town Road
A Southwest Airlines flight attendant treated passengers to a special rendition of Lil Nas X's Old Town Road as they approached Phoenix, Arizona, on June 9. In this video by Sarah Kirkpatrick, the flight attendant can be heard singing pre-landing instructions, such as "put your tray up" and "place your seat forward", in the song's melody. Kirkpatrick told Storyful she had "never experienced anything like this," adding that "it was pretty cool!" "When I initially heard the flight attendant singing I was surprised," she said. "Those around me seemed to be just as impressed and amused as I was by the flight attendant." (Sarah Kirkpatrick via Storyful)
Flight attendant union leader: Some flight attendants say 'they're afraid to go to work'
Sara Nelson, International President of the Association of Flight Attendants, tells CNN's Pamela Brown about the increased number of reports of unruly passengers on planes and how flight attendants are dealing with the issue. (CNN)

World's tallest roller coaster to open this week in New Jersey
United Airlines is making a huge change that may astound passengers Airplane discovered at the bottom of a California lake could be from 1965 crash Nothing rolls like this coaster. As theme parks across the country are preparing to fully reopen this summer, one park in New Jersey is hoping to make a big splash this season. After announcing the ride before the pandemic started, this park is ready to unleash a ride that's reportedly the world's tallest roller coaster. Six Flags Great Adventure in New Jersey is debuting the Jersey Devil roller coaster on Sunday, June 13th. According to the park's official website, the ride hits speeds of nearly 60 miles per hour and stretches for nearly 3,000 feet. (FOX News)
Opinion: Why the explosion in unruly air passengers?
United Airlines is making a huge change that may astound passengers Airplane discovered at the bottom of a California lake could be from 1965 crash It feels as if every day we read about another disorderly passenger on a commercial flight. But in reality, the numbers are even worse than that. Since January, the Federal Aviation Administration recorded approximately 2,900 reports of "unruly behavior by passengers" — which comes out to almost 18 incidents per day. (CNN)
Electric Flying Taxi Backed by United Airlines Unveiled in L.A.
United Airlines-backed startup Archer Aviation Inc. unveiled its future electric aircraft in traffic-choked Los Angeles, one of the cities where the company anticipates it will one day shuttle customers to and from the airport. The so-called Maker electric vertical takeoff and landing vehicle will have a 60-mile range and fly at 150 mph when it enters commercial service in 2024, according to Palo Alto, California-based Archer. (BNN Bloomberg)
VIDEO: Novak Djokovic Wins French Open and Gives Tennis Racket to Kid, the Reaction is Priceless
Djokovic said in the post-match press conference that he didn't know the child, but the young boy had been vocal the entire match, especially when the champion was down two sets on Sunday. "Well, I don't know the boy, but he was in my ear the entire match," said Djokovic, who also won the French Open in 2016. "Especially when I was two sets to love [zero] down, he was encouraging me. He was actually giving me tactics as well. (Newsweek). Video from NBC Sports
Sunday, June 13
Yesterday's TSA checkpoint numbers
TSA officers screened 1,812,797 individuals at airport checkpoints nationwide yesterday, June 12. A year ago on the same day: 437,119. In 2019: 2,318,946. (TSA)
Workers found a plane at the bottom of a California lake, potentially solving a 56-year-old mystery
A plane that crashed in 1965 and was never found may have been located in a California lake. Workers testing underwater surveying equipment found a plane in Folsom Lake, CNN reported. The plane's propellers and tail match that of the one that crashed 56 years ago. (Insider)
Passenger Taken Off Delta Flight In A Stretcher After Drinking Her Own Alcohol On Board
CBS This Morning Saturday co-host Dana Jacobson happened to be on board Delta flight DL1131 from Los Angeles to New York JFK on Thursday when the Boeing 757 was forced to divert to Detroit due to a raucous passenger reportedly drinking their own alcohol. She live-tweeted the experience, from people coming on board to the whole plane being offloaded, and captured video of the passenger being removed on a stretcher. (View from the Wing)
Google buys photographer's shot of seagull eating a chip
A holidaymaker's 10-year-old snap of a seagull eating a chip is to star in Google's latest ad campaign. Amateur photographer Hannah Huxford, from Cleethorpes, took the picture in 2011 on an iPhone 3G in Bridlington, East Yorkshire. Now the image is to feature on billboards and online adverts for the tech giant's search service. Ms Huxford said: "It feels very surreal, seeing it on an advert is a very bizarre feeling." The car saleswoman thought it was a joke when she got the first message about the picture. "I thought: 'Oh here we go'", she said. (BBC News)
American Airlines Agrees to Preorder $1 Billion Worth of Vertical Aerospace EVTOLs
American Airlines said it'd invest in Vertical Aerospace and agree to preorder its eVTOL aircraft. Vertical Aerospace's VA-X4 is designed to fly up to four passengers distances of over 100 miles. Experts expect more airlines to invest in eVTOL aircraft as firms develop them. (Business Insider)
Passengers Keep Calm as Covid Cruises On
Fully vaccinated cruise passengers don't panic when two test positive. (WSJ – subscription required)

These Airlines Have the Most Legroom
When it comes to flying, personal space is a premium. So when searching for flights, most passengers prioritize airlines with the most legroom at each coach seat. Unfortunately, not all economy seats are created equal, with some low-cost carriers offering a tight 28 inches of "pitch"—the industry word for how much space you have between your seat and the one in front. This trend is unlikely to change soon: As travel returns to pre-pandemic levels, hard-hit airlines are prioritizing sold-out planes over investing in comfort and service. Still, we've found a few airlines with which travelers can score an extra bit of wiggle room. (Conde Nast)
How to Make the Original Piña Colada from Caribe Hilton
The best, most legendary cocktails are often made by accident. The mai tai, for example, was created by "Trader Vic" Bergeron, Jr. when he was experimenting at the bar of his restaurant in 1944, and the margarita was possibly created in 1938 by Carlos "Danny" Herrera for a customer who claimed to be allergic to every spirit except tequila. The origins of both cocktails are, of course, famously controversial; however, the same cannot be said for the ultimate Caribbean classic, the piña colada. (Islands)
Fact check: Rising gas prices due to high demand and low supply
The rising cost of gasoline is being felt across the U.S., as the national average price has gone up from $2 per gallon last year to $3 per gallon as of June 9, according to data from the American Automobile Association. Many on social media claim President Joe Biden is to blame for this change. While it's true gasoline prices have risen significantly since Biden took office on Jan. 20 the upward trend predates Biden's time in office and is related to COVID-19 and market factors, not who occupies the White House. (USA Today)
Watch Out for These Post-Pandemic Travel Scams
As cybercrime rises, so do the scams and travel is not immune. In fact, with so much pent-up demand in the industry, prices are rising and so are the number of people who are spoofing websites in order to lure in the vulnerable. Has anyone offered you free or nearly free trips recently? Rock-bottom deals in a market that is oversaturated with rising prices are tempting but most likely not legit. (TravelPulse)
Restaurant dress code raises questions about racism, relevancy
This incident brought to the fore what many have been saying for years: dress codes are implicitly racist and target people of color. Besides the issue of race, fashion, in general, historically tends toward comfort. The face of fine dining has been slowly changing for years, making dress codes in restaurants less prevalent. (USA Today)
Australia Extends Cruise Ban Even Further
Australian Health Minister Greg Hunt has extended the human biosecurity emergency period in place since March of last year until September of 2021. The ban was previously set to expire this month. According to the health minister, the current pandemic continues to pose an unacceptable risk to the Australian public: (Cruise Hive)
Saturday, June 12
Yesterday's TSA checkpoint numbers
See my story for the historic day.
Man Tries To Open Plane Door on a Delta LAX to Atlanta Flight Here's my post.
Europe reopens: Spain, France, Denmark and Greece welcome tourists
While the European Union is trying to create more universal requirements for tourism, conditions of entry differ from country to country. Spain opened to vaccinated travelers from outside the EU on June 7 while France opened in international travelers on June 9 (the same day as it resumed indoor dining and the national curfew moved to 11 p.m.) Those on France's "green list" — vaccinated travelers from the European Union, Australia, South Korea, Israel, Japan, Lebanon, New Zealand and Singapore — can enter restriction-free. Nonvaccinated travelers will need to do a Covid test. (CNN)
A US tourist in Cancun was wounded by a stray bullet when gunmen on jet skis reportedly killed 2 men at the beach
An American tourist was wounded by a stray bullet during a shooting attack on a Mexican beach. The unidentified woman was caught in the crossfire of possible gang violence on Friday. She was taken to hospital while two men reportedly died of bullet wounds at the beach. (Business Insider)
US will restore $1B for California's troubled bullet train
The federal government has reached an agreement to restore nearly $1 billion in funding for California's troubled bullet train, Gov. Gavin Newsom announced. (AP)
Carnival Cruise Line: COVID vaccine needed for July cruises
Carnival Cruise Line, the namesake line of cruising giant Carnival Corp., will sail in July from Port of Galveston with vaccinated passengers. Carnival Vista is scheduled to depart July 3 and Carnival Breeze on July 15. To board, passengers will have had to complete the final dose of their COVID vaccine 14 days ahead of embarkation, according to a news release from the cruise line. (USA Today)
Norway Exempts Fully Vaccinated Travellers From Quarantine Requirement
The Norwegian authorities have announced that fully vaccinated travellers, as well as those who have recovered from the virus in the last six months, will no longer be subject to the self-isolation requirements. Nonetheless, everyone is still required to test at the border before entering Norway. (SchengenVisaInfo.com)
London cracks down on e-scooters as police seize 800 this year so far
London is cracking down on the illegal use of e-scooters with rule-breakers facing fines of up to £300. Metropolitan Police are 'continuing to carry out' operations across the capital and have already seized around 800 private models so far this year, reports the Evening Standard. While electric scooters are available to rent in some boroughs, as part of a Transport For London (TfL) trial, they are still banned from being used on pavements. Meanwhile privately-owned e-scooters remain illegal on all roads, cycle lanes and pavements (Metro UK)

Humpback whale gulps and spits out Cape Cod lobsterman
A US lobsterman has been describing how he escaped being swallowed by a humpback whale. Michael Packard says he was diving when he ended up in the marine giant's mouth for about 30-40 seconds off Provincetown, Massachusetts. The leviathan spat him out and Mr Packard was left with nothing more than a suspected dislocated knee. (BBC News) 
What a note from a time capsule found on a plane said
As the world rapidly shut down last March and thousands of airplanes went out of service and into long-term storage in the desert, a Delta Air Lines pilot tucked a handwritten note inside a tray table only to be found by a pilot who would someday bring that plane back into service. First officer Chris Dennis wrote "It's March 23rd and we just arrived from MSP [Minneapolis – St. Paul International Airport]. Very chilling to see so much of our fleet in the desert," according to Delta. (ABC News)
Hawaii travel rules to change Tuesday
New travel changes will be put in place on Tuesday, June 15. Flying inter-island will have no restrictions, so travelers do not need a pre-travel COVID-19 test and will not be required to quarantine when flying to a neighbor island or Oahu. Folks who were vaccinated in Hawaii and travel to the mainland will also be able to come home to the islands with no required COVID-19 test. They will have to upload their vaccination information to the Save Travels website beforehand, however. (KHON)
Advertisement
Chase Sapphire Preferred® Card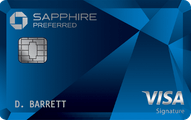 Our best offer ever! Earn 100,000 bonus points after you spend $4,000 on purchases in the first 3 months from account opening. That's $1,250 when you redeem through Chase Ultimate Rewards®.
Earn 2X points on dining including eligible delivery services, takeout and dining out and travel. Plus, earn 1 point per dollar spent on all other purchases.
Get 25% more value when you redeem for airfare, hotels, car rentals and cruises through Chase Ultimate Rewards®. For example, 100,000 points are worth $1,250 toward travel.
With Pay Yourself Back℠, your points are worth 25% more during the current offer when you redeem them for statement credits against existing purchases in select, rotating categories.
Get unlimited deliveries with a $0 delivery fee and reduced service fees on eligible orders over $12 for a minimum of one year with DashPass, DoorDash's subscription service. Activate by 12/31/21.
Count on Trip Cancellation/Interruption Insurance, Auto Rental Collision Damage Waiver, Lost Luggage Insurance and more.
Get up to $60 back on an eligible Peloton Digital or All-Access Membership through 12/31/2021, and get full access to their workout library through the Peloton app, including cardio, running, strength, yoga, and more. Take classes using a phone, tablet, or TV. No fitness equipment is required.
The comments on this page are not provided, reviewed, or otherwise approved by the bank advertiser. It is not the bank advertiser's responsibility to ensure all posts and/or questions are answered.

Editorial Note: The editorial content on this page is not provided by any bank, credit card issuer, airlines or hotel chain, and has not been reviewed, approved or otherwise endorsed by any of these entities.